Read Time:
18 Minute, 53 Second
August 16, 2020 – It's the date when Manisha Koirala celebrates a milestone birthday. Well, if the actor turns 50 today, my virtual love affair with her turns 25, this year. As duly mentioned in the About Me section, it is Manisha Koirala's Bombay which turned me into a cinephile. Over the years, my love and admiration for this phenomenal superstar actor have only grown leaps and bounds.
Today, I bring to you 50 reasons that would be enough to fall in love with Manisha Koirala, if you already aren't. Here we go:
1. For a compelling debut in Saudagar
It is not often that a newcomer gets to debut in a film headlined by stalwarts like Dilip Kumar and Raaj Kumar. Manisha Koirala not only bagged that opportunity but also managed to shine whenever she shared frames with them. The song' Ilu Ilu' remains famous to date!

2. For sharing pristine chemistry with Vivek Mushran
In her first few films, we saw Manisha Koirala paired romantically opposite Vivek Mushran. Confident and raring-to-do, the actors shared fresh chemistry which we went on to miss in the later stages of their careers.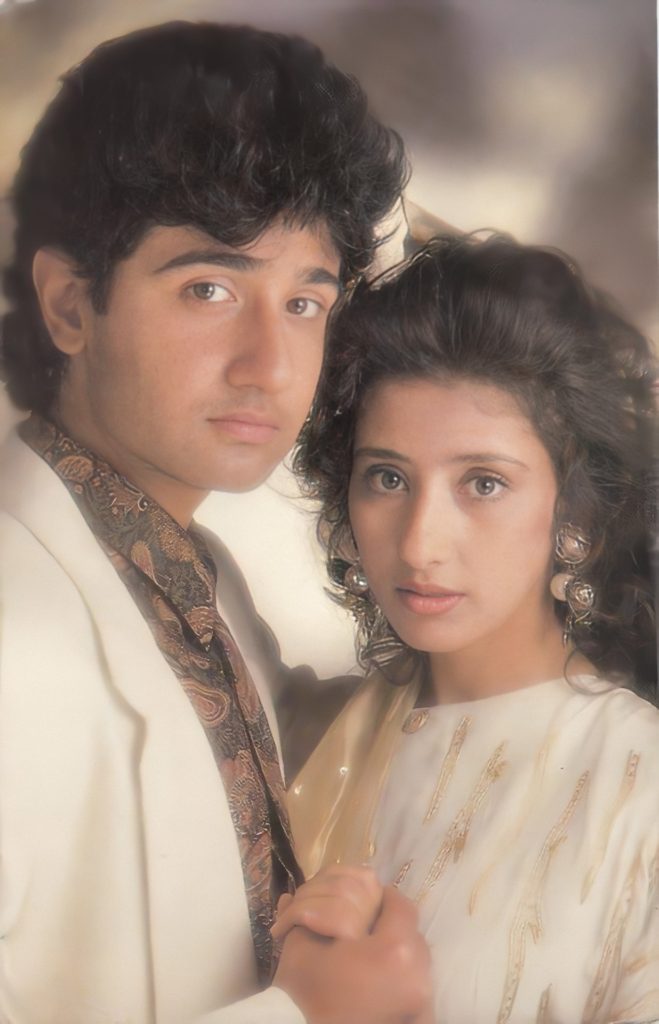 3. For becoming the muse to Bollywood's greatest ode to love
Hindi cinema does not have a parallel to 'Ek Ladki Ko Dekha To Aisa Laga' when it comes to songs that were odes to a woman's beauty. Between Javed Akhtar's historic lines and RD Burman's timeline tune, Manisha Koirala got immortalized in this metaphor-laden song from 1942: A Love Story.

4. For being the soul of 'Tu Mile Dil Khile'
Think 'Tu Mile Dil Khile' from Criminal, think Manisha Koirala's celestial beauty. Recorded in the vocals of Kumar Sanu, K S Chithra and Alka Yagnik, this song shot in lush European locales is amongst Bollywood's greatest love songs. It appeared a year early as 'Telusa Manasa' in the Telugu version of the film.
5. For becoming the Mani Ratnam heroine
A Mani Ratnam heroine is different. She is headstrong, ambitious, bold and celestially beautiful. In her maiden outing with the celebrated filmmaker in Bombay, Manisha Koirala ticked each of these checkboxes. By rendering vulnerability and power to her soft-spoken character, Koirala garnered major critical acclaim, awards – and also my heart! Remember 'Kannalane' / 'Kehna Hi Kya'?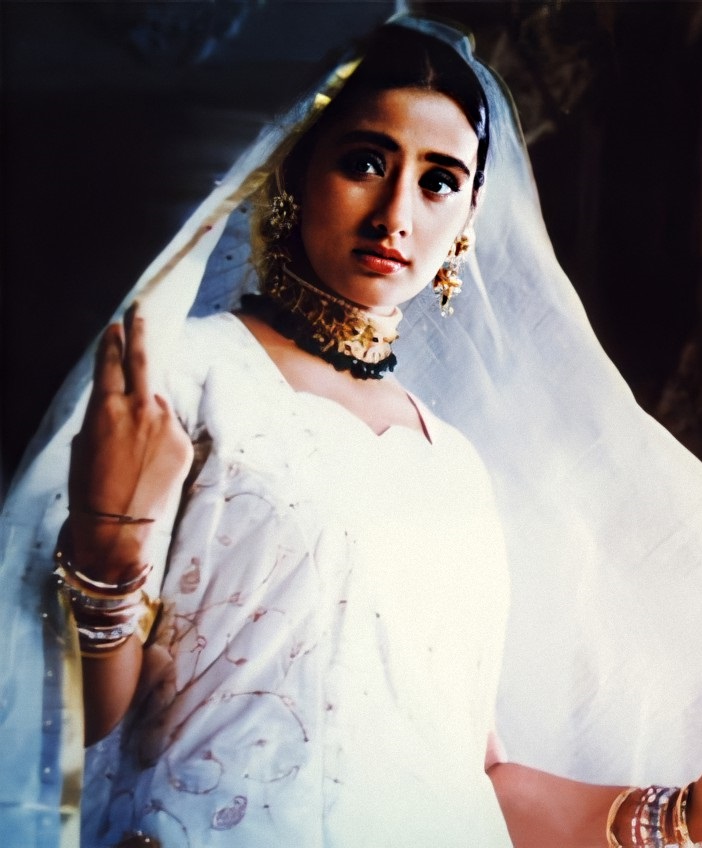 6. For lending dignity to Kiran's ambitions
An ambitious woman is always vilified in conventional Hindi cinema, especially in the pre-2000s phase. Not in Mansoor Khan's Akele Hum Akele Tum. Even though it is adapted from the Academy Award-winning Kramer Vs Kramer, the characters stand suitably Indianized in Khan's film. Koirala does a swell job of portraying a complex role which might not be the easiest for our conservative society to empathize with.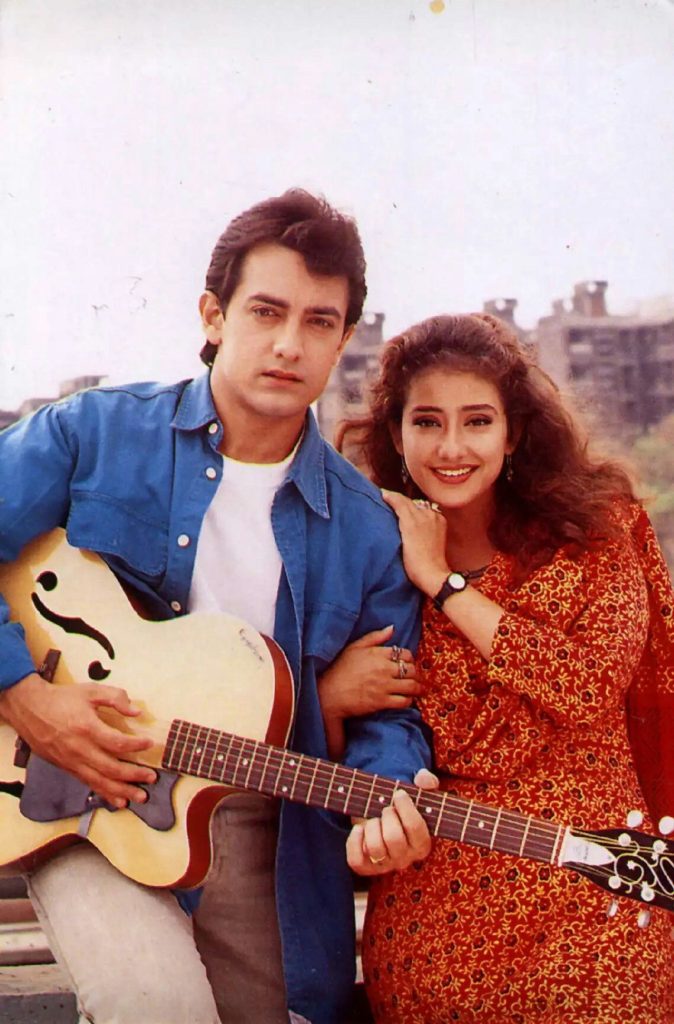 7. For championing animal rights as Aishwarya
In Shankar's Indian (Hindustani in Hindi dubbed version), Manisha Koirala appeared for the first time opposite Kamal Haasan. Her sparkling chemistry with the megastar aside, her character Aishwarya was a Blue Cross member and a crusader for animal rights in the film. Plus, there couldn't have been a better song than 'Telephone Manipol' to describe her infectious laugh.

8. For Annie…
The '90s decade wasn't exactly generous to mainstream heroines. While the producers sold movies to them on the number of songs they were to appear in, writers rarely felt the need to craft author-backed parts for them. Sanjay Leela Bhansali's directorial debut Khamoshi – The Musical, however, was a glorious exception. By transforming into Annie, the singer who brings music into her deaf-mute parents' lives, Manisha Koirala delivered one of the decade's most memorable acts. She missed out on a chance to win a National Award as the producers did not submit the film on time.

9. For breaking our hearts as Meghna
In a landmark Mani Ratnam classic, Manisha Koirala was seen as Moina / Meghna – a suicide bomber from North-East India. Through a wonderfully restrained yet powerful performance, Koirala conveyed the emotions of a civilian who became prey to the atrocities of the armed forces. It was a shame that she missed out on major awards in the year of its release due to the film's under-performance at the box office.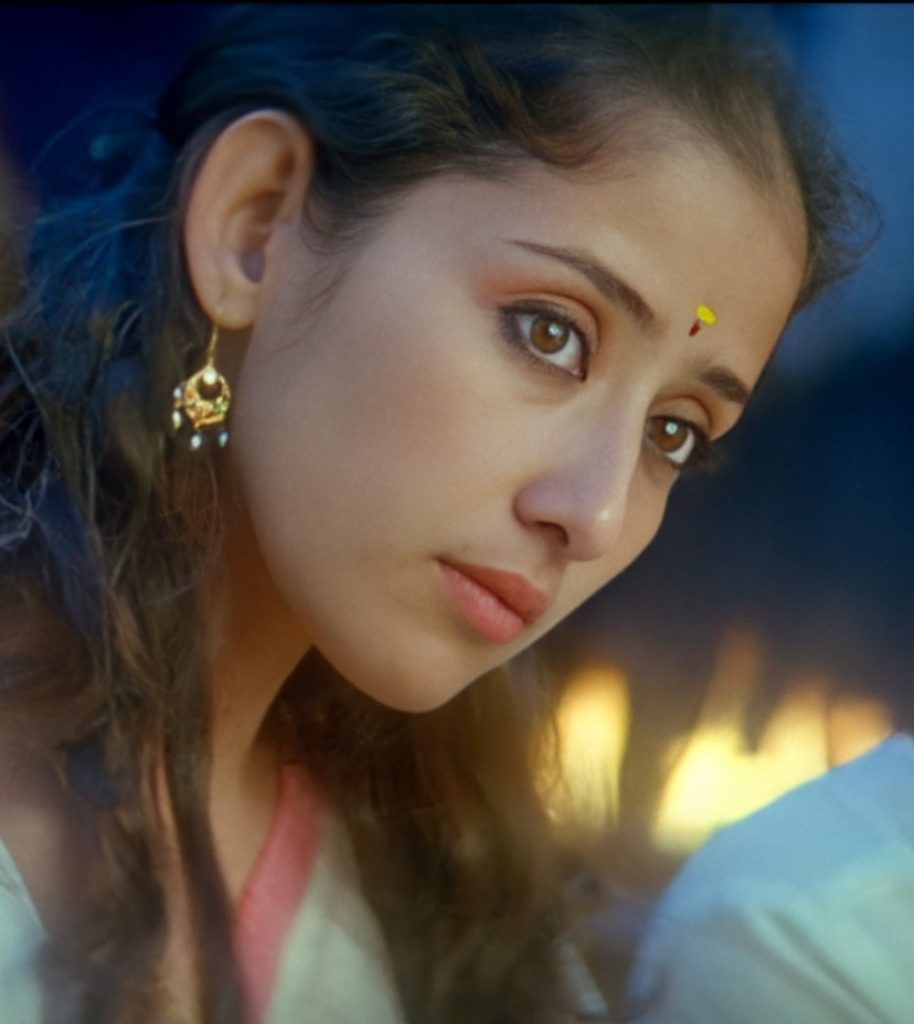 10. For Shubangi and Madhu
There was a time in the '90s when Bollywood filmmakers were obsessed with the Hollywood thriller Sleeping With Your Enemy. Based on it, they released as many as three films – Daraar, Yaarana and Agni Sakshi. However, it is only Partho Ghosh's Agni Sakshi which struck a chord with the audience. It became a major box office hit and Manisha Koirala in her dual roles (of Shubangi and Madhu) earned glowing reviews.

11. For looking oh-so-perfect opposite Amitabh Bachchan
In K.C. Bokadia's Lal Baadshah, Manisha Koirala got to play the leading lady opposite the screen legend Amitabh Bachchan. The age gap didn't seem an issue at all when the duo vibed off each quite well. The song 'Dhanno Ki Aankh' remains memorable from the film.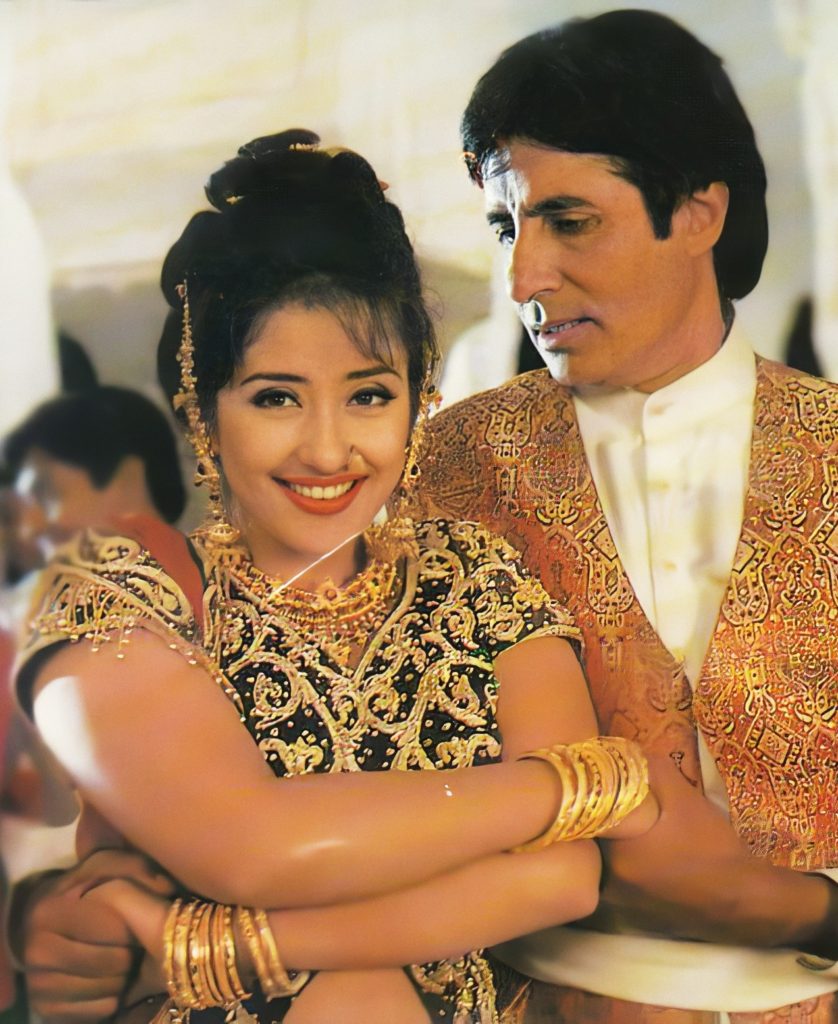 12. For telling us 'Mushkil Bada Yeh Pyaar Hai'
Gupt saw Manisha Koirala at her glamourous best. Even though Kajol had a better role in technical terms, it is impossible to take your eyes off Manisha when she is on screen. I am sure Manisha wanted it this way, perhaps to take a break from her usually intense characters. Aside from a measured performance, Manisha looked amazingly sexy in the dance numbers with Bobby Deol – especially the iconic 'Mushkil Bada Yeh Pyaar Hai'.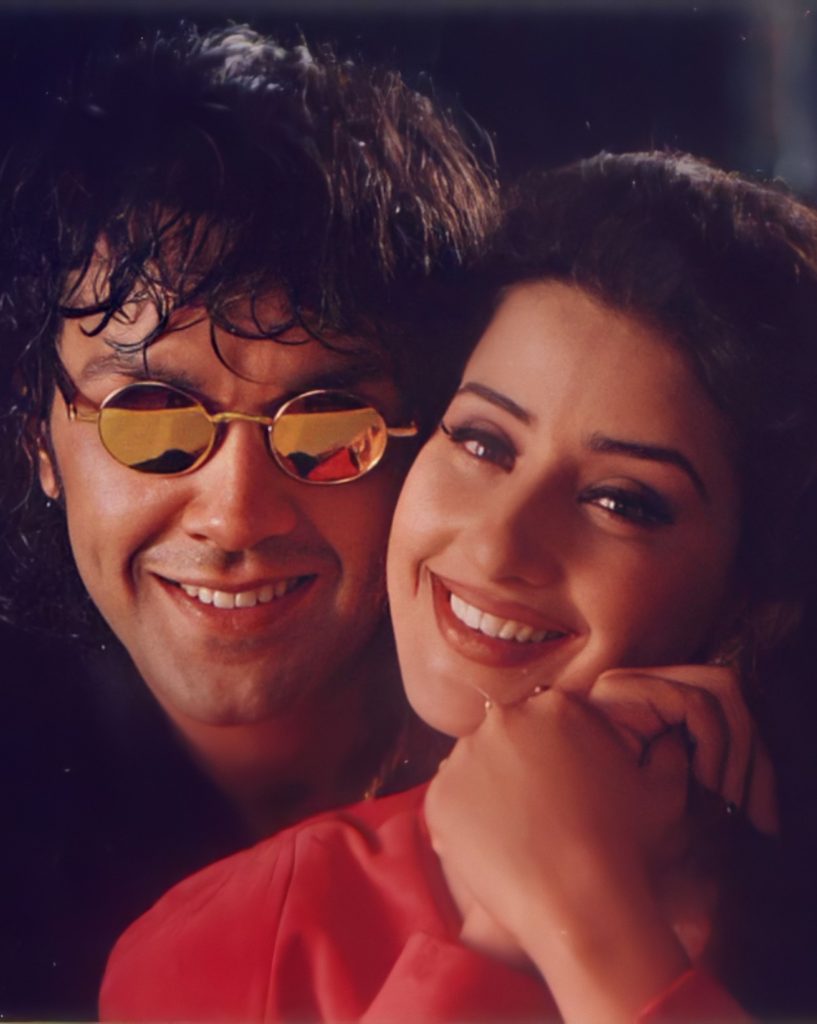 13. For being Yugpurush's Sunita
One of Manisha Koirala's severely underrated films, Partho Ghosh's Yugpurush was based on Fyodor Dostoyevsky's The Idiot. As a distraught mistress of a politician who yearned for love, Koirala was tremendous in a glamourous and dramatic part.
14. For Thenmozhi's innocent confessions
In 1999's Tamil blockbuster Mudhalvan, Manisha Koirala was seen as a headstrong village girl called Thenmozhi. In her introductory scene, she bravely walks up to the Chief Minister of Tamil Nadu. Although the film didn't offer her much on the acting front, Koirala's sunshine-like presence came as a relief whenever the leading man Pukazhendhi (Arjun) chose to take a break from his work.

15. For Mini's sense of humour
As a Punjabi girl flying to London to get married, Mini had her humour and love for samosas in place. Acing a charming and witty character, she became a major catalyst in Kartoos ­– Mahesh Bhatt's version of Hollywood film Point of No Return. The song 'Ishq Ka Rutba' in Ustad Nusrat Fateh Ali Khan's vocals has Manisha's beauty as its highlight.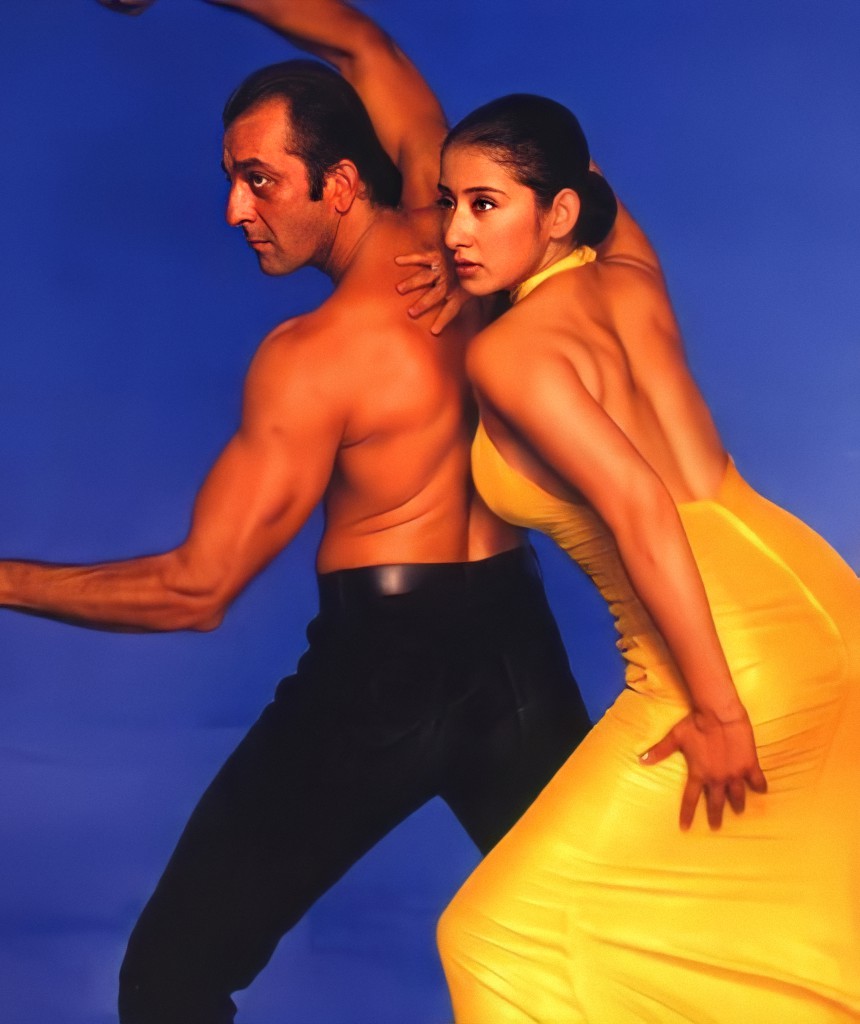 16. For pulling off cringe with confidence
For the uninformed, Manisha Koirala was the leading lady of the cringe classic Jaani Dushman: Ek Anokhi Kahaani. Although it featured several superstars, Manisha somehow emerged the sanest element in the film. Also to be noted is her dance number in Kanti Shah's dubious Loha. There are a couple of other films that Manisha herself wouldn't be too proud of but the actor did a decent job by doing justice to what she was asked to. As a result, plum film offers seldom stopped coming her way.
17. For Priya, a modern-day tragedienne
Through Indra Kumar's Mann, Manisha Koirala got a grand Bollywood weepie. In a role that might have gone to Meena Kumari four decades back, Manisha comes wonderfully alive. Starring Aamir Khan opposite her, the film's climax alone is a masterclass on how to nail Bollywood melodrama without going overboard.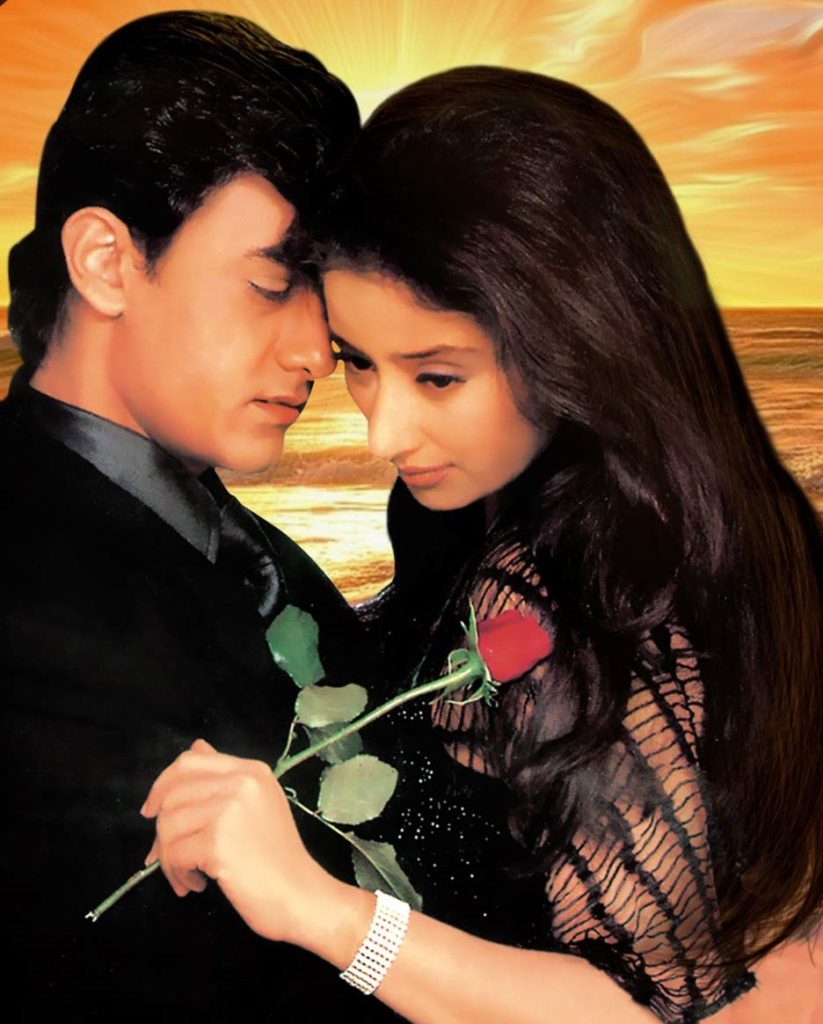 18. For the classical dance numbers
Manisha Koirala in her prime was seldom known for her dance numbers despite her being an accomplished Manipuri dancer. The fact is that Koirala, unlike the majority of her contemporaries, was known more as a serious dramatic actor. This brings to my notice some of her classical dance performances –'Naacho Jaise' from Grahan, 'Kuch Kar Lo' from Mehbooba and 'Rathisukhasaare' from Edavappathy.

19. For carrying Khauff on her firm shoulders
Sanjay Gupta's actioner Khauff was a heroine-centric film and, that too, reasonably an engaging one. Remade from the Hollywood film The Juror, Gupta's film sees Manisha Koirala in top form as a flight purser who witnesses a murder. The climactic moment where she shoots Babu (Sanjay Dutt) is amongst the film's high points.

20. For the abstract Sharmilee
Tamil film 'Aalavandhan' (and its Hindi version 'Abhay') starred Manisha Koirala in a special appearance. She plays a famous actress named Sharmilee who comes in contact with a dreaded criminal called Nandu (Kamal Haasan). In a slightly surrealistic segment, Sharmilee appears in two extensively dance numbers. If the stage number 'Africa Kaattupuli' (Tamil) or 'Zingoria' (Hindi) sees her transforming into a leopard-woman, the trance-like theme song with Kamal Haasan adds volumes of intrigue to the film's plot. The animation scene where she gets murdered later inspired Hollywood filmmaker Quentin Taratino who used the same visual device in his film Kill Bill.


21. For the intimidating Saroja
In her Filmfare Award-winning performance in Ram Gopal Varma's Company from 2002, Manisha Koirala played Saroja – a powerful yet vulnerable moll to a gangster. In a subdued and authentic interpretation of her part, Manisha made her presence strongly felt in the gritty film. Her brief breakdown scene in front of Chandu (Vivek Oberoi) is a treat, to say the least.
22. For being a major pop-culture figure in South India
Manisha Koirala was a pan-India superstar. The fact that she appeared in major Tamil, Telugu, Kannada and Malayalam films also added to her nationwide appeal. As a result, you would find her being referred in numerous South Indian films from the '90s as the ultimate Bollywood beauty. Here is a still from 1999 Malayalam film Vazhunnor.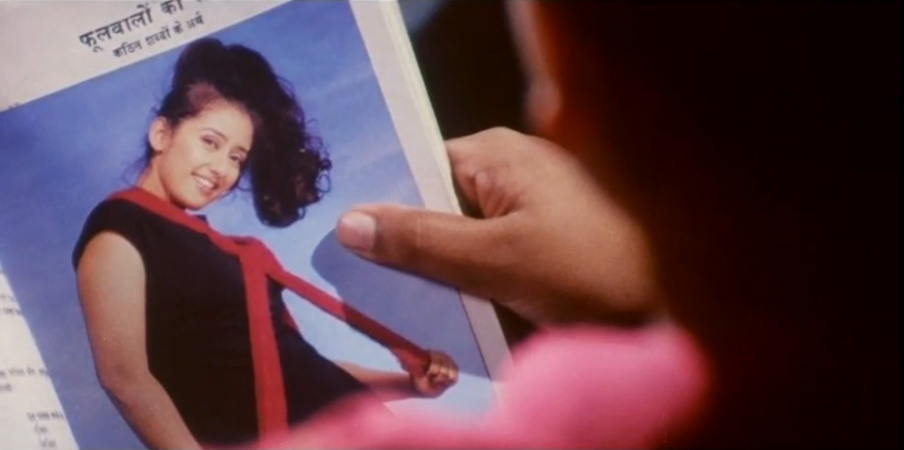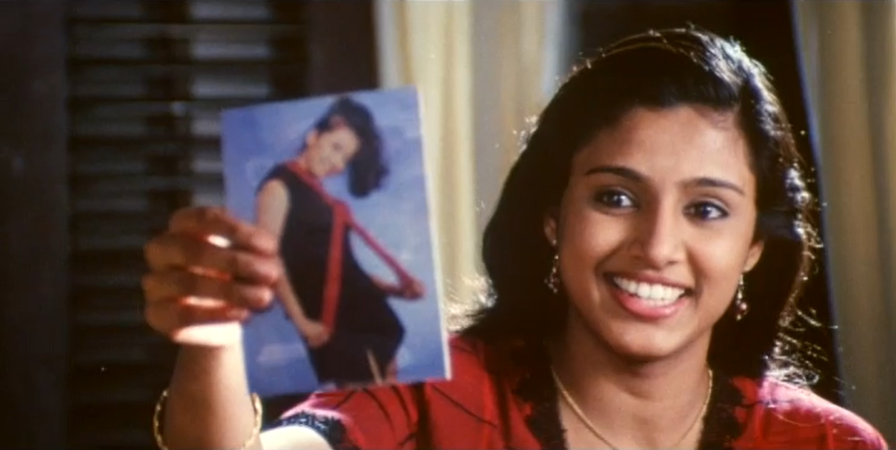 23. For becoming Ashok Mehta's muse in Moksha
Moksha marked the directorial debut of Ashok Mehta, one of Indian cinema's greatest cinematographers. It didn't come as a surprise when he hired Manisha Koirala to be his first leading lady her. He had captured her porcelain beauty on his camera in Saudagar (1991) and Gupt (1997). Mehta's film was a photographic wonder which canvassed Manisha's beauty like never before (and never again). Unsurprisingly enough, he went on to win a National Award for the film. Also a friend, Ashok Mehta was the one who urged Manisha to sign Bombay, much against what a Bollywood actress would do in that period.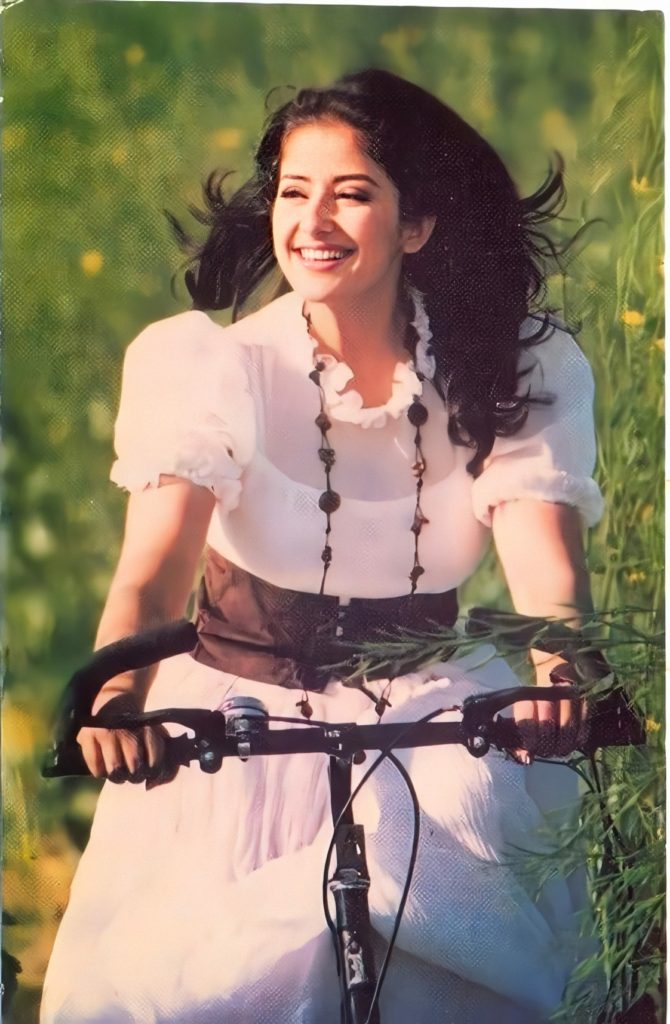 24. For taking us on Vaidehi's arduous journey
Rajkumar Santoshi's Lajja was an all-out Manisha Koirala fare. She hogs the screen from the first scene until the last. In a film that exposed the atrocities that women face in India, Koirala's main story was intertwined with three others' (Mahima Chaudhry, Madhuri Dixit and Rekha). If you watch her thunderous climactic speech, you would know why Koirala is amongst the greatest actors we have.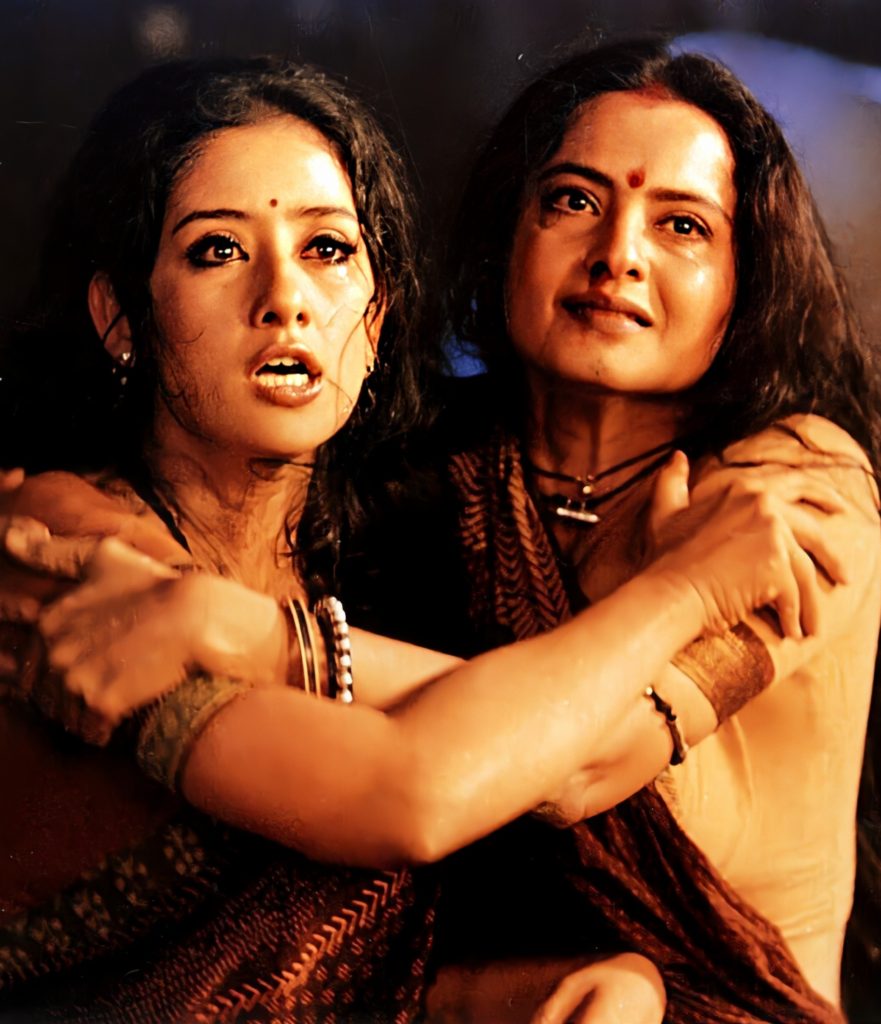 25. For her painting-like beauty in Kachche Dhaage
Towards the end of the '90s decade, Manisha Koirala had done it all. There was nothing left to prove on the acting front. It is then she decided to take up a bunch of big-ticket films which had her magnificent beauty in focus. In Milan Luthria's Kachche Dhaage¸ she becomes Rukshana, a stunning mountain lass. It only helped that Koirala was a huge star so that she got a series of songs (including the solo 'Oopar Khuda') – all of which she nailed to perfection.

26. For doing the Rajinikanth heroine gig in Baba
It is said that if you are an A-lister heroine and you aren't cast opposite superstar Rajinikanth in a film, your career isn't really complete. Manisha Koirala ticked that checkbox in style as she appeared in the 2002 spiritual drama Baba. The love song 'Baba Kich Kich' with all Rajinikanth quirks showcases Manisha's ethereal looks to a T.
27. For calling out the makers of Ek Chhotisi Love Story
Things were going just right until Manisha Koirala decided to do a film called 'Ek Chhoti Si Love Story' for director Shashilal Nair. She had earlier worked with him in the long-delayed Grahan. The real issue emerged when Manisha discovered the filmmaker to have inserted certain objectionable scenes in the film with a body double. Manisha protested and it became a controversy fuelled by the media. While the actor was eventually served justice, the film (along with the titillating footage) was a clean box office success despite its niche theme.
28. For 'Escape from Taliban'
Ujjal Chatterjee's film based on author Sushmita Bandhopadhyay's memoir by the same name, Escape From Taliban remains a vastly unseen film. While Koirala's voice was dubbed by someone else, strangely, the performance and her ability to sync with a film's milieu worked very well here. The author of the book, years after the film's released, happened to visit the territory and got killed by the very same oppressive forces.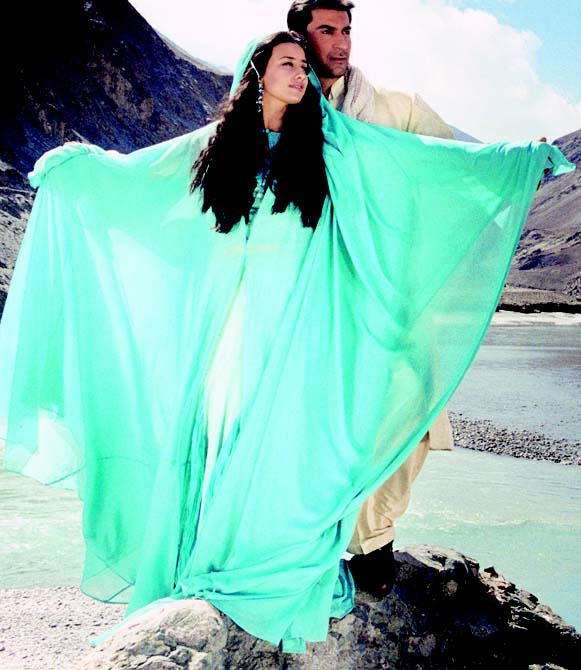 29. For the punchlines in Market
Director Jai Prakash's film Market was a commercial success upon release in 2003. A heroine-centric film, it saw Manisha Koirala playing a prostitute in Hyderabad and later in Mumbai. Not exactly a polished product, Market is still watchable for Manisha's presence and the punchlines galore.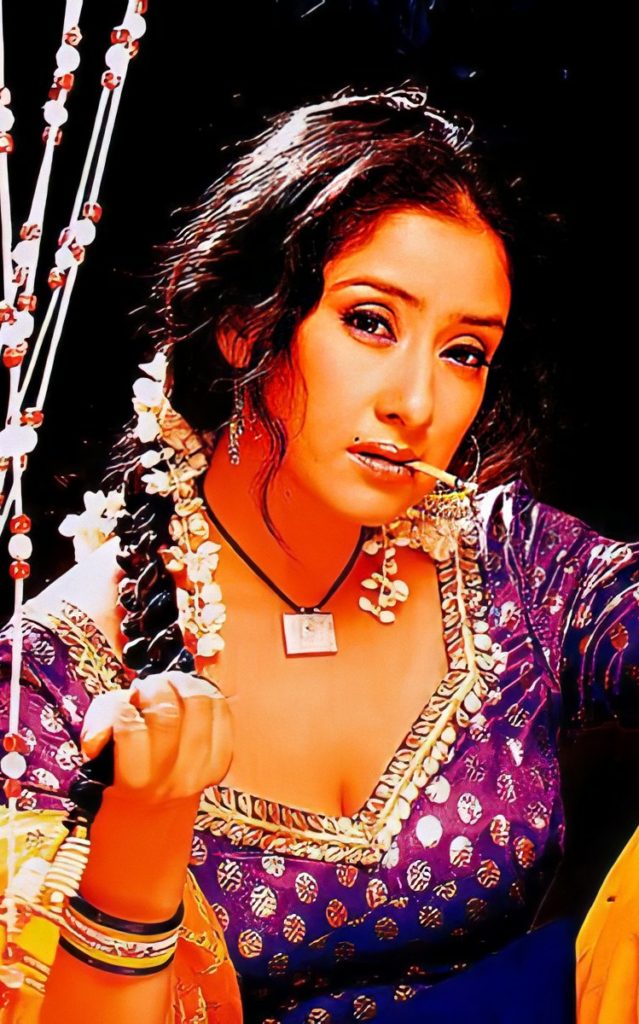 30. For personifying elegance as Jahan Ara
Soon after she played a streetwalker in Market, we saw Manisha Koirala at her angelic best here. It was, in fact, our luck to see Manisha play a Mughal character at some point in her career. In director Akbar Khan's hugely mounted film Taj Mahal: An Eternal Love Story, she became Jahan Ara – emperor Shah Jahan's divine daughter who showered him with love and compassion in his later years.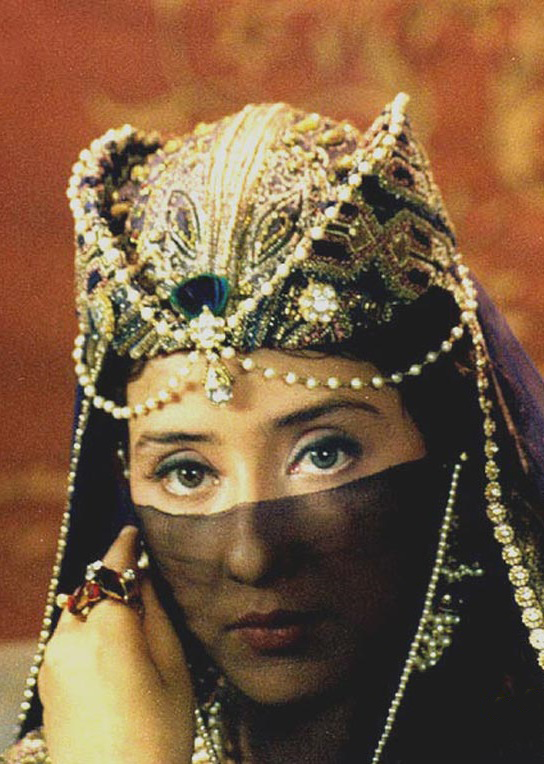 31. For becoming the Wo-Man in Mumbai Xpress!
Manisha Koirala's was the only female character in Singeetham Srinivasa Rao's Hindi-Tamil bilingual fare Mumbai Xpress. As Ahalya, an influential cop's (Nasser/Om Puri) mistress, she is downright hilarious. This colossally underrated film also sees her uniting with Kamal Haasan for the third time in her career.
32. For making us shed endless tears in Tulsi
Remade from Malayalam tearjerker Akashadoothu, K. Ajay Kumar's Tulsi: Mathrudevobhava had a screenplay that would move a thousand hearts. Even though a box office debacle (owing to poor promotions), the film remains memorable for Manisha and Irrfan Khan's heartbreaking performances. If the comments on YouTube are to be believed, the film has beautifully struck a chord with the audience.

33. For casting her spell on Bengal with Khela
Manisha Koirala is among the privileged few Bollywood actors to work with the late Bengali filmmaker Rituparno Ghosh. A film-in-film drama, Khela saw Manisha coming magically alive as a typical Bengali housewife.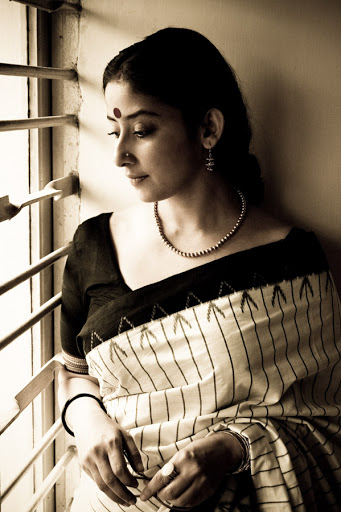 34. For showing a new facet of motherhood in Elektra
A talk about Manisha Koirala's housewife roles wouldn't be complete sans a mention of Shyamaprasad's EIektra which was based on the concept of Electra Complex. Koirala's performance as a straying wife with a troubled relationship with her daughter met with widespread acclaim at film festivals and later in theatres.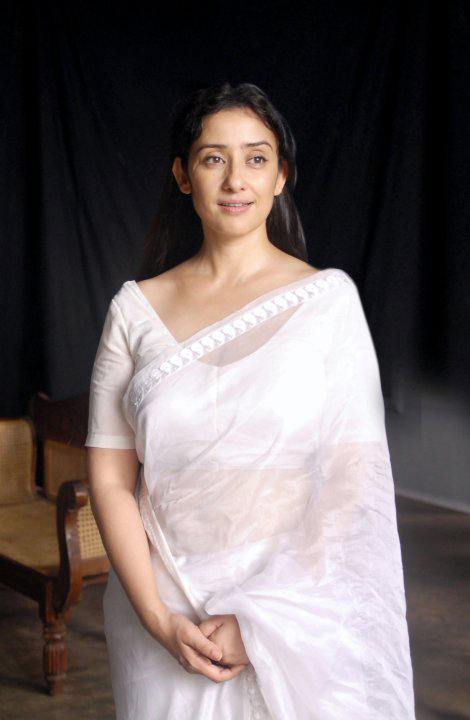 35. For teaching us empathy as Rubaina
In Onir's National Award-winning film I Am, Manisha Koirala appeared as Rubaina in the segment 'I am Megha'. One with a short running span, we see Manisha using her body language and eyes to perfection. In the film, she comfortably shared screen space with her erstwhile rival Juhi Chawla.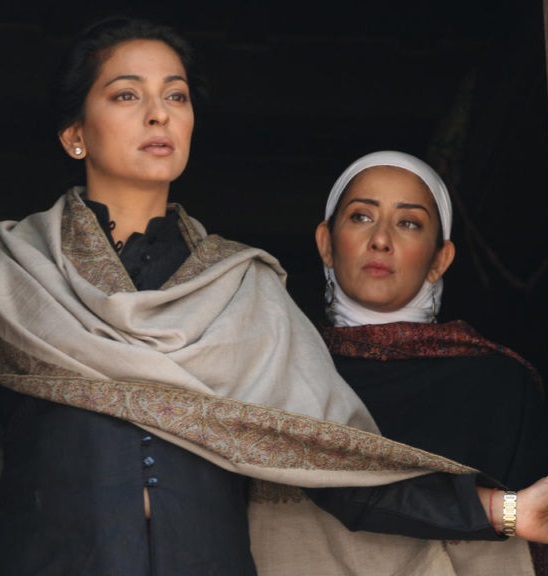 36. For Mayadevi's transformation
The most beautiful passage in Sunaina Bhatnagar's Dear Maya is the final one where Maya Devi (Manisha Koirala) transforms into an all-new person. One moment that still haunts me is that of Maya eating a sweet delicacy wherein Koirala's facial expression encapsulated the essence of the film.

37. For dismantling the perfect wife stereotype in 'Lust Stories'
As a fan, I was overjoyed when my favourite director Dibakar Banerjee signed Manisha Koirala. In the Netflix Original film Lust Stories, Manisha masterfully played Reena, a middle-aged woman indulging in an affair with her husband's best friend.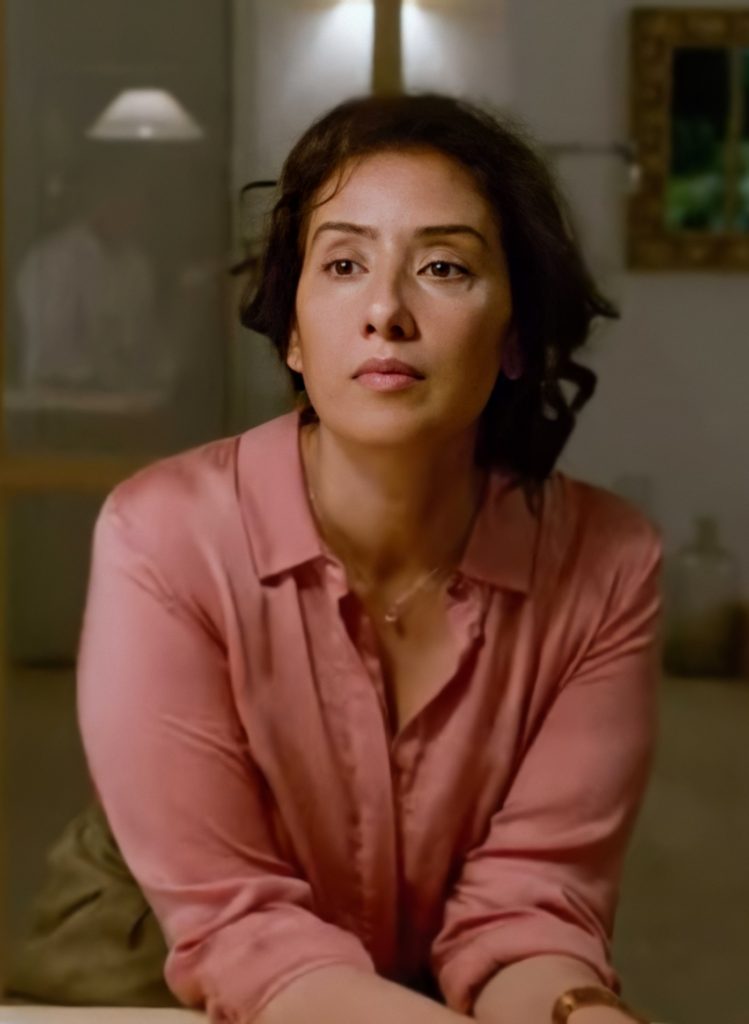 38. For filling Nargis' shoes as nobody else could
In a rare occurrence of one cinema icon reprising another, Manisha Koirala played the legendary Nargis Dutt in Rajkumar Hirani's 2018 blockbuster Sanju. In a special appearance, Manisha brief scene, song and an audio-recorded portion still haunt from a film that was predominantly about its leading man's difficult life.

39. For perfecting the OTT Parsi mom act
As many of my Parsi friends would vouch, Manisha Koirala's attempt to give life to Diana, a Zoroastrian café owner in Neeraj Udhwani's Maska was quite remarkable. As the protagonist Rumi's (Prit Kamani) mother, she perfected the loudness and quirks of a typical Parsi woman living in South Bombay.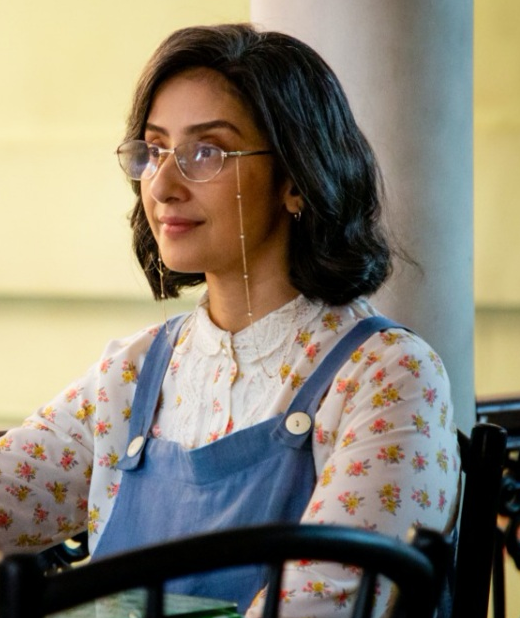 40. For all the villainy in Mappilai
Remade from a yesteryear film by the same name, Manisha Koirala did the impossible – to reprise a role immortalized by veteran Srividya. To Manisha's credit, she did a swell job at that and her performance evidently is way ahead of the film in entirety.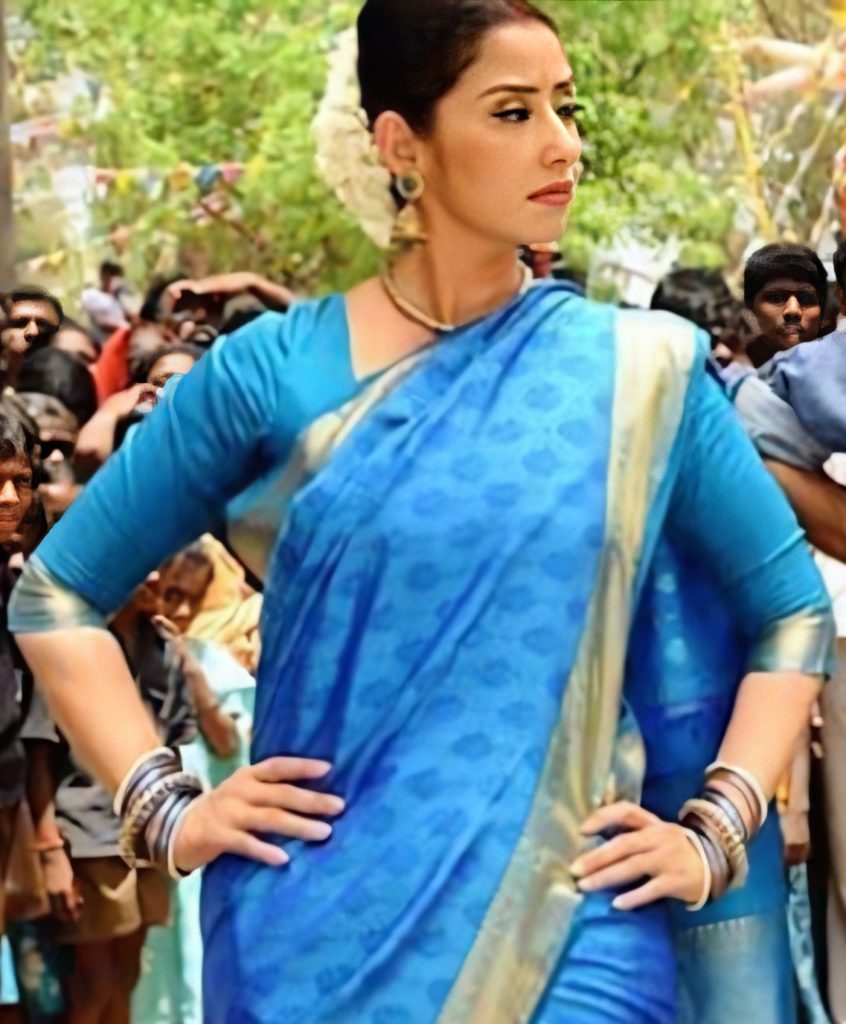 41. For being an original soul who gave a damn to the world around
Manisha Koirala lived a fearless life in the '90s. She was unconventional and a person with a mind of her own. The media and the industry, which were used to docile, soft-spoken heroines, often made her a scapegoat. Articles were written solely to malign her and some of them were allegedly planted by her rivals. Still, Manisha surpassed every odd and emerged a bona fide superstar. Manisha is also famous for being the highest-paid actress of her times who rejected several plum projects simply because they didn't match what she was looking for – monetarily or otherwise.
42. For the insightful and often explosive interviews
Even in the most controversial of her magazine interviews, Manisha Koirala knew what she spoke. It could either be a byproduct of her upbringing or general presence of mind. In this interview with Simi Garewal, we can see her organically easing into her real person.

43. For bravely fighting cancer
I remember when the news broke out in 2012. Manisha Koirala was diagnosed with Ovarian cancer in Mumbai's Jaslok Hospital. My heart broke a little and I did not know how to react besides sending her messages on Facebook and keeping her in my prayers. But, Manisha bounced back as always. She defeated cancer and emerged an all-new person thereby giving hope to numerous patients out there.
44. For Healed
Years after crusading cancer, Manisha Koirala penned a memoir called 'Healed'. In the book co-authored by Neelam Kumar, she took us through her days of cancer treatment. Reading it was an emotional experience of me as I could connect the dates in them with those when I wrote messages to her on Facebook – which were acknowledged promptly.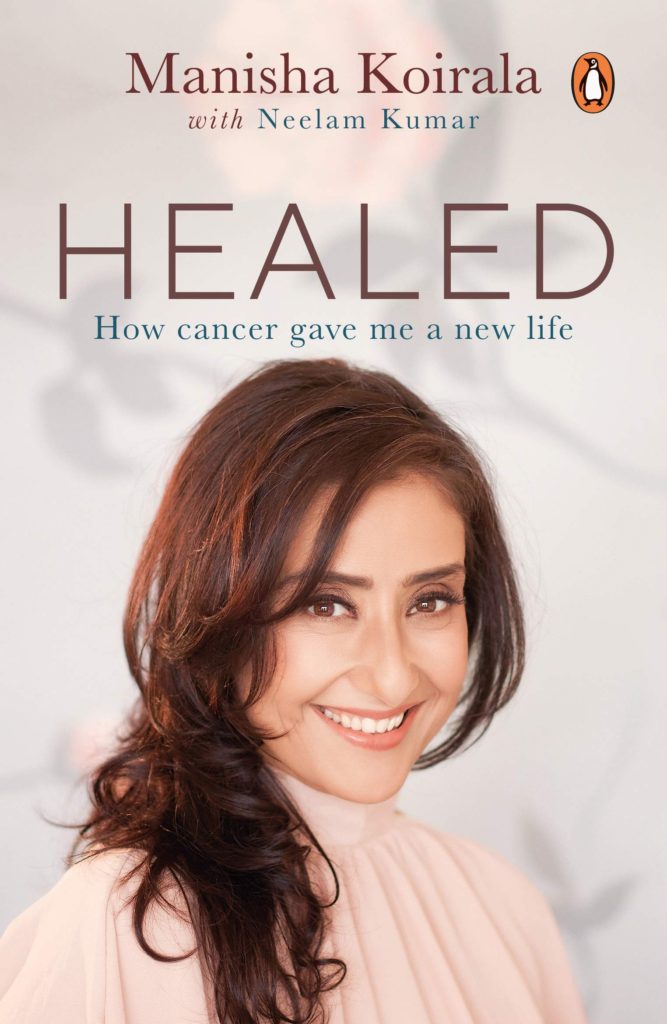 45. For not shying away from age-appropriate roles
In what must be her breakthrough film, Bombay saw Manisha Koirala playing mom to children of school-going age. She was barely 25 when the film was shot. From then on, she never shied away from playing her age or doing roles that demanded her to look and behave older. The results, more often than not, were rich in terms of award and accolades.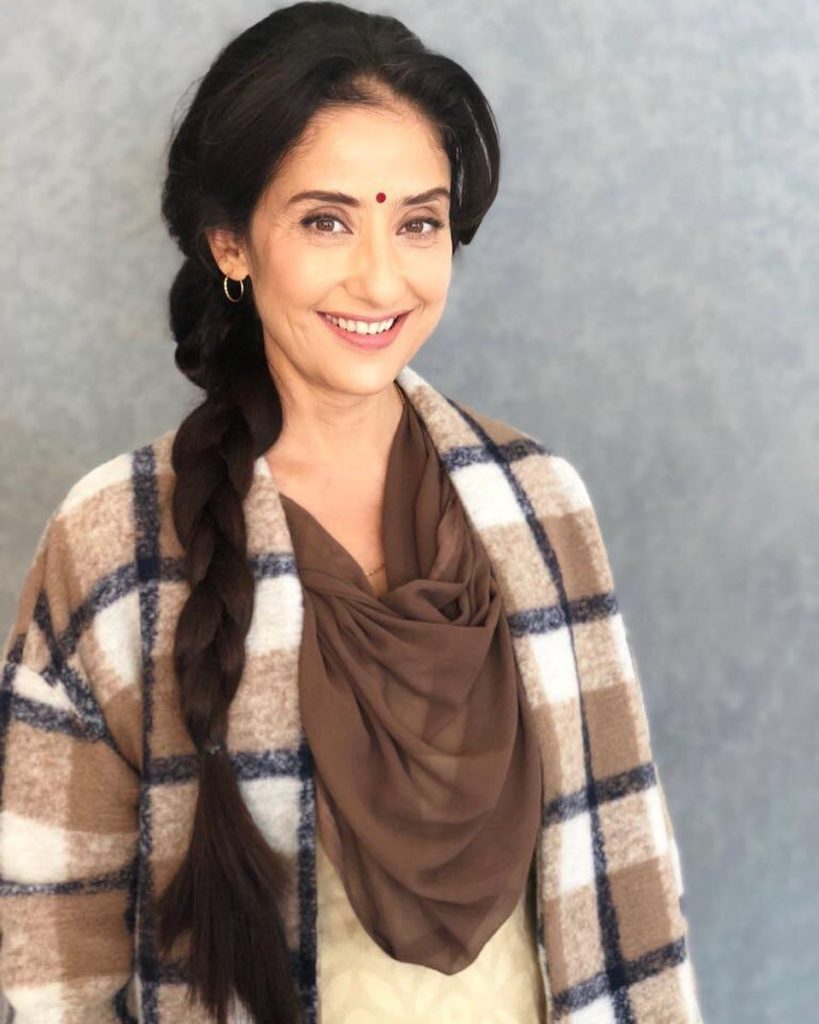 46. For Do Paise Ki Dhoop, Chaar Aane Ki Baarish…
Deepti Naval planned her directorial debut with her close friend Manisha Koirala. One with a long, poetic title, the film boasted of a terrific crew (Gulzar, Kiran Deohans, Sandesh Shandilya) but somehow it took a decade to release publicly. Its only last year that we got a taste of Manisha Koirala's distressed Juhi in the film. Once again, she played a prostitute in the film but an ageing one with a disabled son.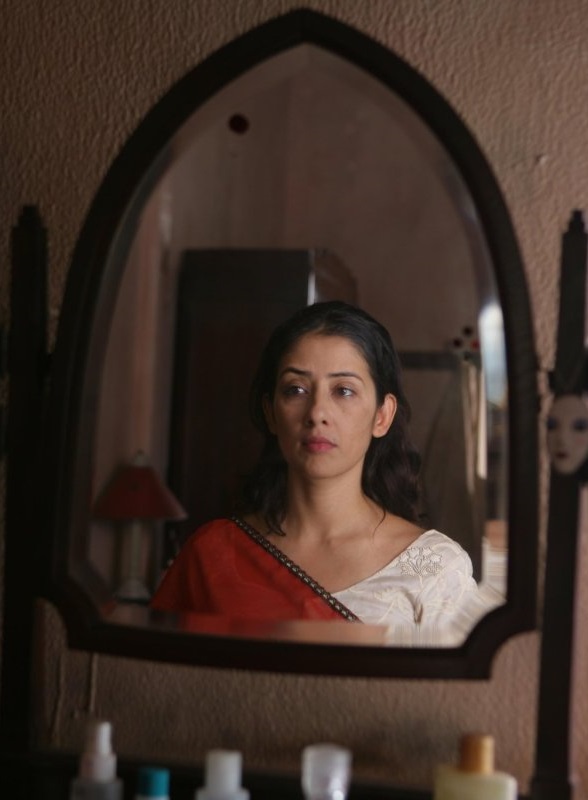 47. For her advocacy on healthy living
Through her book, motivational speeches and social media posts, Manisha Koirala has been actively promoting the idea of healthy living – one with a balanced nutritious diet, exercise and mental well-being. Perhaps it is the experience that she derived out of her cancer-fighting journey, Manisha means what she wants to propagate.
48. For the occasional item numbers
Long before the media would coin the term 'item number', Manisha Koirala did several popular dance routines. If Salaakhen saw her grooving to 'Picchu Pade Hain', Agni Sakshi had the chart-busting 'O Yaara Dil Lagana'. The song 'Bangla Gaadi Jhumke Kangana' from Chhupa Rustam was easily the most memorable aspect of the film. Later in 2006, she performed 'Hoshiyare Hoshiyare' in Telugu film Nagaram.

49. For her great chemistry with reigning superstars
Manisha Koirala ruled the roost at a time when working with major male superstars was considered one of the parameters of success. Manisha filled that void by working with major stalwarts like Amitabh Bachchan, Rajinikanth, Kamal Haasan, Rishi Kapoor, Salman Khan, Aamir Khan, Shah Rukh Khan, Sunny Deol, Govinda, Ajay Devgn, Sanjay Dutt, Anil Kapoor, Nagarjuna, Mohanlal, Arjun, Jackie Shroff, Dhanush, Irrfan Khan and Ranbir Kapoor besides numerous veterans.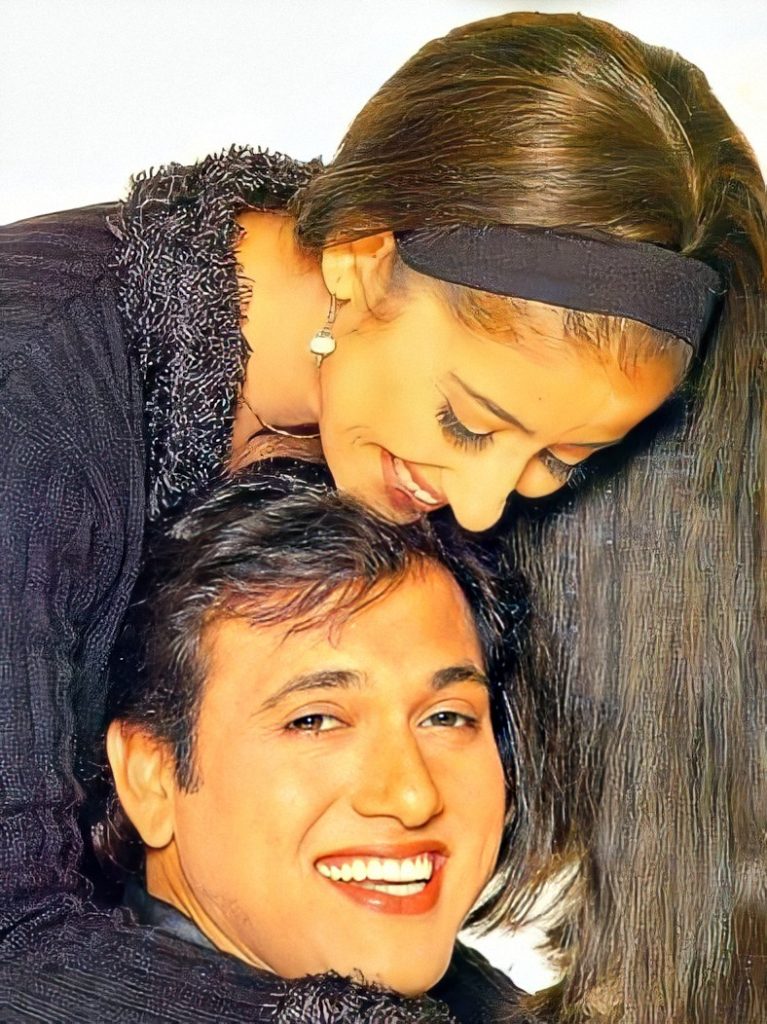 50. For being the queen of expressions
It was clear to filmmakers that Manisha Koirala often didn't need dialogue to convey her emotions. The facial expressions and body language often did the trick. Case in point is the song 'Ae Ajnabi' from Dil Se and if you need any proof, here are a few stills from the same film: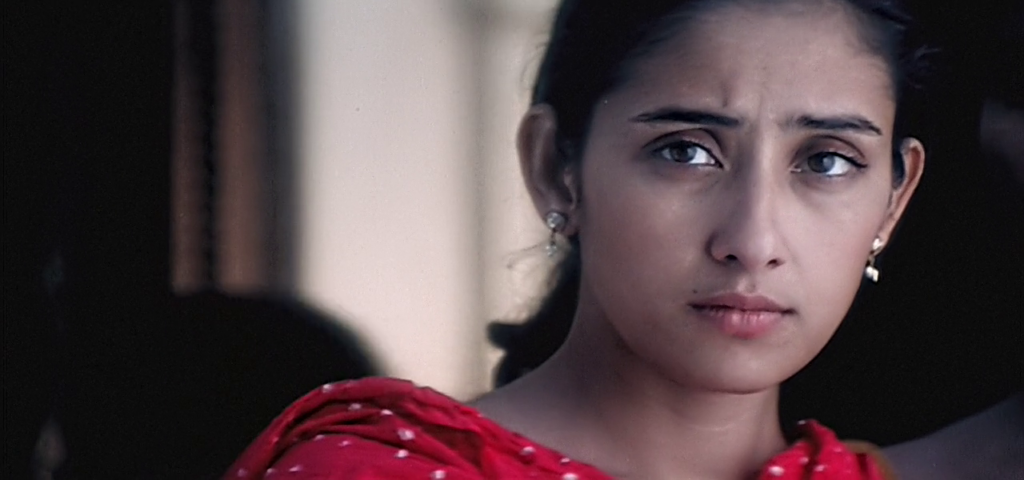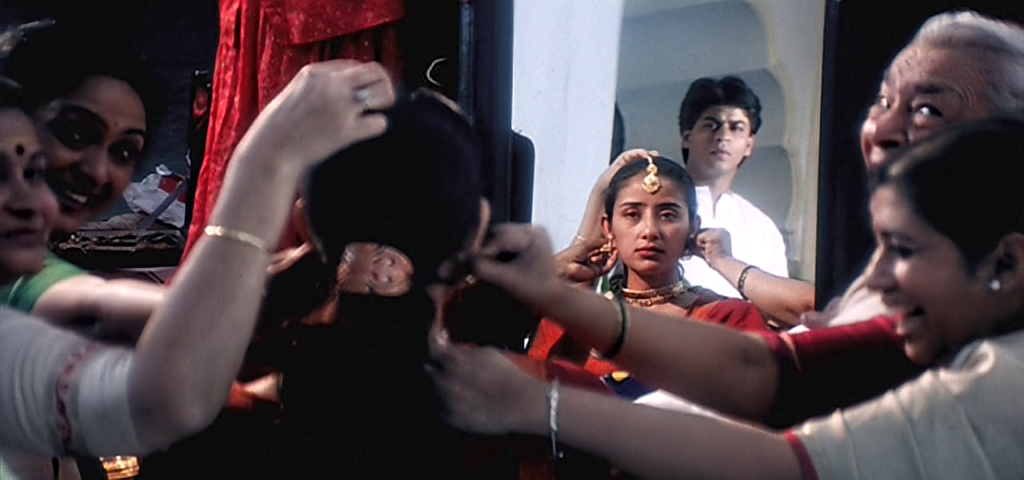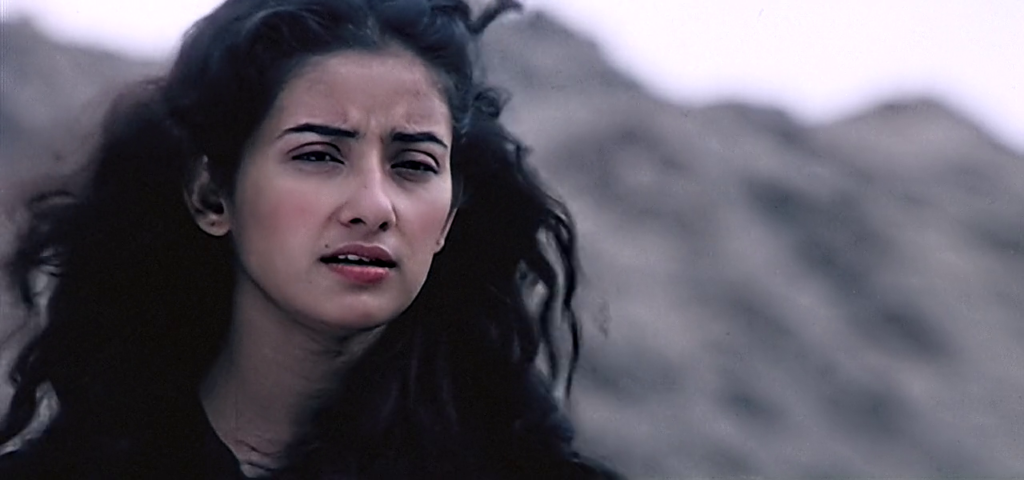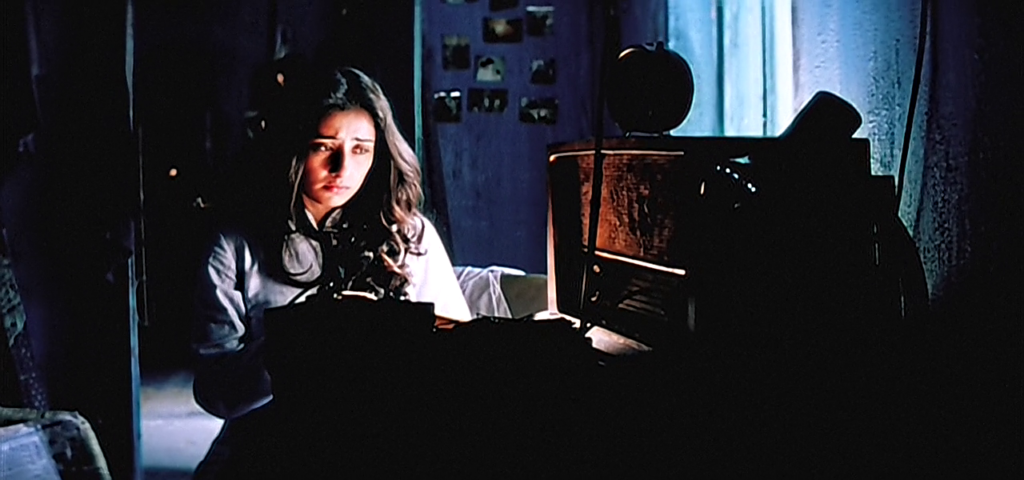 While I was compiling this article, I went on to add five more points without realizing the number limit. The fact is that I'll be able to write even more. I guess we shall wait for another landmark birthday of hers to surface to get there. Until then, here's wishing my favourite Manisha Koirala a glorious 50th!