'Dear Maya' review – Mountains and Manisha Koirala enrich a buoyant coming-of-age drama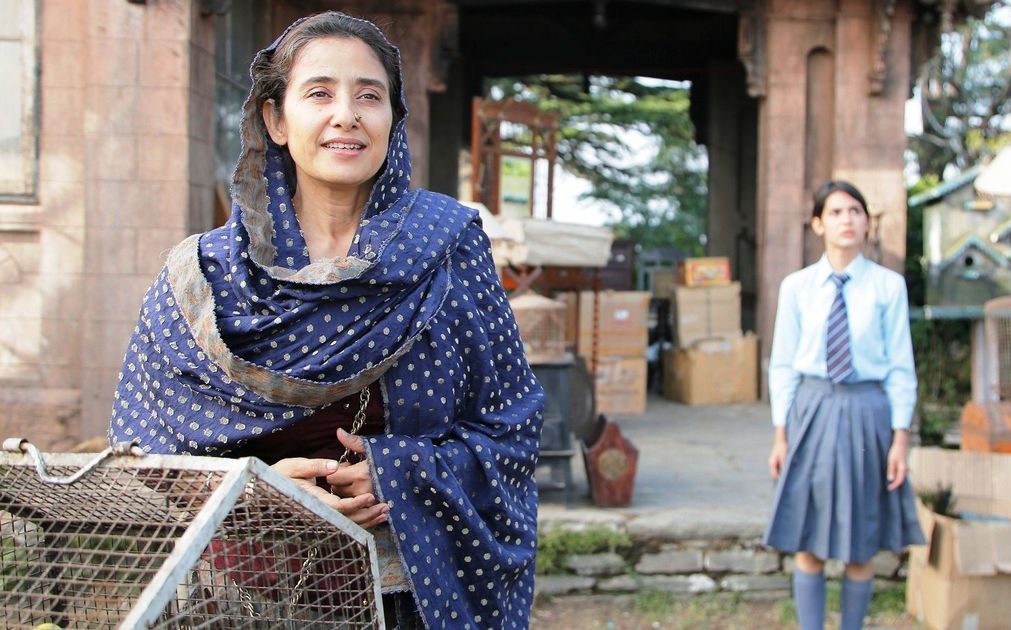 Read Time:
4 Minute, 30 Second
There's something about directorial debuts. Whatever be their backgrounds, it takes a lot of introspection to lock in a subject, find financiers, and eventually sell the story idea to the cast and crew among gazillion other hurdles. Going by these checkpoints, Sunaina Bhatnagar's debut is gutsy as she chooses to base her debut on teenagers and a middle-aged woman. Bhatnagar's Dear Maya comes with zero frills and the male characters remain at the periphery of insignificance.
Narrating the story of two teenagers and their endeavor to shower happiness to a lonely spinster's life via a handful of romantic letters, Dear Maya is a slice-of-life feature with a clear-cut message – one that is pretty straightforward and a little simplistic. There is a tinge of idealist optimism that the film drives through and is pretty confident in harnessing its possibilities. To justify the same, the writer sets the context right. The youngsters and their naivety, their discovery of intimacy through Mills & Boon, the flurry of hormones, and more. There's also a hint of right parenting as the girls – Anna and Ira (Madiha Imam, Shreya Singh Chaudhary) – are shown to possess different value systems. However, Ira's characterization seems bleak as we aren't aware of her issues. There is also a hint of jealousy towards Anna which develops into a twist in the latter half. Half-convincing, coating the same with an obscene quantity of soppiness dilutes the impact.
Dear Maya sparkles in moments where Maya Devi (Manisha Koirala) interacts with a mildly scared Anna. The way Bhatnagar demonstrates the psychological impact of the letters on Maya's confined soul is terrific. The not-so-veiled metaphor of freeing caged birds and painting dolls with a happy face brings in some sort of lyricism, a lot of it could be attributed to Koirala's innate spark.
If there's one thing that makes Dear Maya weak – and significantly so – is its uneven pace. Swift to get into the point, the pace fluctuates to-and-fro with television serial-like explanations to several plot points. The absolute lack of effective background score in dramatic sequences further aggravates the concern. This see-saw of bumpy narrative pattern continues till the pre-climax, which is where the film (predictably) spreads its wings.
Dear Maya comes with a top-notch technical team that pitches in a decent feat in their respective departments. Dileep Subramanian does a swell job in the sound department as does Aarti Bajaj (editing, especially in the latter half). However, it remains to be stated that the film is overwrought and could have been shorter by at least 15 minutes. Newcomer Sayak Mukherjee's frames are suitably moody and there's no overt profusion of colors spitting through his camera. Director Bhatnagar, thankfully, gives enough them breathing space to some of his picturesque still frames. Anupam Roy's music is passable and it is only the Rekha Bhardwaj number that moves you. Dear Maya does falter in the dialogue department as it misses the balance on how teenagers converse in light and serious moments. Excessive use of Hinglish jar, in places.
Coming to the film's mainstay, it marks the return of one of Bollywood's celebrated female actors – Manisha Koirala. One who earned popularity in an era of good music and glaring misogyny, this excellent dramatic actor somehow managed a handful of memorable performances while her mediocre contemporaries were happy with their dance numbers and the idea of being the wallflower heroine. Self-confessedly, Manisha has done them all too. At times, even better than the rest of the ladies. However, when it came to scoring a knockout performance, the clear arthouse-commercial divide of the times didn't cripple her sensibilities as much as it did to others. Dear Maya proves how the present decade has much more in store for women her age (even the younger ones, for that matter). Koirala is tremendous as the caged, depressed Mayadevi who is scared to embrace life and its little joys. An actor extremely sensitive to her surroundings and co-actors, we notice how she emotes doing mundane things like touching her face or eating a delicious meal. If there's one thing that raises standards for Dear Maya, it is the titular character Maya Devi – which Koirala plays with great flourish. She doesn't hog every frame as one expects her to. Her cherubic face, wistful doe-eyes, and magnetic presence haunt through her absence.
Co-actors Madiha Imam and Shreya Singh Chaudhary do well in their parts. Imam is composed throughout and displays great flair in emotional breakdowns. Chaudhary tends to overdo the teenybopper act (more so due to writing deficiencies) but gets it bang-on in the latter half. Iravati Harshe is a delight, as always. Sahil Shroff and Rohit Saraf lend decent support.
Despite its sentimental core, Sunaina Bhatnagar binds together her story with a good amount of intrigue. Her writing scores brownie points in keeping Maya Devi an enigma. We do not get a first-person sob story from her. What we know are hearsays, which could even be wrong. There are emotional closures yet certain knots are left untied even as the story concludes. While doing so, Bhatnagar effectively conveys her point that "Good things happen to good people!" – something that we wish for people like Maya Devi and assured young filmmakers like Bhatnagar.
Rating: ★★★ 1/2
Dear Maya is now streaming on Amazon Prime Video.