'Gunjan Saxena' review – a pleasant underdog story saddled by cardboard characters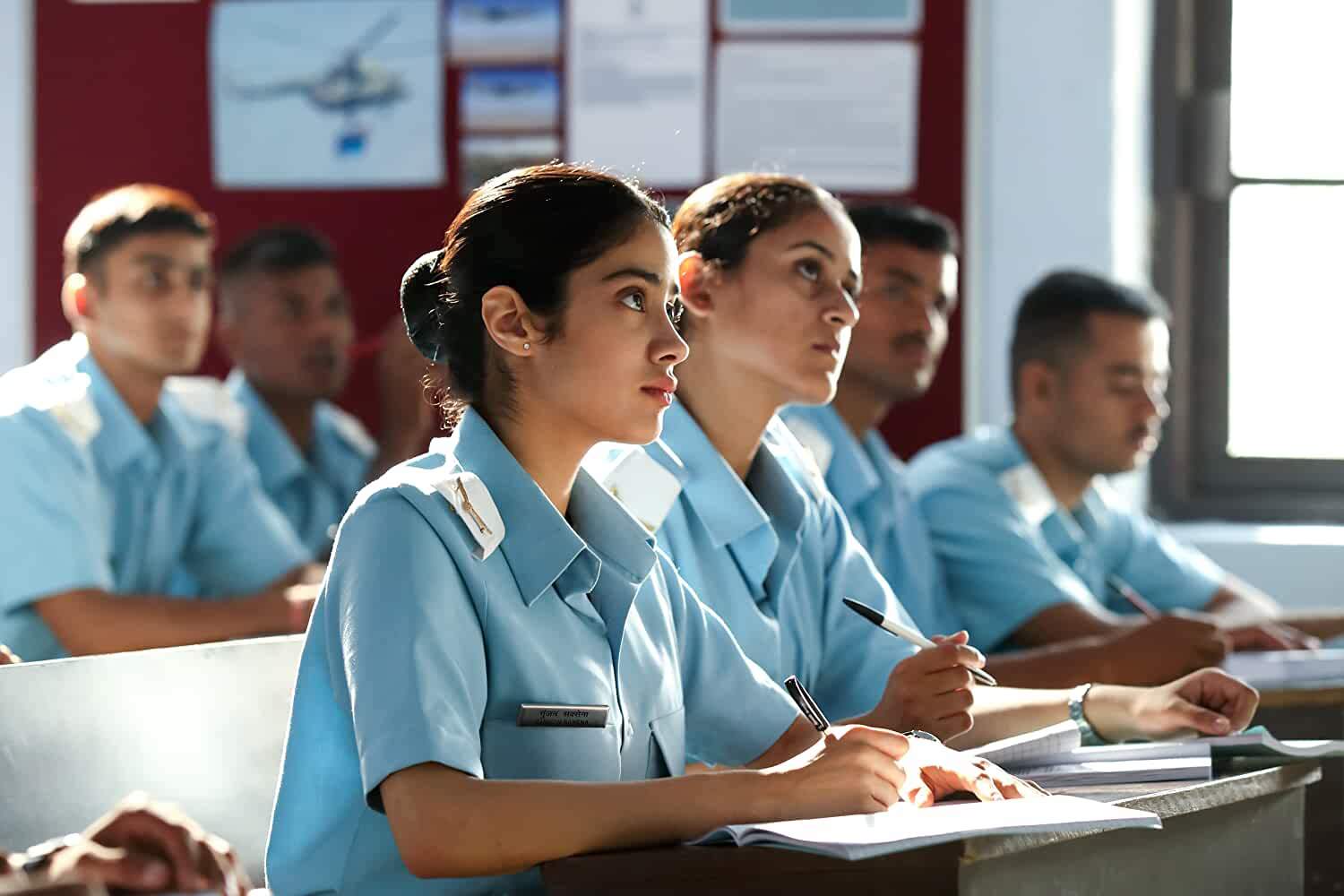 Read Time:
6 Minute, 11 Second
The most interesting scene in Sharan Sharma's Gunjan Saxena: The Kargil Girl comes somewhere in the second act. A perplexed Gunjan (Janhvi Kapoor) confesses to her father (Pankaj Tripathi), "The Air Force needs pilots who are patriots. I just want to fly planes," Her dad replies, "They want cadets with goals, with passion, who are sincere and hardworking at their training," In this fleeting moment, the film clears out its intent. It does not wish it to be a grand patriotic war saga. While I'm sure the 'Kargil Girl' adds extra wattage to its title but Gunjan Saxena, as shown in the film, is an adept flying girl. She is efficient and gives her male counterparts a royal run for their monies.
Sharan Sharma's film kicks off in an aircraft. A curious Gunjan happens to see the plane's cockpit. Following a cute banter with the captains, she makes up her mind, "I will grow up to become a pilot," How wonderful (and unusual) a dream is that for a little girl, we think. So do the rest of the characters. Gunjan grows up enjoying the TLC of her syrupy-sweet army-dad. In the first major scene after she grows up, Gunjan scores a whopping 94% – topping the class in the tenth standard. Soon follows a house party reminiscent of the ones in Kabhi Haan Kabhi Naa and TVF series Yeh Hai Meri Family. Somewhere midway, an unhappy Gunjan drops a bomb, "I don't want to study ahead, I want to fly planes." That's it. It is this temperament of the character that impressed me the most. Joining the Indian Air Force becomes the only 'option' to her due to her family's lack of funds to support private aviation training.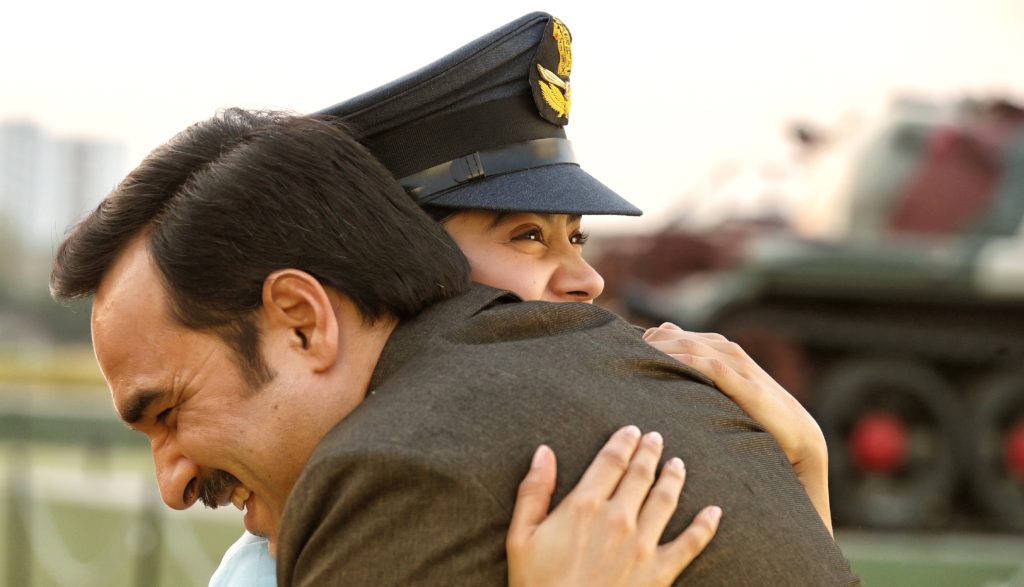 Unfortunately for the girl, Gunjan Saxena is surrounded by a group of phoney people. The biggest stereotype is her textbook-style morale-boosting father whose ways are near-deceptive. (I am not doubting how the real Saxena's father must have been.) Tripathi comes with an imaginary halo over his head that he reminded me of spirits of dead parents in certain films who appeared solely to make life-altering pep talks. Ditto is my sentiment for her clumsy brother Anshuman (Angad Bedi) who the writers want to be quietly sexist. Even in the middle of a war field, the only purpose he serves is to buzz like a bee, "Gunjan, you can't do this". Dude, get over it. This makes me wonder why a man's thumbs-up is so important to even close an emotional arc in a fictionalized biopic film?
The screenplay (Sharan Sharma, Nikhil Mehrotra) follows a largely linear storytelling pattern. Running for close to two hours, the narrative is fast and straightforward. It successfully sells to us Gunjan's hunger to fly. However, much like last month's Shakuntala Devi, the film does not delve into Gunjan nurturing and fine-tuning her skills. Why is she so kicked about flying? How did she sustain the interest over the years? How did she master the actual technique? The film has nothing to offer on these grounds. In Malayalam film Uyare, the protagonist's drive to become a pilot was supplemented with a chapter on her grasping the technique. Gunjan Saxena, instead, chooses to play safe as it proudly flaunts the 'woman card'. (Kangana Ranaut will be a happy person to notice how Karan Johar took her advice.)
For sure, there is no story of Gunjan Saxena without addressing sexism at home and workplace. Conversely, Sharma's film, after a point, becomes only about that. Gunjan gets no separate toilet. Gunjan has no place to wear her overalls. Gunjan is denied training by male coaches. There are problems from all quarters and they are all gender-centric. Okay, then!
ALSO READ: 'Dhadak review – all gloss and no beating heart
It also doesn't help that Jahnvi Kapoor is the actor who plays Gunjan. "Aaj tumhari pehli sortie hai," I misheard it as SOTY (acronym to Student of the Year), which reminded me how Kapoor would have blended way better in the latter universe with that perennial pout of hers. She is the most comfortable when staring woefully from underneath her blanket. The moment she comes out of it, the strains become evident. Barring a key outburst scene, Kapoor's is not necessarily a bad performance. It simply makes us miss what an earthy performer would have done to this part. I am sure you will chuckle in the scene where Gunjan's aspiring actor friend talks about her struggle in Mumbai's film industry.
Pankaj Tripathi as Gunjan's father is one whom the entire film-loving public and their dogs would lap up. It's impossible to go wrong with it. Especially for Tripathi who easily sleepwalks through it. Then again, the man feels too generic, too impossibly good to exist. Angad Bedi's Anshuman works on a similar rhythm. The saving grace here is that he gets a proper trajectory although predictable. In the film's most childishly staged scene, the duo is seen discussing Gunjan over a drink. Why, oh why?
Ayesha Raza Mishra continues to fit the void of a routine, texture-less mother character yet again. Manav Vij is compelling in his transitory part. The highlight, however, is Vineet Kumar Singh as Fight commander officer Dileep Singh. He elevates the film by several notches by just being interesting. He adds some fabulous strokes and spruces up an otherwise dull person.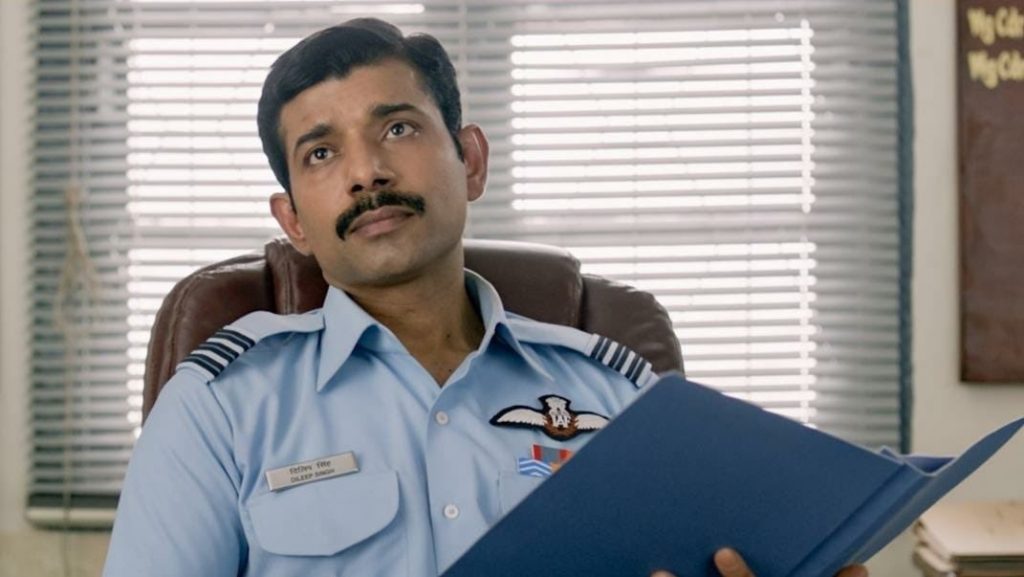 Making his debut, Sharan Sharma is a slightly better director than writer. His sequences are skillfully sliced (edited by Nitin Baid) in the first and the final acts. Asking the right questions in the right tone, the dialogues hit hard too. The flying portions, especially those in the war zone, are shot (DOP: Manush Nandan) exceedingly well with the thorough sound design (Ali Merchant) helping in a big way. The songs (Amit Trivedi, Kausar Munir) and their integration onto the narrative is easily Hindi cinema's best this year. The ambience of the army household looks authentic whereas the incidents at Udhampur air force camp look distant. To cite a comparison to a superior film on similar lines, Lakshya made us a part of the protagonist's journey through a series of panoramic shots. Gunjan Saxena does not even explore a proper establishing shot that might help us immerse in the atmosphere.
Gunjan Saxena: The Kargil Girl concludes with a moving song called 'Bharat Ki Beti'. It is amusing because she never wanted to be that. She demonstrates her excellence in her chosen profession and automatically becomes one – the first woman air IAF officer to go to war. Somewhere deep down, Gunjan (and us) wants her to be just her papa ki beti. The innocent girl who loved 'cassata' ice creams and was more informed about Raja Babu's 'Sarkailo Khatiya' rather than current affairs. If not for the broad-stroked writing and bland character designs, Gunjan Saxena would have been a riveting feminist fare. Sharan Sharma's film still passes muster because it is easy to buy a narrative such as this – rise of an underdog from shackles of sexism and unfavourable work atmosphere to emerge triumphant. The end result is a film that motivates but seldom moves.
Rating: ★★★
Gunjan Saxena: The Kargil Girl is now streaming on Netflix.