'The Blue Umbrella': A Vibrant, Magical Tale With a Hint Of Suspense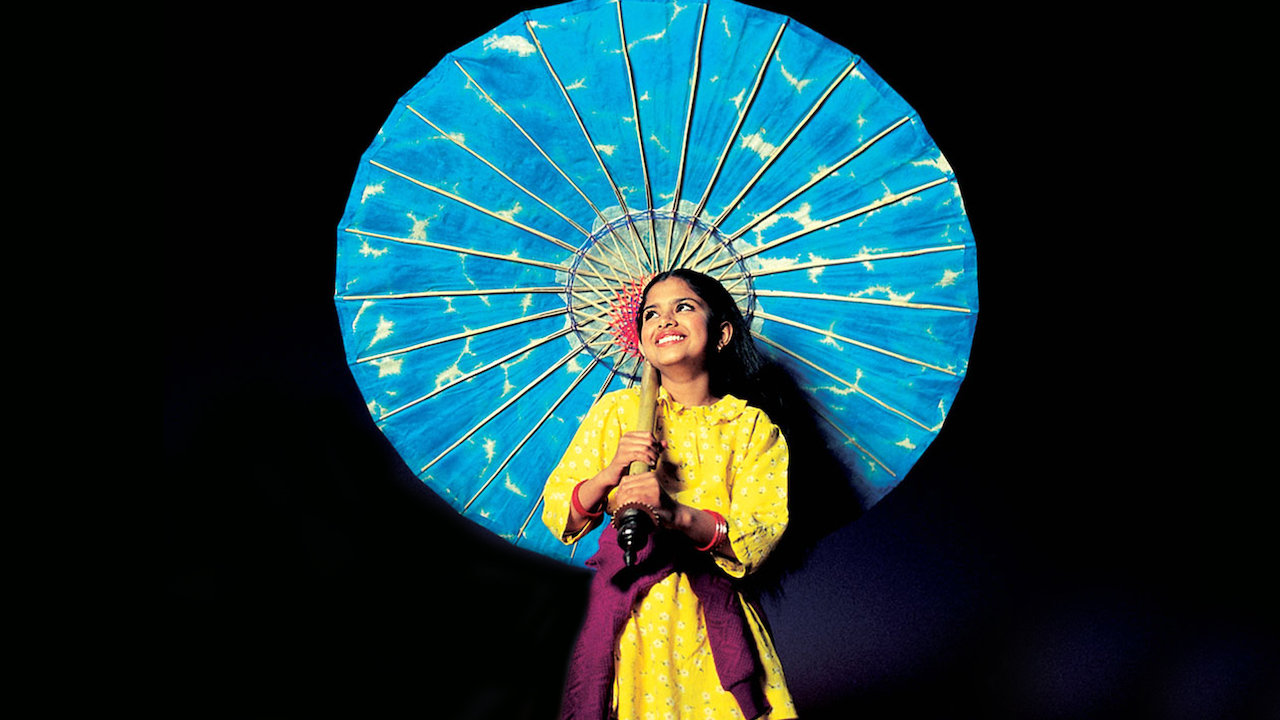 Read Time:
8 Minute, 17 Second
I clearly remember watching Vishal Bhardwaj's The Blue Umbrella back in 2007. If Tinder were to exist then for teenagers, 'voracious reader' would have been the first two words in my bio. Ruskin Bond, to me, was the story-telling grandpa I never had. So much so that I even remember narrating The Night Train at Deoli (in my own words) during a story-telling session in school. Predictably enough, The Blue Umbrella was dear to me. I actually wanted to see my imagination come alive in what I would then call 'a Bollywood film'. I was content and immensely satisfied with Bhardwaj's interpretation. Then again, I could a sense a feeling within. I loved it so much but I wanted to love it even more. I desired the film to be as precious to me as the novel. It wasn't hard to realize what limited me from getting there – the dialect. For a teenager in Kerala who watched the film on a rented VCD, subtitles were too much of a luxury to ask. About 13 years later, I get that on Netflix. As I watch the film adaptation of The Blue Umbrella on Vishal Bhardwaj's birthday, my upgraded idea on cinema gives me newer insights. Here they are:
The Fable-like Story
On this date, I do not remember the intricacies of Ruskin Bond's book. It gives me the liberty to approach Vishal Bhardwaj's film with a fresh perspective. The Blue Umbrella unfolds like a charming fable that might have been narrated by a grandfather on a wintry night. I mention 'wintry' here because the film is set in Himachal Pradesh where snowfalls are not uncommon. In a village facing the Himalayas, lives our protagonist Biniya (Shreya Sharma). She is popular in her area if that is the right word to use. And why not? Biniya is affable, well-behaved and has a winsome smile. Right from her uncle Rajju (Samrat Mukerji) to the local policeman (Rajesh Sharma), Biniya has a good chunk of admirers. Against her is the crude shopkeeper Nandkishore Khatri (Pankaj Kapur) alias Nandu. Ruthless in his money exchanges, the duo first lock horns over a binocular. But, the storm surfaces when Biniya gets hold of an ornate Japan-made blue umbrella from a group of tourists. The village is envious but the extra-desirous Nandu wants it all for himself – by hook or cook. Rest of The Blue Umbrella involves a series of events around him, Biniya and the magnificent umbrella.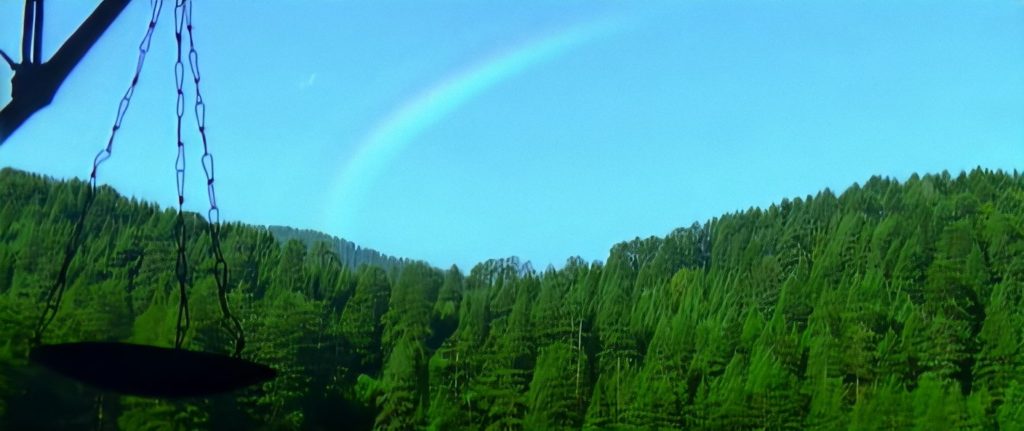 Umbrella as a Metaphor
In The Blue Umbrella, the characters live a simple, minimalist life. Amenities such as cellphones or even television does not seem to have reached this picturesque place. While the adults listen to the radio, young children are seen to dance in the meadows and streets. One fine day, an umbrella stuns them as it enters Biniya's life. Large, vibrant and immaculately crafted, they hadn't seen anything like that until then. Well, is the umbrella just a symbol of materialism? It is a lot more.
Biniya's blue umbrella immediately upgrades her reputation in front of the villagers. She, anyhow, was a loved child. The baroque object she carries makes her even more special. The umbrella also becomes a symbol of envy. As the superstition goes, someone's 'bad eye' might have struck her and the little Biniya loses her prized possession. Nandu's desire, on the other hand, makes the umbrella an allegory to his greed. It symbolizes the belief that he could own anything via trickery. He goes down to the basest of levels to snatch something which, at the end of the day, is an object owned by a child.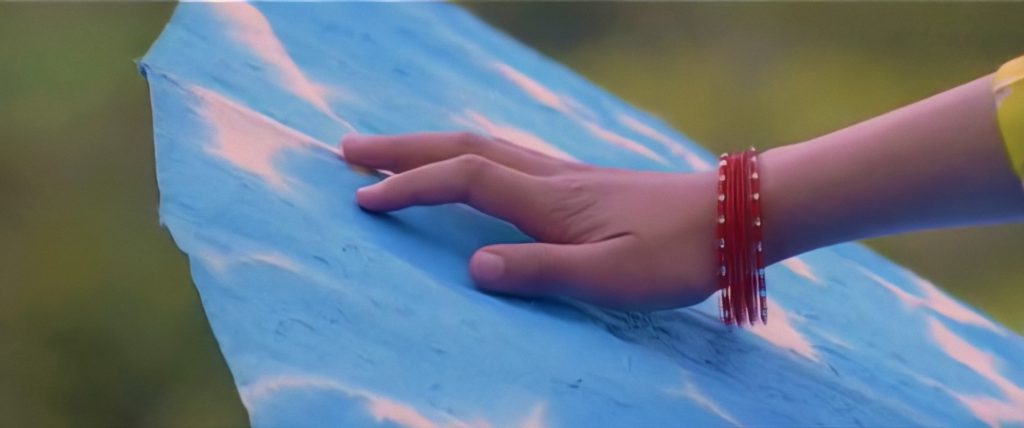 Colours as Conscience Keepers
Now that I reminisce a bit, the vivid frames in The Blue Umbrella were a major reason for me to be enticed by it back in 2007. The DOP (Sachin K Krishn) fills his frames with all shades of the rainbow even in the dullest of scenes – be it with balloons, prayer flags and clothes. After all, its title itself has a colour in it."Aye hey, re neeli aasmani chhatri" is what Biniya sings in her ode to the blue umbrella.
When Nandu gets hold of the umbrella, it is no longer sky blue. It is red. As opposed to being an equal companion to Biniya, the red umbrella is now a symbol of power to Nandu. People do not look up to him with love or endearment. His newfound standing makes way to influence in the local society. The only difference between the past and the present is that Nandu, in the interim, became owner to a bright, red umbrella.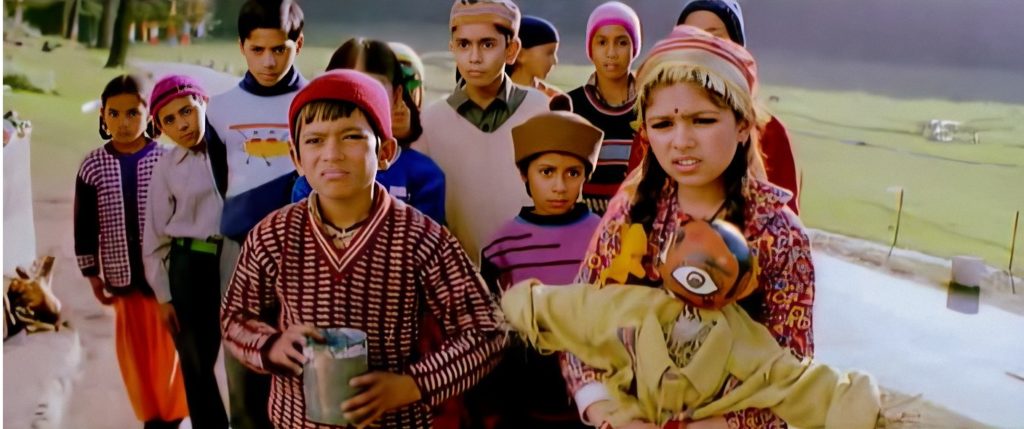 The Role of The Bear Claw Pendant
While the camera pretends to introduce the umbrella in a Mary Poppins sort of way as it seems to slip right from the skies. Soon we realize how Biniya gets the umbrella from a Japanese group in exchange for her bear claw pendant. It's a fair barter.
In their village, such a locket, not an unseen object but one with legitimate ornamental value. In a later scene, we observe an ostracized Nandu gifting such a pendant to a bridegroom. In exchange, he wishes to grab his self-respect back.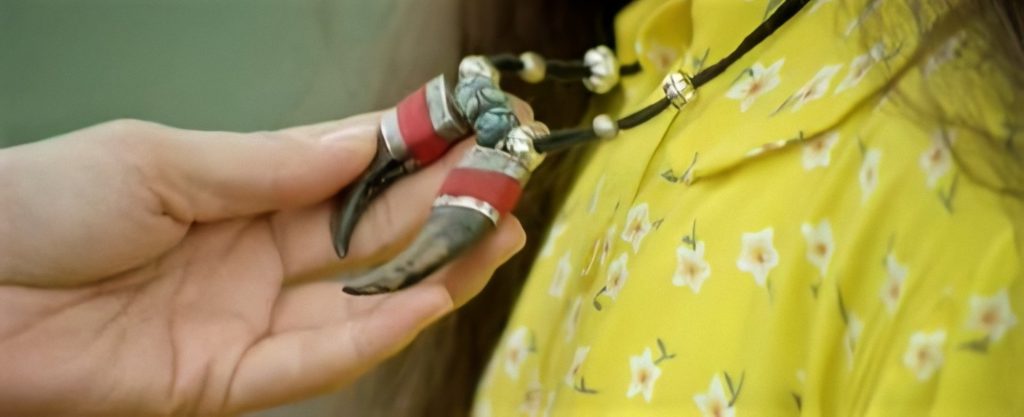 Nandkishore Khatri – The Bitter Sweet Salesman
Nandkishore is a nasty man. He seldom smiles and he does not seem to have a sweet-tooth for himself. Ironically enough, he runs a tea and confectionary shop. In his bad days, we see him stop passerby children with a special offer – with two biscuits, get four toffees free.
Nandu's insensitivity is also seen in the way he is with children otherwise – be it the boy Rajaram who he has employed or Biniya herself. In a crucial scene, he reveals how he missed out on getting married as he was busy climbing the ladder of prosperity. As I introspected, I could only equate the man with Dickens' Ebenezer Scrooge.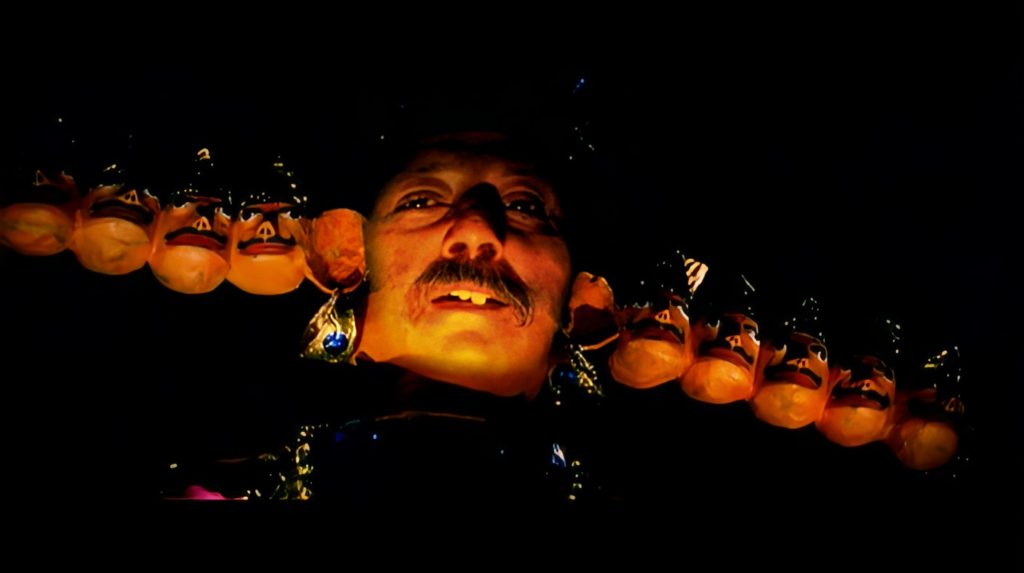 A Window to The World Outside
The Blue Umbrella is a film with a child in its epicentre. Notwithstanding this fact, Vishal Bhardwaj throws in a couple of occasions where the characters are listening or read news about events in the USA. The film opens with a man (Deepak Dobriyal) making Nandu listen to a news piece about Bill Gates. Nandu is fed the idea that he is about to get hold of a treasure which will end up changing his life. In a later scene, Biniya is seen reading a chapter connecting to the US presidential elections.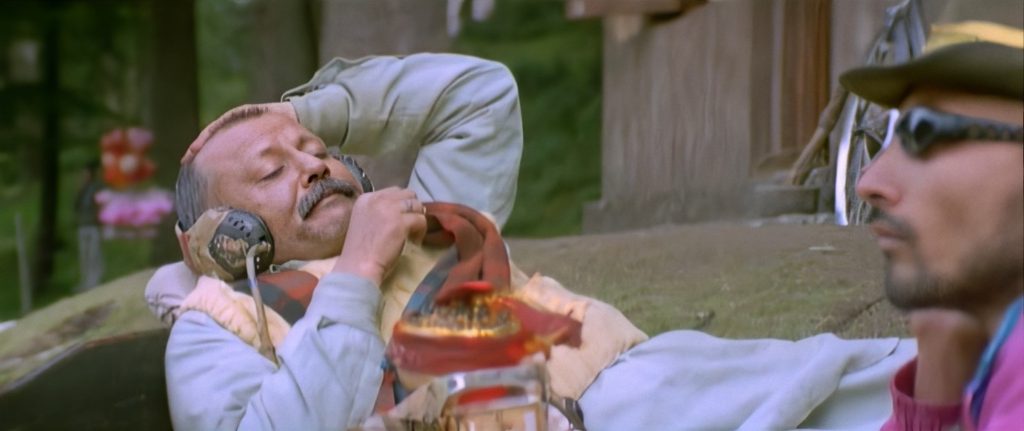 More Suspenseful Than a Regular Whodunit
"Did Nandu steal the umbrella or not? This is one question that haunts us till the last running minute of The Blue Umbrella. There is no forced plot-twist involved here. Bhardwaj maintains the suspense better than the majority of the whodunits we see on and off in Indian cinema. The climactic moment, when it arrives, becomes a wonderful culmination which lets us, the audience, to make our own interpretation. The emotion that looms large here is that of forgiveness and goodness.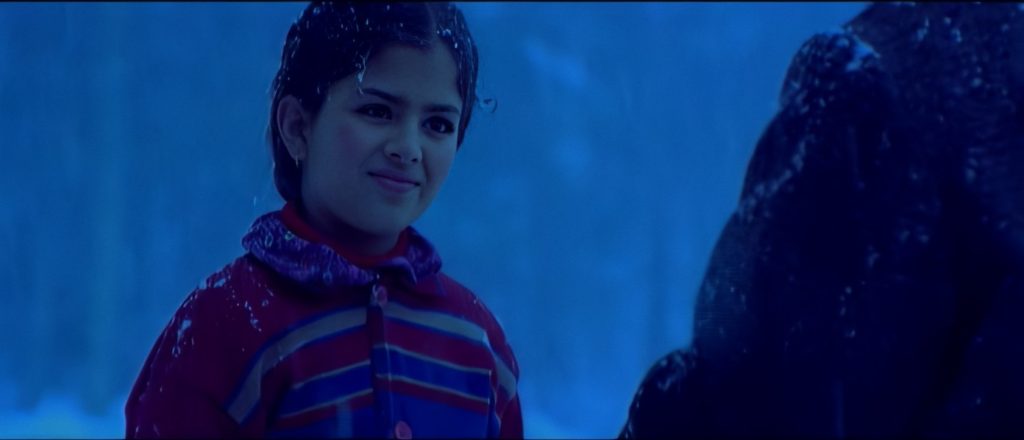 Simple Filmmaking, Not Simplistic
The Blue Umbrella is the recipient of the National Award for the Best Children's Film. But, I doubt if it wholly belongs to what they traditionally categorize as a children's fare. Be it with the dialect at use or the intricate writing for most parts, Bhardwaj's film calls for an attentive viewer – unlike his own film Makdee which was far simpler in context, writing and techniques.
As for plot points, every element in The Blue Umbrella exists for a reason. When it comes to the stealing angle, there is a moment where Nandu categorically states how it is wrong to obtain the umbrella that way. At the same time, we observe Rajaram stealing a tourist's jacket with zero remorse. We also get a fleeting passage where Rajaram is seen with his uncle, someone who dyes clothes. In another scene that coincides with Dussehra celebrations, Biniya imagines Nandu as Raavan – which later results in the cops raiding his shop. The fond moments that both Biniya and Nandu share with their respective umbrellas are captured through still Polaroid images, asserting it as a highly photographable object.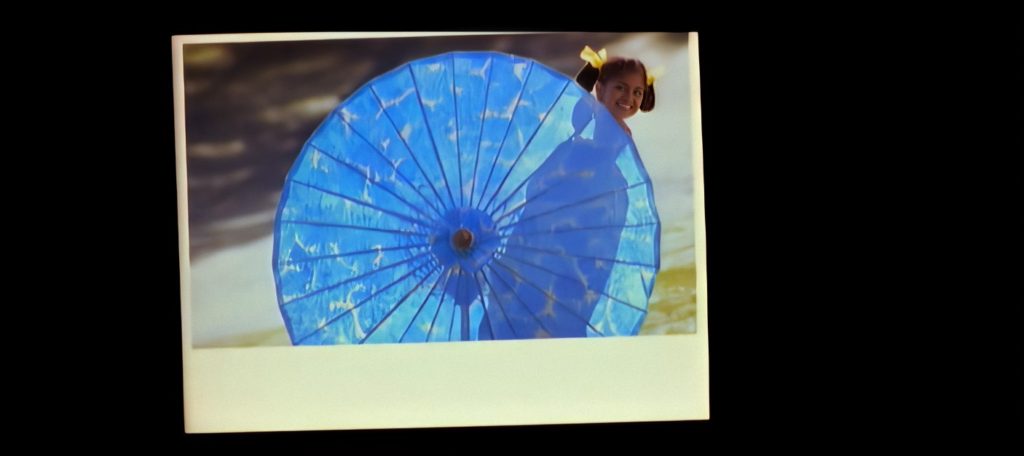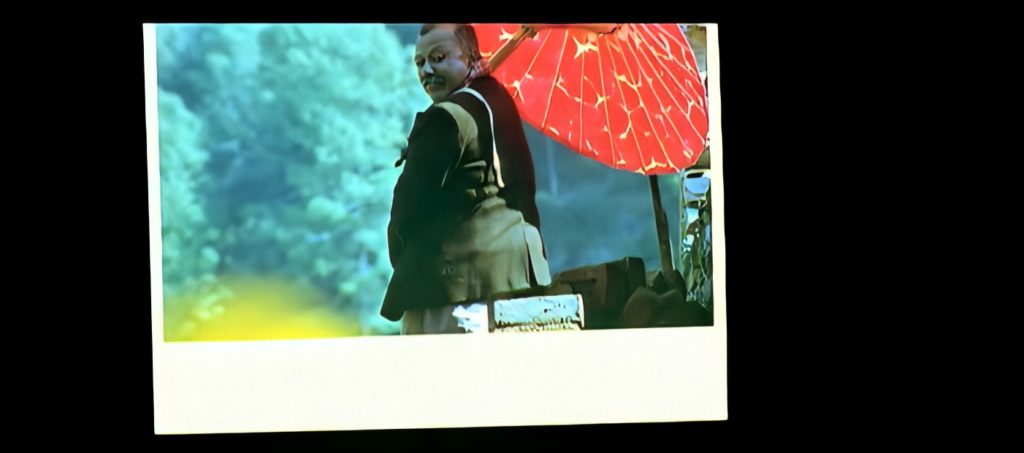 All merits aside, The Blue Umbrella is not 'art-house' as detractors might label it. Yes, there are certain elements (such as the local dialect) that might require a little effort to get used to. However, the making is so wholesomely mainstream. There is even a lovely dance routine featuring children (choreographed beautifully by Bhushan Lakhandri). Vishal Bhardwaj's music and Gulzar's lyrics keep the film in a peppy yet meaningful zone. The sound department (Dara Singh, Shajith Koyeri) adds greatly to the atmosphere whereas the set design (Nitin Wable) is highly authentic to the milieu. (Led by Pankaj Kapur, the performances are phenomenal by the ensemble cast. Kapur leaves no stone unturned to make us unleash a range of emotions towards him. If we loathe him at one point, we sympathize with him at another. Shreya Sharma's minimalist act is an asset to the film. If I were to pick scenes, it would be the one after she loses her umbrella besides, of course, the finale. The supporting cast is equally good – be it Samrat Mukerji, Dolly Ahluwalia or even Deepak Dobriyal in a blink-and-miss part.
So, today with almost all my memories around the literary work erased, I refer to The Blue Umbrella as a solid cinematic feat. The screenplay (Minty Kunwar Tejpal, Abhishek Chaubey, Vishal Bhardwaj) is pitch-perfect with numerous layers, nuanced characterizations and ample tension in place. It is not only Vishal Bhardwaj's career-best (as a director) but also one of the greatest films to be made post-millennium.
The Blue Umbrella is now streaming on Netflix.
ALSO READ: 'Paheli': A Picturesque Folk Tale Which Quietly Addresses Women Empowerment