Read Time:
3 Minute, 58 Second
The edifice of Amal Neerad's body of work is so markedly defined by his stylized shot-taking that it has eventually become his hallmark. The director's latest offering, CIA – Comrade in America, stars Malayalam heartthrob Dulquer Salmaan as a man with Communist leanings. With even the doyens of Communism – Lenin, Karl Marx and Che Guevara – making 'appearances', the film oozes style and oodles of it. Easily at the cost of a plot that could have held the film together….
Comrade in America is akin to a haywire 'match the following' puzzle. There's a backdrop, there are apparent ideologies, relationships, geographies, languages and, above all, people with individual stories. Even the protagonist's local sidey has one. All of it could have made a riveting plot if the writing were to form a meaningful helix than the pointless mess writer Shibin Francis tosses up.
The film opens with a bang as our hero Aji Mathews (Salmaan) leaves no stone unturned to display his raw, whistle-worthy machismo. A communist, Aji beautifully co-exists with his father Mathew (Siddique, fantastic) who works for the opposite party. In a film that is decidedly pro-Communist, there are visible attempts to project the latter's lack of trust in his followed party. There's a one-off scene (possibly lifted from Jay Roach's Trumbo) where Aji explains Communism to his novice girlfriend. Simplistic and also one-note in its beliefs, the film doesn't intend to delve deep into ideologies. We see possibilities in this unusual framework while the writer and Neerad are busy investing energies into the protagonist's physical strength and popularity via abrupt slow motion fights. The non-linear narrative tends to confuse once the film turns its contours from politics to romance. It doesn't help that the romantic track here is weaker than his fellow comrades' proficiency in English.
ALSO READ: 'Artist' review – when the world turns Prussian blue
Talking about the love angle here, we are familiar with artist P. K. Mahanandia's cycle expedition from India to Sweden, to unite with the love of his life. In what could have been a star-crossed romance, his is a story that we willfully root for. Even in cinema (good to tolerable ones, that is), similar stories are bound by strong purposes in what naturally are solid love stories. In Aji Mathew's world, clearest motivations are of the US-bred leading lady, Sarah (Karthika Murali). Rest of the characters consistently have us wondering – Why are they up to things they are up to? If it were a stereotypical post-breakup self-discovery travelogue tale, Comrade in America could have easily fared better. Inspite of Salmaan's tremendous expressions and apt mannerisms, his rationale behind this 'big' trip doesn't convince one bit. It might sound heroic to conceal the details of the travel from parents and best friend but the writing fails to create a convincing web proving many of Aji's statements, bonds and actions oxymoronic.
Comrade in America turns unevenly melodramatic in the latter half with labyrinthine sub-stories amidst unseen locales of Nicaragua, Honduras and Mexico. Bringing in familiarity is a Sri Lankan cab driver (John Vijay, mawkish) who speaks crystal-clear Tamil and a Malayali girl (of course!) treading a similar journey. Again, these characters are weirdly sketched and their motivations are perplexing to say the least. Especially Pallavi (Chandini Sridharan), whose bravado is so frivolously projected that it's almost worth a guffaw. The film soon leads to a climax with a dash of melodrama, sermons and mandatory slow motion shots with our dhoti-clad leading man.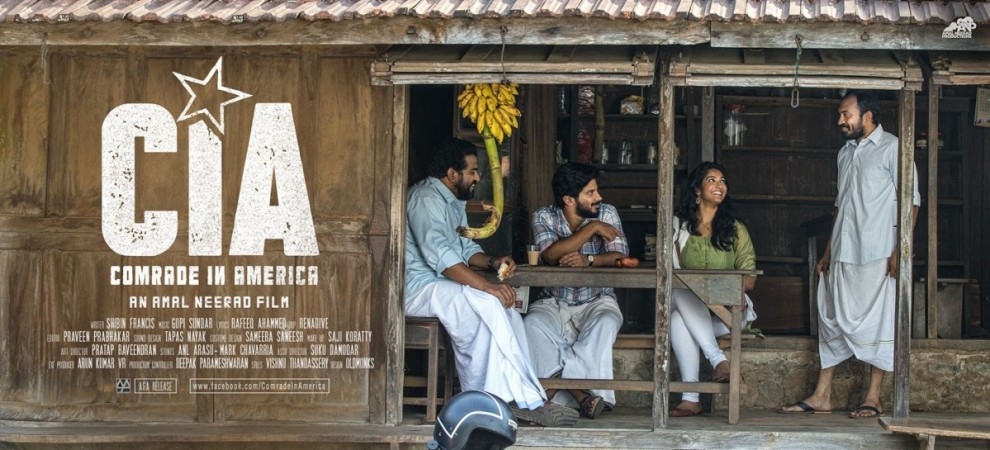 For an educated man weeding away his life during the day whilst reading Mary Gabriel's Love and Capital in the local library by night, Aji Mathew is this rich, do-gooder thug whose principles contradict his actions. A Communist idealist otherwise, Aji doesn't shy away from using his family ties to disentangle himself from troubles – not to mention money that he doesn't realize the value of. The final reel meanders across predictable borders and the plot twists are amateur, soppy or weirdly both. On the brighter side, we get some tremendous work from the DOP (Renadive). Even otherwise, the film is snazzily visualized and deftly edited. Gopi Sundar's background score is trippy but the songs are outright forgettable. There's also some neat humour in the first half which, however, is held together by capable actors (Dileesh Pothen, Soubin Shahir) rather.
It is saddening how Comrade in America ends up in a pitiable identity crisis. It wants to touch umpteen motifs at one go, and misses out on every single one while doing so. Nothing more can we expect from a slipshod screenplay that is half as interested as Neerad is in his choice of title and clever release date for the film!
Rating: ★★