Read Time:
4 Minute, 38 Second
It's hard to please with a film adaptation of a celebrated book. It's harder when the genre is historical fiction. In Ponniyin Selvan: Part One, veteran filmmaker Mani Ratnam is up for both the risks and, as an additional responsibility, he hires established actors even in minuscule parts. What is he trying to pull? A lyrical, slow-burn adaptation? No. A magnificent period epic? No. A rousing star saga? You must be kidding. The biggest male star of the enterprise (Chiyaan Vikram) disappears for long stretches, and the title character appears only in the latter half. Mani Ratnam's film neither pays heed to the idea of playing out the book page-by-page nor to the actors' commercial standing. Instead, Ponniyin Selvan: Part One, not-so-quietly sets the stage for a larger story to unfold in the end and later in the planned sequel.
Adapted from Kalki Krishnamurthy's book by the same name, Mani Ratnam's film transports us to a world we imagined through seventh-standard history textbooks. The men wear their artillery and scars with pride whereas the women adorn mallippoo and temple jewelry as they sheepishly make political moves. Ponniyin Selvan: Part One is visualized through the eyes of Vallavaraiyan Vanthiyathevan (Karthi) for a good part of its run-time. Other key players – some with greater standing in the plot – appear sporadically to deliver a line or exchange a glance or two. The most striking of the lot is Nandini (Aishwarya Rai Bachchan) – queen to the aged Periya Pazhuvettaraiyar (R. Sarath Kumar) and former lover of Aditha Karikalan (Vikram). She plays the game of power with the classy disposition of a royal and is equally adroit with her brazen, manipulative ways. In her husband's words, Nandini's celestial beauty threatens to conceal her astute intelligence.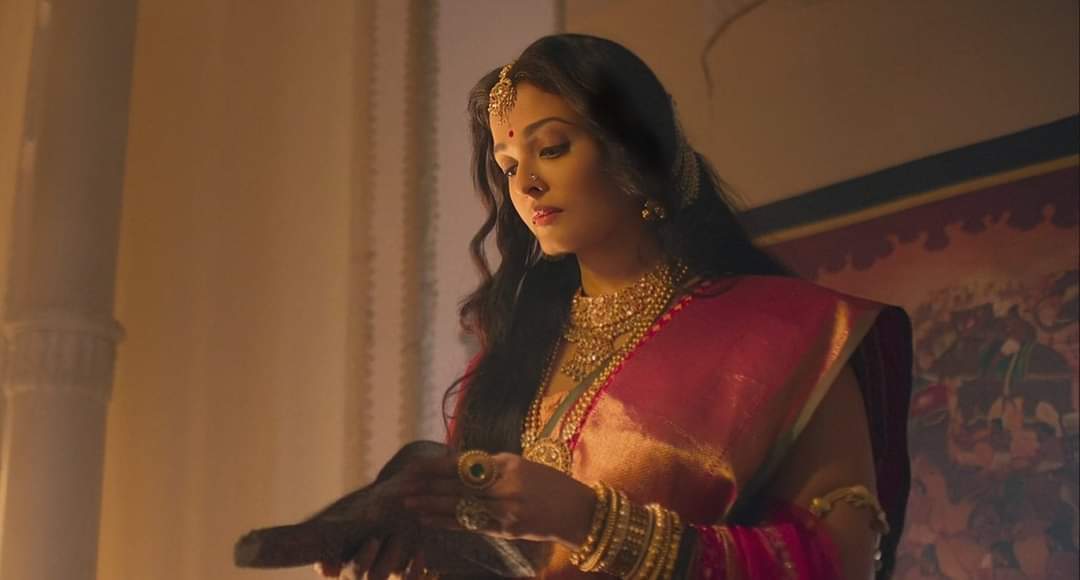 Ponniyin Selvan: Part One is an incessantly talkative film. If you miss a line, you may miss out on context for the next few minutes. Mani Ratnam's screenplay, therefore, is heavy on exposition, and his characters chat from nine to nineteen hundred. The dialogues are not packed with punches but there are major face-offs and astounding set pieces to serve that bit. Take the scene where Aditha Karikalan learns about his lover's betrayal or the one where Nandini meets Vanthiyathevan in her chamber. The lines are nearly absent or are unmemorable, but the staging isn't.
The screenplay (Mani Ratnam, Elango Kumaravel) is stacked with one big scene after the other. It is as if the film wouldn't want to waste a single running minute. As a result, Ponniyin Selvan: Part One has an extremely hurried grammar and pace. Although the editor (A. Sreekar Prasad) tries his best, Mani Ratnam's film does not offer enough breathing space for a bunch of its characters to develop. If the smaller players (Jayaram, Prakash Raj) milk benefits from the manner they are written, there are bigger ones who deserved better grounding (Vikram, R. Sarathkumar). It made me ponder whether the film would have worked better as a series. For instance, Ponniyin Selvan: Part One pushes you into an alien territory from where it traverses through the mind games of characters with historical significance. This approach would have worked wonders if the characters and their politics were to simmer slowly – outlining their individual motivations and relationships. That said, Mani Ratnam still makes the best use of the limited run-time to deliver a film that can be perceived in an array of ways but still isn't complete.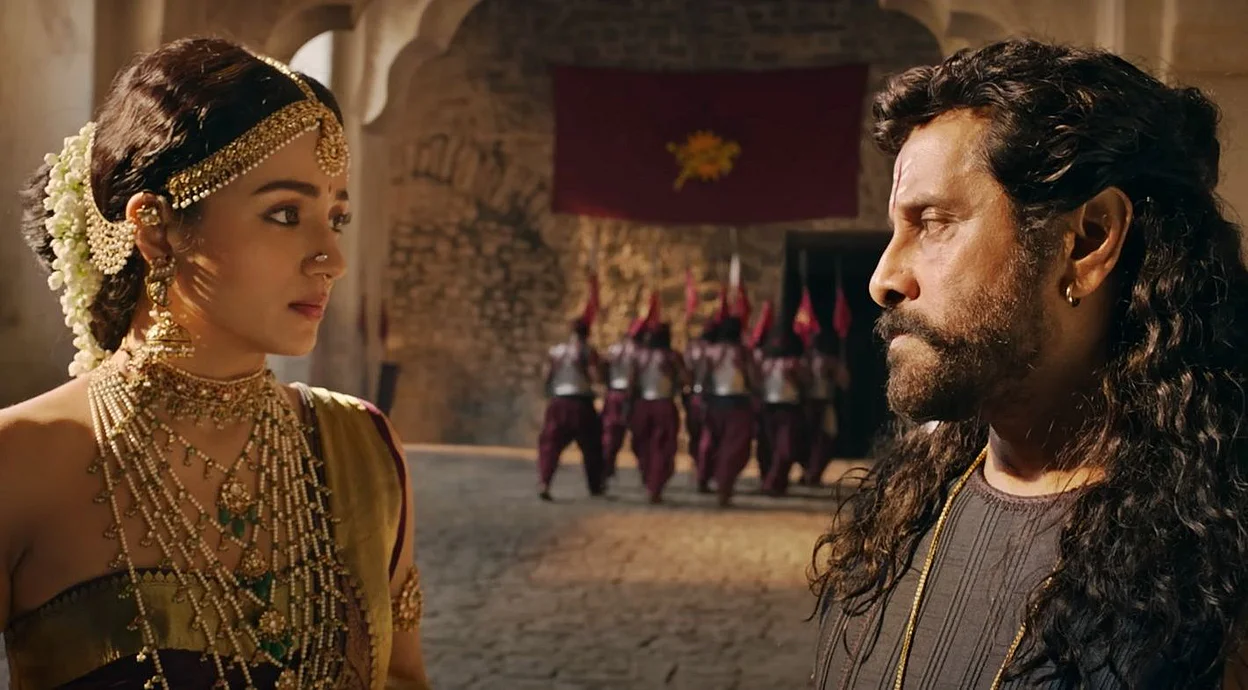 A. R. Rahman composes the original score that matches the film's complex temperament to a T. The songs, which are inferior to Mani Ratnam's high standards, do not get used in a conventional fashion. Ravi Varman's cinematography is picturesque, but its constant jerkiness may not appeal to the hoi polloi. Thotta Tharani, who designs the sets, does a pitch-perfect job, and so do the VFX, sound, and action departments. Ponniyin Selvan: Part One's technical proficiency is astute enough to cover up the screenplay's occasionally tiring rhythm.
ALSO READ: 'Chekka Chivantha Vaanam' review – A stylized medley of gangster drama clichés
The cast consists primarily of well-known players and all of them deliver. Karthi, who gets the maximum screen-time, is a joy to watch whereas Jayam Ravi slips effectively into a part that is tailor-made for him. Aishwarya Rai Bachchan is wonderfully cast as the crafty Nandini. The actor's ethereal looks are used cleverly to magnify the character's unnerving demeanor. Although not a finely developed character yet, Vikram's ability to portray intensity is utilized well in key moments. Trisha, who plays 'Ilaiya Piratti' Kundavai, is spectacular. She appears only in a handful of sequences but whenever she is on screen, it's impossible to look away. Aishwarya Lekshmi as 'Samudra Kumari' Poonguzhali is fascinating whereas Sobhita Dhulipala, Parthiban, Lal, and Rahman are sufficient despite limited screen time.
Ponniyin Selvan: Part One comes with the giant burden of living up to expectations of myriad kinds. Yet, it's interesting to observe the veteran filmmaker pulling off the gamble with appreciable success. Mani Ratnam's film concludes on a helluva cliffhanger. It leaves us with enough fodder to chew on until the next part surfaces in 2023. If there's anything that I look forward to in the binding sequel, it would be an element of intimacy – a Mani Ratnam USP – which is amiss in the first edition which is chatty and grandiloquent for a reason.
Rating: ★★★ 1/2