Read Time:
3 Minute, 59 Second
When a regular Tamil film viewer signs up to watch an Ajith Kumar film, it is pretty much known what they are getting into. The star-actor seems to have carved a genre of action – that might remind one of Superstar Rajinikanth's infamous subgenre – but only sans humor and flavor.  Rajinikanth, of late, has shown surprising signs of change. So has Ajith's contemporary Vijay whose recent star vehicles, despite their larger-than-life wattage, were eminently watchable. Director H. Vinoth's Valimai places Ajith right in the center of what we would rather call his comfort zone. The result is a mega thrilling actioner with astounding set pieces jeopardized constantly by soppy family drama.
ACP Arjun (Ajith) is a sharp cop who is in charge to nail a strange set of criminals who smuggle drugs from Colombia while snatching chains off unassuming women on Chennai roads. The villains worship Satan, wear Gothic makeup, have tattoos, beards, bikes, and consume all things that are believed to be sinful. The cop, on the personal front, is a devoted middle-class man who adores his mom (Sumithra) and siblings (Achyuth Kumar, Raaj Aiyyappa). The moment the family is introduced with a shoddily staged temple event, we predict how they are here to ruin things for the film.
The chase bits are fun. Great fun, if you would dismiss logic entirely and are easily mesmerized by vehicle chases. H. Vinoth stages two mighty action sequences which by themselves are worth the price of your ticket. The hero versus villain conflict is crystal clear and is devoid of boring dialogue play. The DOP (Nirav Shah) shoots the chases through a series of swift wide-angle, aerial, circular, and slow-motion shots – making them immersive to the hilt. I nearly forgot the shaky foundation that the screenplay sets up to transcend Wolfranga (Karthikeya Gummakonda) as a Satan equivalent who traps fleets of unemployed youth with unusual bike riding and roller-skating skills. Oh boy.
While I might excuse the youngsters and their exasperation of engineering courses doing them no good, the discourse on family values is absolute poppycock in Valimai. For sure, it's a time-tested trope to a hero's fight personal. Then again, for a film that is unimaginably good on the thrills front to later have a septuagenarian hung from the ceiling in the villain's dungeon is a disappointment of another degree. Not to mention the AirPods that never go off the villain's ears even as he is smashed and flown around mid-air for hours.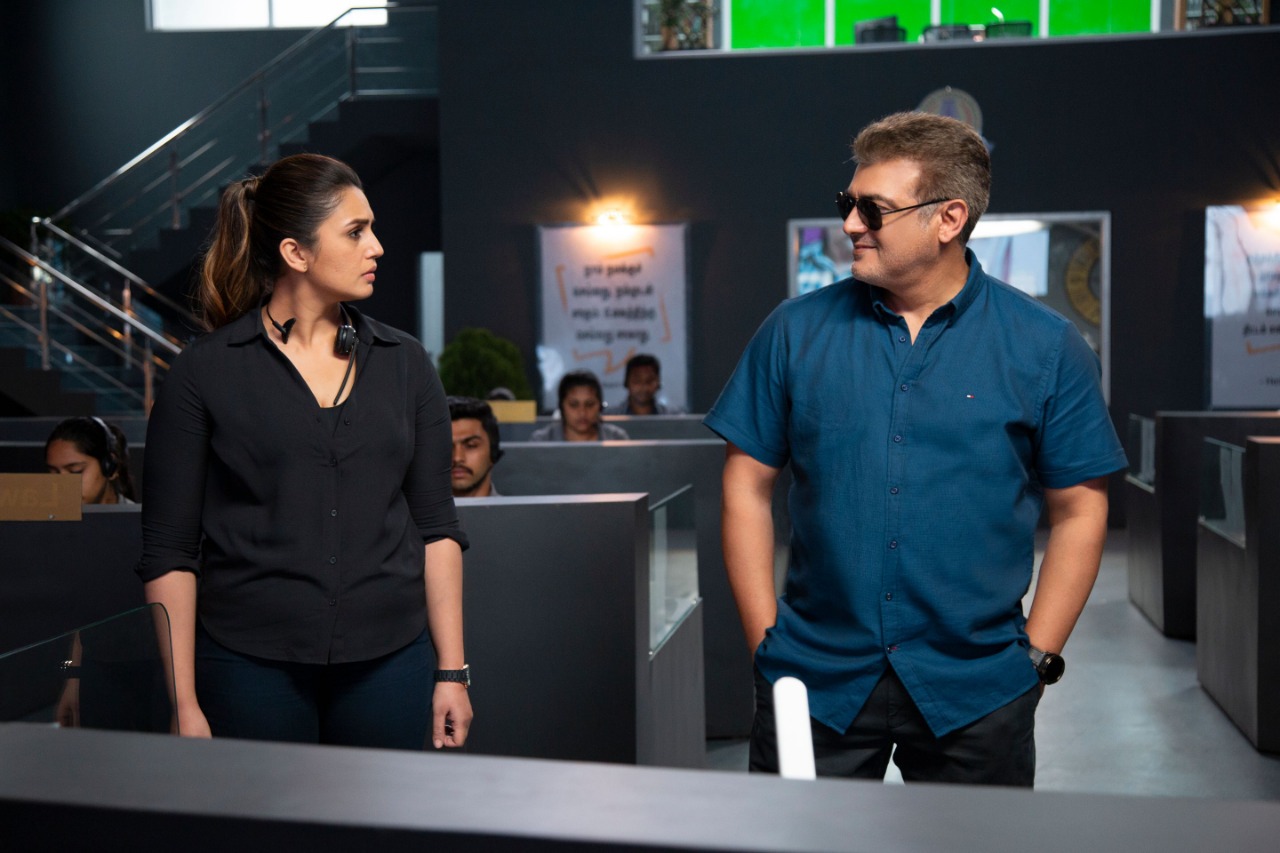 Technically slick, Valimai abounds in a series of plusses. It was heartening to see a bunch of women playing key roles in the investigation. Even though in a supporting role, Huma Qureshi impresses as Sophia, Arjun's close aid and a daring cop who doubles up as a sketch artist. Qureshi spells fire when she emerges from a van to gun down a pack of stray bikers – which made me wish the film had more of her badassery. The male supporting cast consists solely of cops – the good ones are forgettable, and the bad ones are severely one-note. There are stagey board room meetings where the top cops reject Arjun's intuitions. There are also rousing moments in the IT department where two women cops hack into the villain's dark web portal. The bike chases are high on adrenaline and the stunt choreography deserves a separate round of applause. To sum it up, in H. Vinoth's film, everything is worth your tub of popcorn if it happens between the cops and the rogues. The moment it steps out, Valimai enters the groan-inducing Viswasam zone– thankfully sparing us of the blinding colors.
The final stretch of Valimai made me wonder if they had a screenplay in place at all. The slick execution is so badly watered down with plot devices that date back to the '80s. Ajith Kumar is smashing in the early hours, and I loved how they didn't throw a romance between him and Qureshi. The surprise package is Karthikeya whose evil grin, brawny physique, and towering screen presence make sure the villain is totally worth his salt.
Now, the argument remains what Ajith Kumar should be doing at this stage in his career. Valimai delivers what the actor has been serving under different titles for over two decades. The question remains if we will ever get the tenderness of Kandukondain Kandukondain or Kadhal Kottai back. Perhaps a romantic film is too much to ask – unless Gautham Menon tricks the superstar into doing one – but I do miss Ajith in his everyman form. An ounce of vulnerability wouldn't hurt for an actor with a pair of eloquent eyes and an assured physicality.
Rating: ★★ 1/2