Read Time:
5 Minute, 53 Second
With Ponniyin Selvan (Parts 1 and 2), Mani Ratnam has a gargantuan task at hand – which is to achieve the mastery of a five-part literary work in a two-part saga. There's a long list of Kalki Krishnamurthy characters left to be touched, each with their own unique intricacies, idiosyncrasies and legacies. Then again, legacy is also a cross the filmmaker has to carry himself. When Tamil cinema's ace craftsman impressed one and all with a rather faithful imagination of Kalki's story in Ponniyin Selvan 1, it ended with a plethora of questions. The second and concluding part, Ponniyin Selvan 2 unravels each mystery – one layer at a time. This time around, the filmmaker lets his craft outweigh his burden as a tribute-paying fan.
Indeed, there was an information overload in Ponniyin Selvan 1. When Mani Ratnam decided to establish the atmosphere and introduce its characters, the process did not feel too smooth. For sure, a crash reading on the characters might have rendered the visual spectacle a far more spellbinding experience. Then again,  great cinema is no high school examination where it takes a logarithm book to solve your sums. Mani Ratnam, perhaps knowing it right from the beginning, designs the second chapter of the majestic tale with a definitive directorial edge.
There are alterations, abridgements, and cinematic liberties in Ponniyin Selvan 2. The ambience remains true to its essence, the character sketches seldom waiver, and yet the film chooses to not saunter off the story's central politics. In Mani Ratnam's adaptation, the complex and lethal romance between Aditha Karikalan (Chiyaan Vikram) and Nandini (Aishwarya Rai Bachchan) takes the centre-stage. And why not? Theirs is the most enigmatic, volatile equation between any two individuals in the story. In Ponniyin Selvan 1, the most aggravating moment was when Karikalan assassinates an aged Veera Pandiyan (Nassar) with the man's blood spilling all over Nandini's face. Being aware of their history, a layperson must have asked – where do we go from here? Mani Ratnam takes this intrigue to task and weaves the narrative that makes us thirst for their long-pending face-off. It takes place in the pre-climax and, unsurprisingly, is one of the most powerfully visualized, penned, and acted scenes in modern Indian cinema.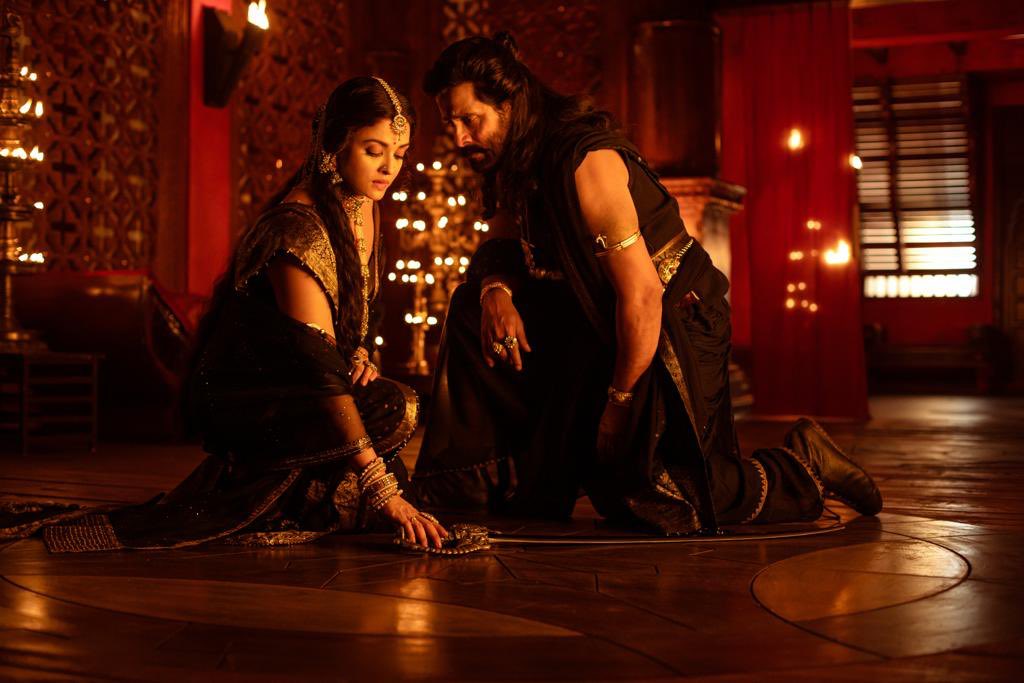 Ponniyin Selvan 2 has a lot of love to give a bunch of its players. Vallavaraiyan Vandiyadevan (Karthi), who was a mainstay in the prequel, gets ample screen time but is a lot less flamboyant, this time around. The man flirts less with words but his centrality in the plot is second only to the leading pair. Vandiyadevan's fleeting romance with Ilayapiratti Kundavai (Trisha) gifts Tamil cinema a new precedence on how to raise screen temperatures – with no clothes ripped and no songs sung. In an encounter staged on an island off the creek, the duo dallies with a sword, blindfold and sizzling chemistry. Arunmozhi Varman (Jayam Ravi) gets his moments of glory, especially as he exhibits his might as a worthy heir-apparent of the Chola Kingdom. Ravi's presence is not reminiscent of the stereotypical gym-bodied warriors we are used to watching in Bollywood films. Rather it's all in the assured gaze and reassuring smile. Jayaram's Alwarkadiyan is also a mainstay in terms of screen time and the actor sprinkles his part with effortless humour.
Mani Ratnam hires established actors even in minuscule parts. The men – Prabhu, R. Sarathkumar, Parthiban, Rahman, Prakash Raj, Lal, Vikram Prabhu, Babu Antony and Ashwin Kakumanu – become small yet significant cogs in the wheel with at least one memorable scene each to write home about. Mani Ratnam's women, alas, get no such luck. Kalki's beloved 'Samuthira Kumari' Poonguzhali (Aishwarya Lekshmi) is entirely stripped of the wattage she held in the story as the screenplay converts her into a mere peripheral player. The forever-fainting Vanathi (Sobhita Dhulipala) gets zero nuance and is reduced to a pretty wallflower with about three lines to utter in the entire film.
Ponniyin Selvan 2 is a bona fide musical in which A R Rahman conjures up the most creative work he has done for a film OST in a long time. Unlike the prequel, we do not get legitimate musical performances. Instead, they meld seamlessly into the narrative – thereby creating a soundscape that injects mystery and character into Mani Ratnam's world. Ravi Varman's camerawork pays more of an ode to the filmmaker's erstwhile legacy than it does to the grammar of filming Indian historical fiction. There are cinematographic nods to Iruvar, Thalapathy and Dil Se – some of which might as well be subconscious – that would make any Mani Ratnam fan smile. The camera's motion in the Prakash Raj-Trisha confrontation screams Iruvar whereas the union of Karikalan, Arunmozhi and Kundavai in the monastery is cleverly mounted – with all the subjects and their conflicting emotions contained in the same frame. The more conventionally envisioned scenes – such as the flashback portions, in the beginning, or the conversation between Karikalan and Nandini in an inner chamber – stand out for the colours and the lighting. The war scenes steer clear of mawkish TikTok-styled VFX that we cringed through Baahubali whereas the circular and aerial shots are imaginatively captured and cut (editing by Sreekar Prasad). Several of the frames, notably those with women are underscored with symmetry and aesthetics. 
ALSO READ: 'Ponniyin Selvan 1' review – A glistening ode to a literary classic
Compared to Ponniyin Selvan 1, the sequel lets his actors breathe easy. This time around, none of them are in a hurry to make space for another player. Aishwarya Rai Bachchan and Chiyaan Vikram let their chemistry smoulder and burn the screen. Even independently, theirs are stellar performances – heightening the source material several notches higher with stern glances and powerful throw of lines (kudos to Deepa Venkat who dubs Aishwarya's voice). The ensemble cast does exceedingly well with Trisha and Jayaram adding their own pizzazz to render Kundavai and Alwarkadiyan extra-effective.
On the shortcomings front, Ponniyin Selvan 2 makes us wonder about the time it is set in. We rarely get a glimpse of civilians amid the dynasty politics played out in the story. The rare few who make it to the plot are omnipresent in terms of the access they have to royal chambers and clandestine meetings. The timelines of the events, too, are a little flustering. Even if the events were to spread out across a span of years (or decades), its people travel faster than light in an era of scrolls and palanquins. With multiple intersecting storylines, this Fast and Furious-like hurry feels odd despite the characters and the politics having enough depth.
Mani Ratnam's film, aside from being a sparkling adaptation, is a neat exhibit that confirms how the showman's skills are never to rust. Ponniyin Selvan 2 is an ensemble cast miracle and a magnificent experience to be relished on a big screen – preferably in its original language with English subtitles.
Rating: ★★★★