Read Time:
5 Minute, 22 Second
Salman Khan is in the DNA of India's Eid festivities. The flavour of an entertaining 'bhai' film is no less than a biryani and sheer korma spread after a month-long fast. Now, with the diminishing standards of Bollywood films and rising negativity around the superstar actor, it is hard for a Salman Khan-Eid release to not be written off way before its release. Farhad Samji's Kisi Ka Bhai Kisi Ki Jaan did not leave much fodder for expectations either – thanks to the grotesque promotional content, one worse than the other. Yet, I tiptoed into a cinema with a glimmer of hope. Alas, Khan, and the ensemble cast, are in no mood to spring surprises as they deliver a frustrating assault to the senses. 
Kisi Ka Bhai Kisi Ki Jaan is about Bhaijaan, a nameless protagonist (Khan) who is a former inmate of an orphanage. As a teenager, the man unofficially adopts three young boys. All grown up now, the men live happily in a tacky set straight out of a '90s theatre production. The screen-ages of Bhaijaan and his siblings (Jassi Gill, Raghav Juyal and Siddharth Nigam) are mysteriously hidden and they do not add up if you do the math. We have no idea what these guys do for a living or whether they have Aadhar cards. They woo three pretty women (Palak Tiwari, Shernaz Gill, Vinali Bhatnagar) whose collective purpose in life is to hover around the trio. Soon, the youngsters develop an itch to get married, and they cannot do so without Bhaijaan finding a woman for himself. In a sweet meta moment, we meet Khan's Maine Pyaar Kiya co-star Bhagyashree (as herself) who, now, has a grown-up son. What's Bhaijaan's age, again?
Enter Bhagyalakshmi Gundamaneni (Pooja Hegde) – a fresco artist in the brothers' lives. The Delhi neighbourhood is so versatile and accepting that they have a PVR ICON, a sea fish aquarium, and a brothel operating in close vicinity to each other. Smitten by their prospective bhabhi (Hegde looks younger than all three men), they offer her a swanky apartment to stay. As Bhagya acquaints herself with the toughie Bhaijaan and makes friends with his siblings (and their girlfriends), the film does make us smile – albeit the ridiculousness around. The elaborately choreographed 'Balle Balle' is great fun, in all honesty.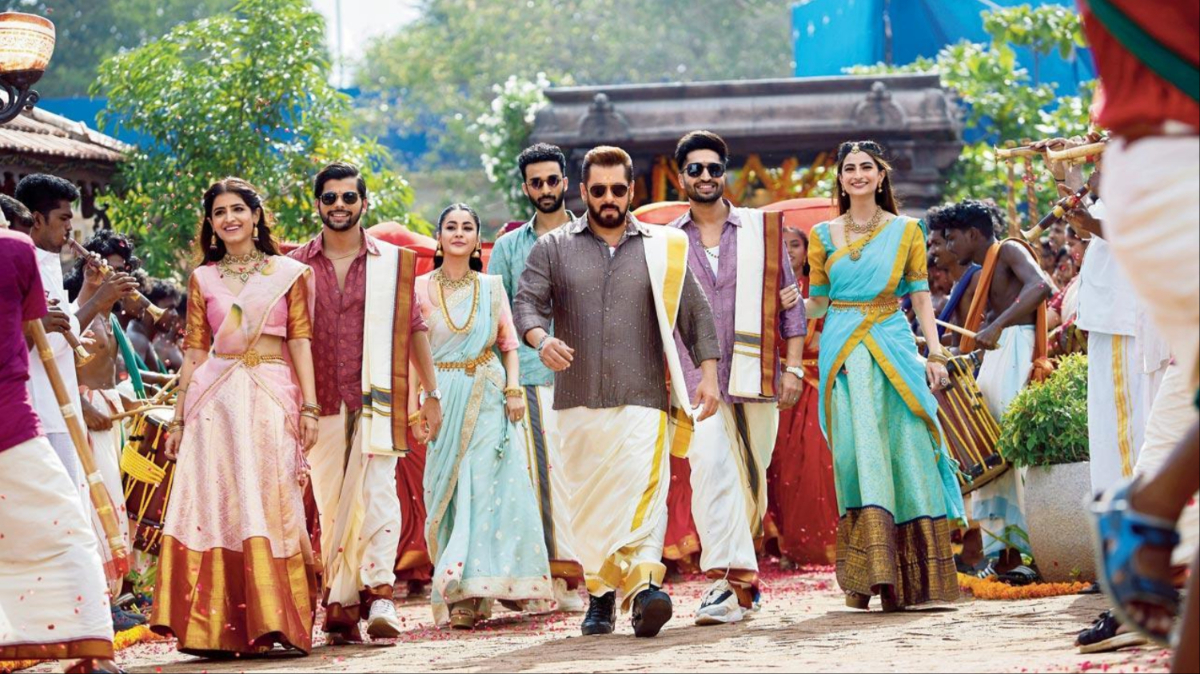 Bhagyalakshmi does not even try and Bhaijaan is officially in love with her. Now, it's time to meet her Hindi-speaking Telugu family headed by her peace-loving elder brother Balakrishna (Venkatesh). Bhagya's large (and large-hearted) family warmly welcome the 'violent' Bhaijaan and his dangerous siblings – no questions asked. There's also a truth they are withholding from Balakrishna – a scheming villain is plotting plans to bump off the family for a reason as dubious as the film's existence. Will the violent Bhaijaan protect his newfound family? Will the non-violent Balakrishna approve of violence? I couldn't make sense of the film's bizarre existential issues, but it is what it is.
Loosely based on the 2013 Tamil film Veeram, Farhad Samji's film embraces every terrible trait of the mediocre Ajith actioner. Kisi Ka Bhai Kisi Ki Jaan takes off to the leading lady's residence in Telangana – a setup straight out of a Pothys commercial. With forgettable characters springing like wild mushrooms, we see a funeral, arrangements for marriage, and countless dance numbers with every South Indian stereotype shamelessly in place. Even Ram Charan shows up in a song that calls a 'dhoti' a 'lungi'. There's an influx of poor VFX which does not limit itself to Khan's abdomen. There are awkwardly staged action set pieces (ANL Arasu), gaudy outfits (Ashley Rebello, Alvira Agnihotri) and a series of hackneyed dialogues that seems to be delivered as improv. Need samples? 
"He is a mad man, pagal hai saala. Psychotic."
"Aap hai to sab kuch hai Aap nahi to kuch bhi nahi"
"Brainstorm, power, willpower, game close, chapter close, knockout, the end…"
To make it worse, Kisi Ka Bhai Kisi Ki Jaan lies awkwardly on Khan's laboured shoulders and droopy eyes – both of which have seen better days. Having lost all traces humour he had within, the actor walks like a robot and speaks like an AI bot with an Indian accent. Khan shares zero chemistry with anyone around and the infamous dance moves are a shame to his legacy as an entertainer. Pooja Hegde does what she gets to do in her Telugu films, and she still fails to deliver. In a part that demanded a senior actor like, say, Preity Zinta or Kareena Kapoor Khan, the actor does not make a convincing love interest of a local demi-god. Among the youngsters, Panga's Jassie stands out from the crowd owing to his screen presence. The brothers rarely get solo frames while their screen girlfriends seem to be thirsting for a dialogue or two. In occasional reaction shots, we see Palak Tiwari going all extra with her expressions. This is her big film debut. Who would blame the poor girl? Also making his screen debut is wrestler Vijender Singh who is seen only in well-tailored three-piece suits (Delhi heat be damned). Singh's expression game, as opposed to Tiwari, will put teak wood to shame.
ALSO READ: 'Dabangg 3' review – Salman Khan starrer is a mind-numbing bore
Bhumika Chawla's presence made me desire a Tere Naam throwback, but we are in for no such luck. The late Satish Kaushik as the customary 'good Muslim' Nadeem chacha springs a smile and takes a bullet on behalf of Bhaijaan's family. Lastly, a major saving grace is the dependable Venkatesh Daggubati whose gentlemanly gait and warm smile light up the screen.
In Kisi Ka Bhai Kisi Ki Jaan, we see Salman Khan in three getups – one with a lousy brown wig, another with VFX-enhanced facial hair and the third with extra layers of pancake. As the goons randomly show up to bump off good guys and destroy an ugly-looking street, the brothers get beaten to a pulp, Khan rips off hir shirt and soon the revenge is taken. Moral of the story? "Rowdy banne mein koi fayda nahi, sirf nuksan hi nuksan…"
Aiyyo, can someone pass this South Indian boy a plate of idlis, an aspirin and two glasses of rasam to get over this atrocity?
Rating: ★ 1/2