How to measure a filmmaker's obsession for all the bright hues on the colour wheel? In Siva's Viswasam, you see paddy fields in eye-popping lime green shade. The leading man and his wardrobe are forever at their gaudy bests. The leading lady's favourite lip colour is a bizarre blend of flamingo and millennial pink tints. When you see an ICU room in a hospital, there are certain strips hung in the middle of the frame, in all pop colours and for no particular reason. I also haven't seen a villain ever in my life that wears hot pink cardigans, for heaven's sake. Well, that is Ajith Kumar and Nayanthara's latest film Viswasam for you. Upping certain cinematic standards is not a thing in its agenda. If the makers' excuse is that the film is a commercial potboiler, then let me remind them that the classic genre itself has marched slightly ahead, eons back.
Essentially a family drama, Viswasam baffled me multiple times for pretty bizarre reasons. In a story that is as old as hills, the leading man Thookudurai (Ajith) is an uneducated, rich ruffian from a small village in Theni district. He is introduced as a heavy-weight of the region with enough stakes to solve major disputes which the district collector is unable to. Staying true to the template, the character introduction is followed by a song that glorifies his towering persona. Then comes the flashback…
Cut to what looks like 2009, Thookudurai is a man of jovial spirits and sans the grey hair and beard. His lack of knowledge in the Englishman's language becomes a prop for humour (as always) and all he was destined to was to fall in love with a beautiful and headstrong doctor, Niranjana (Nayanthara). He even helps her setup a medical camp in what looks like a dusty factory warehouse. Okay then!
For reasons unbeknownst to anyone other than Tamil film writers, the ambitious leading lady falls back in love with him. Soon after a song and her appearance in a gorgeous green saree (upon his suggestion), we are forced to approve of this match, supposedly made in heaven. Eventually, they get married. It is tad difficult to fathom how an industrious young woman who nails a Stanford opportunity with ease succumbs to domesticity for no reason. Thookudurai's character sketch barely fluctuates after a point but Niranjana's does. Her emotional transitions from annoyance to love and later to great disdain for the man is far from convincing. She also reverses the cycle in due course. This is especially affecting in a film that is predominantly pillared on their relationship. This wouldn't be a surprise to anyone but Viswasam's first prominent jolt is when Niranjana leaves Thookudurai for good and settles down in Mumbai to own a thriving pharmaceutical business.
By this time, we have neared the interval point and the film shocks you with the absence of a villain. Come on, how is this an Ajith Kumar film, we begin to wonder! And soon surfaces the man whose only purpose is to chase – wait for it – a 9-year-old child for the weirdest reason you will ever find in a film of this proportions.
Cut to the second half, Viswasam becomes a film that simply doesn't know where to head next. The context is set and so are the character equations. There is an odd villain in place from whom Thookudurai dutifully saves the child in what is part video game-like and part '90s Tamil cinema. There is no psychopathy involved here and the rationale behind all the action nullifies whatsoever little impact it contains. During this mayhem, Niranjana is – sadly – sidelined to become a damsel in distress. This is particularly disturbing as she is a woman who had enough agency to walk out a married relationship with dignity. Thookudurai, in the most thunderous way possible, becomes the essential male saviour in moments of agony.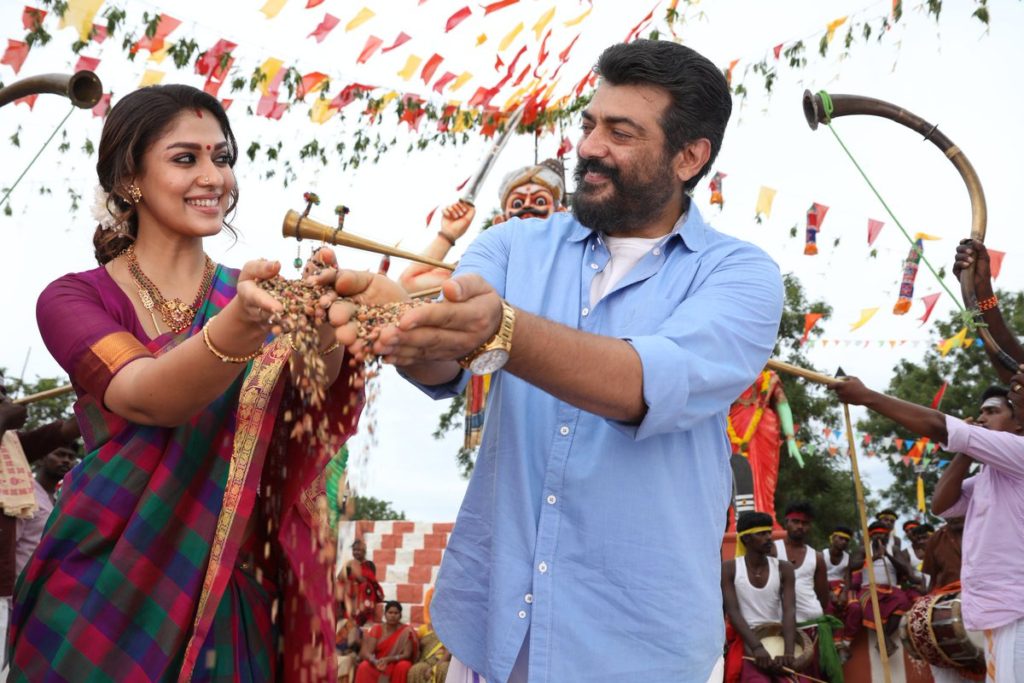 In director Siva's world, the city of Mumbai is one where hooligans thrive and find innovative ways to murder a child in broad daylight. (Sigh!) There is a lengthy action sequence that finds Swetha (Anikha) attending a birthday party and is chased by a troupe of assassins, each trying an innovative trick to harm her, only to be thrashed by her bodyguard, Thookudurai. The situations that the writers design are all the more problematic, rendering planet earth a miserable place for women and young children to live in the absence of men.
The last sequence in Viswasam introduces magical (read silly) resolutions to insane complexities that the story had unnecessarily set up in the first place. I can't deny how the family bits (thanks to some neat acting by Ajith Kumar and Nayanthara) had me involved but given Niranjana's awfully written part and film's overtly simplistic remedies, all of it turn into an inane mess. It's clearly a much ado for nothing situation where a simple meeting between two children could have saved many a contract killer from getting injured or murdered. Ugh, I can't even!
A discussion on Viswasam cannot be complete without a note on its filler characters. There are comedians employed by Thookudurai and Niranjana as sidekicks and house staff respectively. The material that they get to execute are straight from vintage, that ought to have been discarded ages ago. The music (D. Imman) is listless and so is the archaic action choreography. Once the film's central plot begins to develop, you are set wondering why the opening sequences existed at all.
As the film closes, you discover a predictable, happy finale where an entrepreneur wife lands in her husband's remote village – sowing seeds and carrying steel pots (all over again). As much as we ought to respect a woman's freedom of choice, her character trajectory in Viswasam simply fails to soar. You educated, ambitious, influential young lady, why would you do any of it, Niranjana? Siva's film also makes us wonder how mediocrity creeps into careers of reclusive stars. Ajith Kumar, though a better actor than many in the running, is severely crippled by what are his directors' visions of a saleable film. Viswasam simply fails to entertain, let alone cutting new borders. Shall we say it's high time that Ajith Kumar reworks on his tried-and-tested devices before things turn truly bitter? His leading lady Nayanthara has already found a niche for herself in films that she carries confidently on her able shoulders. Clearly, there are opportunities galore to innovate. Only if our delusional superstars look around a bit.
Rating: ★ 1/2 (1.5 out of 5)