'Gangubai Kathiawadi' review – Alia Bhatt creates history in Bhansali's aching ode to sex workers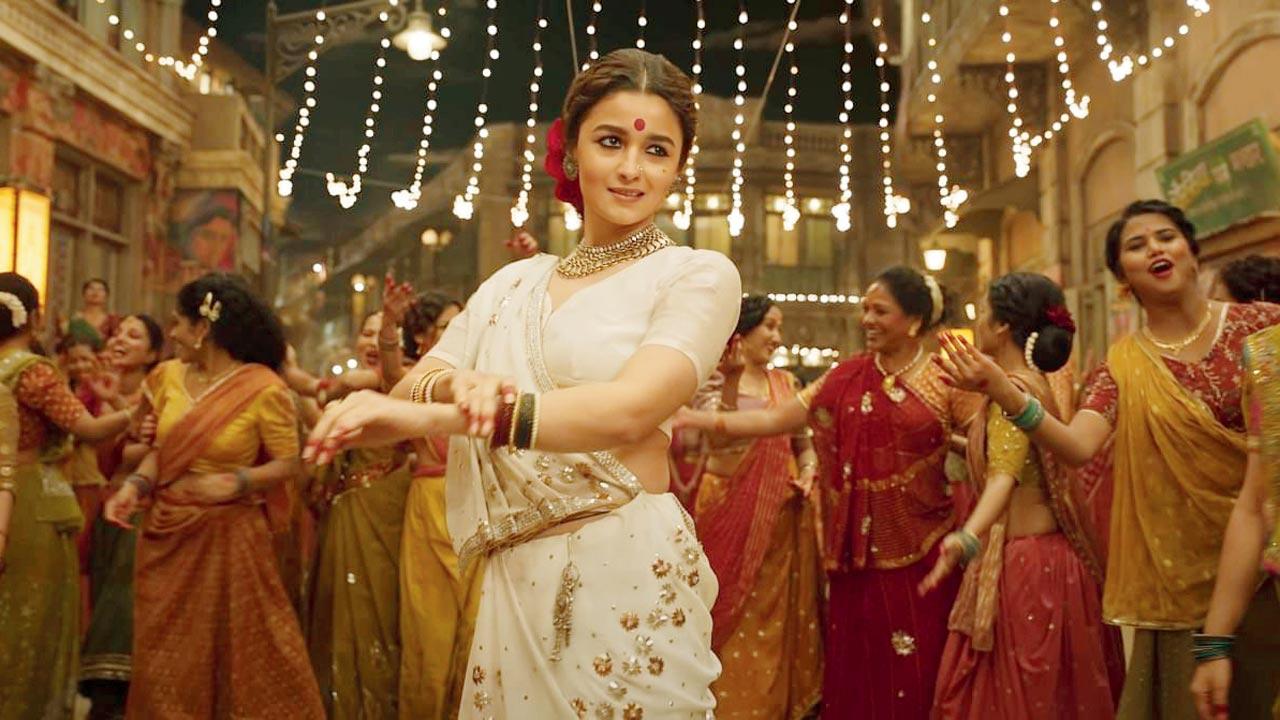 Read Time:
7 Minute, 14 Second
As I began composing this review, I felt a strange urge to change my typing font. Childish as it might sound, a shift from a generic Sans-serif to a gorgeous Victorian font would plant me back in the immersive world Sanjay Leela Bhansali creates in what must be his most uncharacteristic film in years. Starring Alia Bhatt in the titular role, Bhansali's period drama, Gangubai Kathiawadi, is a fictionalized biography of a madame and mafia queen of Bombay in the '50s and '60s.
The most vivid picture I have of organized prostitution in India is not from cinema. It is from Madhavikutty's (alias Kamala Das) novella 'Rugminikkoru Pavakkutty'. When Sanjay Leela Bhansali decided to take up the story of a girl being forced into flesh trade, I did not expect it have the agony of Das' writing. I visualized exuberance. I expected verbose monologues. I longed for symmetry and a gorgeous color palette. Gangubai Kathiawadi ticks every check box besides delivering a little extra – including lessons on the region's history and the nation's evolving morality in ways only Bhansali can depict.
When a 14-year-old Ganga (Bhatt, named after the purest Indian river) boards a train from Kathiawad to Bombay, she has stars in her eyes and love in her heart. She wishes to be an actress which isn't much of an honorable profession for women in the era. Bhansali's obsession for yesteryear divas is evident with the way some of them (Nargis, Suraiyaa, Nimmi, Madhubala) get referenced in Gangubai Kathiawadi. These are women who took to Bombay filmdom to make ends meet as opposed to taking up acting as an informed career choice. Ganga is sold for Rs. 1000 in a brothel in Bombay's red-light area, Kamathipura. As narrated in a flashback, she faces instant heartbreak and embraces an ugly new life. Under the tutelage of a bitter madame named Sheela Mausi (Seema Pahwa, tremendous), Ganga parks her dreams to romance Dev Anand on the celluloid. It is only a matter of time until she marks her territory in the dungeon that was.
ALSO READ: Bhansali's Women – A Heady Mix of Dignity, Bravado & Elegance
Gangubai Kathiawadi is set in Bombay of post-independence India. The story takes place in the dark alleys of the city, a few kilometres away from where Bhansali grew up. The lanes look depressing, although not blinding as the blue-tinted mystery land in Saawariya. Instead of the filmmaker's trademark vibrancy, the colors, this time, are way muted. The DOP (Sudeep Chatterjee) makes love to all shades of white (there's even a scene that dissects the color in detail). The frames abound in what they call 'Gangu wala Safed' (translates to 'Gangu's shade of white'). The other prominent shade is brown, followed by grey and hints of red. The earthy tones help make Gangubai and her clan appear close to reality. Clad in white head-to-toe with a red bindi completing the look, Gangubai delivers a thunderous speech to a large crowd. Her nobility sparks off miraculously in her meeting with the Prime Minister. The gentleman bids goodbye by giving her the red rose off his coat. The woman has a gutting remark to make, "Have you ever seen a black rose? Visit Kamathipura and you would find a whole garden there,"
Sanjay Leela Bhansali throws in a series of 'big' scenes with major dialogue play through which he tells us how the stories of trafficked women are often the same. These are showy moments – like the scene where a young sex worker writes a letter to her father or the one where Gangu talks to her mother – that can be placed interchangeably in the film. Bhansali renders great dramatic heft to each of them – proving his trademark artistry to a T.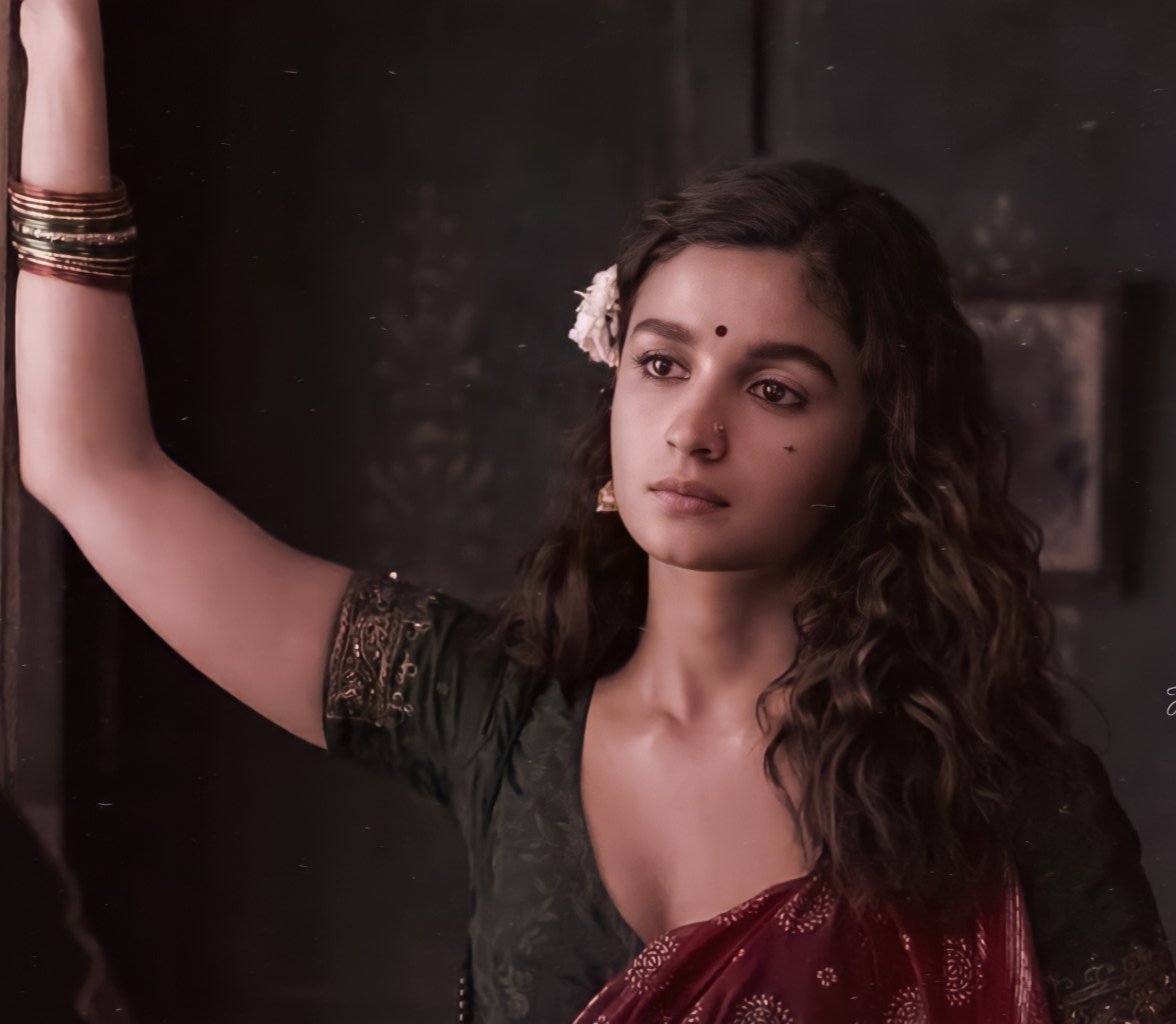 Gangubai shares a sibling-like relationship with gangster Rahim Lala (Ajay Devgn in a tailor-made part). Their exchanges, although very transactional, are interesting. A prostitute, she boldly requests him to protect her from a stray, violent associate of his. Whenever Gangu feels like stepping a little higher on the ladder of power, she reaches out to Lala. The underlining gender and power politics in their bond cannot go unnoticed.
Now, to address the elephant in the room whether Gangubai Kathiawadi glorifies the mafia queen is a perplexing matter. Bhansali constantly portrays Gangu as a benevolent woman who does things that are unusual for a woman who runs a brothel– such as letting the inmates return to their homes. It isn't clear how Gangu runs her business. The brothel, a close-knit unit, feels a little like a rickety hostel. After Sheela Mausi's death, it stops reeking of the smell of jasmines and bare skin. There's laughter, dance, and women making merry – in true Bhansali style. Let alone being ruthless, Gangu, after a point in the film, is a picture of nobility that even the protesting nuns would soon fail to match.
It goes without saying that Gangubai is a hugely influential entity. A good number of her shots are filmed in a manner that she is at a higher podium than the rest. Be it in her intense love affair with Afsaan (Shantanu Maheshwari, a debutant blessed with a childlike glint in the eyes), her interactions with the voters of Kamathipura, or her thunderous speech, the woman towers above the rest – her petite frame notwithstanding. All of 27, Gangu holds her head and heels high even to an intimidating madame Raziabai (Vijay Raaz) whom she comfortably beats in the election. When challenged that a whorehouse is not a place for wedding processions, Gangubai makes it a reality – even though it costs the woman a piece of her heart.
ALSO READ: 'Bajirao Mastani' review – a resplendent Bhansali magnum opus
The love story feels beautiful despite Gangu's intimidating demeanor. The romantic songs, especially, are gorgeously visualized. I was fascinated watching the single-shot number 'Meri Jaan' (with Neeti Mohan's charming yodeling) where the lovers express a range of emotions, to finally celebrate the foundations of their love – consent and respect. Bhatt and Bhansali effortlessly convince us of the equation even when the former mouths bizarre lines such as, "Aadmi bahut dekhen hain par mard pehli baar dekh rahi hoon," It is easily about the innocence that the writers (Bhansali, Utkarshini Vashishtha) sprinkle throughout the chapter. It is adorable to watch Gangu flip the Dev Anand photo frame on the wall as she is about to make love to Afsaan. The culmination of the love story (embossed with the film's best song 'Shikayat' featuring a luminous Huma Qureshi) is heartbreaking to believers of the soul mate theory but is a giant stride for Gangubai, her ilk, and her gender.
Alia Bhatt, who appears in almost every frame of Gangubai Kathiawadi, turns in a performance of historic proportions for mainstream Bollywood. It is Sanjay Leela Bhansali's world and one where prostitutes thrive (we know of the filmmaker's fascination for stories from the lanes of infamy). From a girl who chirped nonstop like a magpie, Gangubai grows to become a ferocious eagle with a fine eye for power. Her sharp tongue, which frequently spits Prakash Kapadia's snarky one-liners, is the perfect foil to her relentless, undying spirit. Bhatt is sensational with not a single false note in a role that is tricky and sans reference points. The most admirable side of her portrayal is the way her body language evolves. Assuming the film was sequentially shot, the woman matures astonishingly from a feminine doll who is would soon be an enormous figure who parades confidently before thousands. Note the scene where she poses for a magazine cover or the one where she plants a peck of gratitude on a journalist's (Jim Sarbh) cheek. The vulnerability remains intact and how.
When Gangubai meets the Prime Minister, she makes a point-blank request, "Legalize prostitution," That might not have been an unheard-of scenario for the well-traveled gentleman. Then again, knowing India's social and cultural syntax, he is taken aback. When I tally his surprise to Gangubai's magazine cover wherein she poses the brothel's children who have been denied education, I pondered if their plight would ever end. It's only been months since Kriti Sanon twirled to a chart-busting Shreya Ghoshal number which had lines, "Katti hai meri mardon se, yaari filmon ki pardon se…" There is enough food for thought if we think how many small-town girls like her would end up in the clasps of dangerous men to never face the arc lights.
Rating: ★★★★