Read Time:
4 Minute, 19 Second
When the trailer of Doctor G dropped, I asked myself, "Why are they making a film out of a non-issue?" For sure, Ayushmann Khurrana is Bollywood's poster boy when it comes to bringing taboo subjects to theatres and subsequently to dinner tables. I am no woman and I have no experience, expertise, or absolute evidence on whether a woman would be particularly bothered about her doctor's gender. That said, I have seen several successful male obstetricians and gynecologists around me in both rural and urban areas which made me wonder about the film's very existence. Anubhuti Kashyap's debut film is a comedy-drama that kicks off by planting a male medical resident in the gynecology department to soon be flanked by a battalion of women.
Uday Gupta (Khurrana) is an MBBS grad who lives in Bhopal with his mother (Sheeba Chaddha). He aspires to specialize in Orthopedics but the Bhopal Institute of Medical Sciences offers him a seat in Gynecology. It might have been coined to elicit humor but it made me uncomfortable when Uday (a medical doctor) says, "Why should I be a doctor of something I do not have?" (He is referring to female genitals here). A good chunk of the first two acts is spent exploring humor out of this peculiar situation – most of which is manufactured in the writers' heads who do not seem to fully decipher the medical profession and the sanctity of the Hippocratic Oath.
"Lose the male touch," orders Dr. Nandini (Shefali Shah) to a cranky and incompetent Uday, and it suddenly begins to make sense. Doctor G soon develops into a film that is a lot more than what it promised initially. Anubhuti Kashyap's film dexterously examines friendships of different kinds (including a geriatric one that blossoms on Tinder). We also get a lesson or two on relationships – how communication and honesty would help instead of brooding and compromising. Imtiaz Ali might have made it look cute in Jab We Met, but Doctor G boldly exposes the cowardice that goes into drunk-calling a former lover. It also dismantled Bollywood's dated notion that a brief kiss is bound to bloom into full-blown, passionate love.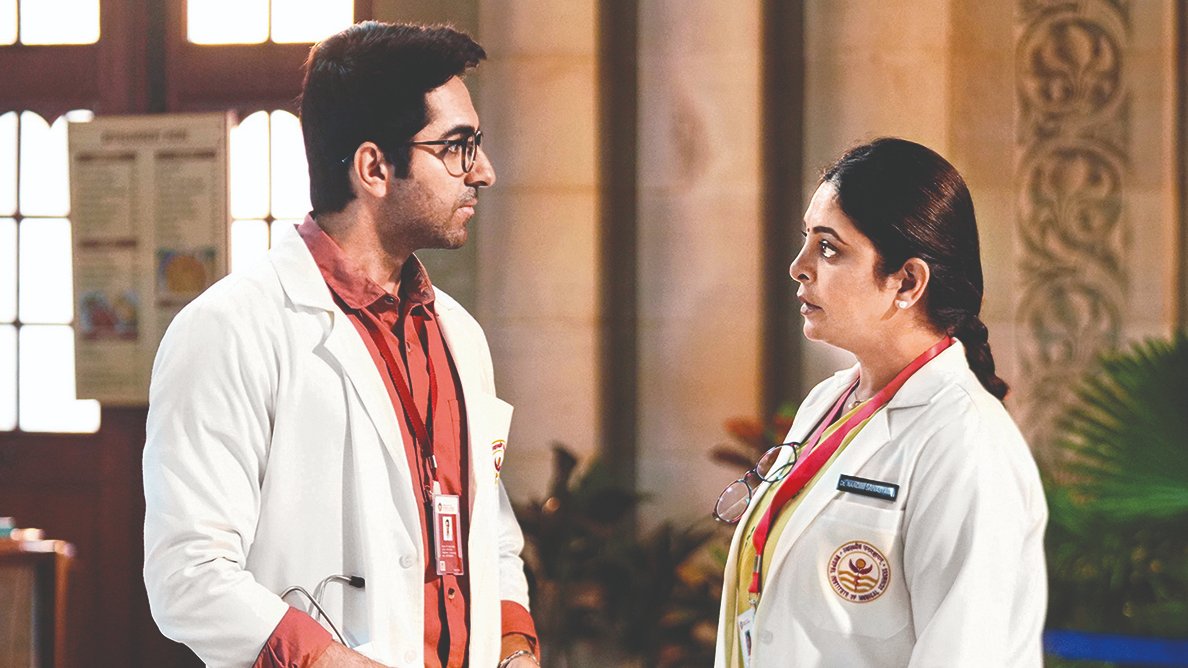 Kashyap also beautifully explores a mother-son relationship between Khurrana and Chaddha. There's nothing extraordinary in the writing here. Yet, the actors, their chemistry, and, more than anything, the timing in the screenplay makes sure it tugs at your heartstrings. The chapter involving Uday's mentor, Dr. Ashok (Indraneil Sengupta) – an orthopedic who figuratively lacks a spine, does not start off as interesting, but it contributes to Uday's evolution. For someone who casually brushes off male infidelity, the young doctor nearly jeopardizes his career to set things right. This way, the element of female gaze that Kashyap coats her screenplay with, makes Doctor G all the more fascinating.
Doctor G has the DNA of a quintessential commercial Bollywood fare. The cinematic liberties taken go a little above the bare minimum. The interval block, for instance, is one such moment but it works like a charm. The perennial tension between Uday and Nandini is another link in the plot that the film explores with reasonable flair. What doesn't work is the forcefully inserted humor, straight out of Whatsapp memes. It was odd to see an innuendo-laden scene where Dr. Uday counsels a couple who is facing difficulty to conceive.
ALSO READ: 'Chandigarh Kare Aashiqui' review – a heartwarming tale of acceptance
Anubhuti Kashyap's film, despite an air of predictability, is exceedingly fun and is relevant to the changing dogma of modern Indian society – especially in the heartlands. The characters emerge from believable spaces (my favorites are Uday's mother and the IAS-aspiring paying guest) and are performed largely by excellent actors. If Khurrana's vulnerable central act is the primary asset in Doctor G, Shah is topnotch as the no-nonsense professor. Rakul Preet Singh's sunshine-like persona would perk up even the dullest of moments. It's a mini-revolution for Bollywood women when Dr. Fatima (Singh) asserts, "I want you in my life," without an iota of romantic interest in Uday. Sheeba Chaddha discovers a brand new dimension in playing a quirky single parent – a brief that she has mastered in various ways in the past. Puja Swarup as Sunita is hilarious and she reminded me of The Big Bang Theory's witty Nurse Althea.
While I am sure the medical fraternity might have issues with Doctor G for certain broad-stroked projections and the logic of emotions over ethics, I would say the film is a winner from a fictional purview. Kashyap's goal to use a comical situation to weave a story containing a long list of social issues bears fruit. If only the makers were to replace the utterly out-of-place climactic dance number to give us closure on more important things. What happened to Kavya's English essay? Did Uday care to go to the train station to bid his best friend a warm goodbye? Considering the Avengers reference somewhere in the film, I even expected a post-credit scene for the two, but alas.
Rating: ★★★ 1/2