Read Time:
5 Minute, 29 Second
Remakes of Indian films from one language to another are passé. Especially with the kind of access that film lovers have today in the form of good subtitles and bad dubs, it is unnecessary to retell a story unless one is creatively bankrupt. Plagued with dated templates and a drought of original ideas, Mumbai film studios fancy the prospect of lifting content from language films and, in a new trend, along with the makers of the original. Tamil filmmakers Pushkar and Gayatri are the latest to be swept by the Bollywood wave as they get to rehash their blockbuster Vikram Vedha with minor tweaks.
Set primarily in Lucknow, Kanpur, and adjoining areas, the film opens with top cop Vikram (Saif Ali Khan) orchestrating a mass encounter with his colleagues. Many die, including an unarmed person, and the cops cook up a false narrative to keep the legalities at bay. Forever clad in white, Vikram is convinced how bumping off criminals (or whoever is seen with them) is an act akin to cleansing moss off the yard. Known for his truthful ways, the man is in this profession out of passion. Vikram's father, a former cop, had a premature death while still in service. Although he didn't seem to have a pleasant relationship with his father, Vikram wishes to live the same life (sans abuse, perhaps). He lives with his lawyer wife Priya (a pleasant Radhika Apte) and is friendly with Abbas (Satyadeep Mishra), a cop of similar rank, and a rookie, Deepak (Manuj Sharma, charming in a familiar part).
Enter Vedha Betal (Hrithik Roshan), a dreaded gangster for whom the police force had cast nets long ago but with zero luck. Vikram Vedha, in the first 20 minutes, creates so much hoopla around the super-human entity that it's impossible to not hoot when the man finally surfaces. He struts all by himself into a police station to surrender. While Roshan's style quotient is on point, as always, I was somehow baffled by the cops and their helplessness to not have delayed his bail. 
Coming back to Vedha, he is in there to engage in a duel of sorts with Vikram. "Ek kahaani sunayein," (may I narrate a story) asks Vedha and Vikram gets a glimpse of the former's early inroads into the world of crime. As expected, there's family and there are emotions. We get a sibling (a miscast Rohit Saraf) who is a grown-up version of the child in Kaho Naa… Pyaar Hai. Much like them, the brothers in Vikram Vedha, too, get a peculiar gesture of affection. Cute, but the film merely panders through cliched territories in this chapter. As it ends, Vedha poses a logical question to the conscientious Vikram – the result of which leaves us dumbfounded.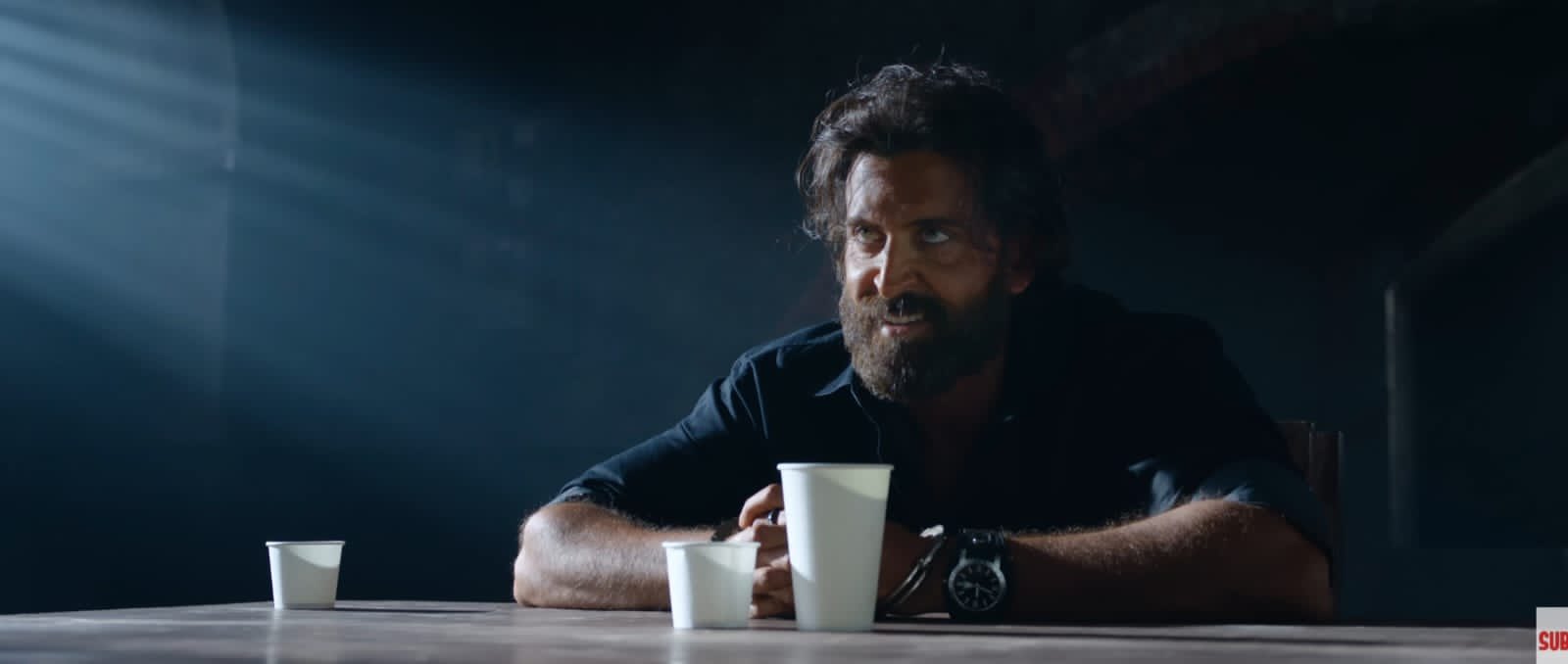 Vikram Vedha continues its 'Vikram vs Vedha' story capsules with admirable effect. The allegories are either spoonfed (the comparison to the Vikram-Betal folk tale) or are way too obvious (the paper cups and the father's bike with a missing part). That said, I am glad how Pushkar and Gayatri replaced the original's Porotta and Mutton Kulambu with Lucknow's delicacy, Kulcha Nihari, and not with Paneer Butter Masala to appease the easily-offended right-wing gentry. The second time around, they design an entertainer that is massier than its original with the actors' smoldering personas upping the voltage of the plot. Roshan's magnetic superstar aura melts the screen like lava whilst contrasting effectively against Khan's intense, brooding self. I didn't quite buy their personal lives – Vedha's with his brother and Vikram's with his wife – but with each other, the men simply breathe fire. At one point towards the finale, after each suspense unfolds, Vikram and Vedha glance at each other for a second. Now, that very moment is worth every penny spent to conceive a remake of an appreciated film.
Pushkar and Gayatri's writing feels too convenient towards the climax, but the leading men render the conflict believable and entertaining. If Vikram's idea of morality vaporizes with each passing event, his clothes soften from white to off-white and later to beige and grey. Vedha, on the other hand, is not shown to be vulnerable in a demonstrative manner. The dreaded criminal he is, the man does it through actions – which adds wattage to the film's appeal as a commercial actioner.
Hrithik Roshan in Vikram Vedha is everything a regular viewer would want in a megastar. He is handsome and strong, and his stare would extinguish a burning candle. He aces the local dialect and embraces the greys – morally and physically – in style. Saif Ali Khan grabs the less showy part, and the actor still scorches every frame – an improvement on Madhavan from the original. Khan's sophisticated speech sprinkled with a smatter of Uttar Pradesh lingo has a different flavor altogether. Sharib Hashmi, who gets a solid part as Vedha's aide, reminds us why we need to see more of him in mainstream Hindi films.
ALSO READ: 'War' review – For the love of Hrithik Roshan and breathtaking cinematography
The original score by Sam C. S. (which is broadly the same as the original) is elementary. Vishal–Shekhar's songs do not work. In what universe is it fair to a galaxy of Hrithik Roshan fans to see their idol dancing to an utterly mediocre 'Alcoholia'? P. S. Vinod's camera – aided wonderfully by Richard Kevin A.'s editing – is spellbinding as it captures the tone of the story and its region with great gusto. The dialogues penned by Benazir Ali Fida and Manoj Muntashir are among the film's biggest highlights.
Vikram Vedha, although a remake, stems right from the heart of India. The soul – although extracted from a film rooted in South India – is universal and so is the film's politics. Pushkar and Gayatri neither eulogize the cop as a generic savior nor the anti-hero as a victim of circumstances. It is a story of two men driven by similar value systems trapped in a universe filled with corruption, aggression, and greed. Vikram Vedha, I would say, is a worthy re-enactment of the original which should attract film lovers for the localization and the winsome star performances. On a side note, it was heartening to see a hypermasculine, superstar saga such as this one attempting to normalize queer relationships. In a passing moment, Vikram quizzes his young subordinate on his relationship status, "Any girlfriend or boyfriend?". If not anything, inclusivity begins with effortless insertions such as this.
Rating: ★★★ 1/2