'Oruthee' review – Navya Nair stages a thunderous comeback in VK Prakash's riveting thriller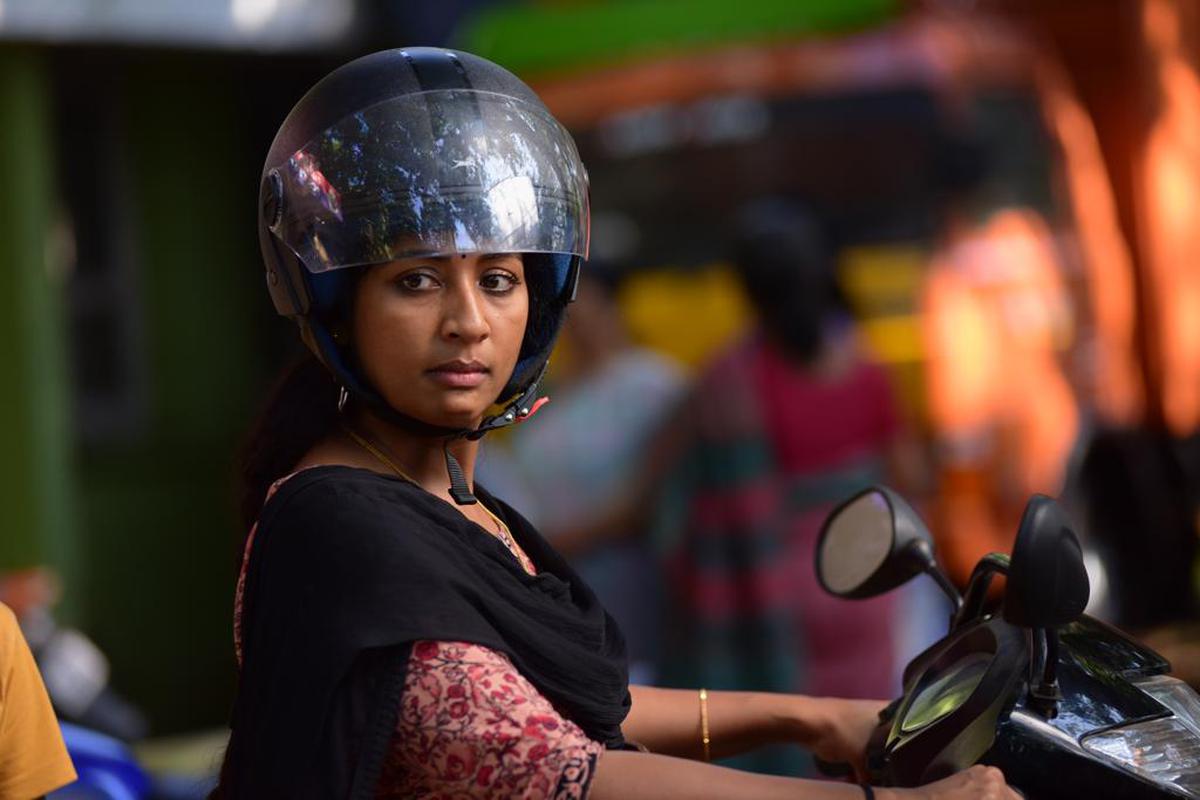 In one of its early scenes, Oruthee lands its protagonist at a Thiruvathira dance venue. Organized by the local temple authorities, the event is touted to enter the Guinness Book of World Records for the sheer number of performers. Radhamani (Navya Nair) is a mere participant here. We do notice her vibrant smile and graceful sway in a large crowd, yet she is one of the many. This is precisely the setup that director VK Prakash builds up in his slow-burn thriller which is also Navya Nair's return to Malayalam cinema after a decade.
Set in Kochi, Radhamani is a conductor in a passenger boat. A doting wife to Dubai-bound Sreekumar (Saiju Kurup), a loving mother to two children, and a dutiful daughter-in-law, she is everything that Kerala's orthodox society expects a married woman to be. Radhamani is forever in a state of tedium – working relentlessly and switching roles like a chameleon. She is exhausted. The creases are visible on her forehead. Yet, she hopes for a better tomorrow. Even as her daughter demands appam instead of idli at the breakfast table, the mother in her makes sure to not turn down the little girl. Radhamani drops in at her under-construction home, only to be irked by the alcohol bottles lying inside. She also ensures that the customary holy offering is made in the temple on her husband's birthday which falls on a rather busy day. Like gazillion Indian women, VK Prakash's leading lady is running a race to tick all checkboxes. Does a woman like her possess the capacity to brave an unforeseen turnaround in the highly orchestrated life she lives? More than anything, will she ever find time to put a solid fight?
For starters, Oruthee is a celebration of a woman's undying spirit. Even as the film kicks off, we know Radhamani will go to any extent to safeguard her family. Soon, the tribulations involve something that matters the most to the middle-class – money. In what is the film's primary twist, an incident threatens to drown her family into a major financial chasm. Unlike Saiju Kurup's saccharine-sweet Sandeep from this week's direct-to-streaming film Lalitham Sundaram, Sreekumar reacts with anger, "My hard-earned money is gone," While he has every right to rue over the presumed loss, not once does he empathize with Radhamani. What must a woman so industrious as she would be feeling at that hour? Trust Navya Nair's incandescent face to reflect myriad emotions that will have us convinced – Radhamani should fight back. Not for Sreekumar. Not for the family. She should fight for herself as well as for the dignity of umpteen less-privileged women who are constantly harassed, silenced, and dubbed as insignificant beings.
Writer Suresh Babu's screenplay comes with a series of lengthy sequences which give the actors enough scope to emote besides adding a layer of suspense to the proceedings. Even in rare the portions where we see what lies ahead, the masterful shot-taking, and proficient actors on screen cleverly elevate the impact. The writer also employs a smart foreshadowing technique when Radhamani's daughter gets hospitalized for food poisoning. Venting out in anger, the woman throws the flour packet into her backyard. I could only chuckle when I recalled how it's her job to sweep the yard every morning.
Enter Inspector Antony (Vinayakan), a no-nonsense cop in the local police station who is constantly bogged down by the power politics of his superintendents. When we begin to assume that he is the 'male savior' Radhamani longed for, Antony's character design proves otherwise. It isn't the gender that makes a difference here. One might as well imagine a fiery female cop like, say, Rani Mukerji's Shivani Shivaji Rao (Mardaani franchise) helping a perplexed Radhamani in the chaos. While she is representative of umpteen civilians around us, the cop is never a superhuman entity who exists to break bones. Antony knows he is doing his designated job – although it comes at the price of facing rebukes and transfers. This way, the writer refuses to project Kerala Police as a non-corrupt, non-oppressive force at any point.
While Oruthee progresses to become an edge-of-your-seat thriller, it never stops being a wholesome family fare. Be it the mother (KPAC Lalitha, wonderful as always) or the best friend (Geethi Sangeetha, efficient), Radhamani derives support from a tiny unit that surrounds her. Even her brother Vineeth (with limited screen-time) is a well-fleshed character – be it from his obsession for Facebook or the repercussion he faces for supporting his sister in a way he could. The writer also peppers the plot with a dash of current affairs – the infamous event of Karnakata's absentee MLAs in 2018 – to paint Antony's frustration in a better fashion.
It wouldn't be a surprise if I state Navya Nair bagged an author-backed role and has performed it to perfection in Oruthee. It is, however, the screenplay that gives her the opportunity to shine to the extent she ultimately has. Suresh Babu visualizes Radhamani as a busy yet affectionate person who would never knowingly hurt anyone. Going by her ringtone (a popular Lord Krishna prayer by KS Chithra) which buzzes once every ten minutes, she is a devout Hindu. Then again, VK Prakash's protagonist would not leave things to God. Navya's iconic Balamani did that 20 years back in Nandanam to eventually clinch a life of wealth and a handsome groom. Radhamani, instead, would take her claws out. Navya is unbelievably good as she aces the body language, the dialect, and the perennial exhaustion her character endures. It's also a very physical performance and while stating so, I am not referring to the long chase sequence (stellar editing by Lijo Paul) in the final act. Notice Navya execute a breakdown in the hospital room after her husband disappoints her in a phone call. Shot with unconventional VKP-styled camera movements (DOP: Jimshi Khalid), the actor delivers nothing but a masterclass – in a matter of seconds. 
ALSO READ: 'No One Killed Jessica': Chronicling a Murder That Shook The Nation
If Navya delivers a well-rounded lead act, Vinayakan is nowhere behind as he breathes fire in every frame he is in. Antony is as massy as a Malayalam film cop would ever get but the writer does not add an air of disbelief around him. In a stylishly conceived moment, Antony tells his wife, "Have you seen Bekal Fort? Get ready," and heads straight to his workplace to do something decisive. The ride on the bike, the walk, and a telling glance later – I almost whistled for the man.
Oruthee does not come with a scheming villain. The system is the villain – we are told from the early running minutes. The unequal power distribution wouldn't ever be even, the film knows. However, the film subliminally asks us to resist – to the best of our energies. Giving up is an art that the less-privileged have mastered. "How do we fight them?," Sreekumar laments with a knowing sigh. Radhamani, unlike him, is not a woman to let the ball drop. If she could still take her family out for a meal at Zaveri or fondly share her Thiruvathira videos with her kin, seeking justice – or at best, putting a brave face before the ones who wronged her – would just be a fresh pursuit for the woman. Radhamani finds the time. So should every common person, says VK Prakash's nail-biting thriller Oruthee.
Rating: ★★★★