'Mardaani 2' review – Rani Mukerji's thriller plays royally to the gallery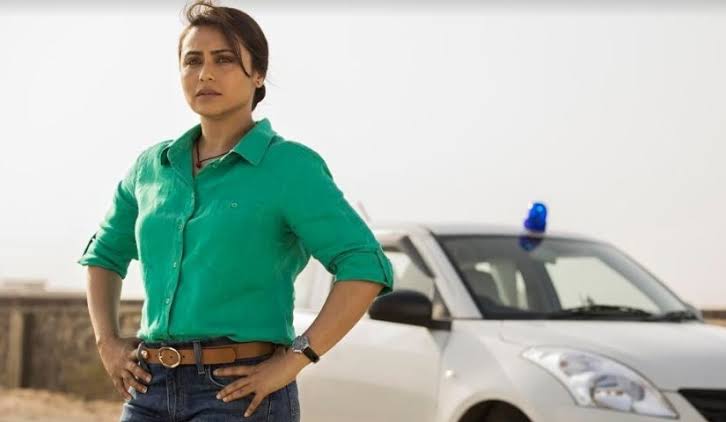 Read Time:
6 Minute, 45 Second
2014's Mardaani was one rare film for Hindi cinema. Possibly for the first time, Bollywood saw a woman cop nail a criminal from his den, throw punchlines that resembled, "Saare Mumbai ke policewalon ko ch**ya banake bhaga hai, saala" and then go home to have dinner with her sweet little family. Clearly, a heroine like Shivani Shivaji Roy (Rani Mukerji) is unlikely in a filmdom where Singhams and Simmbas thrive in cop uniforms. In its sequel Mardaani 2 helmed by Gopi Puthran (who also happens to be the writer of the first part), we see Shivani sans her family. She is posted in Kota, Rajasthan whereas her dentist husband runs the home all by himself. Honestly, this tiny bit smoothened out my tiny grudge against the literal meaning of the franchise's name. Does 'Mardaani' translate to 'like a man'? I do not know and I might need the help of a Hindi thesaurus for the same. However, Mardaani 2 in various ways assert how gender roles that have been societally assigned need not be re-analyzed. So yes, I was glad to see Shivani not go home to be the multi-tasking home-maker.
Mardaani 2 is different from Mardaani. For once, it does not bear the burden to acquaint us with Shivani's way of functioning. The film deals with rape crimes with a mysterious juvenile offender on the prowl. It unknowingly channelizes the nation's collective hurt to device a vigorously crafted cat-and-mouse game which is brief and true to its pledge. With rape being its central cause, I had the worry whether the treatment would be graphic. Luckily, barring a frame or two perhaps, the film chooses to keep them under check. Writer-director Gopi Puthran chooses a linear storytelling pattern which significantly lessens the intensity of chills. Yet, Mardaani 2 moves at a brisk pace wherein one mini twist happens immediately after another – leaving us less room to sit down and ponder.
ALSO READ: 'Hichki' review – celebrates Rani Mukerji and the need to be inclusive
Gopi Puthran's film is also decidedly commercial while also carefully avoiding not to advocate misogyny in any manner. I liked the way he integrates Mukerji's trademark slow-motion walks here and there to decent effect. Take for her introduction scene where she hops into a crime with absolute nonchalance and points out a couple of easy finds on the spot. The motion of the camera and the framing (especially the one with Shivani, the tree and the water body in a low angle shot) are ones that trumpet aloud how this is a 'lady superstar' film. Certainly, the canvas is way broader than Mardaani and so is the writing – broad-stroked in many areas so as to cater to a little less discerning viewers.
However, what is visible is an inherent lack of subtexts in the villain Sunny's (played by Vishal Jethwa) character. Unlike Tahir Raj Bhasin whole excelled in the prequel, Sunny is neither educated nor a suave smooth-talker. He is a demonic psychopath. Whilst the actor plays it to the best of his abilities, the characterization is way less exciting. Sunny is a template villain who is evil for reasons best known to him and he abducts women who pass certain criteria of his. He is predictable, which wasn't the case with Mardaani's Karan Rastogi. We are more invested in finding out when Shivani will be hunting him down and not how. We also see Sunny as an agent hired by a politician, a chapter during which the film strays far away from its core topic – rape. The screenplay also contains a brief chapter with a minor witness being attacked, which the film chooses not to address again.
Shivani Shivaji Roy's abilities, at the same time, is also startling. Her intuitions are forever spot-on. She is agile, vulnerable and compassionate. It is an unheard-of combination for a routine human being to achieve and our lady cop is just that – the perfect woman. She even knows the sign language. Shivani maintains her composure all through except for an absolutely unnecessary television interview which is exposition at its worst. When will our commercial filmmakers start trusting their viewers? Are the masses too dumb to not get their message from a story so tell-tale? I refuse to believe that. There's also this irksome scene where Shivani (clad in a cool grey blazer and black shades) fines a politician who violates traffic rules. Besides making her a hero equivalent by Bollywood standards, nobody knows why such a scene existed in the first place.
Mardaani 2's intent to deliver a plausible message on women empowerment might appear to be a token exercise initially but it eventually proves you otherwise. It is a different kind of high to see Shivani address sexism at the workplace wherein a male officer refuses to take orders from her owing to her gender. The conversation that ensues between her and the Inspector General is indeed thought-provoking. Ditto for the way Shivani commands power in the team making the job of a top cop absolutely gender-neutral. Empathy is still among Shivani's notable qualities and it works in favour of Mardaani 2. The nattily choreographed chase towards the end of the third act where she confronts the villain for the first time is spine-chilling and it quietly ups the ante for mainstream female actors in Hindi cinema. Mukerji, especially, gets the wavelength of the scene just right and leaves us gasping all through.
Running for a brief runtime of 1.45 hours, Mardaani 2 is runs at a brisk pace. Monisha R. Baldawa selects her frames in a way that they complement Jishnu Bhattacharjee's cinematography to great effect. I could see the duo building up a tense mood in an otherwise scorching city of Kota – be it with the striking establishing shots or the appropriately timed aerial shots. It was also innovative to see the villain breaking the fourth wall for a good part of the film. By entering the audience's immediate space, the character manages to scare the wits out of them. This makes me wish how the story was entirely through his point of view, instead of deviating from the approach midway. It is clear, however, that the lack of detailing in his character – particularly with the half-baked backstory of his – plays spoilsport in this area. The original score (John Stewart Eduri) is chilling and is nicely synced with the film's watertight screenplay.
Rani Mukerji's performance, needless to add, is the mainstay in Mardaani 2. Her ability to convey every possible emotion without brimming out of the genre's seams is precisely what holds the film together. The debutant antagonist Vishal Jethwa is reminiscent of Ashutosh Rana from Dushman in an unexcitingly textured part. The supporting cast filled with new faces is efficient, especially Shruti Bapna who aces the local dialect like a pro.
Mardaani 2 ends on a thunderous note as expected. While the plot-twist is not half as sharp as Mardaani, the anger on display haunts you long after the show is over. Even the climactic act of vengeance feels a lot more organic that what was in the prequel with its highly questionable mob justice. That aside, the film's symbolism of Shivani as the perfect woman comes to fore with mythological motifs in the screenplay. In one scene, if she takes the example of Goddess Sita and in another, she is seen sobbing next to a Goddess Durga portrait. If more religious subtexts are to be taken into account, it is also to be noted how the story begins in the night of Dussehra and ends when the city is lit for Diwali. The metaphors are unsubtle and so are Mardaani 2's objectives, making it one helluva commercial film for the hoi polloi to relish. Over to the box office now!