'Lalitham Sundaram' review – Endearing characters fuel a story lighter than air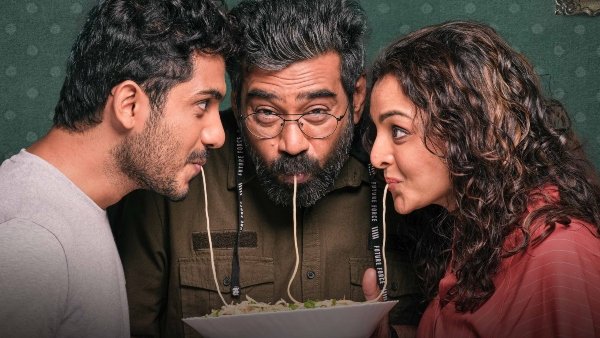 Read Time:
4 Minute, 42 Second
In an amusing goof-up, when Lalitham Sundaram premiered on Disney+ Hotstar, I stumbled upon the film's Hindi dubbed version. Let's attribute it to the rather excellent sync and translation of Malayalam lines, I decided to watch it for about 30 minutes. At no point did I feel Madhu Wariar's debut film is not a Bollywood film made natively in Hindi. Canvassed with luscious frames (beautified by vibrant DI colour grading), frothy emotions and a supple original score (Bijibal), Lalitham Sundaram witnesses all major players breeding (easily resolvable) grudges among one another. Of course, I switched to Malayalam in no time because the joy of watching Manju Warrier in a Summer In Bethlehem-like setting is an altogether different joy to savour.
Set amid a loving family that pretends to be severely dysfunctional for some reason, Lalitham Sundaram is about three siblings who visit their parents' home in the hilly town of Vandipperiyar. Sunny (Biju Menon), Annie (Warrier) and Jerry (Anu Mohan) are siblings who live in Kochi, Mumbai and Bangalore respectively. Jerry looks up to his entrepreneur sister whereas he can't see eye to eye with Sunny – the reason to which is revealed later. Annie lives a blissful family life with her supportive husband Sandeep (Saiju Kurup) and two children. Meanwhile, Jerry surprises everyone (particularly Sunny) by showing up with his girlfriend Simi (Deepti Sathi) – who is not only a couple of years older to him but is also a divorcee. The possibility of taboo surrounding Simi is never explored in a film that has larger family issues to fix.
The penny drop moment in Lalitham Sundaram is when the father (Raghunath Paleri) plays a video recording of his deceased wife (Zarina Wahab) wherein she expresses her desire that the family unites at least once a year to have a good time. Before – hold your breath – dying right there in the video, the woman mentions a list of things that her children should try fulfilling. Although I endlessly rolled my eyes at this bizarre plot device, Wariar's film soon picked up.
At the heart of the story is the conflict between Sunny and Jerry which emerges as a flashback in the third act. While the instant cause behind the distance between the brothers is convincing, their lack of communication as adults at later points in life fails to elevate the drama quotient in Lalitham Sundaram. The pre-climactic twist (designed around the Me Too movement), as a result, feels too designed and convenient to make much sense.
The status quo between Annie and Sandeep is far more interesting. Seemingly a productive inter-religion marriage, the man who was once employed in the Merchant Navy has now taken early retirement to be with his family. While the setup brings back memories of Ki & Ka, I was surprised to not see a trace of insecurity in Sandeep. Such characters are rare in Indian cinema and such relationships are rarer in our society. Lalitham Sundaram quietly asserts that a man can take a backseat in a family – much like legions of women who have sacrificed their careers for the very same cause. I will be extra glad if it is a subliminal hint to Manju's journey.
Annie serves more of a catalytic part in the family, which in itself was nurtured by mature, well-rounded parents. She is the achiever, the high-flying corporate boss whose dramatic curls and impeccable attire contrast starkly with Sunny's unkempt, rough persona. Jerry, although doing better financially, is equally bitter and aloof as his brother is. Madhu Wariar's film is about things magically falling into place, thanks to the mother's dying wish.
ALSO READ: 'Aarkkariyam' review – a mercurial Malayalam drama around a dirty family secret
Lalitham Sundaram discusses a series of issues without delving deep into any. We get nuggets about sexual harassment, abortion, bankruptcy, emigration, live-in relationships, solitude and more. Playing the film's most interesting character is Rajesh (essayed by Sudheesh). The man who once loved Annie is now living an isolated life by himself – a matter of envy to Sunny, but an aching burden to him. Rajesh gets a tiny scene to put a point across and he demands the family members to treasure what they have.
The characterizations, other than Rajesh's, do not spring too many surprises. While it helps that the actors are unanimously good in their respective parts, Lalitham Sundaram is too lightweight to be any of their personal bests. That said, Deepti Sathi's Simi is too ornamental in a setup like this. Remya Nambeeshan (in a special appearance) bags a more crucial part than Deepti who is present throughout the film.
Lalitham Sundaram wants to be Malayalam cinema's answer to Kapoor & Sons. Instead, it ended up reminding me of Madhuri Dixit's Marathi film Bucket List in some ways. The story is anchored around the death of a dear one and the chronology of events is based on a list. Madhu Wariar even spins a Bollywood-styled medley in the pre-climax which further adds to the film's diabetic sweetness. The film maintains a breezy pace which complements suitably with its lush green locales. Not heart-thumpingly emotional at any point, the final shot – enhanced by Zarina Wahab's warm presence – did make me shed a tear or two. This way, I am sure the debut director achieved to make what he set out to – an under-nuanced yet progressive family drama that would make for a pleasant home-viewing.
Rating: ★★★
Lalitham Sundaram premiered on Disney+ Hotstar.