Read Time:
5 Minute, 19 Second
There is joy in an ordinary person's fantasy fulfillment. I could sense that in Radha Krishna Kumar's Telugu-Hindi bilingual Radhe Shyam – a film that exemplifies all things extra. A larger-than-life love story of Vikramaditya alias Aditya (Prabhas) and Dr. Prerna (Pooja Hegde), the film throws millions away on the filmmaker's kitschy kinks. We get exotic European locales, that too dated back to 1976. If the bathrooms are decorated better than a regular Indian's living room, there are ballroom dances taking place in large mansions for no rhyme or reason. Plus, there are devious attempts to ruin memories of Eternal Sunshine of the Spotless Mind and La La Land. In so many ways, Radhe Shyam feels like a desi Disney musical but only sans great music and measured tastefulness. 
When was the last time you heard someone mention palmistry? Even the stray roadside palm readers have vanished into oblivion. Radha Krishna Kumar's film takes the discipline pretty seriously (it's 99% science, they claim). Call him India's answer to Nostradamus or our species' equivalent to Paul the Octopus, Aditya's palm reading skills are world-renowned. Before zooming off to Europe, he manages to shock the daylights out of the Prime Minister (Indira Gandhi) by predicting national emergency. If you look at it even through a feebly political lens, this is laughable. 
Soon, we meet his to-be-ladylove, a medical doctor (who behaves like a beauty influencer), Prerna. The girl is fortunate enough to bag what must rank amongst the strangest introductions for a leading lady in cinema ever. The 26-year-old, educated young woman ties a scarf around her waist, throws one end to a stranger in a moving train, and swings outside. "Mujhe sambhal paoge? (Will you be able to handle me?)" she chuckles. An audience member yelled, "Chal kya raha hai? (what's going on?)" and I could sense how everyone around echoed the same sentiment. Underneath the film's wannabe-Disney skin, Prerna is the princess – caked in flawless makeup, draped in flowing gowns with soft curls and contoured kohl. 
While executing one of her physics-defying train-scarf stunts, Prerna stumbles upon Aditya in a ridiculous slow-motion meet-cute that would put Ekta Kapoor soaps to shame. Sadly, there is no science versus hoax battle happening between the unlikely duo. Instead of writing something on a dollar bill (like Serendipity), the duo engages in rather unsanitary ways to converse. Was it permissible to casually blemish immaculately done public walls in '70s Italy? Our India-born protagonists – inspired by a recent visit to the Red Fort perhaps – scribble their way into each other's hearts.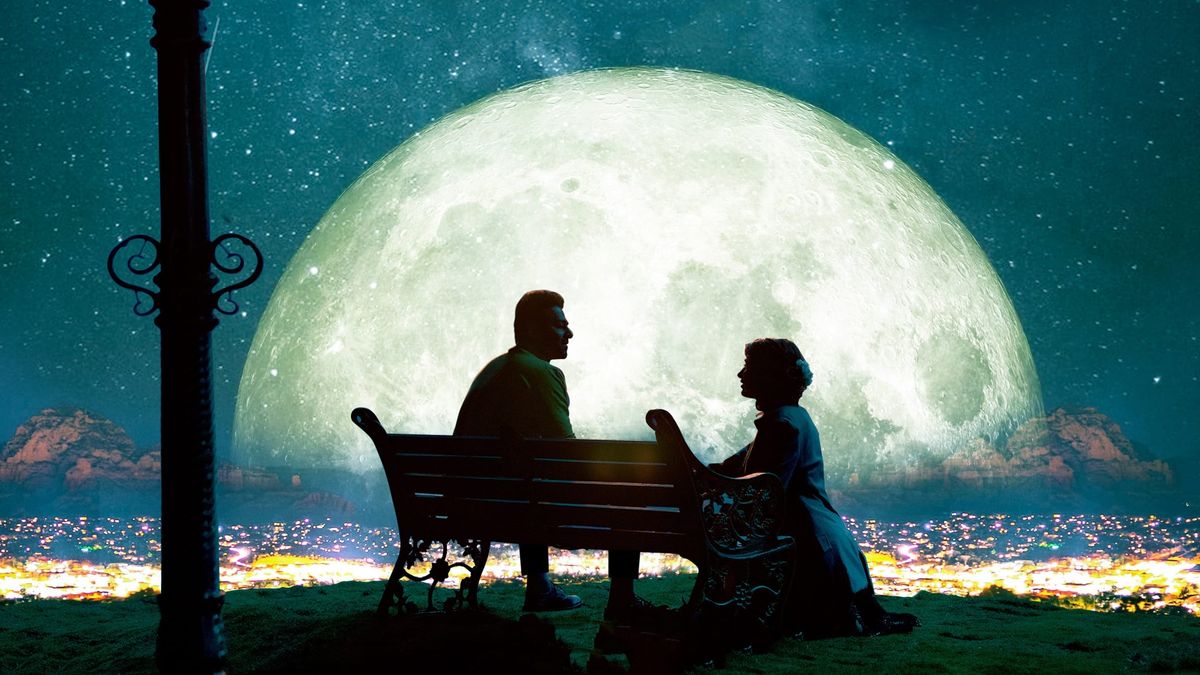 Nobody knows why Radhe Shyam is set in Rome. The film pretends as if the city is run by rich, nattily dressed Indians. One that narrates a story that could have ended in five minutes flat, the aesthetics of Radhe Shyam is that of a '90s Indipop music video. While the glossy production design and extra use of soft lights try hard to churn romance out of Prabhas' droopy eyes and chapped lips (hello, climate change), Pooja Hegde tries her bit by removing layers of makeup if she were to express pain, exhaustion, or injury.
Among other oddities, Radha Krishna Kumar's film has an obsession with death (which brought back memories of Siddharth Anand's nightmarish Anjaana Anjaani). Twice in the film, we see the leads facing major road accidents with nothing but heavy vehicles hitting them. The vehicles are damaged but the lovers land safely in the hospital, one of them on foot. The finale involves a giant Titanic reboot which made me recheck if the film is a spoof on the lines of Airplane.
After tossing Physics out of the premise way early in the film, Radhe Shyam soon targets Geography and Biology. How on earth would a man reach the Port of Rome from the North Sea in a day – presumably rescued in a minuscule lifeboat? If not the cosmetics, what's the secret behind the glow on Prerna's face if her death is due in two months? In science parlance, I only wish there existed a speck of chemistry between the leads to generate the much-needed electricity to fire up the proceedings.
I have always visualized Prabhas as a violent man on-screen. Not in Radhe Shyam. The most violent he gets here is when he throws pumpkins at a group that chases him. He even pays the vegetable vendor. Radha Krishna Kumar's flair for beauty lacks the finesse of, say, someone like Sanjay Leela Bhansali. Why else would he cast a luminous Bhagyashree (who barely looks 40) as Prabhas' mother? There's Kunal Roy Kapur who drops in time and again with a constantly annoyed (and hungry) face. Sachin Khadekar who plays Prerna's uncle is so noble a man that I patiently waited for him to show his true colors (I am yet to get over Gehraiyaan). Jagapathi Babu, who is Telugu cinema's go-to baddie, emerges on and off as a business scion for reasons best known to the writers of the film.
ALSO READ: "Saaho" converts its jaded plot into an impossibly confusing mayhem
DOP Manoj Paramahamsa and the colorist seem to be having the time of their lives. The picture postard-like frames are so pleasantly canvassed that they salvage the idiosyncratic plot to a massive extent. Radhe Shyam is that film where a fake rainbow caresses the lovers as they romance in a lush green meadow. The Hindi soundtrack is passable but what the film lacks is a blockbuster love song that lingers. The visual effects in the pre-climactic stretch are neatly done and so is the action choreography. Unlike the rest of the film, Prabhas looked fabulously at ease jumping across a sinking ship with a strangely cast Jayaram giving him company.
Speaking of Jayaram, it was disturbing to hear his Hindi lines dubbed by a voice actor (pretty awful). Luckily, I could get over my OCD when a minor recording faux pas lets out his real voice, "It looks like Tsunami," Throughout the film, I kept wondering what to make out of Prabhas' utterly weird Hindi accent. In a hospital scene, the man (supposedly) yells – only to baffle me for the next few minutes. Spare me the horror next time.
Rating: ★★