'Bheeshma Parvam' review – Amal Neerad's Mammootty starrer is a scintillating crime saga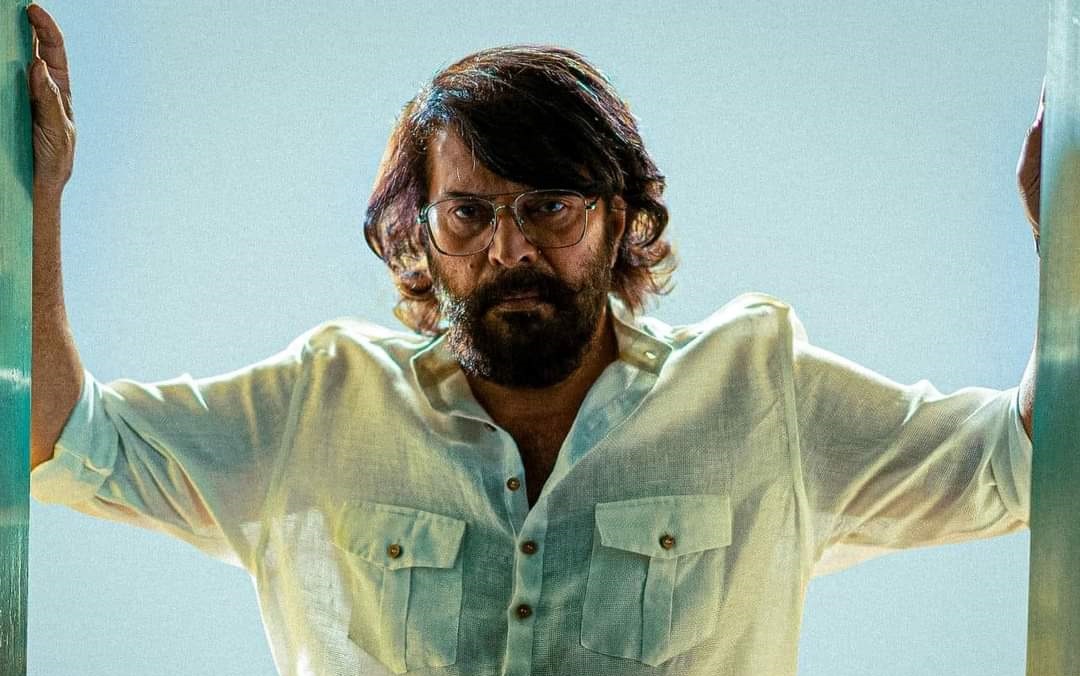 As Bheeshma Parvam kicks off, an elderly woman (Pauly Valsan) is seen lamenting before Michael (Mammootty) – a Godfather-like figure in late '80s Kochi. In what must be an event of honor killing, her son was brutally burnt to death. Michael is no law enforcer. But the man wields the kind of power that prompts commoners to reach out to him instead of knocking on doors of the judiciary. Demi-gods like Michael would date back halfway to the early days of fiction. They defy the law, but we dare not label them criminals. Michael and his ilk – of which Mammootty himself have played variants – continue to mesmerize visual media – in all formats and languages. The latest entrant to the list is director Amal Neerad's ultra-glam film, which borrows character sketches and motivations from Vedavyasa's 'Mahabharata' to develop a scintillating crime saga.
Akin to the Indian epic, Amal Neerad's film is about complex family ties. Politics, law, and religion link the corrupt and dark Anjootikaaran family. The role of the family head is assumed by Michael even though there are older members in the unit. A sub-section of the Christian family is formed by Fathima (Nadhiya Moidu) and her sons Ajas (Soubin Shahir) and Ami (Sreenath Bhasi). The film kicks off with the birthday celebrations of Ajas' child, and we observe an unusual mixture of Christian and Muslim members in the household. The discrepancy in the network becomes crystal-clear when the Christian side expresses indirect displeasure – one of them even loses a Chevalier title (which is a big deal amongst Catholics) due to the presence of extraneous elements in the family.
Similar to Pandavas in the Mahabharata, the Muslim side (Ajas, Ani) is noble and enterprising. Micheal, at one point, mocks the Kaurava equivalents – Peter (Shine Tom Chacko) and Paul (Farhaan Faasil) – on how the family runs due to Ajas' surging business endeavors. Insulted and infuriated, the duo thinks of ways to diffuse Michael's power. Giving them company in the conspiracy is their uncle James (Dileesh Pothan), a politician, and eventually Rajan (Sudev Nair), a gangster from Mumbai who awaits to avenge Michael for a mishap that dismantled his family.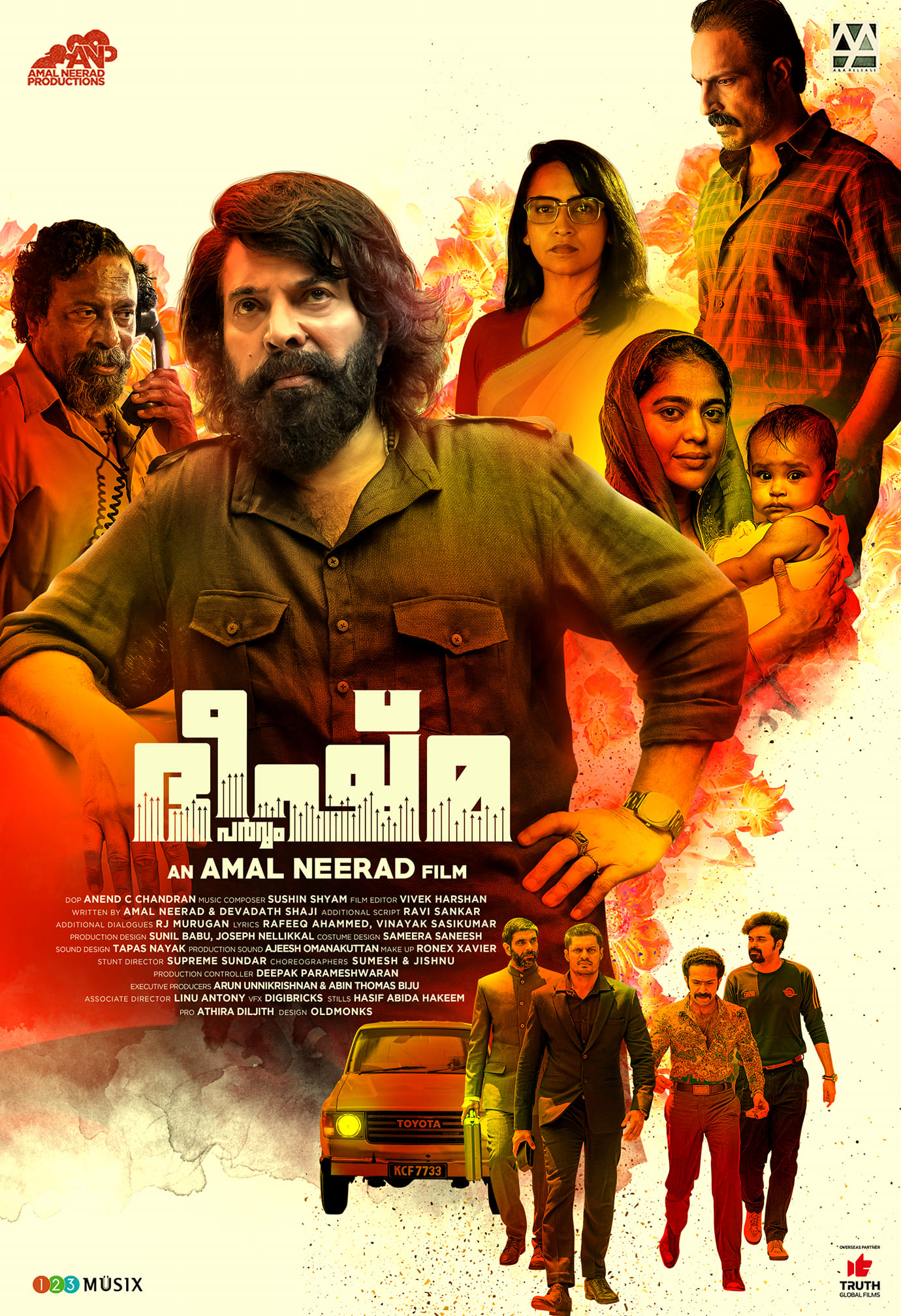 Bheeshma Parvam has a long list of people. The men in the story find themselves with unanimously well-etched parts. While some of them take time to develop their respective arcs (Ajas), there are others whose toxicity is shown to accumulate throughout the film (Martin essayed by Harish Uthaman). If there is Ani who wins the trust of his uncle Michael with an honest confession, there is Fr. Simon (Jinu Joseph) whose devious interests constantly annoy the latter, who is his elder brother. The characters are bifurcated as black and white, with Michael turning into a Bheeshma Pitamaha-like figure whose moral conflict over his warring family members make sure that we overlook his unlawful ways. 
The writers (Amal Neerad, Devadath Shaji) are crystal clear of their material. It is more interesting to note why they base the story on the era of Rajdoot bikes, stonewash denim, and GoldSpot cola. The light dressiness of the era decorates the innate familiarity in the story that, at times, threatens to dive into areas of predictability. The writers pepper the screenplay with metaphors – be it the cataract-operated mother (Mala Parvathi) who is constantly wearing black goggles, or the Dritharashtrar-Gandhari equivalents (a vengeful Nedumudi Venu and a hearing-impaired KPAC Lalitha) dressed in black head-to-toe. We also see how Ani and Paul are with their women. If Ani is tender with his girlfriend Rachel (Anagha), Paul is brash and toxic towards Stephy (Amala Rose Kurian). The same goes for their married siblings. Ajas is a loving husband to Raziya (Srindaa), whereas Peter is domineering and violent towards Jessy (Veena Nandakumar, who performs a derivative of what she did in Kettiyolanente Malakha). In a subtle nudge, Peter is also shown to have a rowing eye for men – which stands proven when he proposes a suggestive dance move to an actor in the film he produces, followed by a series of spanks on his derriere.
The intricacies in the writing get accentuated by the DOP (Anend C Chandran), who seems to understand Amal Neerad's standard tropes to a T. The production designer gets ample scope to evoke nostalgia, besides giving the cinematographer enough fodder to film sublime still shots. The angular shots co-exist remarkably with the filmmaker's stylized slow-motion sequences. With a series of heavily designed scenes (such as the one where Ajas fights Paul and Peter in rain), we are constantly reminded of the director's now-famous quirks. 
The songs and original score (Sushim Shyam) of Bheeshma Parvam turn into the film's most towering component. Take it out, one wouldn't feel half the amount of hysteria and tension that the screenplay evokes. This way, Amal Neerad's film – although nuanced on papers – is seldom a writer's triumph. The technique soars recurrently, and so do the performances.  
Mammootty plays the main lead in a fashion that indirectly justifies his 40+ years in the cinema industry. Michael has that expanse of experience. He is a man who was once a law student and was provoked to turn into a murderer. He is a man who has hardened himself in a way that his actions emanate fear and authority – not only in the family but also the society. The actor is splendid in a part that demands him emote through the eyes, at the times, and with his agile body language in others.
ALSO READ: The Curious Case of Female Voices in Malayalam Cinema
The supporting cast is terrific as Soubin Shahir, Shine Tom Chacko, Dileesh Pothan, Sreenath Bhasi, and Farhan Faasil deliver stellar acts. I found Sudev Nair's interpretation of the Mumbai gangster a bit too stereotypical, which is partially due to his character being an unnecessary add-on in some ways. Playing his grandparents, late veterans Nedumudi Venu and KPAC Lalitha masterfully pull off their dark cameos. 
Nadhiya Moidu bags the meatiest part among the female cast. After watching an actress of her mettle flourish so well in a film like this, I kept wondering if Malayali filmmakers would ever make a gangster saga where a woman fires the shots. (This makes for a different discussion). Lena, who plays Michael's tormented sister is fantastic, and so is Anagha in a crucial outburst scene. That said, I somehow didn't understand why Alice (Anasuya Bharadwaj) existed in the story. Did Michael still breed romantic interest in her? No. Was she ever a catalyst in the family feud? No. Alice is a bizarre mixture of Asha Sarath in Munthirivallikal Thalirkkumbol and Katrina Kaif in Bharat whilst adding nothing to the narrative.
Bheeshma Parvam ought not to be a film that you watch for its story. You would see the twists arrive from a distance. There is a clear demarcation between friends and foes – right from the early reels. Amal Neerad's film rather is a celebration of a world that is familiar yet larger-than-life. Whilst the plot is as universal and timeless as it gets, the vintage milieu and the stylized canvas make it a thoroughly engaging ride. The finale, which screams Amal Neerad in every running second, is so engrossing that you refuse to look at the logical loopholes. Perhaps it's also because Malayalam cinema has been starving for a wholesome masala actioner such as Bheeshma Parvam – where a man of Mammootty's stature would not only rescue his family but also the world around him. Talk about times when our leading men were superheroes when they casually flung villains in the air – wearing a dhoti, not spandex.
Rating: ★★★★