'Aarkkariyam' review – a mercurial Malayalam drama around a dirty family secret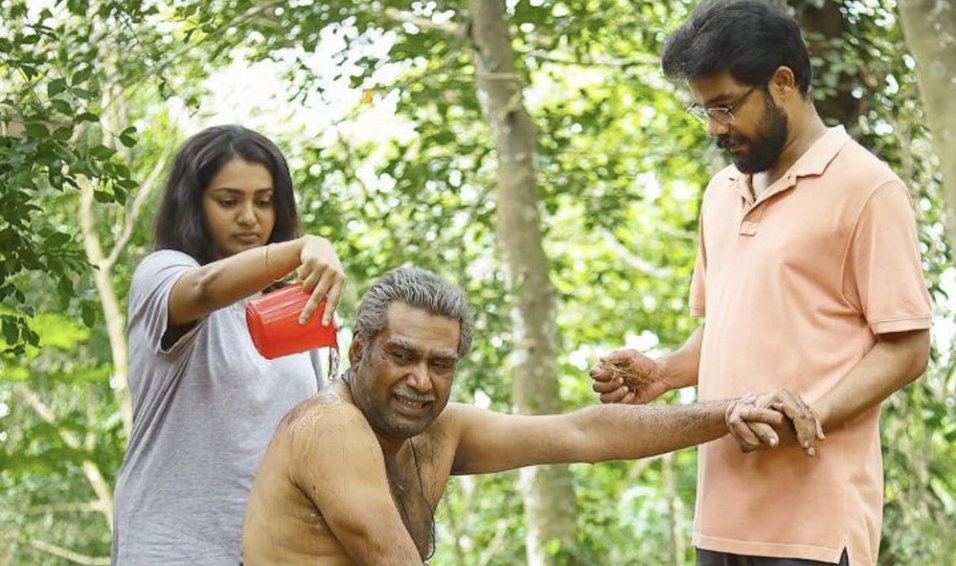 Read Time:
6 Minute, 35 Second
Nostalgia is a word that contains volumes of drama. It can be twisted to generate gazillion quotes with the finest of metaphors. A favourite would be, "Nostalgia is a beautiful lie dressed up in sepia." Director Sanu John Varughese's Aarkkariyam is not necessarily a film that thrives on that emotion. It has stirring nostalgia which is merely incidental. Its frames do not bear tints of sepia. They are soaked in the cloudy green of expansive rubber plantations in Kerala's Kottayam district.
Aarkkariyam begins with a road journey. A middle-class couple Shirley (Parvathy Thiruvothu) and Roy (Sharaf U Dheen) drive all the way from Mumbai to Kerala. It appears to be a regular March weekend and their agenda is to visit the ancestral house where Shirley's father Ittiyavira (Biju Menon) lives. They would also want to go pick up Shirley's boarding-bound daughter Sophie (Thejaswini Praveen) from her school in Nagercoil. Shirley gives away the perishable foods in her fridge to her neighbour Ankita. She entrusts the building security to water her potted plant.
It's all fun and joy until we realise that the couple decided to travel in the doomed week when India's first COVID19 lockdown was declared. One thing leads to another; the couple's financial situation faces a major roadblock. To add to the woes, the family is unable to go pick up Sophie owing to the travel restrictions. Ittiyavira comes to their rescue by offering to sell their family home and the adjoining estate. However, he has a dirty dark secret that might land them all in prison. The old man drops it like a bomb to an unassuming Roy one fine day and their lives are never the same again.
That's the peculiarity about the mega twist in Aarkkariyam. When Ittiyavira makes the revelation, it is not just Roy but also us who are aghast. True to the film's interpersonal equations, Roy is the only living person to whom the retired man reveals his big secret. A needy Roy with few choices at his disposal is instantly plagued with a perplexing mix of fear, guilt, and regret. What happens if Shirley learns about this humungous household secret which is directly linked to her first marriage?
ALSO READ: 'Uyare' review – Parvathy is sensational in this powerful film on acid attacks
Shirley was once married to Augustine whom she was deeply in love with. After Augustine's demise, Shirley finds a good husband in Roy, a divorcee. The couple seldom fights but there is no major undercurrent of passion that brews between them. It is a functional friendship and the duo aims to hold the family together. Sophie is fond of her stepfather too but unlike the cliché, she does not see a traditional father equivalent in him. Possibly it was Shirley who developed the graph of their equation. In a fleeting scene with Roy, she points out how he was never in love with his ex-wife but she indeed loved her deceased husband.
On the surface, Shirley's role is thought to hold great ground in her mysterious household. Deep down, the young mother is yet another victim of society's deep-rooted patriarchy. She lacks autonomy in her life and certain information – her father believes – is best kept between the men of the house.
This way, a recurring motif in the film is that of information and the degrees to which people have access to the same. Some of it gets eroded with time and some get passed on. The title of the film which translates to 'who knows'  is a reference to this angle. In the father's case, his memory is slowly fading and his devious secret gets passed on to Roy. Now, for no fault of his, the young man is forced to curb this very information in the deep troughs of his memory for the rest of his life.
The original soundtrack (Sanjay Divecha) of Aarkkariyam is a masterstroke in taking us closer to its brooding milieu. Hogged almost entirely by subtle guitar strums, the music is light and pleasant in the first act. Towards the interval, it gets intense and the string instruments get replaced by deeper sounds. In the latter half, the strums return with occasional piano notes to sustain the tension, eventually leading to a thoroughly satisfying finale. The song ('Chiramabhayamee' by Madhuvanthi Narayanan) is an ode to rural living and its lyrics gleam with the essence of the locality it is set in. The cinematography (G. Sreenivas Reddy) employs a dull colour palette thereby elevating the organic moodiness the writing brings along.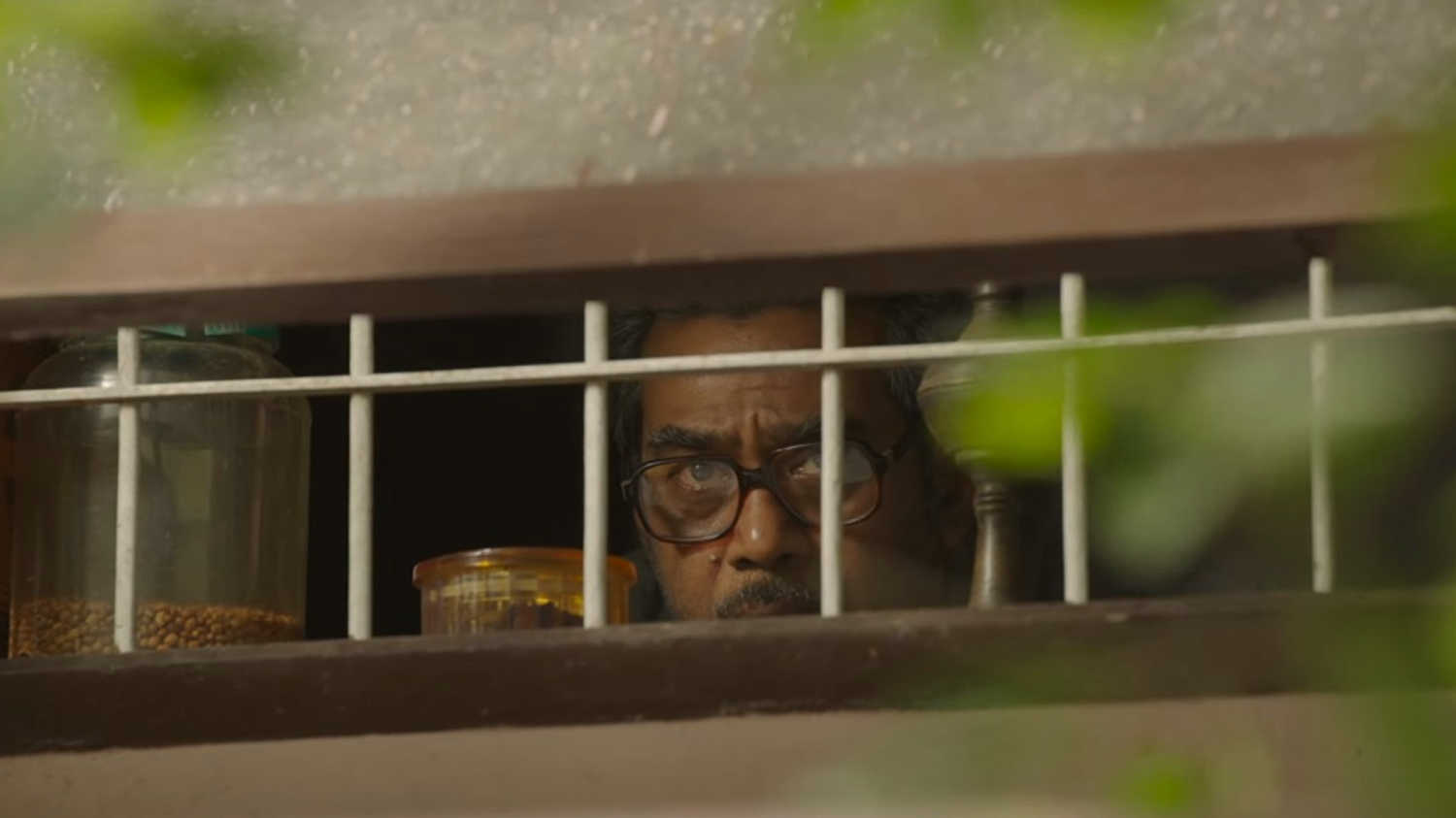 Coming to the performances, Aarkkariyam is headlined by Menon who is smashing in a part that is several years senior to his real self. The greys never look made-up and the quiver in his voice is note-perfect. The most captivating scene has to the one where he refuses to eat dinner after Roy makes him feel guilty. Ittiyavira retreats to his room and says a prayer. All we see is his shadow and combined with his remorseful voice, the impact is mind-numbing. Sharaf U Dheen shines in a complex part that would have been tough for a lesser actor to pull off. Roy is meant to conceal a lot within him and it is only through a range of expressions that his moments of self-doubt come wonderfully alive. Parvathy smoothly gets under the skin of a girl brought up in Kottayam. Her dialect is spot-on and so is the nonchalance of a woman who had loved and lost. Brownie points to the natural vigour she brings to being a Bombay-bound Malayali – her Hindi is neither too polished nor too rehearsed.
The writing (Sanu John Varughese, Arun Janardanan, Rajesh Ravi) is profoundly clever for most of its runtime. The most noticeable hiccup is with respect to Vyshak's (Saiju Kurup) characterization. We get that he is a participant in the story to give fuel to the sole twist in the tale. However, the urgency in the conflict between him and Roy feels too manufactured. Aside from that, I wished the film had a little more focus on the capitalistic leanings of the society surrounding Shirley's home. That said, the writers effectively use Sophie as an element of conscience in the narrative. The little girl is rarely in the picture but her existence adds layers to a story that deals with complex individuals who have experienced life in its rawest of forms. Ditto for the mentally challenged young man who appears in a bunch of key scenes. It is as if he is present to let the father be reminded of the crime he once committed. The writers also add smart cues to the twist at several points – one being the instant where Shirley reprimands the family from hurting a snake.
I would categorize Aarkkariyam as a celebration of cold lives. Each of its characters is unemotional to varying frequencies. Perhaps Roy is a lot more sensitive compared to others and Shirley has experienced real romantic love. But the people in Varughese's film are broadly unfeeling. It only adds that the film is set in the trying times of COVID19 lockdown. They are helpless indeed but are practical in addressing their needs. Their occasional displays of affection are coated with awkwardness which, in fact, is a realistic depiction of a family living in Kottayam.
This way, the filmmaker places a mirror on modern society – his people are raw, complicated, and puzzled with their own morals. Aarkkariyam transports us to a landscape and mind spaces that might be unfamiliar on the surface but never beneath its skin. Dipped in a sea of mystery and nostalgia, the film proves to be a fascinating directorial debut for Varughese, a proven cinematographer.
Rating: ★★★ 1/2
Aarkkariyam is streaming on NeeStream and Amazon Prime.