Read Time:
4 Minute, 48 Second
Gender appropriation – a much-discussed subject in modern times. Our society is gradually turning more tolerant to people with different beliefs and interests. We are at an evolving juncture where occupations, responsibilities or even behaviour patterns and thought processes cease to be gender-polarized. If we look back, our films almost had a textbook idea on what was right and wrong for both genders. Men had their own set of approved activities – earn for the family, ride vehicles, bash up goons, molest women while women had theirs! If at all a character was caught doing the opposite, he/she must be the film's comic relief. Remember Tun Tun and Guddi Maruti trying their "hands" on our handsome heroes? Even the grotesque Navneet Nishan comedy track from Raja Hindustani proves nothing but this!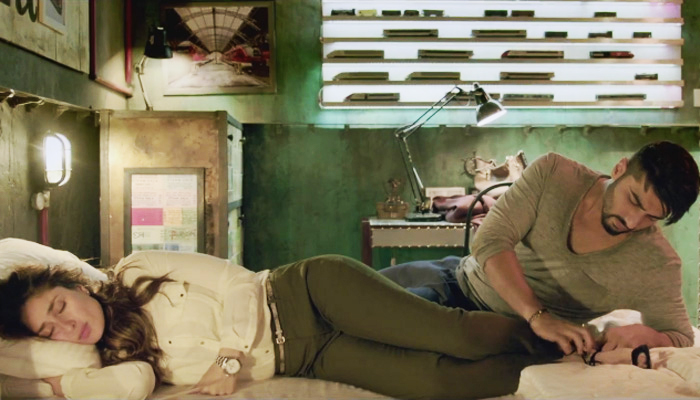 R. Balki's Ki & Ka is like a kick-ass advertising idea that becomes a convoluted khichdi post various client iterations. As a one liner, Ki & Ka is a fascinating concept but the final script goes haphazard. For once, they are unsure if they should play to the gallery with a handful of cliches or deliver a long lecture on how gender stereotypes are irrelevant today.
Ki & Ka has one of the strangest initial reels I have seen in any film of late. It has Kia (Kareena Kapoor Khan) at a friend's wedding aimlessly sashaying, refusing to dance, clicking away on her phone to finally overhear a conversation between the hosting families that even our TV soap writers wouldn't approve of. What were you thinking, Mr. Balki? Following the mayhem, our lead couple meet and fall for each other in the weirdest of ways. Throw in a couple of wayward conversations and, lo, they are all set to get married.
What further evaporates the charm of Ki & Ka is the deliberate endeavours to register that our leading man, Kabir (Arjun Kapoor), is not 'technically' a loser or a pansy. Guess what, he is a topper from IIM – B. In an absolutely unnecessary scene we have Kabir beat the hell out of a gang of eve-teasers. Was it just a coincidence or the scene was set in similar lines to the horrific Delhi gang rape incident? Mother of God!!! Wouldn't it have been real if Kabir smoothly sped away with Kia? Or even better if such a scene was absent, in the first place. Post their marriage, there are a couple of interesting moments: One brief moment where Kabir and Kia make out and the latter's mother walks in. There is this genuinely funny scene that involves their family maid and her boyfriend. Another smart one is where Kabir spots his widowed mother-in-law with another gentleman. Their warm, organic conversation gets completely washed away as Kareena (not Kia) storms in throwing a Heroine-like fit. Sigh!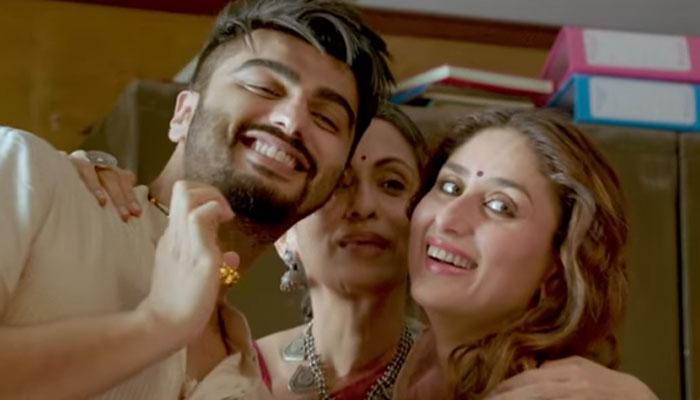 This theme of a man deciding to be a homemaker isn't too alien in Indian cinema. Come on, look at the 80s and 90s! The difference lie in the fact that those films reinforced the idea that a woman's space is her home and more importantly the kitchen. Remember the ultra-regressive Sridevi-Anil Kapoor starrer Laadla that propagated the same? Another film that goes on parallel lines is Rekha's 1980 caper Agreement. As pretentious as it gets, Ki & Ka preaches to an extent that we actually refuse to buy their point.  What if Kabir was a normal graduate as opposed to an IIM pass-out? What was the need to make to make him heir to an empire of crores? It was fine till we saw him training ladies in his building but the motivational speaker bit took it too far.
The technical department isn't that functional either. PC Sreeram's cinematography is surprisingly distracting. Production design is overdone – the train connect doesn't quite click! Music is strictly average. Background music is so jarring that you end up questioning the genre of the film. Dialogues are okay while the script has more space for product placements than actual conflicts between the leads, which is a pity.
Kareena Kapoor Khan is one actor who comes with a minimum guarantee and hence pitches in a good show all through. But it is up to the director to transform her into the character and stop being Kareena. What else can explain her Poo-like lip contortions and trademark head nodding which do not really go with Kia! With too many monologues to deliver instead of cohesive reactions to her co-actor, Kareena approaches the film like she did a decade back in Abbas Mustan's Aitraaz, which shouldn't have been the case. Arjun Kapoor is decent but for the most part of the film, he exudes this look-at-me-I-am-doing-something-different vibe which is annoying. The fact that they look like a long lost brother-sister duo doesn't help either. Nevertheless, it was a delight watching Swaroop Sampat as Kareena's forward, non-judgmental mother. We would like to see more of this lady in our films. Rajit Kapoor plays his tiny part with elan.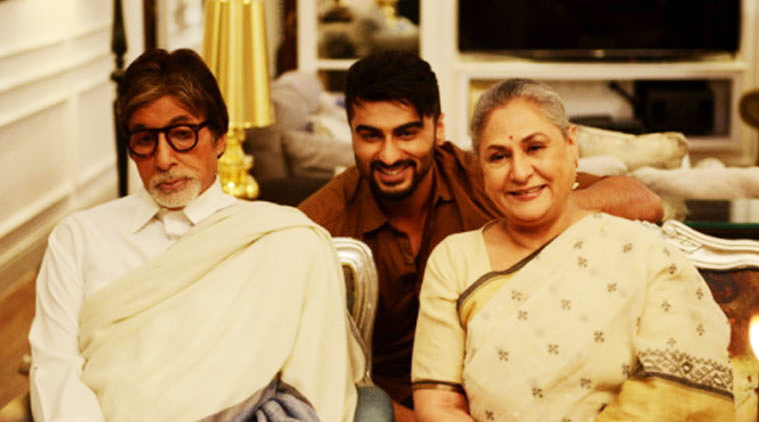 To rub more salt in the wound, Balki ropes in his favourites Jaya and Amitabh Bachchan (Abhimaan anyone?) in beautiful cameos as themselves. The duo expresses the whole point of making this film in 10 minutes flat – which the director couldn't convey through his leads in 2 hours. His unquestionable love and respect for Bachchans is made evident through the deeply sanitized dialogues in the confrontation scene that follows. Given the situation, any normal person would've yelled Bhaad mein jaaye Amitabh Bachchan but not Balki's heroine. Well, that's the least of complaints here.
Image Credits: Twitter