Read Time:
6 Minute, 6 Second
Very often do we end up loving songs, but refuse to acknowledge the people behind them…. unless it happens to be an A R Rahman track. For me, Sandesh Shandilya's music always made an instant connect – like Khayyam, Anu Malik and Bombay Ravi's music did to me. 'My kind of music' is what I would summarize Sandesh's compositions as. Melodious, versatile, not-so-simplistic tunes that are easy on the ears – that sums up Sandesh Shandilya's style. Bollywood, for a fact, has overlooked this wonderful musician for whatever reasons! As he celebrates his birthday on the 8th of April, here's a compilation of Sandesh Shandilya tracks that you probably didn't know were his!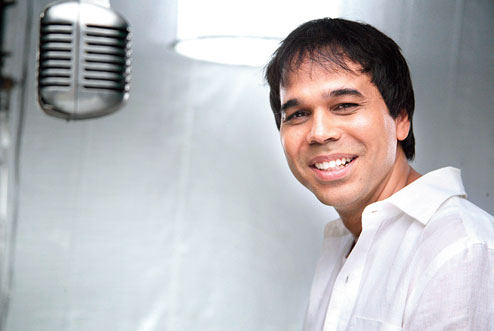 "Suraj Hua Maddham… Chand Jalne Laga
Aasman Yeh Haaye… Kyun Pighalne Laga"
It's been 15 years and the nation hasn't stopped singing this love ballad yet. While we should give due credit to Shahrukh Khan – Kajol's blazing chemistry and the gorgeous locations, fact remains that this ever-romantic tune does the trick. With some lovey-dovey yet not-so-cheesy lyrics by Anil Pandey (where has he vanished into?), this one of Bollywood's most memorable romantic songs ever.
Not to forget,
Sonu Nigam
and
Alka Yagnik
are simply sensational with their vocals here.
What's the one thing that we love the most in Imtiaz Ali's Jab We Met? Many would say Kareena Kapoor,  but there are definitely going to be takers for the heart-wrenching Aaoge Jab Tum O Sajna….
If you still assume this to be a Pritam number, you need a recheck. Guest composer Sandesh Shandilya weaves magic with this Ustad Rashid Khan number. Placed very beautifully in the narrative, it was definite that the song would strike a chord with the viewers… and it did.
3. Piya Basanti (Piya Basanti)
No, the album Piya Basanti was NOT composed by Ustad Sultan Khan. Yes, the soulful voices of Ustad and Chitra still give us goosebumps. But, it was Sandesh who deserves equal credit for churning out a blockbuster album while being in his early 20s.
4. Leja Leja Re (Ustad & The Divas)
Shreya Ghoshal
crooned this zingy, foot-tapping melody interspersed with Ustad Sultan Khan's soulful lines. Sandesh Shandilya's music had everything that the doc prescribed! A bunch of 6 gorgeous melodies,
Ustad & The Divas
can be heard
here
!
5. O Yaara Rab (Socha Na Tha)
We love the soundtrack as much as we love this breezy caper of a film. Imtiaz Ali shouldn't have ditched his favourite composer from earlier days in his recent films. Sandesh Shandilya, for sure, knew the pulse of Imtiaz's characters and this song – for starters – is a striking proof.
Just like its lead protagonist, Chameli's soundtrack has a heart of gold. Sort of mysterious tune with some fantastic choice of instruments, this smooth melody with a touch of melancholy is often considered Sunidhi Chauhan's best. Udit Narayan's Jaane Hua Hai Aaj Kya… is another gem from the film.
Easy to ears with a lazy lounge feel, this Kunal Ganjawala song was reasonably popular when it released. I was surprised when someone recently crooned it at a random gig. It quickly sent me on a nostalgia trip to the early 2000s. Having said that, each song of this OST is worth a listen and my favourite is this unique duet by KK and Sanjeevani.
8. Sarphira Sa Hai Dil (Love You… Mr Kalakaar)
One of Sandesh's recent compositions, Sarphira Sa Hai Dil is infectious. Listen to it twice and you'll hum it the third time around. I like how he played around with the robust vocals of Neeraj Sridhar and even Shreya Ghoshal sounds different from the usual. Bhure Bhure Badal is yet another superb melody from this soundtrack.
9. Pyaar Ke Geet (Pyaar Ke Geet)
This album featuring Shubha Mudgal and Sukhwinder Singh created a decent buzz for Sandesh in the music industry. The songs and the videos featuring Arbaaz Khan and Malaika Arora were a rage back in the '90s. All of 20 at that point, Sandesh proved himself to be an early bloomer.
Remember those school and college functions that weren't complete without this oh-so-hep track? Kareena Kapoor in a dazzling red bustier wasn't the only reason to replay it today. High on energy and attitude, this snazzily composed number is amongst Sandesh's most popular ones.
Few less heard ones too…
Haiye Re (Ustad & The Divas)
 A simple, lullaby-tinged melody in the angelic voice of K S Chitra! This, for me, was the best song of Ustad & The Divas. Hear it to believe it.
Dole Re (Agni Varsha)
Set in the BCs, Agni Varsha was not an easy soundtrack to compose. Yet it was a safe in Sandesh Shandilya's talented hands. Be the romantic 'Dole Re' or the angst-ridden 'Prem Ki Varsha' or the celebratory 'Chal Re Sajan', the album shows off his supreme command over the craft.
Jee Na Jalaiyo Re (Dus Tola)
Watch out how Sunidhi Chauhan and Sukhwinder Singh totally win us over as they smoothly sail from low to high pitches (in individual solos). Winsome lyrics by Gulzar saab is the icing on the cake!
Piya (Big Brother)
If there was one good thing in this sorry feature film, it was Sandesh Shandilya's soundtrack. This melodious Shreya Ghoshal ditty had a lot of takers during its release.
Uuf Kya Jaadoo Mohabbat Hai (Uuf Kya Jaadoo Mohabbat Hai)
Sunidhi Chauhan's robust vocals and Richard Clayderman's piano to back her. WOAH!!!! One sensational number that went completely unnoticed as the film came out cropper at the box office. What a lovely soundtrack Uuf Kya Jaadoo Mohabbat Hai was!

Makhmali Yeh Badan (Road)
This has been amongst my top favourite songs for a long, long time. Featuring seductive voices of Sonu Nigam and Sanjeevani, this was easily one of the better songs that came out that year. The opening notes with church bells are truly innovative as it sets the scene beautifully.
All said and done, Sandesh Shandilya remains an underrated, under-utilized composer in modern times. The musician extracted the best out of his favourites viz. the late Ustad Sultan Khan, K S Chitra, Sonu Nigam, Shreya Ghoshal, Sunidhi Chauhan, Sanjeevani, and KK. Hope to hear more from this maverick composer who will always remain my favourite.