'RRR' review – Rajamouli's pulsating film revels in its masculine vigour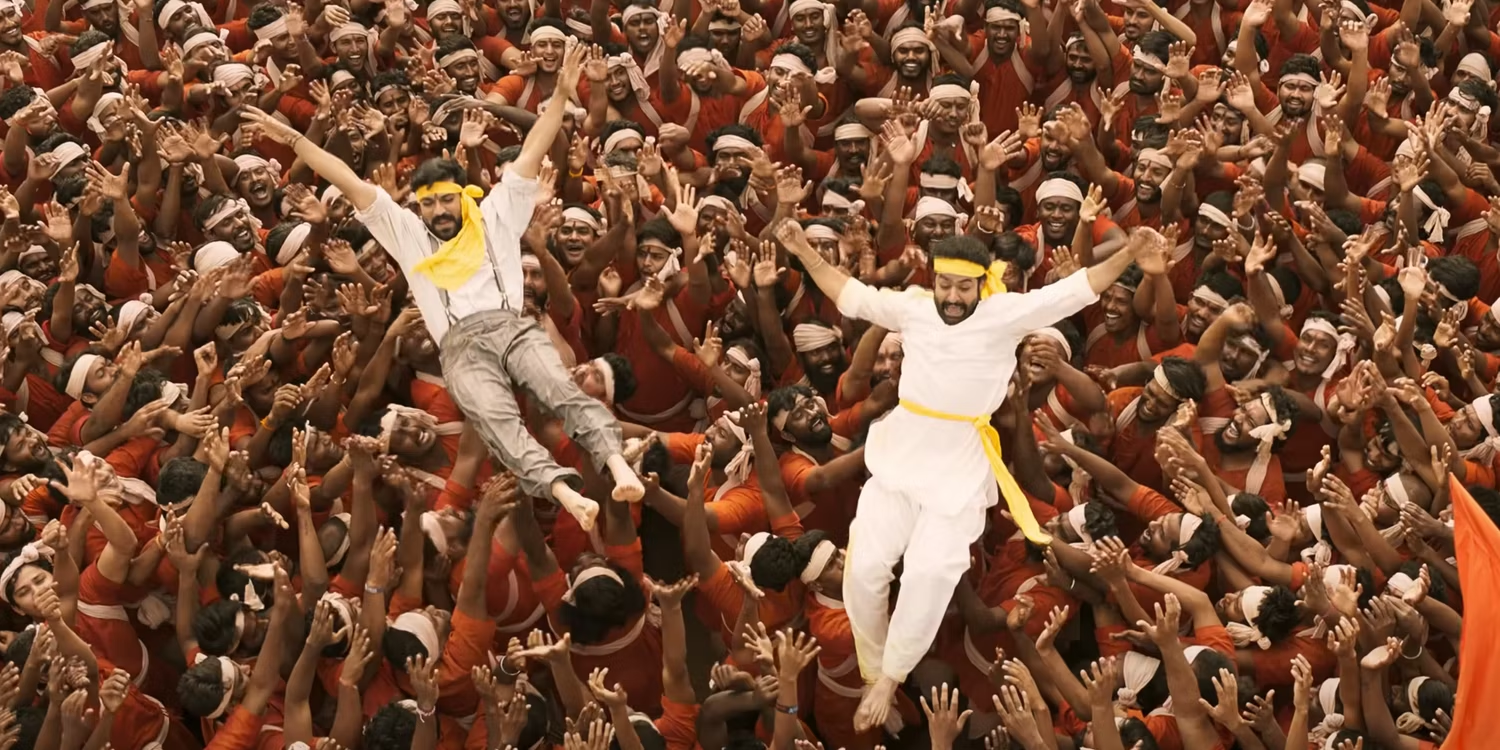 If there is a filmmaker in present-day India that has mastered cinema of money and excess, it is S. S. Rajamouli. The Tollywood-based director finds a rare equilibrium as he fuses the grandiose of Sanjay Leela Bhansali's cinema, the emotional resonance of Karan Johar's weepies, and the testosterone in S. Shankar's films. In his hugely canvassed Telugu period actioner RRR, Rajamouli underlines standards (barring humour) that are quintessential to Indian commercial cinema at global podiums. Starring NTR and Ram Charan, the film celebrates opulence through frames straight out of Amar Chitra Katha.
RRR, if I may put it lightly, is India's answer to Star Trek, or the umpteen American superhero sagas that either germinated from comic books or eventually made their way to that format. Rajamouli's film – as we can reference from his previous works – is no science fiction like The Wizard of Oz or Mad Max. Instead, it bends every theory science ever devised to develop a plot that keeps you wide-eyed and open-mouthed for as long as 180 minutes.
The film, based in the 1920s, opts for a backdrop that aggravates Indian citizens to date – the atrocities of the British empire. The trigger occurs when the wife of a British official captures an adolescent tribal girl. If we may think of it from the British point of view, the battle that ensues is laughable, but then, this is Rajamouli's cinema. So much so that it never really feels like RRR is set in actual British India. It is a dressy and somewhat rugged multiverse where the British and native Indians shared an outlandish slave-master equation – only to be rescued by two brawny men.
Headlining the film is Ram Raju (Ram Charan), the son of an armed force servant-turned-revolutionary, who is an officer in the British police force. On the parallel front, Bheem (NTR), a tribal man powered with unimaginable physical and mental grit is on a mission to find Malli, his kidnapped sibling. The two men meet in Delhi and forge a pre-Independence Jai-Veeru-like bond – complete with motorbikes and horses to wooing Englishwomen with their deft Indian footwork. They get equally magnificent opening sequences and a gargantuan canvas to shine. However, what is not unambiguous (as was the case in Baahubali) is Rajamouli's fascination for caste hierarchy.
RRR picks up elements from the lives of freedom fighters Alluri Sitarama Raju and Komaram Bheem to create a story with a mythological twist for a broader appeal. Ram, who serves the British, is an educated young man whereas Bheem (an obvious choice for a name) could decode the language of wild animals. If the former laughably assumes the garb of Lord Rama in an extended action sequence, the latter adopts the role of Hanuman in Ramayana. Be it their respective character arcs, their decision-making propensity, or even the dance choreography is subconsciously designed to connote their difference in class. Keeping aside this necessary criticism, it was great fun to watch the interval block scene (which Rajamouli mounts with mind-boggling visual effects) that gleefully celebrates Indian cinema's reputation (or notoriety) for larger-than-life mise-en-scène.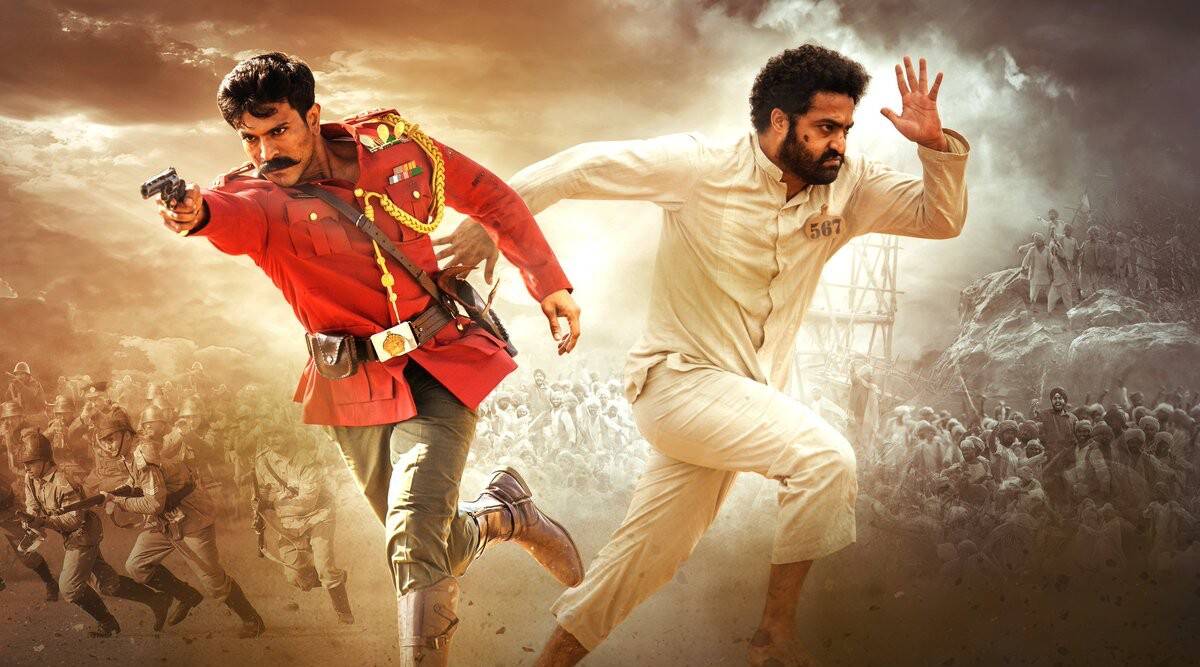 The third act commences with a flashback where we meet Ajay Devgn showing up straight from the sets of Lajja to reunite with his Drishyam co-star (Shriya Saran). Dipped in a grey tint, the lengthy sequence feels dreary but is essential to draw a growth trajectory for Ram. RRR picks up when the men (Ram and Bhim) rekindle their bromance to fight the empire all by themselves. A refreshing angle in their friendship is that, unlike close male friendships in present-day Bollywood cinema, the men are confident of their physicality and sexuality. There is an entire action sequence where one of them is carried by the other on his shoulders. I believe it is the confidence of a South Indian filmmaker who is designing content for his audience. Rajamouli's men would hold guns with equal flair as they would hold hands.
The writing (Rajamouli, K. V. Vijayendra Prasad, Sai Madhav Burra) is abundant with broad strokes that bear the logic of live-action animation. Yet, the collective impact is thumping as they infuse the story with a profound emotional curve. RRR is a classic good versus evil epic that eulogizes violence and muscle power over strategy and dialogue. As a result, it feels strange when the film parades as a freedom struggle saga. The film's idea of extremism would never have been approved by the likes of Bhagat Singh and Subhash Chandra Bose whom the makers remember in the closing credits.
RRR, expectedly, displays technical finesse. The cinematography (K. K. Senthil Kumar) balances speed and magnificence whereas the editor (A. Sreekar Prasad) adds a great deal of order to the mayhem surrounding the characters. M. M. Keeravani's music is interesting (especially the fantastically filmed 'Naatu Naatu') whereas the original score tends to needlessly underline every emotion on display. The action choreography and visual effects are crucial departments that heighten RRR to a citadel of major envy.
ALSO READ: 'Radhe Shyam' review – Prabhas' film should have been a music video
I couldn't find many faults in the leading men who are given equal footing and screen time. NTR and Ram Charan work their fire-and-ice chemistry very well while the performances are more about physical agility as opposed to emoting through expressions – which is fair, considering the pulse of the film. Among women, Alia Bhatt gets no notable scene whereas Olivia Morris clinches the meatier part and shines brightly in every frame. Ray Stevenston and Alison Doody, who appear as scheming, cardboard antagonists, are fair.
Rajamouli's film comes with enough meat to satiate a nation deprived of big-screen spectacles. Much like the filmmaker's celebrated Baahubali, the film is a mega-entertaining historical fiction which is custom-made to tug at the heartstrings of the easily susceptible Indian film lovers whose propensity for black-and-white storytelling is time-tested. Besides delivering every ounce of the adrenaline-fueled entertainment it promises, RRR (featuring native Telugu speakers) also successfully contributes to Indian cinema's growth as a more integrated, content-driven unit. 
Rating: ★★★ 1/2