Read Time:
11 Minute, 17 Second
27th July – It's a special someone's birthday. Let me begin this on an immensely personal note. Year 1995. The 6-year old in me happened to overhear a song played on a random stereo player:
"Kannalane Enathu Kannai Netrodu Kaanavillai
En Kangalai Parithukkondu Aeninnum Paesavillai…"
The song that eventually went on to join The Guardian's list of "1000 Songs Everyone Must Hear" – Kannalane was from Mani Ratnam's soundtrack for Bombay by AR Rahman. The song created a life-changing impact in my life as I hummed it to every possible place – even as I went to sleep. This was followed by an unusual demand being made at home – that I would like to learn singing. There came a music tutor. Years of trying to sing, then finally managing to sing, later give up – all of it came with a trigger, an inspiration, a voice. One that was already reigning across South Indian languages while making way to Bollywood.
K S Chithra
One who is part and parcel every South Indian household that enjoys music, there is not one song I can single out to be an ultimate favourite. What makes her incredibly special? What is it in her that bears testimony to her three and half decade long career that's still going strong?
A journey that's worth admiring…
I make it a point to view or listen to most of her interviews. She narrates the same tale – of recording her first song that never came out. Finally making it to Malayalam filmdom with MG Radhakrishnan's Njan Ekananu. Her portions in a duet with legend K J Yesudas was recorded amidst trembles and him motivating her. Her first solo track was also from the same film – Rajani Parayu. Quite a teenybopper voice back then, who could predict she was going to reign supreme in India's playback singing scene!
Hailing from a family of musicians, Chithra's elder sister K S Beena was the first to ensue a career in playback singing. Said to be a reclusive person, Beena soon quit playback singing for matrimony. Destiny, on the other hand, had rich dividends in store for the younger sibling. She soon grew popular in Malayalam film industry. Her voice turned out to be a state-wide rage – particularly the melancholic Aayiram Kannumayi (Nokketha Doorathu Kannum Nattu). Her popularity and filmmaker Fazil's insistence to use her voice for the film's Tamil remake catapulted her to the big league in South India. The song Chinna Kuyil from Poove Poo Choodava ended up being her pseudonym. Chinna Kuyil, that translates to 'The Little Nightingale', went on kick-start a career that left behind competition by a distance. Her association with Ilaiyaraaja resulted in her first national award – for the iconic Paadariyen from Sindhu Bhairavi.
Her interviews are full of anecdotes and a few them always find a mention. Like the late music composer Raveendran recording Mazha's Varmukile at his residence with his sons' assistance. Or Raveendran recording a scratch version for Kamaladalam's Sayanthanam in Chithra's voice that later went on to feature in the film. Another one that lingers is Chithra turning up late for an Ilayaraaja recording where she eventually ended up crying with the maestro pacifying her. Fans may love her rendition of Ee Puzhayum from Mayookham but Chithra Chechy clearly isn't amused as she considers it one of her misses.
In avant-garde old school style, Chithra treasures voice recordings of each of her composers explaining the tunes to her. Right from AR Rahman and Anu Malik to Deva and Johnson Master, we wish Chechy gives us access to them.
Ever since her debut, Chithra hasn't looked back. She's alive and kicking in 2016 with her hit duet ­Konji Pesida Venaam with Sriram Parthasarathy.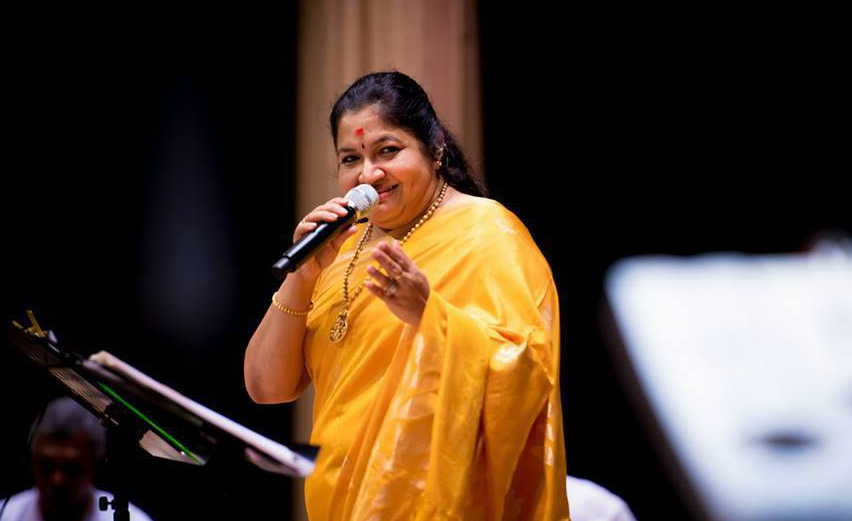 Quite a livewire on the stage!
I am yet to watch a singer as enigmatic as Chithra on stage. No, she doesn't romp the stage with her dance moves. She barely moves from where she stands. Of late, she smiles and interacts a bit. The biggest takeaway is her tonal QUALITY. Her renditions are so crystal clear that her own recordings will pale in comparison. Often do we see the orchestra members fail to match her brilliance and Chechy improvising to help them excel.
In her concerts, she does something that very few singers do – take audience requests. For someone who has recorded songs more than 18,000 songs across languages, you wouldn't know what might come her way. It could be one of her intricate Carnatic numbers with sargams and harkats aplenty. It could also be a massy Rajinikanth dance number – Chithra is up for all challenges. The last time I heard her live, she sang till her listeners were everjoyed. Requests piled up one after other and we didn't want that night to end.
Some energy that was!
That virtue called simplicity
It is everyone's knowledge that Chithra is a singer of legendary proportions. Her record six National Awards and numerous other recognition could have given that VIP air. Well, no! Chithra still belongs to the humble roots she rose from. Her upbringing in a musically aligned family, her youth festival stints, the scholarship, training with K. Omanakutty teacher and the gradual rise to stardom – each of it contributed to the simplicity that she exudes.
It is easy to admire this quality in her but near impossible to retain this demeanor. Chithra's persona isn't a mystique or that of a diva. Amen to that! On second thoughts, it could possibly be the lack of professional setbacks and bad experiences that made her so grounded.
Because music is all what she knows!
You wouldn't spot K S Chithra make statements on social issues, politics and other subjects. Her social media is filled with birthday wishes and remembrances of her colleagues, pictures from her concerts and, of course, her work. I remember listening to her in an interview that her politeness is often misconstrued in times of yellow journalism. For one who doesn't keep track of current affairs, her decision to not give out statements of them make complete sense. The question arises – how is she giving back to the society?
Chithra as a celebrity is way beyond the ones who post condolences on social handles. For a medium that gave her a life and career, Chithra has her own initiative to support ageing and needy music artists from South India – ACV Sneha Nandana Trust – one that she announced at the event that marked her 30-year completion in the industry.
Indeed, music gave her a lot. Happiness to have earned millions of admirers across the globe. It helped her get over grief of a massive personal loss. Music isn't just a vocation for her. Music is her.
Competition? You must be joking…
There was no dearth of talented singers were always there in every film industry. Though neither Chithra chechy or her followers wouldn't like to put it this way – hers was a one woman show for close to two decades. There were times when hiring another female singer was nearly out of question while male singers more or less took turns. For duets across four South Indian languages, Chithra's was one perennial name on audio inlay cards – a feat that no other singer could match.
Even in her short stint in Bollywood, she made sure to carve her own niche. Some cult, some chartbusters and others timeless – she made full use of the opportunities thrown at her. It was indeed a big deal for a humble, soft-spoken South Indian singer to bag songs in big ticket productions like Main Prem Ki Diwani Hoon, Koi…Mil Gaya, Asoka, Tum Bin, Guru, Virasat, Pardes, Ziddi, Salaakhen among others.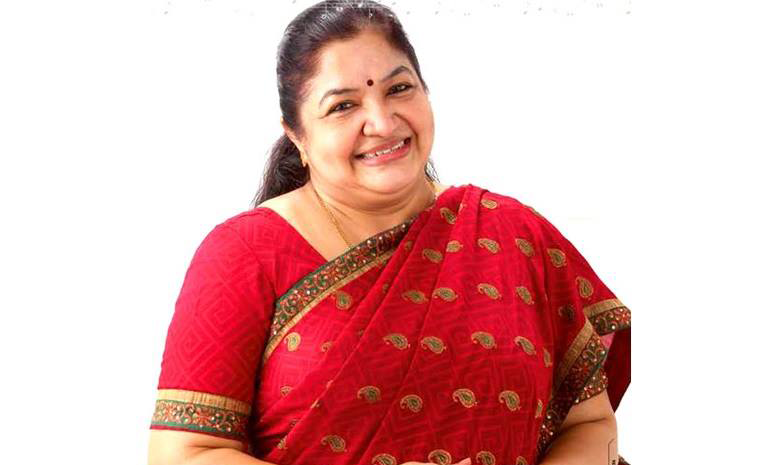 The goddess of genres
My budding musician friend of mine from the North of India keeps trying cover versions of Chithra's numbers. I often wonder 'Why Chithra?'. After all, Bollywood has singers of great repute and body of work. On second thoughts, do they even dare compose a purely classical soundtrack like Sindhu Bhairavi for the talented singers? Such attempts are far and few between. Do ordinary love songs boast of near-impossible aalaps like Shivadam Shivanamam has? They don't. Are there even songs with striking note variations like Amrutha Varshini's Thunturu and Ee Sundara? It's a NO yet again. Well, I don't blame my friend at all.
Give Chithra any genre – I doubt if she would say no to any. Here's a list of interesting songs I could instantly think of.
Ezhimala Poonchola (Spadikam) – A brazen item featuring the sex goddess (who else?) Silk Smitha. Chithra makes sure to ooze enough oomph with her rendition that the lady's sex appeal remains unprecedented. This one just one of the several Chithra – Silk combinations. Yet another brilliantly sensual number (and a personal favourite) is from Anu Malik's Asoka – Raat Ka Nasha.
Kokkurasumen   No.1 Snehatheeram Bangalore North – Music director Jerry Amaldev was a practical person. There are multiple female characters and children in this song. He couldn't have invested in multiple singers for each. He asked Chithra to let go off her inhibitions and Chithra just made a killing with her voice modulations for each character.
Marugo Marugo (Sathi Leelavathi) – Tamil audience love Kovai Sarala and her peculiar shrilly voice. Well, this song happened when Ilaiyaraaja asked Chithra to "sound" like the veteran actor. Neat, I say.
Ragga Raaga (Ragga Raaga by Voodoo Rapper) – Remember the 1990s Indipop scene? Chithra jammed with Voodoo Rapper and gifted us this funky fusion album.
Onde Usiranthe (Snehaloka) – A recent discovery – this Kannada track is a breathless one by Chithra and Rajesh Krishnan.
Duniya Jise  (Andaz) – A lovely Nida Fazli ghazal composed by Pt. Ramesh Narayanan.
Parumala Cheruvile (Spadikam) – Chithra sings for Urvashi whose character consumes alcohol by mistake. For each of us who've played at least one drunken antakshari in our lifetimes, Chithra's drunken woman turn is a riot.
Tum Bin Jiya Jaaye (Tum Bin) – CULT. Period.
Kasi Repe (50-50) – Asha Bhosle worked wonders in the Hindi original while Chithra took it to the crescendo of oomph in the Tamil and Telugu versions.
A Lullaby of Hope – Recorded in three languages, this gem of lullaby proves there can't be a voice as motherly as hers. Be Anu Malik's Kyun Baar Baar (Filhaal) or Sejo John's Maalagha Pole (Mummy & Me) – her lullabies are must-haves in your night playlist.
Aasmani Rang (Sunset Point) – Her voice in this lovely number from Gulzar's album is akin to a celesta's tingle.
Ek Lo Ek Muft (Guru) – Chithra's voice turned husky for this one. Her chemistry with Bappi Lahiri was kickass and so was the ultimate impact. Yammo yammo yammo le… Gujju from the word go! Another husky number Choosukovo from the recently released Telugu historical 'Rudhramadevi' is worth a mention.
Vaisakha Pournamiyo (Parinayam) – Essentially a five-minute thesis on crystal clear pronunciation.
Venalinte Chirakileri (Edavapathi)– Notice the minimal orchestral back up. This Mohan Sitara track has Chithra's honey-tinged voice making all merry.
Uyire (Bombay) – There is a reason why this one is considered way superior to its Hindi counterpart.
Angopangam (Devasuram) – A classical Bharatanatyam performance with fumes of anger. Who else but Chithra could have pulled it off with elan?
Delightfully old-school…
One of the last singers who pay respect to the stage before their performances. One of the last in the league to takes blessings from senior fraternity members despite being a legend herself. In one of her interviews, we have her express displeasure over youngsters coming unprepared to the recording studio. Some of them even reportedly trash their songs in the studio post recordings.
As for her camaraderie with her seniors, the one that she shares with S. Janaki ought to be the most remarkable. One of her renditions of Janaki's Malarkodi Pole at an Idea Star Singer episode had the former beam with pride.
As a tribute to Lata Mangeshkar, Chithra released an album titled 'Nightingale – A Tribute To Lataji' that consisted of 8 priceless cover tracks. At Mangeshkar's 75th birthday celebrations, Chithra enthralled the audience with her version of the much-difficult Rasik Balma. Yet, my personal favourite would be the below version of Raina Beeti Jaaye!
Malayalam film 'Mayamayooram' had Chithra reprise Mukesh's Kabhi Kabhie Mere Dil Mein (Kabhi Kabhie). At another event, Chithra shared the stage with Asha Bhosle and jammed on few of her hit numbers.
For someone who always talks highly about or constantly post wishes and remembrances on social media, Chithra's affection and gratitude towards the fraternity is applaud-worthy.
All said and done…
I would proudly and unapologetically reiterate the fact that she is the most versatile, prolific and matchless playback singer working in Indian film industry today. From a fidgety teenager crooning with bigwigs at Thiruvananthapuram's Tharangini Studio to the veteran performing at the House of Commons, London (first Indian singer to achieve this feat) to reprising yesteryear chartbuster Andam Hindolam with absolute gusto in recent Telugu hit Supreme, Chithra has only improved by the day. Her enthusiasm and drive for her craft fails to fizzle out and she makes sure to throw us surprises, on and off the recording studios.
Wishing the legendary songstress a wonderful birthday and a melodious year ahead!
Happy Birthday Chithra Chechy!