Read Time:
9 Minute, 32 Second
2018 was a gratifying year of well-made, smaller budget films that had intriguing stories to say. While the big ticket festival films crashed like nine pins, these little gems with path-breaking content made everyone sit up and take notice.
Here's a list of the ten best films from the year gone by, in reverse order:
(The excerpts have been taken from the films' individual reviews on this website.)
Sui Dhaaga – Made in India is a sweet and well-meaning film which wants to spread a message or two on self-sufficiency and entrepreneurship. The film, at the same time, doesn't show propagandist tendencies like films of similar ilk by needless references of government policies. It wants to tell a story and it does so with serious abandon without shedding its simplicity for most parts of its runtime. The last segment wherein the film enters a fantasy territory might not be everyone's cuppa tea but then this is very much a commercial film. I didn't really mind any of it as they were not one bit dishonest. For the rest, I was exhilarated with the feeling that the film left me with, besides the powerful title track playing in my mind for hours.
9. Pataakha (Vishal Bhardwaj)
Genda and Champa, we observe, are designed by Bhardwaj with all the right layers and nuances including a running analogy to Indo-Pak ties. Come to think of it, the duo is seen engaged in a massive fight in one scene and moments later, we see them share a beedi. They escape their father's thrashing and run all over the village, only to hide in a corner by the banyan tree – clinging to each other like kittens. Mind you, there is no love involved here and this is more of an arrangement that they find to safeguard themselves. Things get all the more complicated post-marriage when Genda and Champa see no decline in their hate feelings. At one point, with the help of Dipper, they decide to unite for their make-or-break cause. What follows is an exhilarating trip that will have you on chuckles throughout, with the filmmaker re-asserting his characteristic style once again.
Post Paatakha, I would love to see Bhardwaj make more of such oddball comedies as opposed to those heavily mounted magnum opuses that he seems to be fascinated with. The film is witty, original and flavourful and also contains every conventional element of entertainment.
8. Badhaai Ho (Amit Ravindernath Sharma)
Released in a festive period, Badhaai Ho is one film that can be instrumental in eliminating the stigma around geriatric pregnancies. The film – though unlike a PSA – tells us how a woman who is likely to be over 50 can deliver a perfectly healthy child. It addresses several ancillary areas around the concept such as embarrassment, the need for contraception, the future prospects of the newborn baby and more. And by the time we are convinced that all the humour had gone completely out of the window, Badhaai Ho closes with a crackling one-liner from the grandmother.
For sure, this is a ride that families will effortlessly straddle through with a smile on their faces and a couple of sobs in places. Zero reasons to complain, I say.
7. Stree (Amar Kaushik)
"Oh stree, kal aana". Translated as, "Oh woman, come tomorrow", this is the line written on the walls of every house in the sleepy town of Chanderi during the holy Puja season. Written using an ink made out of bat's blood, the line is believed to keep away the evil 'Stree' who preys on men. As far as myths go, the vengeful woman is out to fulfil her wish to celebrate the 'suhaag raat' – something that she couldn't with the man of her dreams. Based on folklore and some spooky incidents in Karnataka, India, director Amar Kaushik weaves a humorous universe where the genders are reversed.
Treated more like a horror film, Stree is also a take on women through the eyes of a group of men who are used to their privileges. For a story that is so refreshing, layered and a wee bit bizarre, Stree ends on a rather satisfying note. The only fear that is left by the end of this flavourful comic horror film is the possibility of a sequel, which is a surefire recipe to rip the film and its characters of all their innate freshness and edgy charm.
6. Mulk (Anubhav Sinha)
Set in Banaras, the immediate premise is around a family when one of its young members, Shahid (Prateik Babbar) gets embroiled in terrorist activity. They soon become the centre of attention with media flashlights hogging them and friendly neighbours turning hostile. Forming an interesting plug in the narrative is the Hindu daughter-in-law of the household, Aarti (Taapsee Pannu) who also happens to be their lawyer.
While deconstructing Islamophobia, Mulk also throws light on the possibility of a more inclusive society where members of all faiths coexist in peace. The existence of a Hindu daughter-in-law doesn't threaten Murad's family. The presence of a Hindu place of worship in the same lane as theirs is no point of worry to them either. It is only when the underlined bigotry is exposed in court in form of Quran interpretations and easily assumed statistics that film comes into its own. The investigating cop performs an encounter on the terrorist when he could easily have arrested him. This might have been an intrinsic cleansing process for him, essentially borne out of his own prejudice against the community he belonged to. The film, rightfully, chronicles the gullible ways of today's youngsters and how religion can effectively be used to manufacture hate, making way for a society that excessively divisive. The tiny commentary on saffron terrorism is also a noteworthy touch, further enlightening what terrorism actually stands for.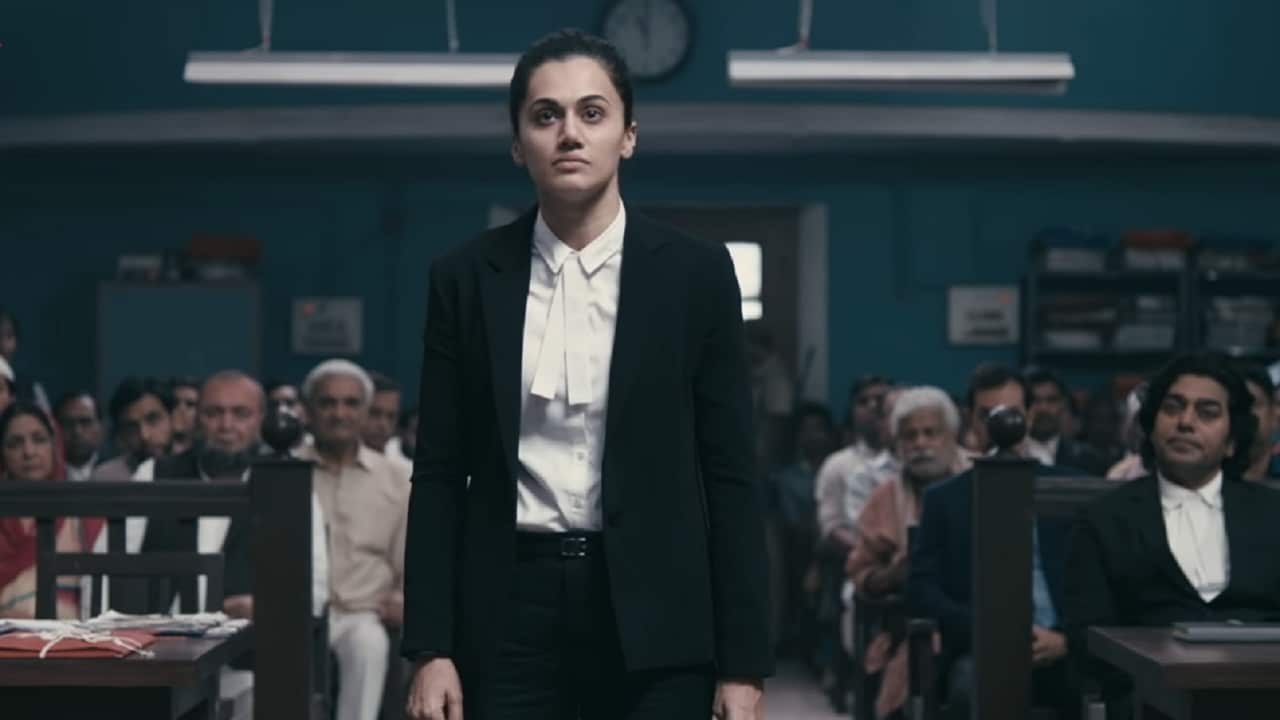 5. Tumbbad (Rahi Anil Barve)
It was pretty late by when I could watch Rahi Anil Barve's Tumbbad on the big screen. Interestingly, the film was still running to packed houses, weeks after its release. The whole thought fascinated me for a fact that the film saw no well-known stars to sustain exhibitors' interest for a good amount of time. Good content, it proves, is what sets Tumbbad out in a year that proves to be one of the better years of ambitious films made on medium scales.
Barve's film, which is the most stunningly picturized (DOP: Pankaj Kumar) film of the year, takes us to the pre-Independence era. It curiously chronicles the lives of a family's surreptitious affair with a treasure fort in a far-off village Tumbbad. The idea is spooky and the execution is even more atmospheric with original score by Jesper Kyd. It didn't particularly scare me (I doubt if it intended to) but the film is gorgeously canvassed with able performances by the leads Sohum Shah and Mohammed Samad.
4. October (Shoojit Sircar)
October is the twilight chapter of a year. In Shoojit Sircar's film by the same name, the month is Shiuli's (Banita Sandhu) favourite. That time of the year when her favourite flower blooms – the shiuli flower – widely known as parijat. For a significant part of the film, we see her in a state of coma – one where a human being is immediately compared to a 'vegetable'. Yes, the insensitivity is a little grating. Partly because you are not taking the sufferers' consent before giving them easy labels or taking decisions on their behalf – which is also something that the film addresses.
October is also a massive win for Varun Dhawan who puts his natural goofiness to great use while playing Dan. The actor, for once, doesn't seem to emote for the camera but for the story that he is a part of. Given the material, the scope was immense to go overboard but the actor is markedly poised throughout. Now, as far as expectations are concerned with respect to the film's highly awarded crew, October is fearless filmmaking at its best.
3. Raazi (Meghna Gulzar)
Sensitivity. One quality that resonates the most with me in anything fictional – be it literature or cinema. Now at the cost of sounding slightly sexist, I would iterate how women filmmakers – even the ones who make colourful commercial potboilers – tend to catch this element with greater dexterity than their male counterparts. This might probably be because they have experienced the lack of it in the cinema industry, which is largely synchronized to work in favour of men. Director Meghna Gulzar, in her fourth outing, exemplifies the very same quality that her previous films had radiated uniformly. As a result, Raazi mirrors a complex story through its strong, vulnerable protagonist (Alia Bhatt) who is also astonishingly real.
As the film ends, you do notice the obvious (and smart) design of the film. Raazi is extremely patriotic, which does not singularize the characters for their nationality. For instance, an Indian citizen is teaching the song 'Ae Watan' to a bunch of Pakistani children and there is no oddity anywhere. What irks a little is the fact that the nations were in war despite myriad similarities. This, perhaps, is also the message that this subtle and equally spellbinding film intends to spread.
2. Mukkabaaz (Anurag Kashyap)
"They make a film on boxing and it makes 40 crores. Actual boxing tournaments bring in less than 40 viewers," rues Bhagwan Das on the sad state of boxing in the state of Uttar Pradesh. Later as the film unfolds, we get a profound answer on why sports and the system intimidate anyone enough to take the safer route of education. The film strongly captures mindsets of government officials and also of the ones who aspire to land up in a secure job like theirs. The biased and casteist senior official at Shravan's workplace is indeed a Kashyap masterstroke.
Quite evidently designed for the masses, Anurag Kashyap's Mukkabaaz, therefore, is the closest his cinema will ever get to be a crowd-puller. Playing royally to the gallery, Kashyap attempts to balance the struggle of an everyman with the cinematic victory of a boxer and a lover.
1. Andhadhun (Sriram Raghavan)
When a filmmaker of Sriram Raghavan's calibre chooses to open his film with a random single-eyed rabbit astutely escaping a gunshot, one certainly gets a hint on what to expect. The animal munches his cabbage and also gets away unscathed. Wait before you make comparisons to the film's blind leading man Aakash (Ayushmann Khurrana) because there are many more quirks that will catch you unawares in the succeeding reels.
Andhadhun casts quite a spell with largely taut screenwriting coupled with Raghavan's brave filmmaking style. For all connoisseurs of unique stories, the film is one where the director doesn't take its layered screenplay for granted. As a result, the end product is a nail-biting sonata of music, humour, action and razor-sharp suspense. In every way, Andhadhun is a one-of-a-kind film for the industry and is also a neat benchmark for the genre that it belongs to.
Special Mentions: Pari, Bioscopewala, Gali Gulieyan
Down the years…
The 10 Best Hindi films of 2017
The 10 Best Hindi films of 2016