'Nna Thaan Case Kodu' review – Potholes & politics dominate Kunchacko Boban's masterful satire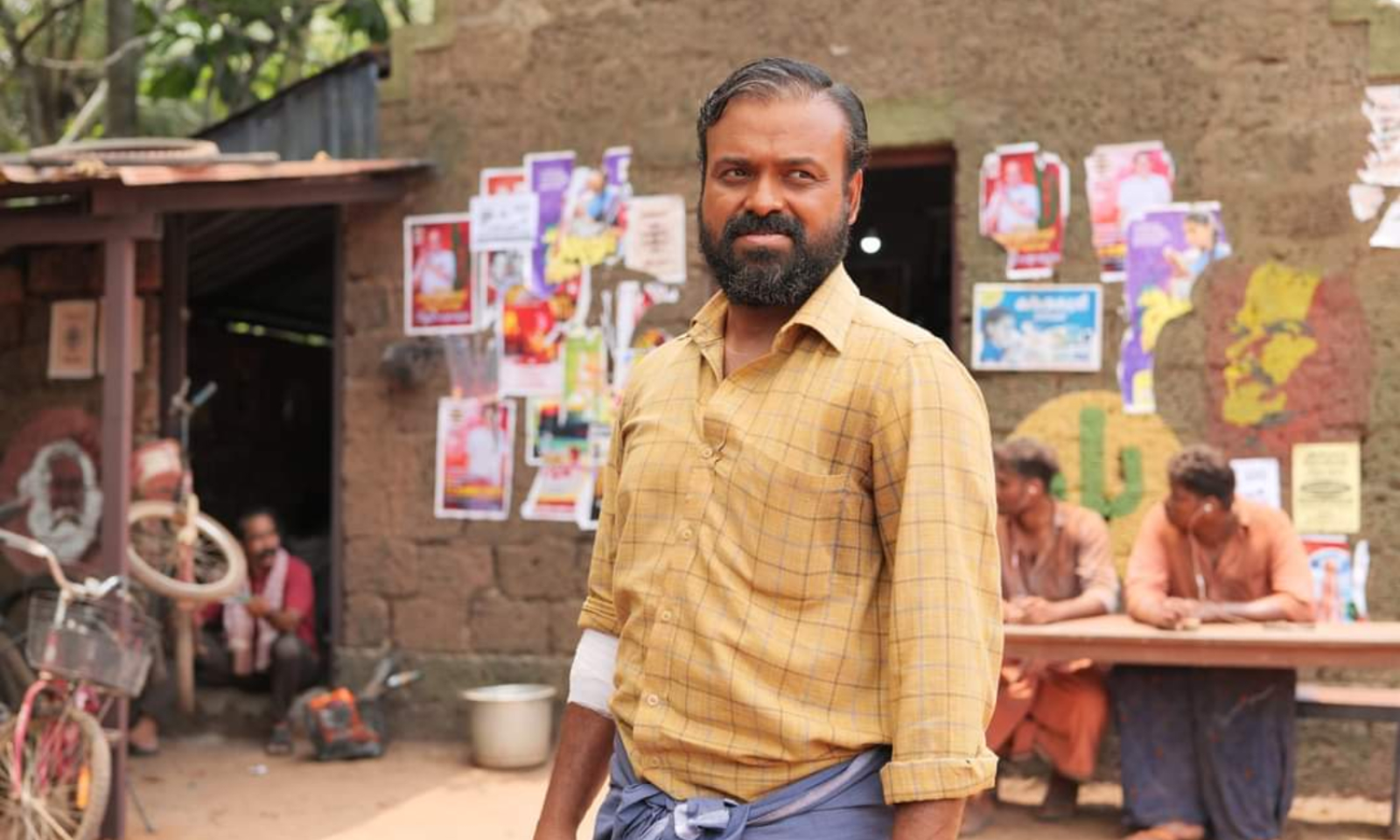 Read Time:
4 Minute, 22 Second
In a rare instance, I ventured into a theatre that played Nna Thaan Case Kodu without looking who the filmmaker was. As I hadn't viewed its trailer or promotional material, it sounded a lot like another strangely titled Kunchacko Boban comedy – Diwanjimoola Grandprix, Jamna Pyaari, and Kochavva Paulo Ayyappa Coelho to name a few. When the titles rolled, I was oddly surprised to find Ratheesh Balakrishnan Poduval as its helmer. Merits aside, the experience of watching his debut Android Kunjappan Ver 5.25 was akin to a blast of Baghban on Sony Max during the family dinner hour. His newest venture is anything but manipulative.
Kozhummel Rajeevan (Kunchacko Boban) is a former thief who now works as a laborer. He is slowly settling down into a family-like arrangement in rural Kasargod. The man is in a relationship with a Tamil woman named Devi (Gayathrie Shankar) who is pregnant with his child. Rajeevan, whose family background is unknown, is hands-on with Devi's bedridden father. His romance with the woman kicks off in the filmiest of fashion with a conventional yet beautiful love song, 'Aadalodakam'.
Minutes after the mush settles in, Rajeevan lands up at the local temple fest where he sways to the now-viral remix of 'Devadoothar Paadi'. A little commotion and confusion later, he is seen to jump the walls of the local MLA's residence – only to be bitten in the buttocks by the guard dogs, Kingini and Painkili.
What provoked an ex-thief to land in there? Did he plan to rob the house or was it an accident?  Rajeevan, who is nursing a wounded derriere, feels belittled upon being labeled a thief yet again. Soon, he channelizes all energies towards the root cause of his trauma – a puddle. Rajeevan files a suit against the Minister of the Public Works Department and, in an instance, Nna Thaan Case Kodu skyrockets to become a marvelous satire that exposes bureaucracy and politics with humor and courage.
Poduval's film brings back memories of Dileesh Pothan's Kasargod-set Thondimuthalum Driksakshiyum, but with fewer cultural strands and more laugh-out-loud humor. A good chunk of Nna Thaan Case Kodu is set in a courtroom. It is a space where the screenplay's (Poduval) finer nuances unfold. Rajeevan, as a thief, was notorious for stealing books along with other valuables. Now, the man crosses the case himself – although hilariously in a lingo that lurks the decorum of the setup. The sarcastic judge (who is easily distracted by the pigeons on the windowsills) grabs some of the film's wackiest lines.
Nna Thaan Case Kodu critiques the government but is sly in its method. The film indicates how corruption is intrinsic to the system – irrespective of ideologies – and how power hyphenates the actual laws of the land. It examines a common man's conscience by highlighting how much the legal victory matters to Rajeevan and his family. For a case that runs for over two years, the timelines are marked by rising fuel prices – which also gets referenced multiple times during the court duels.
Poduval's film skillfully outlines the peculiarities of Malayali society. For instance, the smaller female characters intrigue big-time. If the Chief Minister (Unnimaya Prasad) is odd enough to let a common man challenge a cabinet member, the wives (of the MLA and the minister respectively) bring the house down with their respective quirks. In a scene reminiscent of Action Hero Biju, two elderly women – both fasting for a pilgrimage to Sabarimala – are in with a strange complaint. In the background, we see a bunch of burqa-clad women. The setting is Utopian, and yet it paints a realistic picture. Sumalatha, a schoolteacher, is obsessed with her boyfriend Suresh (Rajesh Madhavan, terrific), and their common love for 'Aayiram Kannumayi' – an '80s chartbuster.
ALSO READ: 'Mahaveeryar' review – A surreal coup by Malayalam cinema top brass
Nna Thaan Case Kodu abounds in an array of eccentric characters. Rajeevan, around whom the story revolves, is essayed with amazing flair by a confident Kunchacko Boban. The film ought to end the actor's two-decade-long wait for the coveted Kerala State Film Award. Gayathrie – making her Malayalam film debut – fits her no-nonsense part, and her screen presence is remarkable. PP Kunhikannan is extraordinary as the magistrate, an astutely designed character laced with a string of idiosyncrasies. The actor elevates the possibilities further by assigning unique textures to the man who is constantly amused by dog names besides flashing an instant smile whenever the court of law is hailed as an authority higher than God.
One that abounds in organic, situational humor, Poduval's film is firmly rooted in the local culture. If DOP Rakesh Haridas lenses the intimate frames to perfection, Jotish Shankar does a swell job with the art direction. The lines sparkle in a brand of humor that is so specific to the region that the subtitles might miss out on a chunk of its original flavor. Speaking of subtitles, I observed the film cheekily contextualizing the story when the Chief Minister's hometown (Kalliassery) gets annotated as Pinarayi in English. Well played, Poduval.
Rating: ★★★★