Read Time:
5 Minute, 4 Second
Ayan Mukerji is the filmmaker who helms Brahmāstra: Part One – Shiva. Touted as a magnum opus, nothing about the film – be it the giant canvas, the untrodden genre, or the aesthetics – emerge from a palette that is characteristic of the director's style. Mukerji, to my understanding, made relatable films with a splash of Dharma Productions' glitz. I identified him as a version of Shakun Batra, perhaps, but a lot less intense and way more commercial and 'Juhu' in sensibilities. If the middle-class apartment resembled a Pottery Barn store in Wake Up Sid, the nerdy girl-next-door was none other than Deepika Padukone in Yeh Jawaani Hai Deewani. So, I assume, it might have taken the producers a great deal of conviction to greenlight his third feature – a fantasy-superhero-mythology-romance mélange starring Bollywood's IT couple, Ranbir Kapoor and Alia Bhatt.
One that took over five years to be made, I wonder what must have been the elevator pitch for Brahmāstra.
A group of baddies wishes to seize pieces of a powerful weapon which is strongly resisted by a group of good and god-fearing men with superpowers

An orphan with an unexplained fire immunity falls in love, resolves a family mystery, and acquires superpowers to destroy three super-villains, including a woman who would land straight from the sets of a TV soap
Brahmāstra works as if different parties were working on unalike briefs. To Shiva (Kapoor), the film is a festival of Bollywood cliches. He loves, fights, sings, dances, prays, feeds orphan kids, and respects elders in the classic Indian way – it's a checkbox-ticking exercise. To Isha (Bhatt), it appears to be a holiday with the man she loves on and off the screen. Even though their chemistry isn't electric, the actors try hard to inject feeling into a godawful love story that had no place in the plot anyway. As said earlier, there is not much of a plot either. The idea in itself is centered on a business proposition – we got to make a local equivalent to the money-spinning Avengers saga and India has got some remarkable CGI talent. Conveniently, the makers spin a screenplay with names borrowed from Hindu mythology with no rhyme or reason. There are excessive insertions of religious festivals, diety references, visits to temples, holy cities, and so on. It might be a hopeless attempt to appease India's thriving right-wing trolls. Trust me, they aren't as dumb as the makers of Brahmāstra believe they are.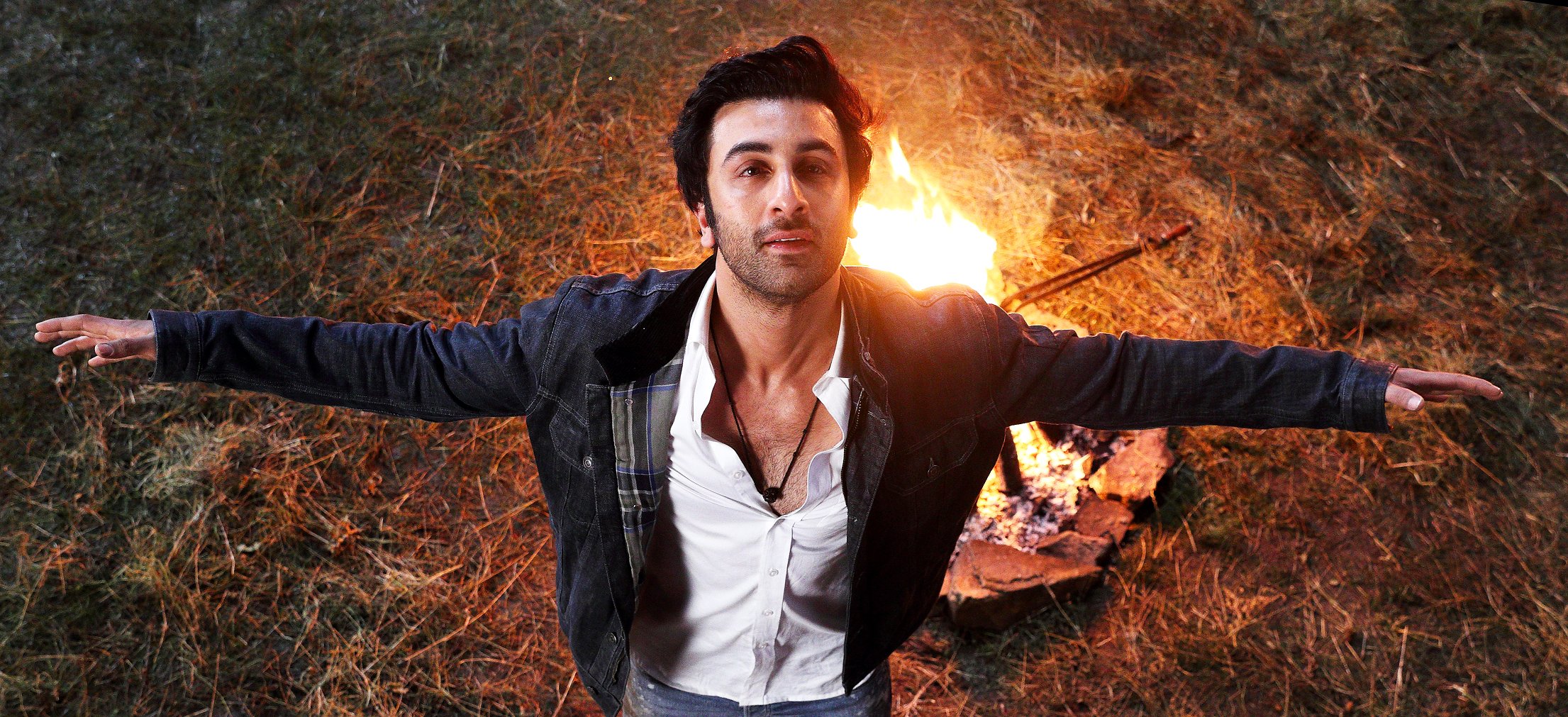 Mind you, the CGI is bound to blow your mind even when the dialogues make you cringe to your bones. The repetitive good-versus-evil clashes and the love track might induce the REM sleep you've been waiting for all your life. Mukerji should know it's too '90s to film your leading lady in Mani Ratnam-styled soft lights to convince us that our leading man had no way other than falling in love with her. "Bharosa karna aata hai?" the lovers quiz each other. It's too obsolete a line to be approved even in a detergent ad.
After Shiva and Isha fall in love over strange circumstances, we are transported to Varanasi and later to the Himalayas. Among the more interesting segments, we meet an artist named Anish Shetty (Nagarjuna) and later an elderly man called Guruji (Amitabh Bachchan). Soon, the villains find reasons to climb buildings, drive trucks and chase the love birds as if they were onboard for a dated Hollywood remake. Much like this review, in brief intervals, Brahmāstra swivels back to focus on its lovers. Even Guruji goes on to mouth lines such as, "apne darr ko bhi pyaar do" following which we see a never-ending song where Shiva plays with a fireball. Trust me, it's not even a VR experience to endure for so long.
Mukerji's film – in the absence of an interesting story and an arresting screenplay – flips waywardly from one fight to another. Sure, Brahmāstra attempts to boggle your eyes with computer graphics but the nation has no soft corner for local producers. The frames (credited to an array of DOPs) are constantly lit in excess. Pritam delivers an uninspiring soundtrack although the chart-busting Kesariya works because of the visuals and the fresh lead pair. Simon Franglen's original score is fitting to a genre film, but Brahmāstra isn't really one.
ALSO READ: 'Shamshera' review – Ranbir Kapoor towers in a '70s-styled period fantasy
Ranbir Kapoor, around whom the story develops, puts in a decent effort to resolve a mystery surrounding his character but the film does no justice to his talent. A lovestruck Alia Bhatt does what Manisha Koirala did to Bobby Deol in Gupt, however, sans oomph and punch lines but with oodles of unnecessary mush. I laughed my guts out imagining how Yash Raj Films would have cast Katrina Kaif or Vaani Kapoor rather and made them shimmy to item numbers titled 'Astra Yeh Ishq Ka' and 'Aag Hi Aag Hai'. Mouni Roy gets to play a rare female villain in Bollywood but she never really creates a stir despite a decent performance. Somewhere I wondered if the writers made her talk way too much so as to stereotype her gender. Where's the menace? Amitabh Bachchan and Nagarjuna play themselves and take home big fat pay cheques. Well-played.
Now, now! Let me come to the film's sole source of luminance. A man surfaces right in the beginning of Brahmāstra and skyrockets our expectations to a state of disbelief. The charisma, the style, the grace – he is simply made for the silver screen and specifically to treat us in gargantuan spectacles such as Mukerji's film. Shah Rukh Khan plays Mohan Bhargav, a space scientist named after his iconic character in Swades, and saves Brahmāstra from turning into a mind-numbing drivel. Trust me, I plan to watch Khan's portions repeatedly when the film is out on a streaming channel. Rest of Brahmāstra? Forgettable would be too kind a word.
Rating: ★★