If Karan Malhotra's Shamshera were to be an Instagram post, it would have gone with the caption, 'POV: It's post-pandemic Bollywood and filmmakers who savor the '70s Amitabh Bachchan diet are now packaging it in keto.' Malhotra's film headlined by Aditya Chopra's Yash Raj Films contains all ingredients that would make it a surefire box office riot. If only the makers knew when and how to use the aces in the deck. 
Headlined by Ranbir Kapoor (who appears in a double role as a revolutionary father and his initially wayward son), Shamshera offers zero scopes for surprises. You predict the storyline five minutes into the film (or from the trailer if you've watched it). Then again, I prefer storytelling over the actual story. Malhotra's film derives its base from the age-old hero-villain syntax which they juxtapose onto a British Raj backdrop – again for the nth time. To the writers' credit, there is no attempt to tweak history or dehumanize the British in absolute black-and-white terms. There are no Maharajas projected as unfortunate victims (no, this isn't a dig at Panipat and Samrat Prithviraj). Instead, Shamshera takes us to a fascinating world of an oppressed tribe called Khamerans living in a place called Kaza.
I ought to underline the word 'tribe' here. The number of mainstream Hindi films that brave to address casteism can be counted on fingers. This way, in the early twenty minutes of Shamshera where Ranbir Kapoor Sr (the titular character) makes a vintage Bollywood-styled sacrifice to save his ilk. Fraught beyond belief by this point, the Khamerans stone their leader to death, displaying the collective skills of Olympic Shot Put throwers. 
In comes Balli, a 25-year-old Ranbir Kapoor, who is an impoverished version of Sid Mehra (Wake Up Sid). He's got no credit card or major daddy issues but has a battalion of kids fetching him coins and lace hand gloves. He passes his day dancing vigorously around the dust-laden streets – constantly reminding me how much I enjoy watching a carefree, smiling Ranbir Kapoor. By the side, Balli is trained by his dad's compatriot (Ronit Roy) on all kinds of fighting and defending techniques. The scene that establishes it temporarily acquires an animation film logic.
Much like a naïve Barfi, Balli soon enters the local Indian cops' den. Picture an 'Untouchable' in pre-reservation India here: the young man gets a taste of what the Khameras had been facing for decades. He smoothes up the top cop's boots, only to be thrashed to a pulp in minutes. Post a big revelation – a lot of which is blatantly verbal and visually overpowering – the happy-go-lucky Balli turns into a brooding revenge seeker. The transition is so quick that Shamshera would land you in confusion if you were to a loo break amid the mayhem.
The trickiest element in Shamshera is Sanjay Dutt's antagonist. Interestingly named as Shuddh Singh, the cop wears his vermilion and boisterous attitude with equal verve. Designed along the lines of classic Bollywood villains (Gabbar, Mogambo to new a few), the man is pure evil. Dutt's portrayal of the part is mega hammy yet consistently riveting. The interval point duel between him and Balli is one to watch out for. It is precisely the '70s template that Arbaaz Khan tried to adapt in the climax of Dabangg 3 (if anyone remembers it) but failed miserably.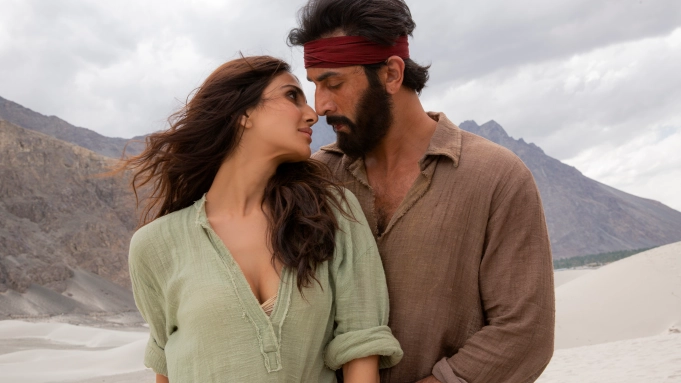 The female presence in Shamshera is ticked by Vaani Kapoor and Iravati Harshe. Playing an exotic dancer (a la Suraiyya from Thugs of Hindostan), Kapoor is the film's sole eye candy. Although well-tuned and smartly placed in the narrative, her item numbers have been wasted from a commercial standpoint for the fact the makers refused to use them as marketing components – thereby nullifying the beautiful actor's existence in the otherwise gritty actioner. Harshe plays the stereotypical teary mother with a heart of steel and a big secret to reveal. Both women do not get their due in a film that did not classically need them. In a scene towards the finale, the duo lock eyes for the first and only time. All I could read from their expressions was, "Me too, sister".
Sorry, I digressed – much like Malhotra's film occasionally does with its women. Honestly, there is nothing more to highlight from Neelesh Misra's story that is as old as hills. Malhotra pens the screenplay along with Ekta Pathak Malhotra which seems to contain pages and pages of VFX add-ons. For instance, every time our leading man is in trouble, a flock of carnivorous crows appears. Did he perfume the villains with some kind of delicious bird fodder? Nobody knows. There is a fascinating play of dialogues throughout Shamshera. Evidently, Piyush Mishra's lines are a lot smarter than the actors who deliver them. Ranbir Kapoor employs his time-tested underplaying tactics while the lines deserve projection. As a result, several punches do not register. No, it isn't a bad performance by any measure. It is just that Kapoor does it his way and Mishra in his – both of which do not always sync. That said, the leading man is towering, especially in Shamshera's garb. Stepping out of his urban manchild comfort zone for the first time, the actor puts in a neat show in Shamshera. He makes us root for Balli's mission despite Jupiter-sized loopholes and the annoyingly formulaic nature of the screenplay. Him aside, almost every cast member essays parts that are cast out of set templates. Saurabh Shukla is the only one who rises above the written material as Bally's wise ally, Dudh Singh. If not anything, the actor's opening scene will move you to bits where he recites a ballad on Shamshera's bravery.
ALSO READ: 'RRR' review – Rajamouli's pulsating film revels in its masculine vigor
If the film's hackneyed central plot is somewhat excusable, Malhotra's filmmaking is only arresting in parts. While I thoroughly enjoyed the déjà vu-inducing Dhoom 2­-styled train heist sequence, the romance between the leading pair feels unnecessary (the Kapoor-Kapoor duo shares vibes as cold as the Tundra). Moreover, it's 2022 and I fail to understand a villain, surrounded by an armed battalion, who refuses to thrust a bullet through his enemy's skull. Ditto for sudden revelations that turn a famished, unarmed group into troopers of the highest order. I would have still bought all of it if the staging and action choreography were to be half as enthralling as what SS Rajamouli manages in RRR. In Shamshera, the mood is so intense, and everyone takes their jobs too seriously – be it a howling Vaani Kapoor or a confused British officer whose honor is incidentally linked to a stolen crown. 
Shamshera, aside from its 1800s setting, works more like a fantasy fare. It is set in an amusing landscape that has everything – deserts, dense forests, and crystal-clear water bodies. Lensed masterfully by Anay Goswamy, the film's appeal lies notably in its larger-than-life frames that are sprinkled with eye-popping VFX. If the production design (Sumit Basu) invites us to a la-la land instead of actual British India, the costumes (Manoshi Nath, Rushi Sharma) belong to a familiar KGF 2-RRR sphere instead of taking a realistic route as Mangal Pandey ­– a biopic set in the same period. Mithoon's background score works wonders in elevating the grandeur of the frames and a couple of songs ('Ji Huzoor', 'Kaale Nainon Ki') are catchy.
It is also interesting to note the politics of Karan Malhotra's film. He highlights the plight of the minority at the hands of power and bureaucracy. If seen through a contemporary lens, there is no middle-class in the picture here. Shamshera brings to fight between a community of enslaved people and their cruel oppressors. It is a tried-and-tested formula and, therefore, at a runtime of over 2.5 hours, the film would test your patience. Yet, the element that binds the whole show together is, predictably, Ranbir Kapoor. He bravely takes up what his extended family hadn't done in their long, fruitful careers. Shamshera is what Dharmendra might have aced in his prime. Instead of the next-generation Deols emulating the genre with enunciated lines and greasy makeup, we witness the otherwise chocolate-soaked Kapoor lad doing it with fervor. I reserve a brownie point for the maiden attempt that turns out solid. It is akin to a Gujarati merchant heir cracking MBBS on sheer merit. If you know, you know.
Rating: ★★★