Read Time:
5 Minute, 22 Second
The momentariness of life seldom makes for a long and comfortable discussion. We do it, albeit briefly, upon losing a close someone for a sudden, unforeseen cause. Even more rare is the occurrence of a natural calamity. We are aware of nature's anger thrashing Indian land but, as selfish as it might sound, we do not bother unless it hits the community as a whole. Are we ever prepared enough to tackle a natural disaster? What is going to be our reflexes? Who will we call out to? An interesting insight that I derived while watching Sajimon's Malayankunju is about the rehearsed nature of our lives. Whether it is my journey to the cinema or if it's a reader of mine spending a lazy weekend at home with family, there is a rough roadmap that we charter for ourselves every day. We are not always ready to accommodate an unexpected change in plan. In the film starring Fahadh Faasil, the guest isn't an annoying relative or a force with a face. Malayankunju examines the fragility of life when a natural calamity comes exploding, not knocking.
Sajimon's film isn't a disaster film. Nature's wrath is not depicted as an act of villainy that needs to be conquered here. Malayankunju is a slowly simmering, multi-genre human drama where the transformative element is a landslide. It plants us in the intimate world of an electronics repairman named Anil Kumar alias Anikuttan (Fahadh Faasil) in Kerala's Idukki district. A damaged man who breeds regret over losing is her father, he struggles with his deep-seated ideas on caste differences. Anikuttan lives in his paternal home with his mother. Embittered and temperamental, he sleeps at odd hours and is incommunicative. He shares a rough relationship with his sister Sandhya (Rajisha Vijayan) who had eloped and married a man from a lower caste.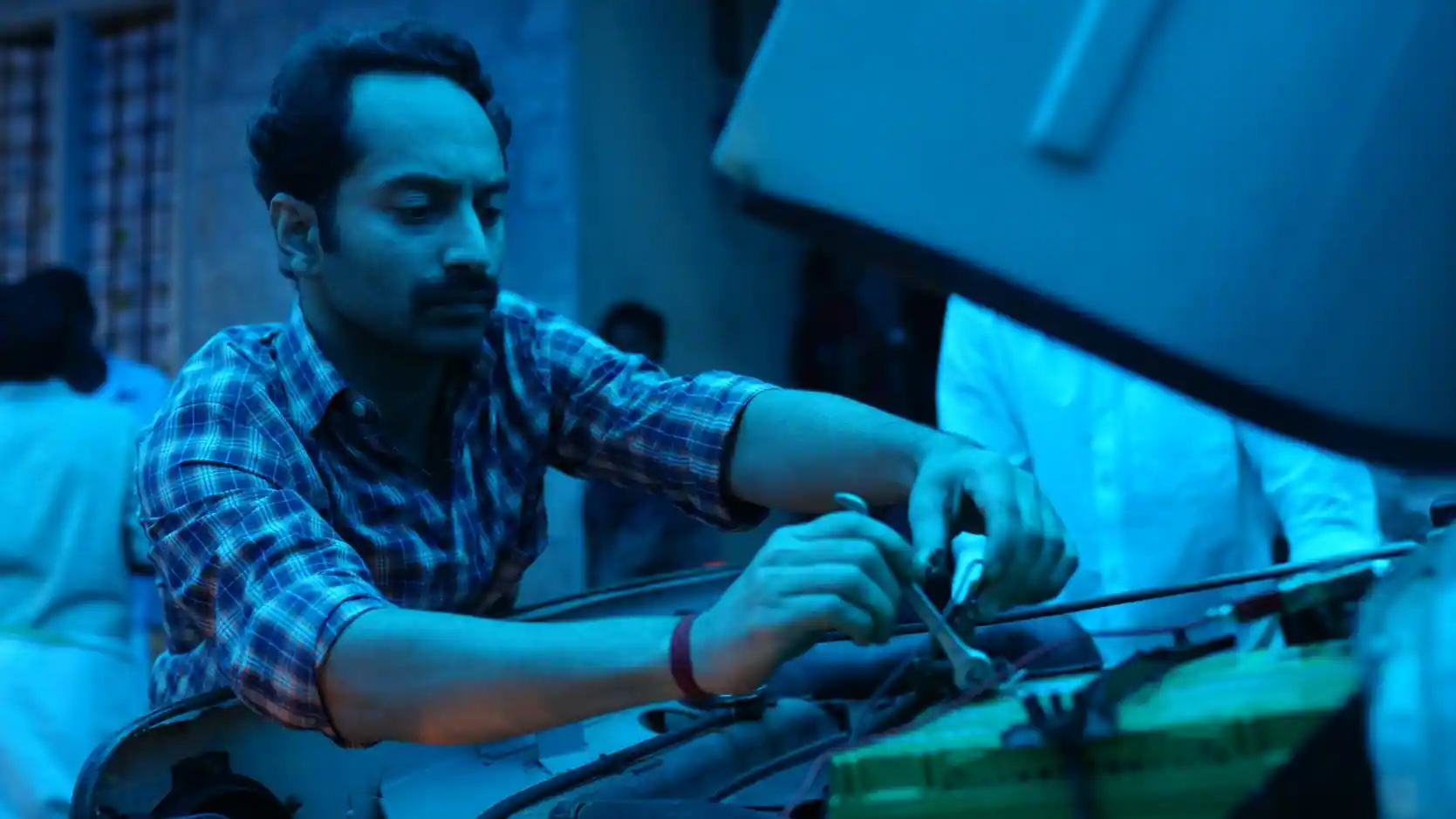 Anikkuttan is not exceedingly strange although one sees light traces of the actor's celebrated character Shammi (Kumbalangi Nights). Both are men who refuse to realize the dysfunctionality they cause in their families. To Anikkuttan, the new nuisance is the arrival of a newborn in the house next door. He fails to process what annoys him more – whether the baby wails all night or if her parents belong to a Dalit caste. While his mother Sharada (Jaya Kurup, an excellent find) is affectionate and supportive towards the baby's young parents, Anikuttan frequently flashes a torchlight to signal his exasperation over the baby. Given the intimate life setup in rural Kerala, Anikuttan's anger is considered abnormal by his mother and neighbors alike.
Soon, through a series of cleverly edited flashbacks, Sajimon drops the background that reveals Ani's quirks. By the side, the writers also set up the bases for a thunderous interval jolt. The latter half which involves Anikkuttan escaping a landslide is not something that would digest easily with a bucket of popcorn and diet cola. By putting Fahadh in the spotlight with almost no full dialogue for the longest time, Malayankunju dexterously designs Anikuttan's coming-of-age. An active participant in this process is his neighbor Suni's 28-day-old daughter, Ponni – the one whose very cries once gave Anikkuttan sleepless nights.
A character-driven fare, Malayankunju sees Fahadh Faasil appearing in almost every frame. Understandably enough, the rest of the cast members are catalytic. If the first half shines in a layer of subdued anger, the third act sees a meltdown – literally and otherwise. In one of the most powerful sequences in the film, we witness Anikkuttan's deceased father (Jaffer Idukki, superb) returning to 'save' his son in a dream-like, underwater trance. In another scene, the father makes a statement, "The caste divisions exist only until you die. After that, each one of us ends up in the same soil". Anikkuttan, who hadn't realized the enormity of this line, gets a taste of it when the tragedy strikes.
Writer Mahesh Narayanan employs rain, which slowly increases in intensity, as the film's conscience. Following a fleeting scene in a police station, we observe how nature unifies Anikkuttan and the ones he engaged in a brawl with. Sajimon's film also serves as clever social satire. There are a handful of digs made at the ruling parties (both central and state). It also highlights the nitty-gritty of rural living – be it regarding customs (gifting gold to newborns) or the role of the maternal uncle (Indrans) in the family network. The writers are crystal clear about the leading man's vocation as well. At one point, we see him buy a brand-new torch light. At another, he is seen repairing the battery of a vehicle. A string of such elements come together for a larger purpose in the latter half.
ALSO READ: 'C U Soon' review – Mahesh Narayanan's film is a modern filmmaking marvel
Marketed as an A R Rahman musical, I initially wondered what the possibilities might be in a minimalist film such as Malayankunju. It's only when the film evolves into a fine character study that we feel the depth of the original score and the songs. As we exit the hall with welled-up eyes having relished K S Chithra's heart-wrenching climactic ballad, the maestro scores for the umpteenth time.
Malayankunju is also a technical marvel. The claustrophobia-inducing cinematography (Mahesh Narayanan) wonderfully explores Fahadh Faasil's eloquent eyes and agile physicality. If Rahman's score bears a strong tinge of sentimentality (which goes slightly overboard in the third act), the sound design (Sree Sankar, Vishnu Govind) – a crucial department – is immersive enough. That said, I felt the creation of the emotional arc between Anikkuttan and Ponni deserved a little more time. The journey of the man's survival should have been a little more arduous. However, I would hand it to Fahadh Faasil who compensates for this peculiarity in the screenplay. Sajimon's film, interestingly, does not end with a verbal sermon. It merely places a mirror on what happens around a disaster-struck town – jam-packed hospitals and intrusive reporters included. Of all things, I could appreciate the flicker of hope Anikkuttan carries during his struggle to survive. As the rescue men find him and Ponni towards the end, he requests them, "Get us up please, our mother is waiting for us up there," Our mother, he says.
Rating: ★★★★