'Kochavva Paulo Ayyappa Coelho (KPAC)' review – for dreamers, seekers, and believers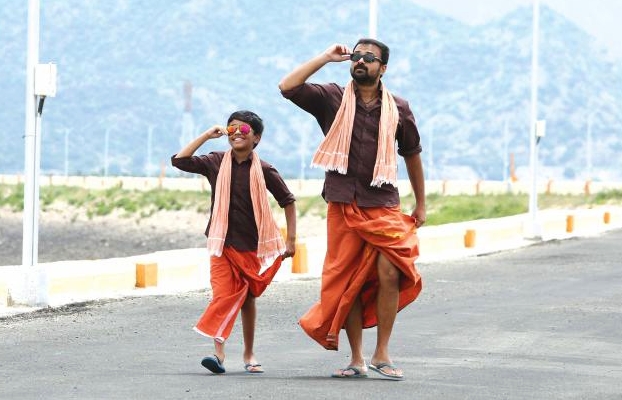 Read Time:
4 Minute, 21 Second
At the booking counter of this suburban Mumbai theatre, I requested tickets for 'the Malayalam film'. The ticketing staff quizzed me on purpose, 'Name of the film, Sir?" For once, I fumbled and took a moment to get it right, despite being born and brought up in the heart of Kerala. So, yes Mr. Sidhartha Siva, Kochavva Paulo Ayyappa Coelho (KPAC) is not the friendliest of titles. Luckily enough, I don't have to say the same for this sweet, little film that takes no time to warm the cockles of our heart. Paulo Coehlo's philosophy from his best-selling 'The Alchemist' is what forms the film's message. Thus we hear this familiar line way too often in KPAC – "When you want something, all the universe conspires in helping you to achieve it."
Well-intentioned that they are, children's films are not worthy of any dislike. Innocence, happiness, optimism and cute kids are easy propositions to sell. However, it isn't too common to come across one that doesn't intend manipulate our emotions. Siva's KPAC ticks this checkbox as it seamlessly traverses a child and his relentless dream to board a plane. As much as we dismiss it too material a dream, can anyone dictate terms with children and their desires? KPAC's protagonist Appu aka Ayyappa Das (Rudraksh Sudheesh) will do anything to land up on an aircraft, take that ride across the clouds. His family tempts him all the more when they take a trip to the Middle East while Appu stays back, as destiny wills. Destiny, for once, had bigger plans for Appu that forms the crux of KPAC. Ones that stay by his side are the village do-gooder Kochavva (Kunchako Boban), his loving cousin sister Ambili and, yes, Paulo Coehlo!
Set in Kerala's landlocked district Idukki, Kochavva Paulo Ayyappa Coelho is aware of its backdrop. We get a bunch of everyday characters positioned in relatable scenarios. A family that watches prime time mega serials together, stays together – says the writer-director. KPAC tastefully presents a set of characters, situations, locales and overall thought processes exclusive to Kerala villages.
2016 saw two impressive Hindi films with child protagonists. Nagesh Kukunoor's beautiful Dhanak, however, chartered a convenient fairy tale route – full of coincidences and contrivances.  Soumendhra Padhi's Budhia Singh – Born to Run was a splendid sports biopic that unfortunately didn't offer a perspective from the child. Sidhartha Siva's Kochavva Paulo Ayyappa Coelho hits an effortless sixer when a smart point comes to fore – Appu questions himself on his ambition and goes on a tiny guilt ride. The very fact that affected the viewers in the initial reels stands answered. Having said that, Appu is as real as a kid can get. A steadfast believer in hearsay, and more so in himself.
 One minor grudges is in the film's length. Though entertaining, there are portions that tend to be repetitive. Case in point being the way Appu's love for flying and later swimming are established. Music bears the usual Shaan Rehman sound but the background score makes up for it. Neil D'Cunha's cinematography is first-rate. For once, a handful of aerial shots make sense in a Malayalam flick.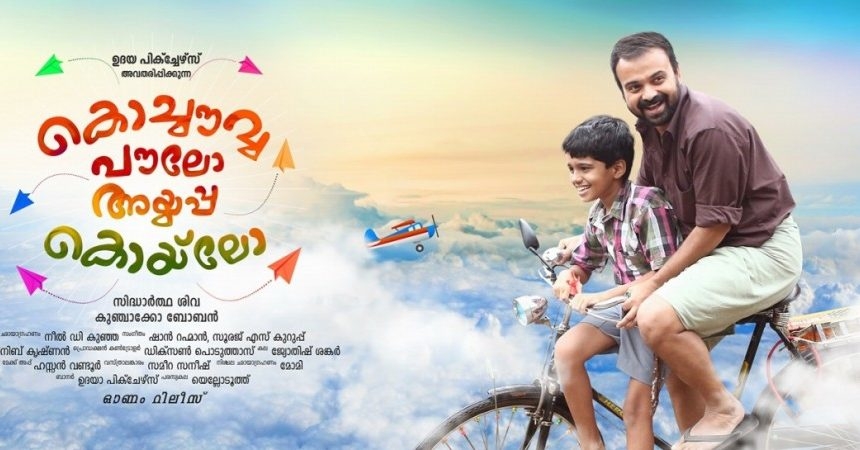 An ensemble cast film, Kochavva Paulo Ayyappa Coelho thankfully doesn't waste any of them. Rudraksh Sudheesh is a an able performer. Blessed with strong screen presence and pretty good diction, the little actor holds himself well when pitched opposite veterans. Kunchako Boban gracefully steps back when Rudraksh has to own the spotlight. Tipping off from the actor's own Good Samaritan act in Jamna Pyari, KPAC has a more layered, purposeful part for Boban. Even otherwise, Kochavva is a more interesting person than the film's main protagonist (Appu). Despite being educated and well-read, he remains just another village do-gooder who could easily be manipulated and has no steady job. Boban's trademark awkwardness and loveable villager appeal charms us through the flawless performance. As a producer, Boban opts for the perfect comeback vehicle for his iconic family banner, Udaya Pictures.
There is a bevy of actors who play their regular self and nail it to T. From Nedumudi Venu, KPAC Lalitha to Muthumani, Aju Varghese, Sudheesh, Anusree and Mukesh – the list is long. Suraaj Venjaramood in an edgy role is the film's comic relief. However, the brightest performer in KPAC is the child actor (Abani Adi) who enacts the part of Ambili, Appu's first cousin and best friend. Her smile is enough to win you over. The way she diligently offers prayers to fulfill Appu's wishes is highly effective.
To sum it up, Kochavva Paulo Ayyappa Coelho leaves you with plenty of smiles and truckloads of positivity. The director takes off from where he left in much-more subtle 101 Chodyangal (2013) and delivers a fun, well-articulated story of goodness and grit. Don't go by its tongue-twister of a title, KPAC is definitely worth that family trip to a cinema hall this season.
Rating: ★★★ 1/2
Watch the trailer of Kochavva Paulo Ayyappa Coelho (KPAC) here!