'Thondimuthalum Driksakshiyum' review – a brainy satire with a hilarious gut connection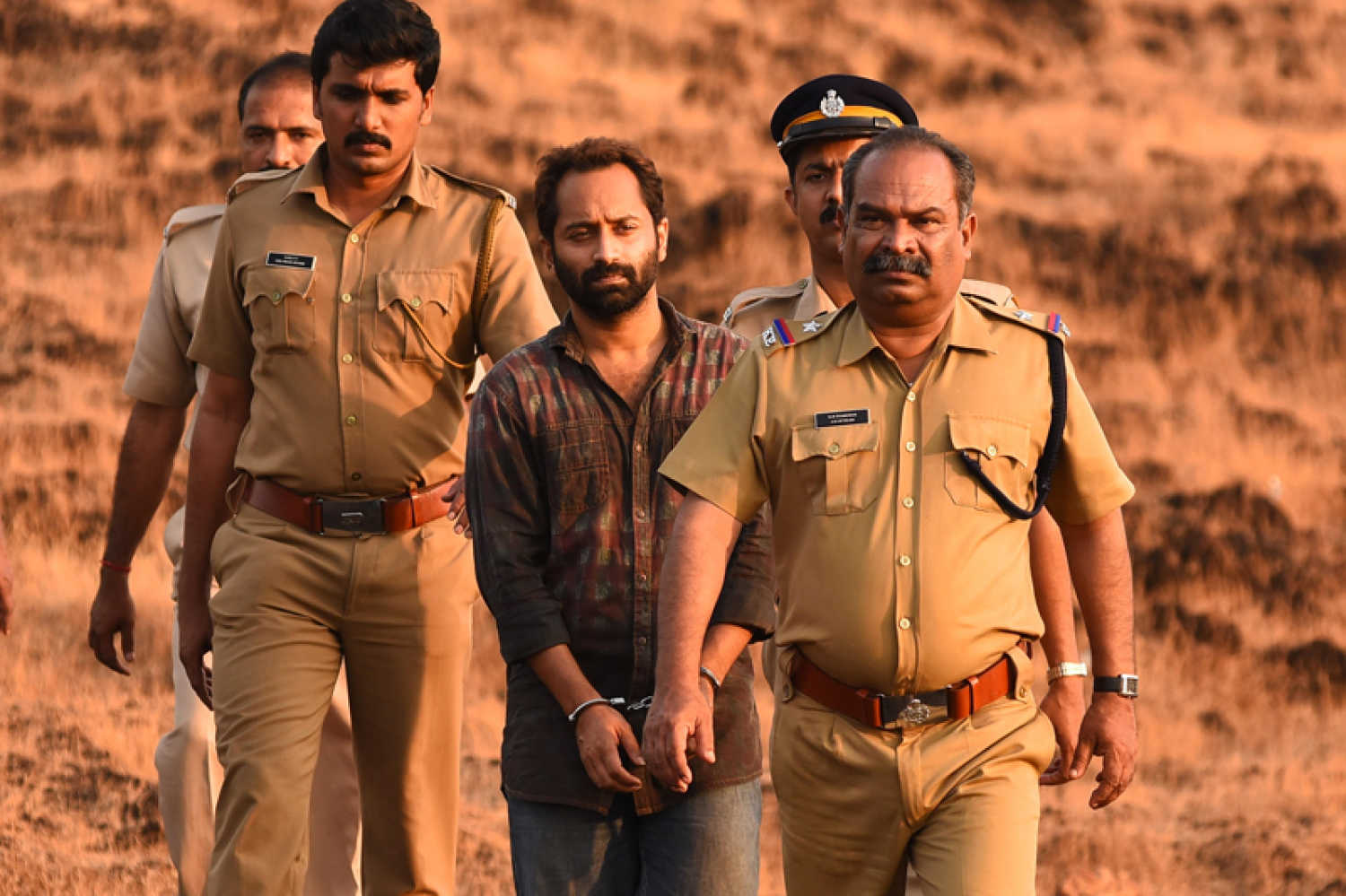 Read Time:
5 Minute, 3 Second
What does it feel like, if the symbol of your nuptial ties ends up in a third person's abdomen? Indigestible quite! Dileesh Pothan's second directorial Thondimuthalum Driksakshiyum landscapes and parodies Kerala's caste politics, everyday corruption and incongruous societal anatomy through a farcical yet multi-layered premise.
Prasad (Suraj Venjaramoodu) and Sreeja (Nimisha Sajayan)'s story kick off in Kerala's 'rice bowl' Kuttanadu. Surrounded by boats, backwaters and intrusive people, their love story blooms across boring cooperative banks and jam-packed passenger boats. Over a narrative jump, we learn how the couple is forced to flee from their rain-kissed hometown to the barren Kasargod. There's more to it as the couple struggles with means to irrigate the tobacco farm they had pinned all hopes on. Soon strikes an unexpected tragedy in the form of Prasad PK (Fahadh Faasil).
Driven by its nuanced plot than protagonists that are excessively detailed, writing (Sajeev Pazhoor) in Thondimuthalum Driksakshiyum dissects Kerala's social syntax with rare maturity. Sreeja and Prasad are brought up in the fascist, divisive social setup where castes, classes, labels and moral policing are largely accepted schemes. Till their union happens, the couple (as individuals) never questions these practices. They either are active participants of this intrusive arrangement or are deeply conditioned to their apparent normalcy.
Clearly lacking abilities to preempt how their lives would pan out, the couple's impulsive decision to marry invites amusing reactions. Note the scene where Sreeja arrives at Prasad's home for the first time. Being a member of an upper caste, she is an object of curiosity first and a probable new bride later. Soon approaches her father who, albeit their low financial status, beams with pride for being a  member of Mangalam family – one that used to be affluent and the privileged blood of which run in his veins. In a notable phone call scene later, we see the conflict between parental love and the father's propensity to stick to caste-driven responsibilities.
ALSO READ: 'Virus' review – a masterful survival thriller that celebrates everyday heroes
The third wheel in the story, Prasad PK, is paradoxical and goofy and also one without a defined social status – for the film's own good. He reveals how his chronic life issue is the absence of identity proof. And till the last reel, we don't get a glimpse of that – his identity. There's a robbery scene, and also a situation of comfortably compromising cops. With a series of events that prove their conflicting interest in the case, the group of policemen form the film's most vulnerable set of people. Even as we see them establish their physical strength with a series of lockup thrashings, what gets highlighted is their intrinsic fear of the system – one that is faulty and corrupt by default.
There is also a case of questioned sanctity – of a marriage that has seen enough survival threats. Now the ordeal involves their sacred mangalsutra that is down another man's digestive tracts. How mindful one ought to be over a material that signifies a relationship, we are asked. In a rather dramatic outburst, Sreeja declares how their 'love' matters the most to her over objects. Even prior to that we see Sreeja ruing over the thief's mischief of gulping down the piece of jewellery. Her anger is towards the act and not for her valuable property being seized – a point that she puts forward at the outset of investigation.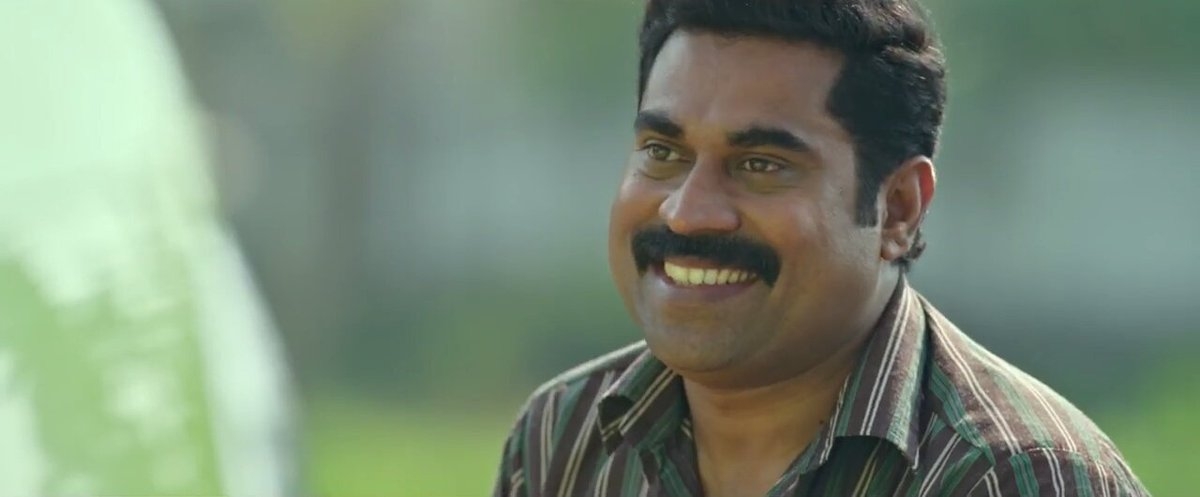 Sajeev Pazhoor's screenplay gives ample scope to the atmosphere in Thondimuthalum Driksakshiyum. Amplified by Rajeev Ravi's de-glam, life-like lighting Pazhoor's witty writing comes to fore. We see an assortment of people and processes, in and around the police station. The local kirana shop owner knows good details about a case that is about to be filed. We also see a soon-to-be pastor and a burqa-clad woman brushing up the accused before cops take over. By making them act so, Pazhoor exercises great sarcasm about their clearly suppressed selves. Then there's a pair of neighbours warring over an entity as unlikely as a mobile tower and its assumed radiation. With some evolved wit underlining the plot, the film earns further brownie points in the way Pazhoor designs the rogue Prasad PK's character. There is humour even in the fact how a bodily function of his is crucial to the plot, and how there is a bunch of cops overseeing the man while he is at it.
Laced with stellar performances by the ensemble cast, it is the well-researched writing and Dileesh Pothan's stickler observation skills that strikes hard in Thondimuthalum Driksakshiyum. Pothen spins great intrigue, humour and drama from a setup that is ordinary to the hilt. The chase scene towards the end is grippingly shot and edited, with its rawness adding extra appeal. Soon you see how the 'system' crumbles, with its members making their share of sacrifices to salvage the situation. As funny as the proceedings are, Pothen's characters do give the need for a little empathy. Especially as we see the ASI Chandran's wife quip in over dinner, "What difference will beating him up make? You already know this."
Cementing Malayalam cinema's gradual move to director-driven projects, Dileesh Pothan makes an unmistakable mark with Thondimuthalum Driksakshiyum, reminding us of the impact left by his debut Maheshinte Prathikaram. Both films feel less like archetypal getaway cinema but are deeply personal – at times, borderline grating with numbing inactivity. The significant absence of melodrama and the lead player adding a lot of mystique, the film displays Pothen's flair to uniquely manifest cinematic realism. The filmmaker knows the spaces in his frames, the production design, music and, notably enough, the silences. Characters remain their perplexed selves and there aren't many solutions thrown in. You almost spark a smile as you see Prasad PK post a 'Thank You' note to Sreeja. We simultaneously echo her husband's exasperated question to him, "What kind of a man are you?"
Perhaps the kind of man Indian cinema needs to encounter more often.
Rating: ★★★★