Toxic relationships are forever hard to decipher, even to those who are in them. Early in Manu Ashokan's Uyare, a hassled single-dad Raveendran (Siddique) quizzes his sunshine-like daughter, Pallavi (Parvathy), "Why him?" Pallavi narrates a brief tale of how a singular act of kindness from Govind (Asif Ali) during her sophomore years prevented her from losing her mind. In the scene, she is exposing her unresolved issues with her parent but is not fully justifying the young man's presence in her life. We tend to ask whether love is that big a commodity to exchange against gratitude. Then again, a rationale ought to be the last thing one must look for in young love.
Uyare essentially is a story of Pallavi's ascend. The screenplay pattern is such that a viewer wouldn't want any force to obstruct her rise. She is bright, ambitious and a possible source of envy to many. And the biggest victim of jealousy and suspicion – often labelled as possessiveness in love – here is Govind. Bitter, unsuccessful and visibly conceited, he is someone whom we continuously wonder why Pallavi ever fell for. The detached young man with severe trust issues, Govind is not a very unusual prototype if we look around. He is unhappy even when his ladylove gives it all to cheer him up. Perhaps the closest that he comes to expressing himself is when he sheds a tear as the couple makes out in a song sequence.
Cut to Pallavi's next big step – she gets selected to be trained at an aviation academy in Mumbai. She is all set to achieve what has been a dream since her teenage years – to be a pilot. Everyone's elated except perhaps Govind who is consumed by his own incapacities and genuine lack of ambition. Pallavi is all set to soar in the literal sense as she nears the completion of her course. One thing leads to another, she faces a brutal acid attack by the man whom she was supposedly in love with. Staged and shot to near perfection, it is a massively infuriating moment that we somehow saw approaching. Being the most finely etched character out of all in Uyare, Govind would have done the same to her – some day or the other. This is his way of showing the woman her place.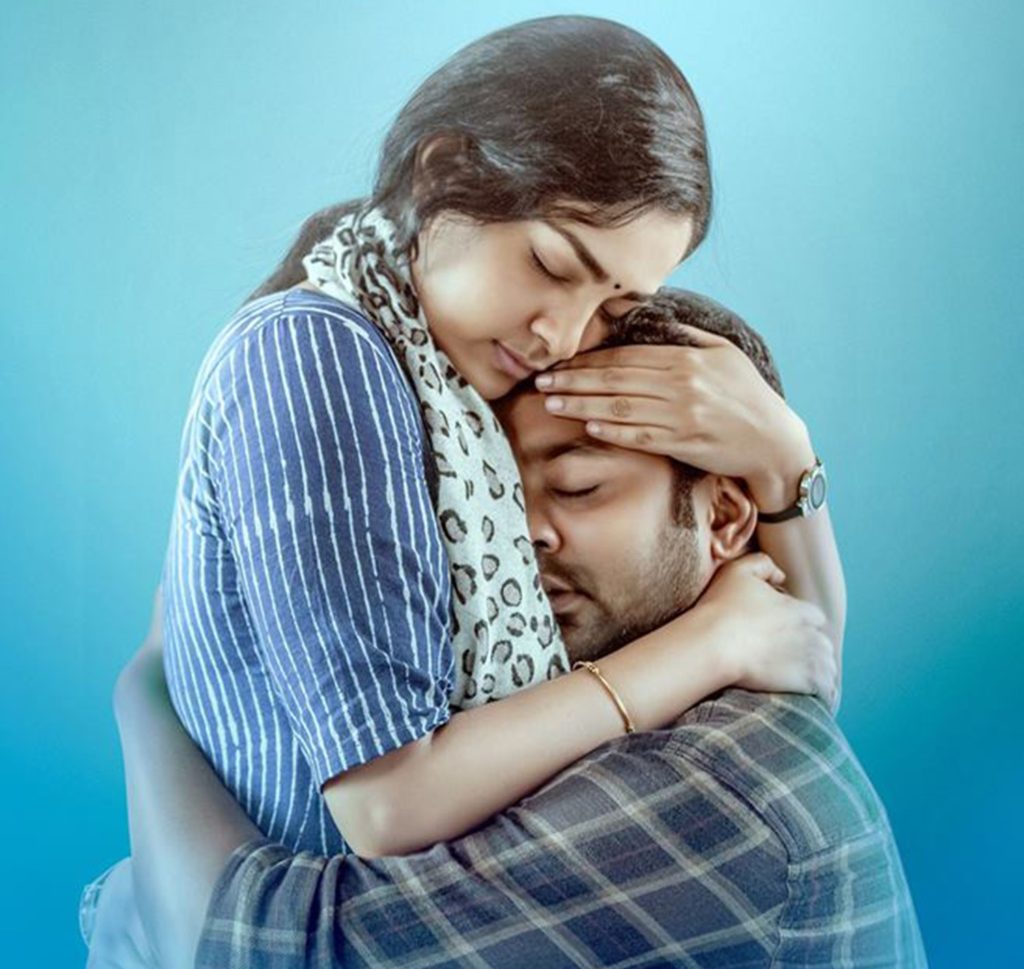 The remaining reels of Uyare are spent in analyzing how Pallavi comes to terms with the trauma – the legalities, the stigma and other social repercussions. We get to see a top airline honcho, Vishal Rajashekharan (Tovino Thomas), develop into a full-fledged benefactor. The actor's energy is infectious and the writers' intentions are noble but Vishal is that one element in the screenplay that is just too generic to fly. Bobby and Sanjay deliberately inject scenes where his "issues" stand addressed but they are all on the surface. You never empathize with the smooth-talking, somewhat ditzy man who is dealing with worth issues and clichéd parental conflicts. Vishal's growing proximity with Pallavi does not work either as their friendship or attraction barely comes with a foundation. It is puzzling since Pallavi with her troubled mindscape is not at all a giver either so that man would feel a sense of comfort in her company.
Parental issues, on the other hand, flourishes better in case of Pallavi and Govind. There is a brief scene where Govind's father lands up at her home with a request to withdraw the case citing how his son's career is in jeopardy. The man owns up to his negligence as a parent. A stunned Pallavi walks in, pulls a chair and sits with her battered face open – leaving him to rush out immediately. It is a powerful scene where you also see her father stare helplessly. In Pallavi's case, Uyare gets the friendship angle right too. Her roommate Sariya D'Costa (Anarkali Marikar) is empathetic and there is also an understated background to it. Therefore, it is indeed touching when an adamant Sariya refuses to leave Pallavi's room despite her reprimanding her to do so. We see a plate of fruits and a knife somewhere on the table and we also see the girl holding her friend's hand tight. The writers – albeit in a small manner –  assess what must be Sariya's interpretation of the situation. Strangely enough, Uyare chooses not to explore Pallavi's relationship with her sibling for some reason.
Being a film on the acid attack, the film comes with a categorically uplifting tenor. While some of them work very well organically (Pallavi's visit to the Sheroes Hangout), there are others that are inserted just so that we smile or maybe shed a tear or two (the compassionate flight passengers). Uyare, at the same time, is also a film about aviation. The protagonist cultivates an intense dream to be in the industry and that too as a pilot. Soaring is not simply an epithet in the film's case. As a result, the film spends a lot of time familiarizing us with the functions of the job role and the training sessions do look authentic to a very large extent. However, Uyare makes a bizarre joke out of the entire air traffic control unit. Filled with caricaturish characters written and enacted as seen in amateur stage plays, I wondered for a moment whether all of it was leftovers from Airplane or It's a Mad, Mad, Mad, Mad World.
Cinematography by Mukesh Muraleedharan strikes an upright balance between the film's tense, gloomy and uplifting undertones. The dramatic confrontation and the acid attack scene that follows (shot in slow motion) are principally noteworthy for the lighting and the camera angles. Given the sensitivity of the subject, Mahesh Narayan's editing compliments the DOP's work quite well except in the climactic segment where the close-up montages of Pallavi's face lessen the impact to a great degree. The background score (Gopi Sundar) is in tandem with the film's aviation milieu and works well in amplifying the dramatic change in airs.
ALSO READ: 'Virus' review – a masterful survival thriller that celebrates everyday heroes
As far as performances go, Uyare is Parvathy's show completely and the actor breathes fire into a physically and emotionally taxing part with ease. One with a unique ability to shapeshift into her respective screen characters, Parvathy's emotional transition within the film is astonishing, to say the least. Asif Ali is well-cast as Govind who is despise-worthy in every sense of the word. Siddique is excellent as the father whereas Tovino Thomas is affable in a half-baked part. Prathap Pothen hams to the hilt and his track singularly brings the film several notches down. Anarkali Marikar's winsome presence is akin to a whiff of fresh air while the talented Sreeram Ramachandran is wasted in a blink-and-miss role.
As the curtains fell for Uyare, I wondered what sets it apart from those of its ilk, if we set apart the acid attack bit. The answer, certainly, is its simplicity. Manu Ashokan chooses a very straightforward storytelling style that believes in asserting its messaging in the most crystal clear fashion. One might point out that the lack of layers and surprises would render the film predictable. Yes, it indeed is and the makers wouldn't deny that either. However, to bring home empathy to a difficult predicament as the one chronicled in Uyare, the absence of an excess of tangles works to great effect. The film, at the same time, does not glorify the offender either. If the rush of positivity and pride that one feels in the final reel is anything to go by, Uyare places the moral and emotional state-of-mind of the protagonist in good stead. This is sufficient enough to make do with Manu Ashokan's unadventurous execution as these are days when it's hard to pull off a well-intentioned tale sans overt sympathy seeking.
Rating: ★★★
P.S.: Among other things, was it really required to show Pallavi gifting Vishal a book written the by controversial Godman Jaggi Vasudev? With the book holding no significance to the film's immediate plot, the very 'intent' behind the gesture stands nullified provided the author's dubious reputation.