Tribeca Review: '7 Days' gives arranged marriage dates a COVID-19 twist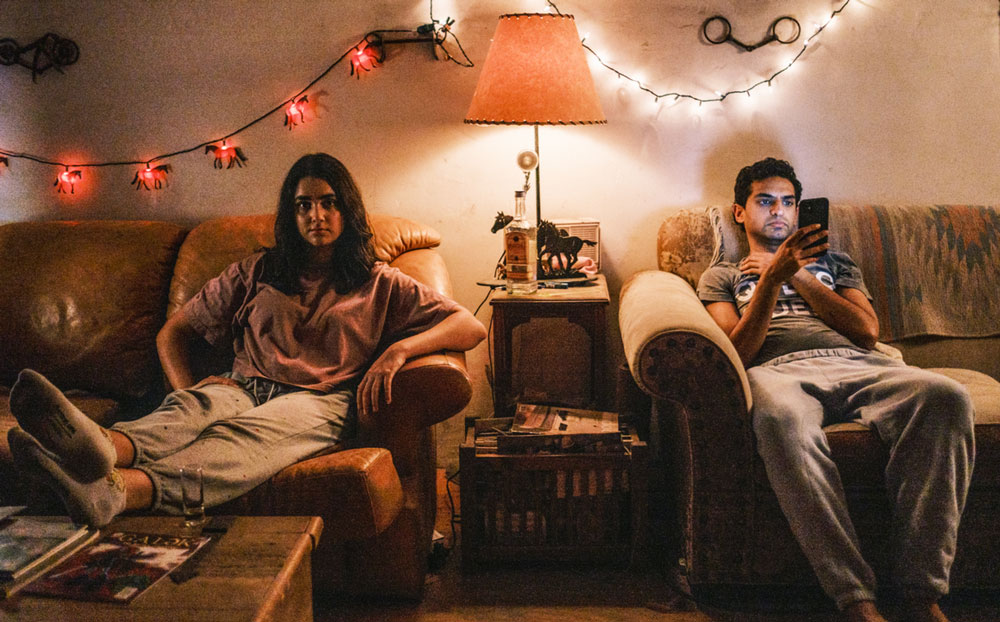 The COVID-19 pandemic which has been quietly crippling our lives for several months (it's not over yet) is bound to be a scheming antagonist in numerous films in the years to come. With Roshan Sethi's 7 Days, the deadly virus has already entered the rom-com territory. One that narrates the story of two young Indian-Americans set up by their families for an arranged marriage meet-cute, there's more to Ravi (Karan Soni) and Rita's (Geraldine Viswanathan) personalities than what meets the eye.
Okay, it's a rom-com, so we ought to have a primary set of differences between the leads, don't we? If Ravi is a geeky, vegetarian fellow who has lived a sheltered life throughout, Rita is quite a wild child. Of course, she does not reveal her typically un-Indian side to him in their formal meeting. Following a series of cancelled car rentals, Ravi happens to stay back at Rita's for a couple of days. This unexpected arrangement makes Ravi turn a little less judgmental towards Rita and she treats his repression with care. Soon the deadly virus reaches them forcing the duo to share the tiny apartment and each other's company for a few more days.
7 Days, at certain points, functions as a bona fide drama film. It also bears traces of a coming-of-age fare and is otherwise a simple, heartwarming comedy. It enters the spoof zone every time Ravi tracks back to his Indian roots. It is a delight to watch him narrate the Bollywood romance Kal Ho Naa Ho to a disinterested Rita. "That is not love," she adds with conviction.
The writing is broadly hilarious even though there are points where it looks desperate to create tension and affection between Ravi and Rita. It succeeds partially – as seen in Ravi's first drunken night but fails at angles that try to explore Rita's love life. 7 Days gets a little too dark as it depicts the uncertainty when one of them contracts COVID-19. Writer-director Sethi smoothens it off with a handful of gooey, smile-inducing moments – one being Ravi's conversations with Rita's mother.
Sethi's film is all about two characters. Coupled with the claustrophobia-inducing house (great production design), it almost feels like the state of quarantine. Ancillary characters appear either on phone or over video chats – they never show up in person. Despite the extra screen space and a limited wardrobe, 7 Days remains comfortably firm on Karan 'Dopinder' Soni's shoulders. His disarming smile and clumsy body language make Ravi adorable to the hilt. Geraldine Viswanathan gets the easier part, perhaps owing to her characterization which lacks depth but boy, the actor is made for the silver screen. That said, there is no electric chemistry that sparks off between Soni and Viswanathan staying true to the 'mismatched couple' plot. Yet, the actors do sell themselves and the film with assurance.
7 days is no Before Sunrise. Ravi and Rita's conversations do not delve much into bigger 'issues'. It mildly frisks through a few. They do not go places. They are never seen in great clothes or in attractive makeup. Still, the absence of grandeur does not prevent us from enjoying the film. Having said that, the most novel element in Roshan Sethi's film is COVID-19 still. Take it out, Ravi and Rita's love-hate equation wouldn't have been half as fresh. The beauty of 7 Days lies in the very fact that the makers and the leads were aware of this precondition and, in the process, they seem to have had great fun.
Rating: ★★★
The film was screened at the 2021 edition of the Tribeca Film Festival.