It is fascinating when cinema's matinee idols dare portray individuals with imperfections. It can't be denied how a block arises for the audience whether to take this lack of familiarity for real. We even wonder if they are going to turn the tables and become superhuman towards the last reel. Writer-director Shyamaprasad's Hey Jude presents Kerala's heartthrob Nivin Pauly as the socially awkward, number wiz Jude Rodriguez who is greatly enthralled by the marine life. And oh, he is petrified to step into an actual water body. He would rather own an aquarium worth 35 thousand grands. Ironic much?
Shyamaprasad, yet again, sets his story in a niche universe. For the umpteenth time, it is an Anglo-Indian setup and these folks do not seem to have access to the internet, smartphones and the likes. They live an ordinary life although their professions and palates are notably refined. Jude, who is all of 28, is at the receiving end of his family and colleagues' constant wrath – all thanks to his peculiar ways. He demands his lunch at the stroke of 12:30 and prefers his bread slices crispy to the same proportion. He finds it hard to make eye contact with others but his daily activities are duly recorded on a handy cam. It is not just the standard Shyamaprasad gimmick of a la la land setting that amuses, but also our leading man with Asperger's Syndrome. Furthermore, Jude, luckily, isn't the version that India had seen earlier in Karan Johar's My Name Is Khan.
In Hey Jude, we see a sibling who announces how she can run the house and her father's antique shop but not 'handle' her brother. Jude's dismissive father is quick to point out that the doctors have given him a clean chit. Siddique's anxious Dominique, easily, is every parent in denial ever. Shyamaprasad duly etches out the other plights of being different from one's peers. For instance, we see Jude at the receiving end of bullies and his absolute inability to deal with it. In a plot twist that feels heavily doctored, the narrative shifts from the quaint Kochi to a lush Goan town. There's not much of a cultural shift as Shyamprasad's characters thrive in their shadowy cocoons and yet converse in Malayalam. Essentially, the setting needed a different location in order to let Jude embrace change.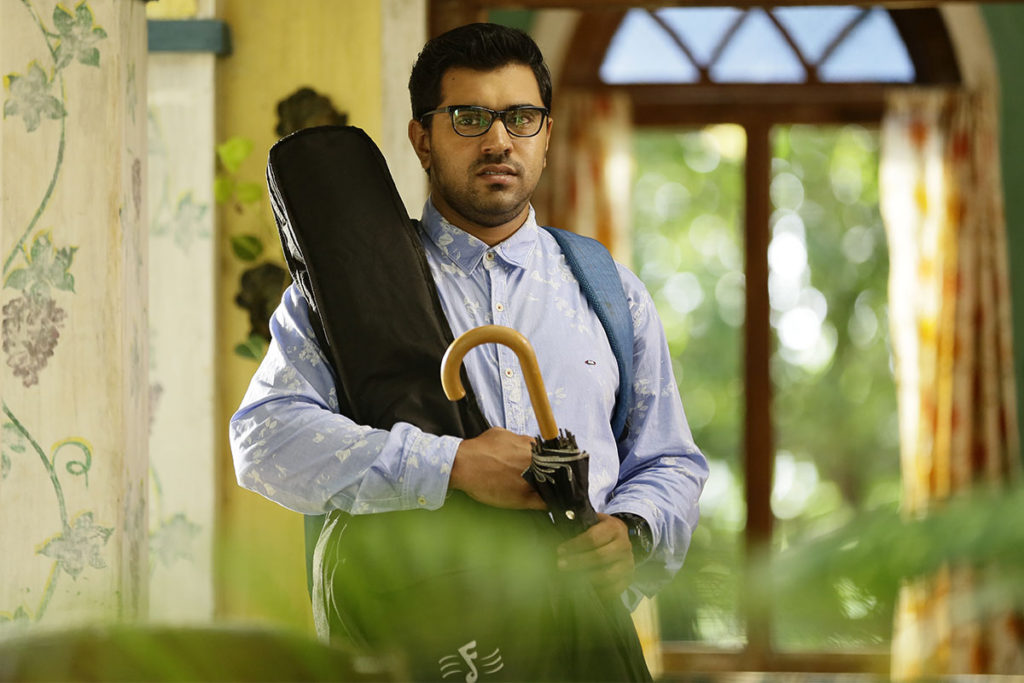 So, Hey Jude is, indeed, 'cinema with an intent' and it employs several familiar mechanisms to elicit those feel-good bubbles. It's a simple plot and its message-driven trait is an unusual template for Shyamaprasad if we compare it with his erstwhile style. Placing a bunch of famously commercial actors in somewhat difficult and, say, less massy parts, the director compensates the lack of pizzazz with his technical know-how. The environment is extremely dressy and the lush frames (photography by Girish Gangadharan) look straight out of picture postcards. Jude is seen clad in horizontal stripes and marine prints that sort of educate us about his tastes and prim-and-proper ways. His new friend Crystal (Trisha Krishnan) is given tussled hair and a hazy wardrobe to go perfectly with her volatile psyche. The original score (Ouseppachan) has a lingering Western tinge that pleasantly contributes to keeping the atmosphere light. Shyamaprasad further attempts to let go of major upheavals – or the tragedy associated with them – giving rise to a question whether Hey Jude lacks in emotional depth. Then again, an average viewer isn't looking to dissect the principal characters down to their crests as they breed nothing but simplistic ambitions.
Another smashing touch in Shyamaprasad's screenplay is that it doesn't pitch a 'disability-based' film to us. For a fact, Hey Jude takes its sweet time to build up. A level of consistent intrigue runs throughout while Jude's cutesy presence keeps us engaged. When the time is right for a revelation, we get that too. This way, Shyamaprasad certainly manipulates his lead character's aspirations and idiosyncracies but not his audiences' collective conscience.
ALSO READ: 'Athiran' review – a chilling mystery thriller that scores high on atmosphere
Making her first splash in Malayalam cinema, Trisha seems to have bagged her career-best part in Hey Jude. This is quite telling since the actor has been in the business for close to two decades. Pitching in a phenomenally spirited performance, Trisha's Crystal Sebastian also demands a great deal of empathy. Vijay Menon who plays her father is excellent and the film is a quiet reminder that the actor needs to be seen more often. Siddique simply irons out his edgy dad act, which he seems to have mastered by now. Neena Kurup is a delight as always and so is Aju Varghese in a slightly over-done comic sequence.
As Hey Jude ends, one realizes how the film manages to maintain a smile on our faces from the first frame till the last. The lyrical material on papers resemble the best of European cinema and Shyamaprasad's treatment – predictably – weans to those forms rather than toying with certain earthy textures that are increasingly finding favour in contemporary Malayalam cinema. Then again, a lot of it seems to be locked on the writing table itself. For the rest, who are we to complain as long as our major actor-stars attempt difficult parts and unconventional filmmaking formats? A vanilla climax can be excused in exchange, for sure.
Rating: ★★★ 1/2
Watch
Hey Jude
Trailer
HERE
!