'Tu Jhoothi Main Makkaar' review – Ranbir-Shraddha's rom-com is a Rajshri saga on steroids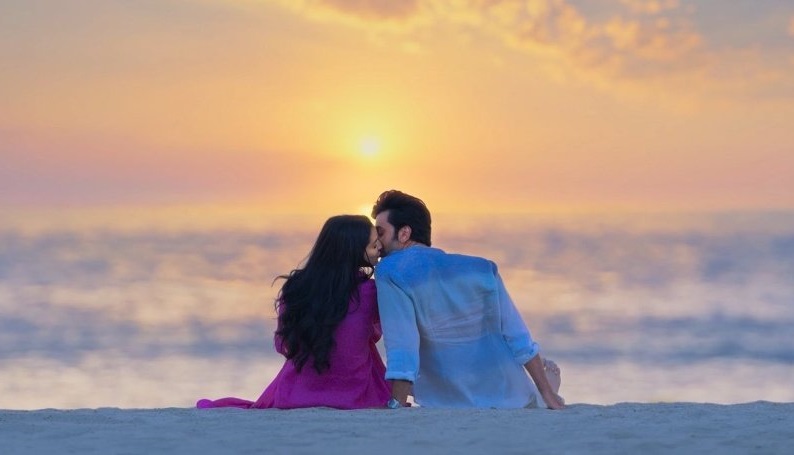 Read Time:
5 Minute, 43 Second
Marking a major irony, Luv Ranjan released his latest film Tu Jhoothi Tu Makkaar on International Women's Day. Notorious for cinema that propagates a way of life that glorifies men and Indian society's awful gender stereotypes, one wishes that his new film be a little different. Will the man – with proven clout over a specific subset of Bollywood-loving youth – grow up for good? The answer is a staggering 'no'. This time around, Ranjan seems to have taken a crash course in how to pull a ruse. The film starring Ranbir Kapoor, his unnaturally white teeth and Shraddha Kapoor is a softened extension of the worldview the filmmaker famously espouses. Instead of frustrated young men in their early twenties, Ranjan's latest story is lensed through the vantage point of an average, potbellied, middle-aged married man.
Tu Jhoothi Tu Makkaar opens as a basic rom-com that is devoid of lingering romantic moments or a line or two to chuckle or smile. Dressed in overly flashy designer wear, they mouth some of the most embarrassing lines you would hear in modern-day Hindi cinema. For a fact, it takes additional skills to make Ranbir Kapoor come off as annoying and Ranjan does the impossible. It is at this point the film releases itself from a wannabe Yash Raj skin to enter a whole new zone.
The film's creativity is in the way it lifts ideas from popular films but in an episodic fashion. One that kicks off as an unnecessary ode to DDLJ (or even Befikre), the film soon enters the abominable territory of Bodyguard. It is a portion where nothing makes sense. Even Kartik Aaryan (in a cameo) fails to excite despite his understanding of Ranjan's universe.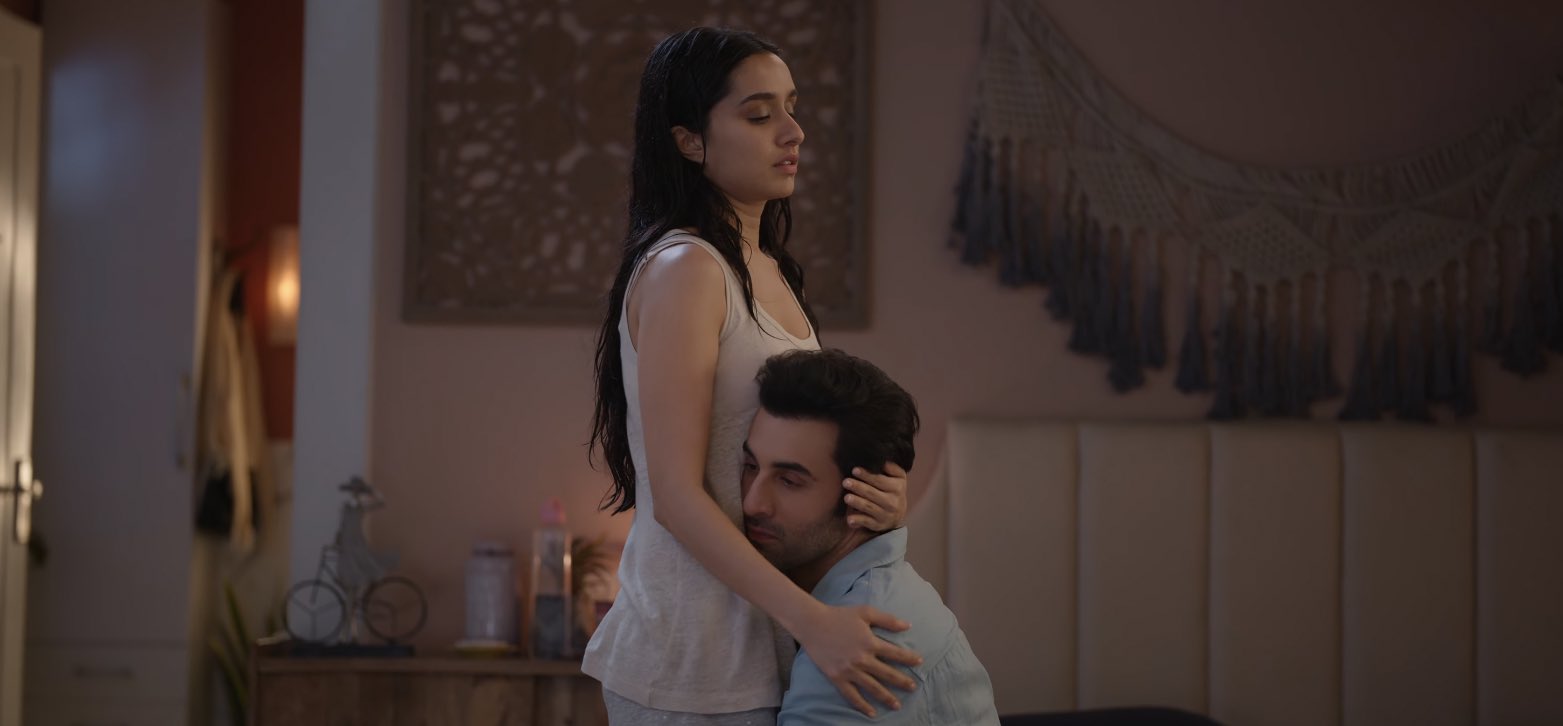 With Ranjan taking inspiration from various unrelated films, a tonal shift is inevitable. There's a point in the third act where the film, in a matter of seconds, sheds its Bodyguard-skin to enter a half-Tamasha, half-Yeh Jawaani Hai Deewani mould. It is also a little calming as the filmmaker finally lets Ranbir do what comes easily to him – we get the stares, the shivering lips, the single teardrop, and the template is set. It's also in this part that the film gets a lot more tolerable (notwithstanding Ranbir-Shraddha's Tundra-like chemistry). Yet, the couple's issues are so caked with frivolousness that it is impossible to generate any sympathy or empathy.
Tu Jhoothi Tu Makkaar in no time turns into a loud family spectacle. The final act, at best, is Sooraj Barjatya on steroids where everyone yells at the top of their voices. Ranbir Kapoor is convinced that this is the kind of 'love' that his fiancée should subscribe to. If this sugarcoating was not enough, Ranjan packages an end-credit song that might give your regressive relatives the biggest orgasm of their lives. The troubling ethics aside, it is the finale that gives the film a defining personality.
Logic-wise, Luv Ranjan's film took me back to the 2006 blockbuster Vivah which sanitized the Indian tradition of arranged marriages to a nation starved for sex. In Tu Jhoothi Tu Makkaar, the joint family setup is projected as the ideal arrangement for a couple to thrive. What the film chooses to nix is the common toxic behaviour of family members, the absolute lack of privacy and the absence of a congenial environment for individuals and couples to evolve. What is wrong if a woman wishes to live alone with her husband? The difficulty of Indian youth to cut the umbilical cord of dependency is seen as a plus in Tu Jhoothi Tu Makkaar. I shall pass the debate if slapping one's child, on this date, should any longer be treated as an act of love.
Tu Jhoothi Tu Makkaar is also a film that throws meta moments in our faces – no context whatsoever. Throughout its runtime, Ranjan throws needless homages to his films and that of his cast and even their relatives! If the frame reminiscent of Tamasha contains zero depth, Ranbir Kapoor's never-ending monologue generated newfound respect for Kartik Aaryan in me. Shraddha Kapoor must be content with a half-baked Aashiqui 2 reference while Boney Kapoor claims 'cooking kala hoti hai' in an obvious ode to Sridevi. Speaking of the latter, the cosmetic conflicts between the leads strangely reminded me of his 2003 production Khushi.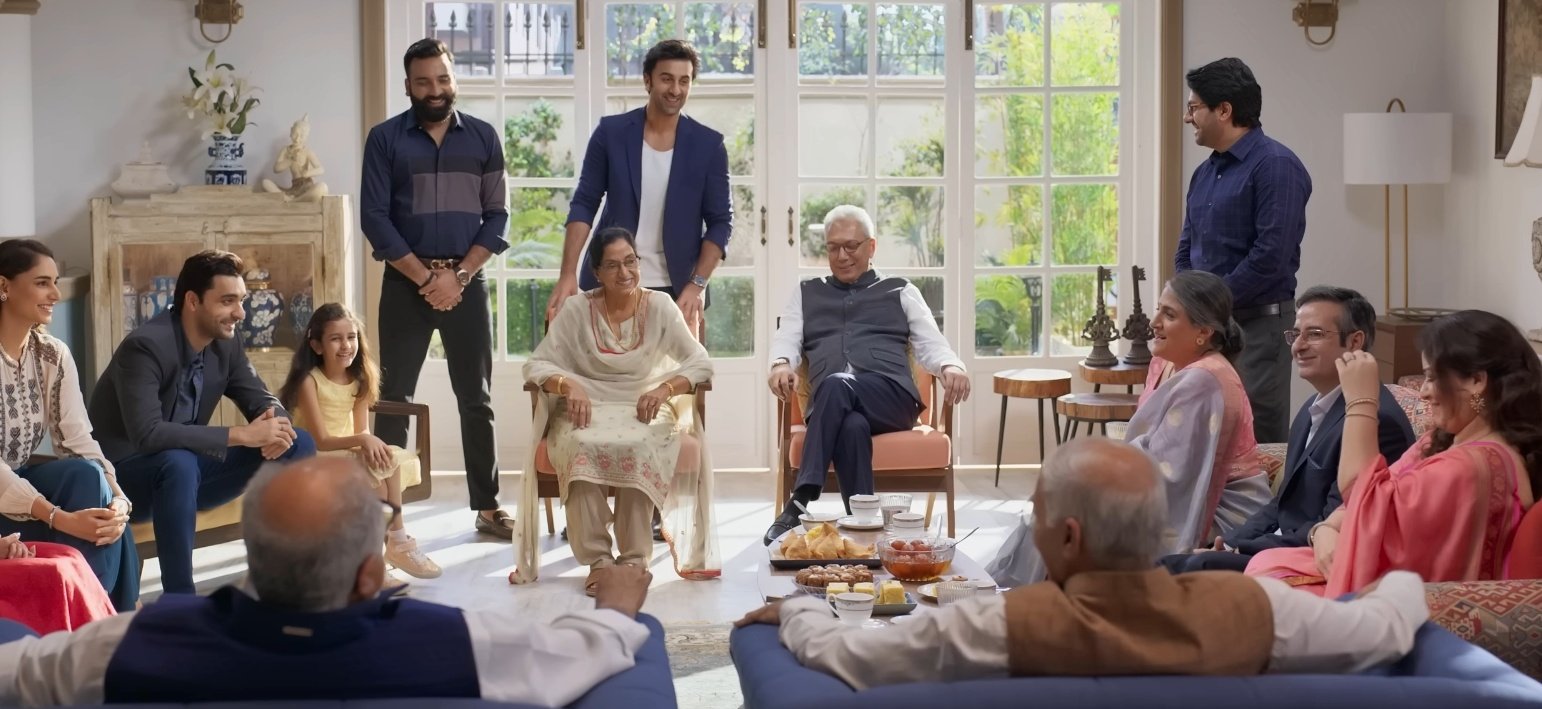 The actors are unanimously uninspiring. Ranjan seems to have pitched Ranbir Kapoor a film he can sleepwalk through and that's exactly what he does. Shraddha Kapoor fares better especially by ticking all the necessary checkboxes of a commercial heroine. That said, we have seen her deliver better performances with marginal efforts. The supporting actors are equally listless – be it Dimple Kapadia (whose loud Punjabi mom act falls flat) or the little Inayat Verma (who mouths dialogues worse than the maha-annoying kids from '90s weepies such as Mann). At 67, ace producer Boney Kapoor makes his fiction feature debut with a series of filler lines only to prove he is as ineffective as his actor-children (Arjun and Janhvi Kapoor). Also, who hires a comedian of Anubhav Singh Bassi's calibre in the most ridiculously templatized best friend role ever?
If there is one redeeming factor in Tu Jhoothi Tu Makkaar, it is Pritam's resplendent music. Right from the zingy opening track 'Pyaar Hota Kai Baar' to the melancholic 'Bedardeya', the songs work even the scenes woven around them are silly beyond belief. I could only think of Sanjay Kapoor's 'dead sister ki saheli' from Luck By Chance when 'Show Me The Thumka' popped right after an intense scene. DOP Santhana Krishnan Ravichandran tries hard to be creative within Ranjan's limiting framework. He does spin some magic in the songs which work as interchangeable music videos at best.
Luv Ranjan's ability to sell a mediocre product to an unassuming audience stands untampered with Tu Jhoothi Tu Makkaar. Blinded by what they popularly label as family values, a good majority of the paying public would be unable to decipher what is wrong with it. Or they are not ready for an arrangement where a woman does not naturally sacrifice her career, dreams, privacy, and preferences in exchange for what they call marital bliss. Barring a barrage of kissing scenes, there's nothing that makes Ranjan's film look like one that is made in the 2020s for the Gen-Z. If its aesthetics are straight from the 2000s, its philosophy dates to the early '90s. A glimpse of Kuch Kuch Hota Hai might be passing, and the joke on Rajshri blockbusters may sound lame but they are precisely reference points for Luv Ranjan's hotchpotch of a film that's not half as cheeky as its fun title.
Rating: ★★ 1/2