Read Time:
8 Minute, 4 Second
Karan Johar – One of India's most prolific, popular and celebrated commercial filmmakers of all times. His films, for starters, are great to look at. Yes, Karan has all the monies but his films certainly have their souls in place even if they might lack in certain film-making essentials. Karan knows his space and his protagonists are gorgeous people. Do all stylish, savvy films click at the box office? Karan Johar's films always do the trick as they have deep layers and a large heart beneath those pretty clothes. The first film that gave us a glimpse of this maverick ilm-maker was Kuch Kuch Hota Hai. A massive success across the globe (despite a clash with Amitabh Bachchan-Govinda starrer Bade Miyan Chhote Miyan), the film is considered a commercial classic. As the film turns 20, a rewind on his debut feature film is on your platter.
Of all 10 reasons to revisit the film, the much-loved Shah Rukh – Kajol chemistry is NOT going to be listed here. Like every sane person, I still have no effing clue on why Rahul and Anjali rushed to that gazebo post the dumb charades session. Ah, whatever.
Here it goes.
1. Kajol and the role of her lifetime
Arguably the most iconic character Karan Johar ever wrote – Anjali Sharma was unlike the standard Hindi film heroine. In Rahul's own words, she was one of the boys. She gets royally snubbed for the latest college hottie but, boy, do our hearts go out to her.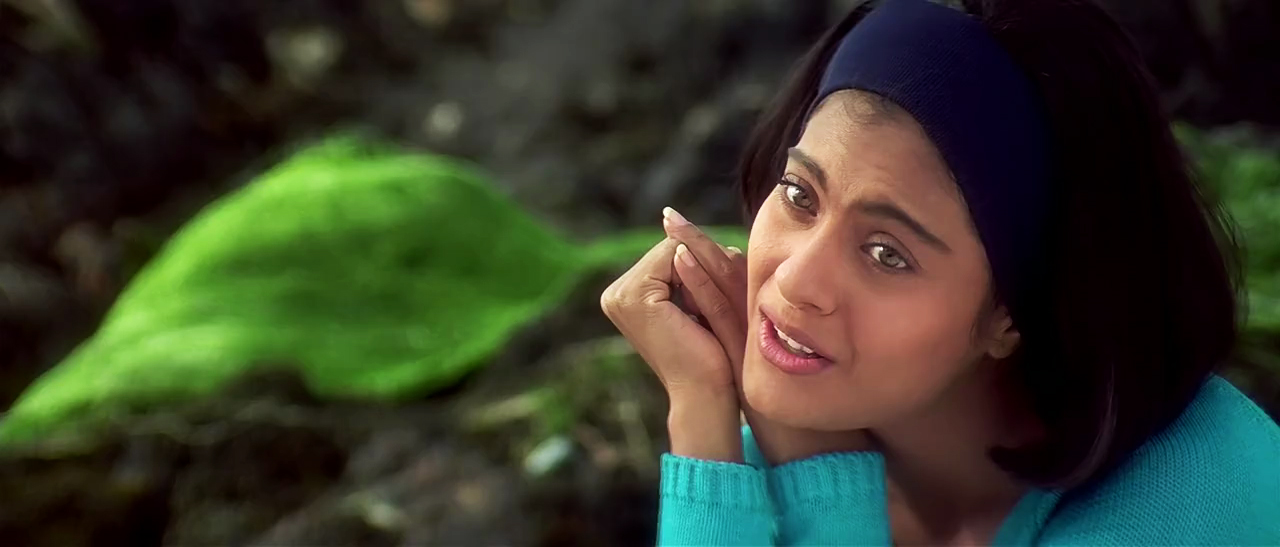 Anjali was clueless. Her way of dealing with a heartbreak was to run away from the picture. She didn't give anyone a reason but Kajol let her eyes do the talking. For an actor who barely took risks in her career, Kajol was in her elements in Kuch Kuch Hota Hai. This below is scene is all you need. The kind of emotions that run through her face and the way she uses her body is incredible.
2. Inventing urban Hindi cinema
1998 – No, multiplexes didn't exist back then. Cities did, educated youngsters did. That was when Karan Johar decided to spearhead a half-revolution. He made a film that cared less for India's interior belts that survived on a generous dose of Sunny Deol and Govinda. He served us the good old Bollywood masala with a dash of oregano and barbecue sauce. Of course, he had his Kumar Sanu – Alka Yagnik tracks in place but, within his sensibilities. He also had whistle-worthy moments, like the one where the little Anjali reads namaz but that's about it.
Significantly, there was friendship – the way it is. Although Karan later proved in Kabhi Alvida Naa Kehna that 'pyaar dosti nahi hai', he had the courage to explore collegians the way they are. He also gave us an uber-cool remix of the prayer song 'Raghupati Raghav'.
3. The soundtrack that stood the test of time
After Yash Chopra and Mani Ratnam, if there is one director who absolutely knows his music, it is Karan Johar. While each song was a chartbuster, we remember Kuch Kuch Hota Hai even for the tiny background pieces in between. Remember Rahul describing Anjali to his daughter, thrown in with shots of her adorning herself with jewellery and makeup? How beautifully do those sargams in Alka Yagnik's voice gel there!
One trivia is that lyricist Javed Akhtar refused to pen songs for Kuch Kuch Hota Hai as he found the title a wee bit vulgar. Later Sameer was roped in and together with Jatin-Lalit, he created a trendsetting album. Here goes a chirpy song from the film! Check out the young Sana Saeed dance as if the whole world was her audience – BEAUTIFUL.
P.S.: The title of the film was derived from an apology of a song from the Govinda-Mamta Kulkarni starrer, Kismat (1995).
This wasn't her debut. This wasn't her first big film either. But, this was the first time the world realized how wonderful she was – complete with her seductive voice. Rani's Tina was quite a siren. She was comfortably wooed by the college stud, Rahul, and ends up breaking poor Anjali's heart – only to make up for it later. Doesn't that make her the most wonderful "person" in this film? I am sure it does. 🙂
Okay, it is QUITE a far-fetched thought to visualize a woman on her death bed (internal bleeding, they say) penning a bundle of letters, BUT we totally buy Tina's outlet of emotions. The whole film is based on a probability that Anjali Sharma wouldn't be married by the time the young Anjali hits the age of 8. We buy that too…. Because that was truly what the audiences desired. Plus, it established Tina to have a heart of gold besides her hot bod!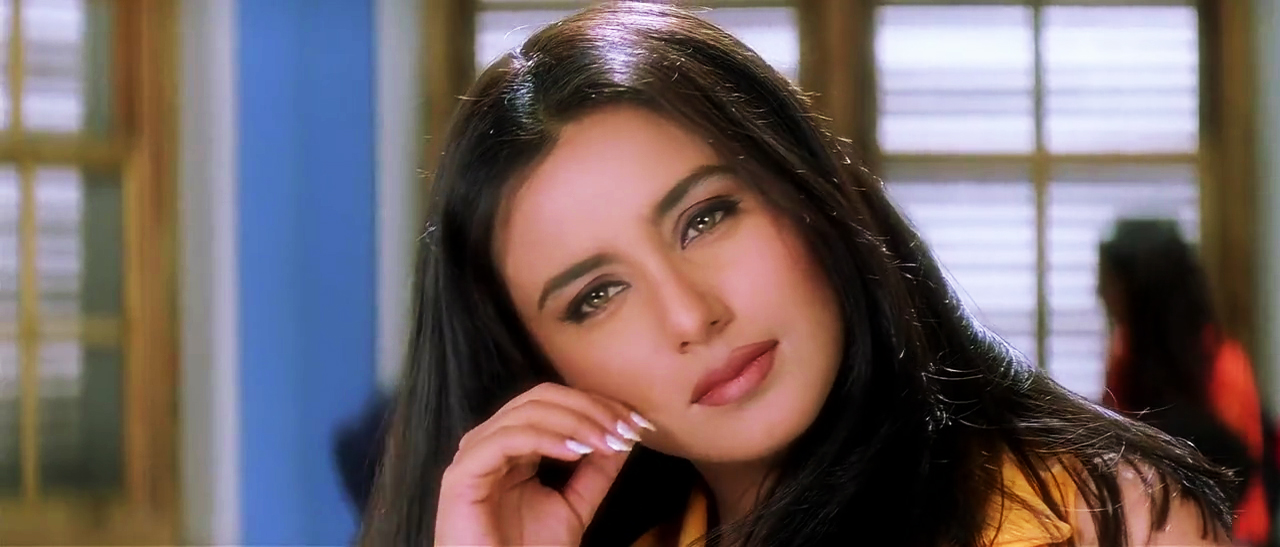 5. Rahul – An unlikely hero!
Shah Rukh isn't new to this ever-talking youngster who wore his heart of his sleeves. In another 'classic' film of his, Khan came across of a low-on-morals youngster who treated his woman like a mere object. Kuch Kuch Hota Hai's Rahul is anything but that. He was chivalrous. He brought chocolates and yellow roses for his ladylove. He used her bed but after taking her permission. He had his ideas on love (that it is nothing but friendship) and stood by it. He flirted, and flirted in style.
Rahul played basketball, visited the temple on Tuesdays, carried off tight GAS tees and a statement pendant like a pro. He was a great son and an even better father. Girls, time to ditch the pretentious Senorita-spouting Raj and take a shine to the sensitive, respectful Rahul Khanna.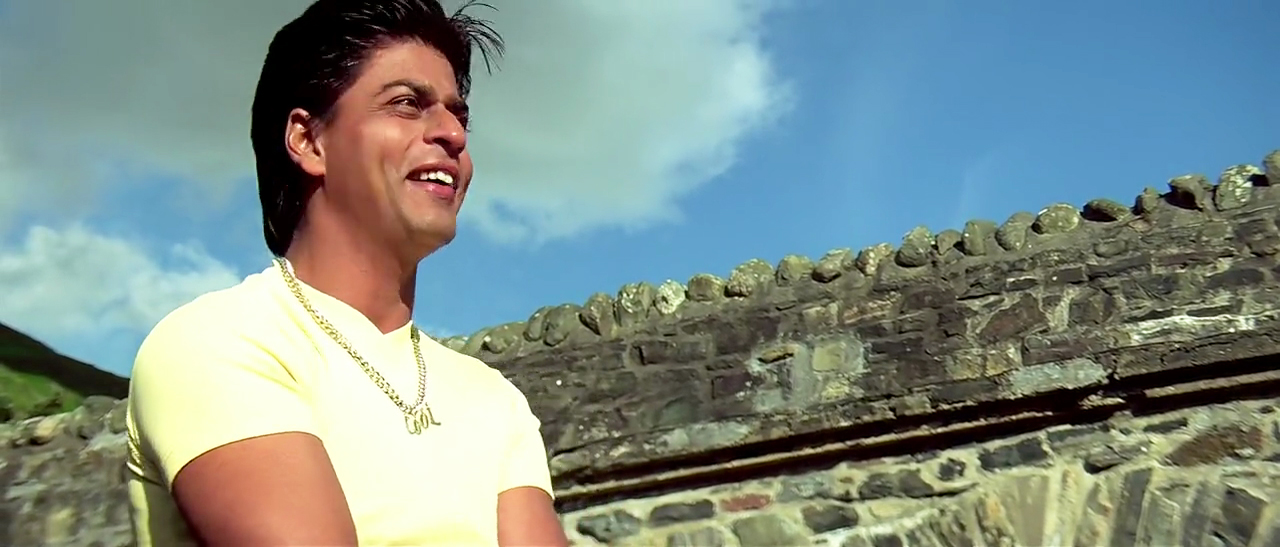 P.S.: I refuse to believe that Rahul fell in love with Anjali in the latter half because of her flowing sarees and other Indian attire. Please!
6. Comedy tracks that make us smile, not LOL
On top of the list is the lovely, lovely duo Ms Braganza and Mr Malhotra. In Karan Johar's world, it was perfectly alright for an elderly duo to flirt in open. When we saw them first, Malhotra coyly reminded Ms. Braganza of the 'No Short Skirts' rule in the campus. Ms. Braganza turned the conversation around. Malhotra giggled to an extent that his forehead ached and sweetly gave in! Don't we still blush watching this? Ah, how much we wished they were married too! 🙂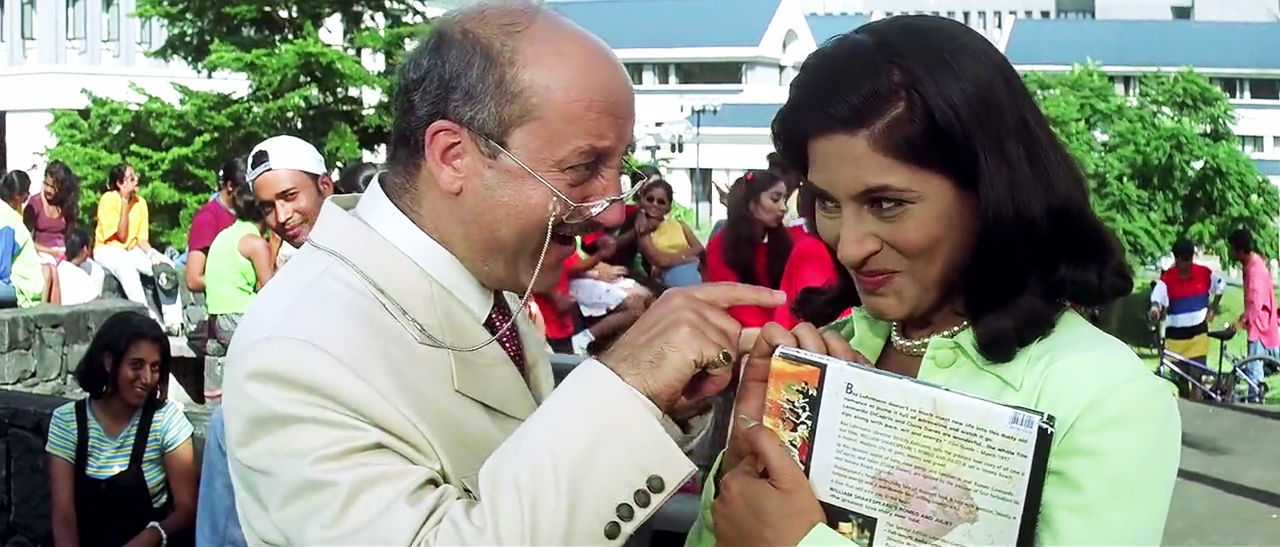 We also had the loving Rifat bi whose kamar ki lachak made guys go weak in their knees. She wished Anjali to deck up like a girl and gave her occasional presents. An important character who made the couple reunite, Rifat bi was all heart.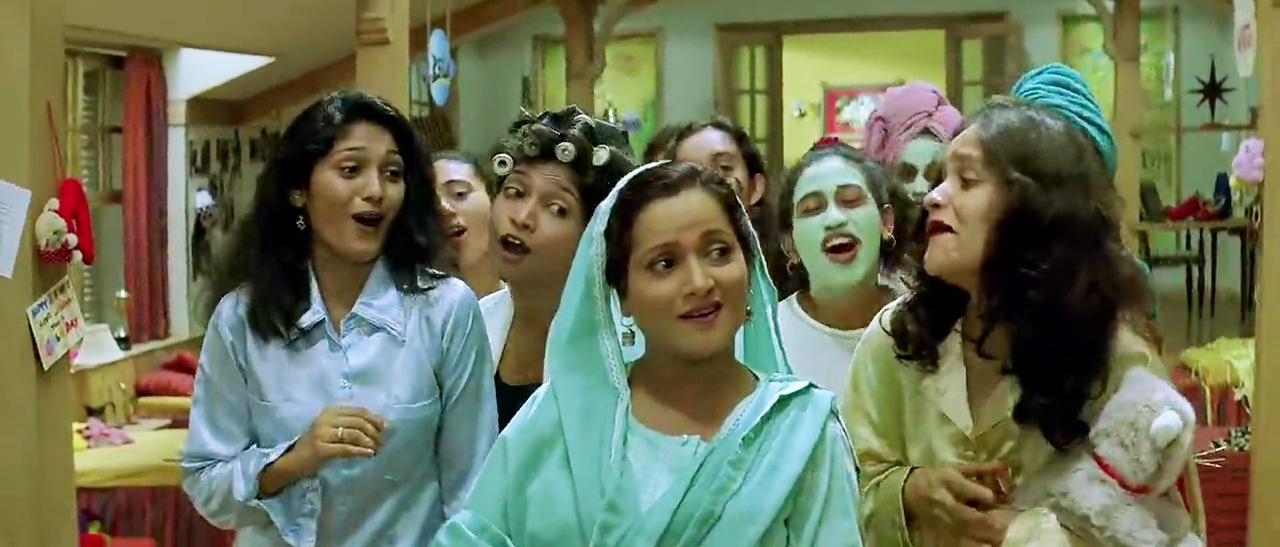 Dadi didn't have a name – like many other Bollywood mothers. She delivers speeches on religion and spirituality to tiara-sporting dumb-heads like Roopa – who comfortably forgets the Gayatri Mantra. Sheer disservice to Dadi's knowledge, I say! 😉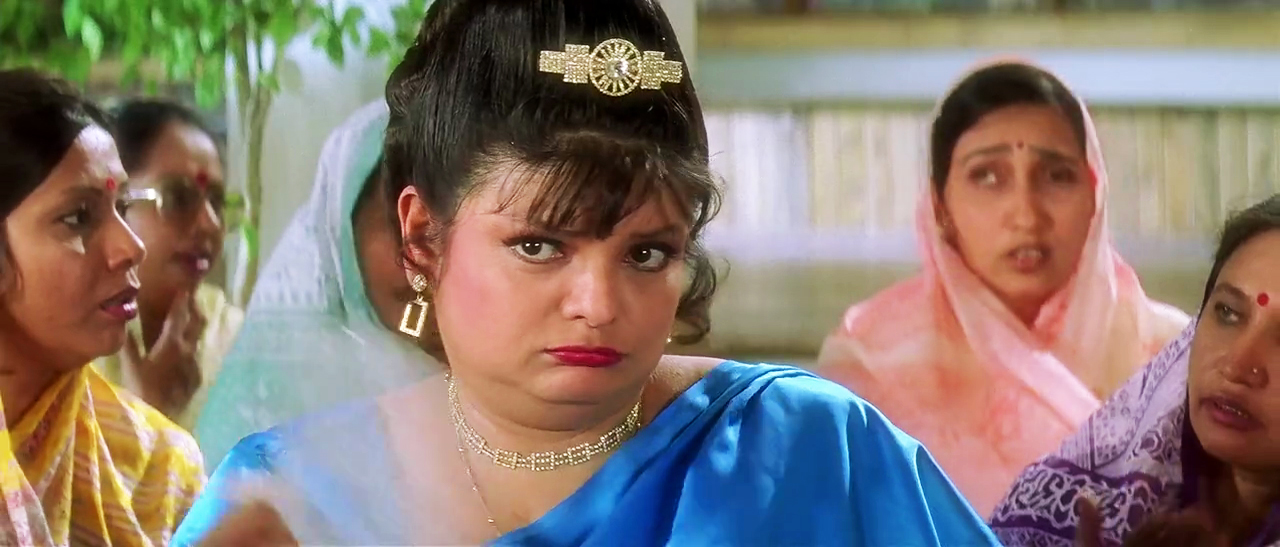 In spite of her incredible sanskar, her grand-daughter used to address her 'sexy'. OUCH! Nevertheless, Dadi with her 80 kg stature always gave the right dope on relationships and formed a rip-roaring combo with Camp Sunshine's manager Mr. Almeida.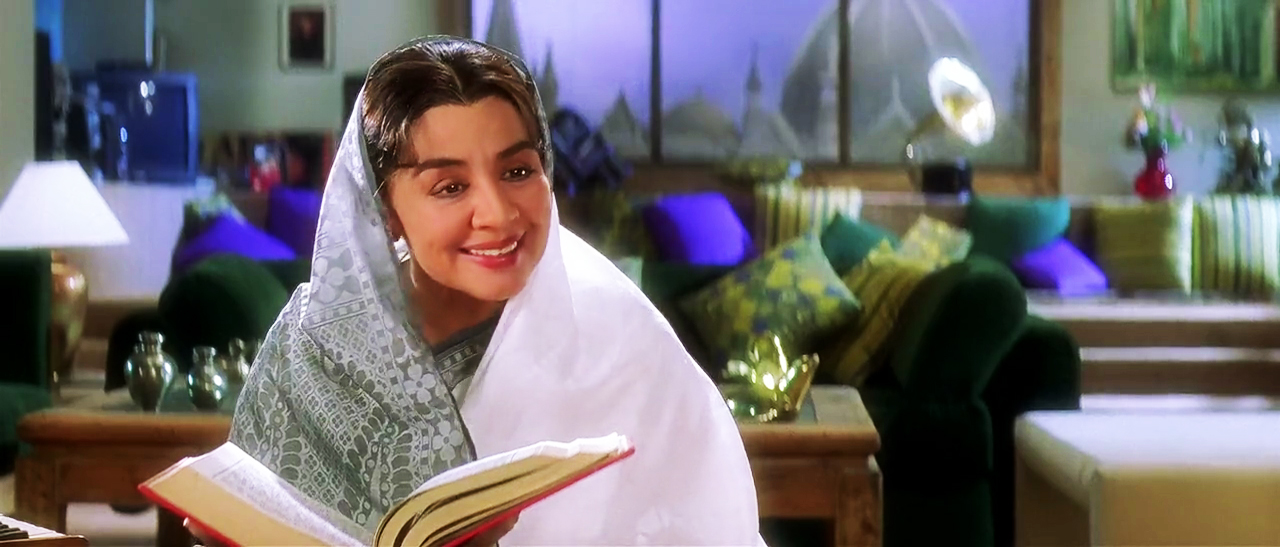 Neelam with her 'Neelam Show' made us thank her more than once in the film! Last but definitely not the least, newly wedded women of that era did make mannats to have a kid as cute as the little sardar boy there.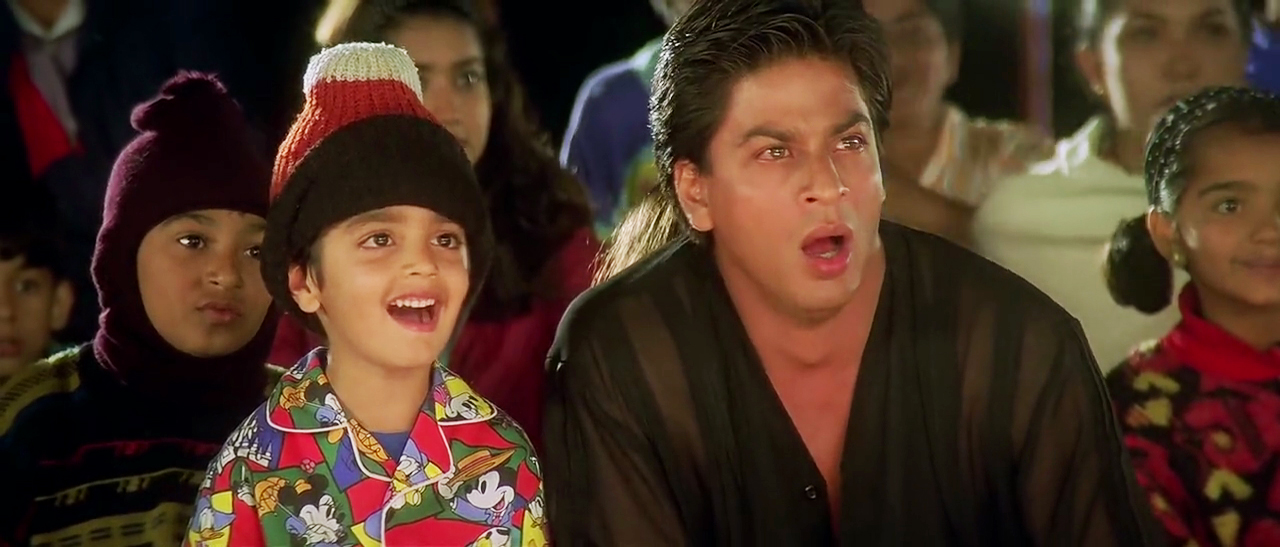 7. Fashion forward, not without a beautiful heart!
Rahul knew his tight tees, cartoon prints, suits, V-neck sweaters and the works. He even rode a skateboard and toted a basketball in style.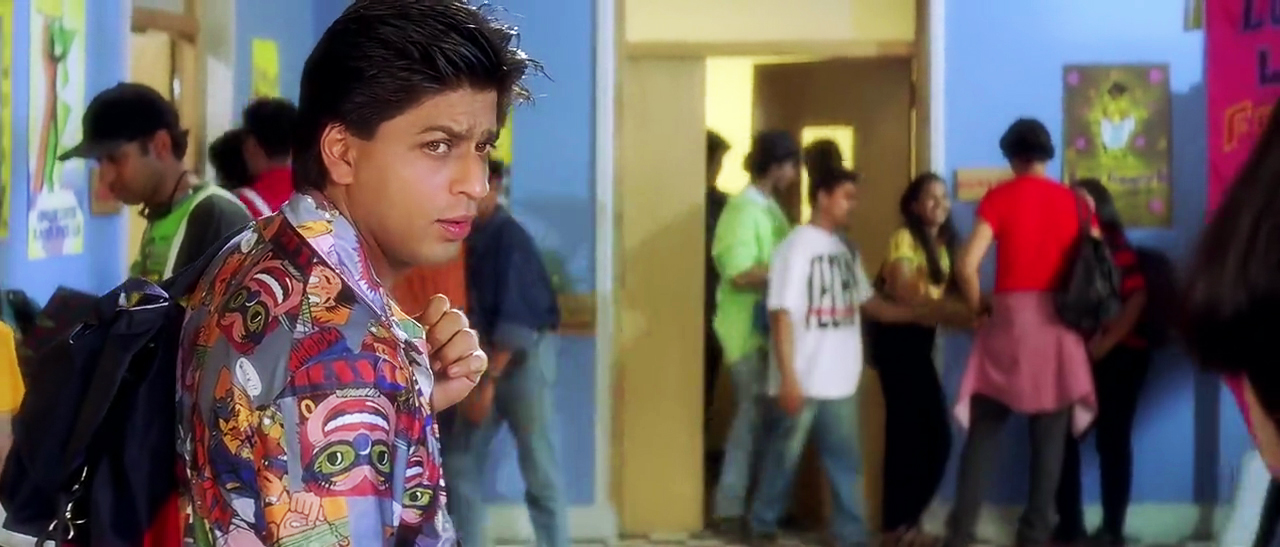 Tina wore her salwar kameezes with equal ease as her micro-minis, midis, leather jackets and colour-coordinated clutches. Has anyone counted the number of jaws that dropped and royally broke when Tina waltzes onto the stage humming "Koi Mil Gaya"?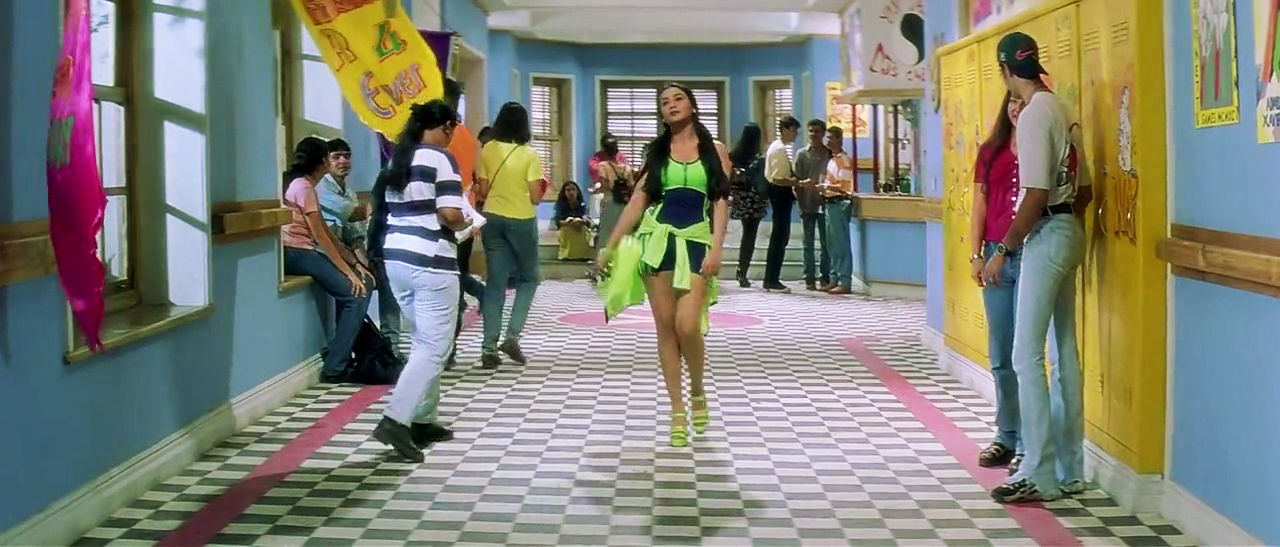 Anjali's wardrobe was rather heavy with sleek winter wear, capris, headbands, sportswear, strapping dungarees, heavy lehengas and some beautiful sarees in pastel shades.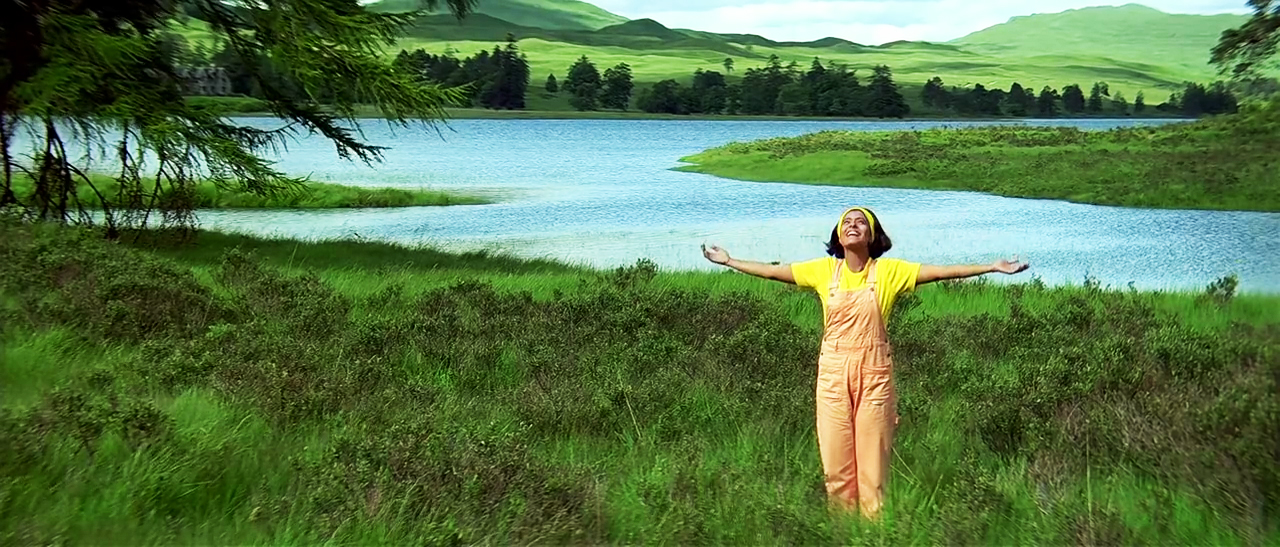 As much as we thank Manish Malhotra for this costume revolution, let us not forget Kuch Kuch Hota Hai wasn't one bit hollow. The emotions were intact. Below images would tell you why!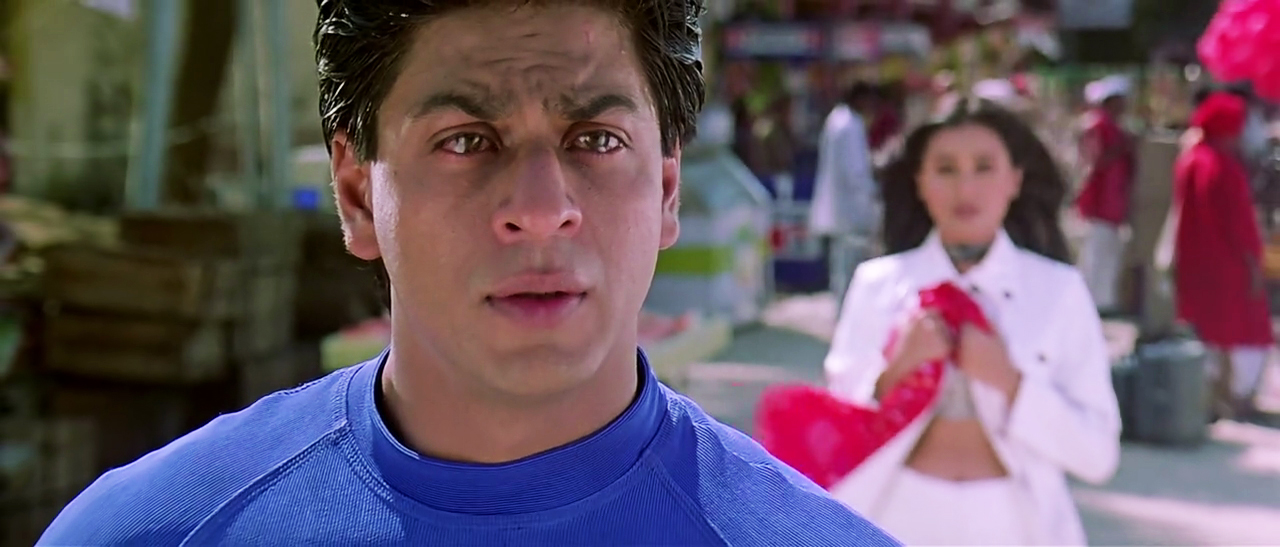 8. The Toot Ta Tara aka The Shooting Star
99% of the readers here haven't ever spotted a 'toot ta tara' in their lifetime. Half of the remaining 1%, overheard someone who spotted one. Let's face it!But Rahul and Anjali spot not one, but two, wait… Is that all? They make their respective wishes too.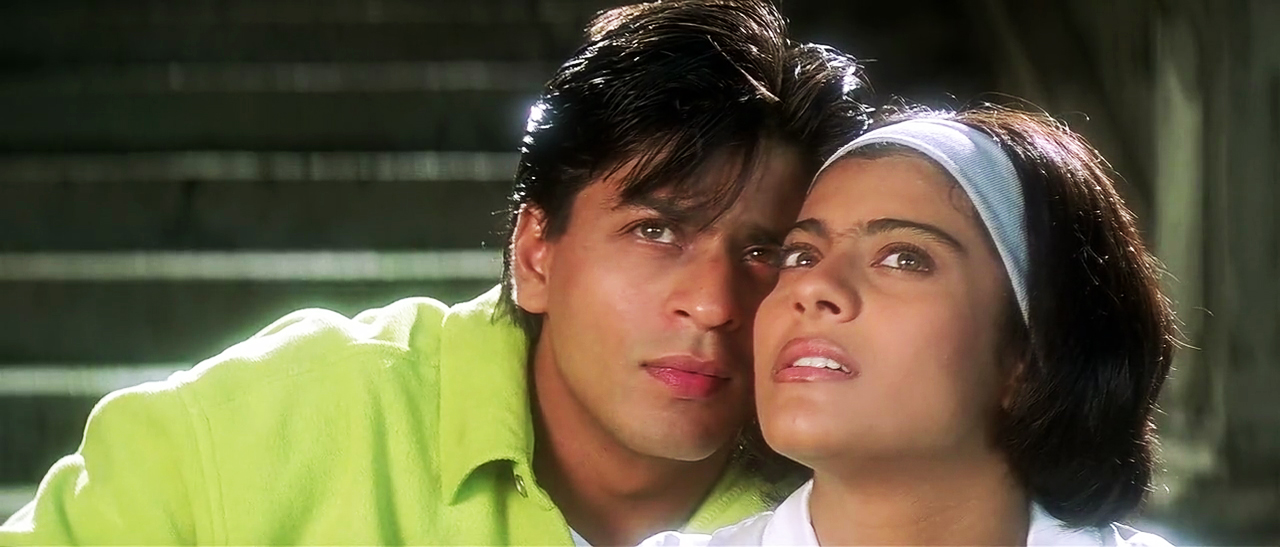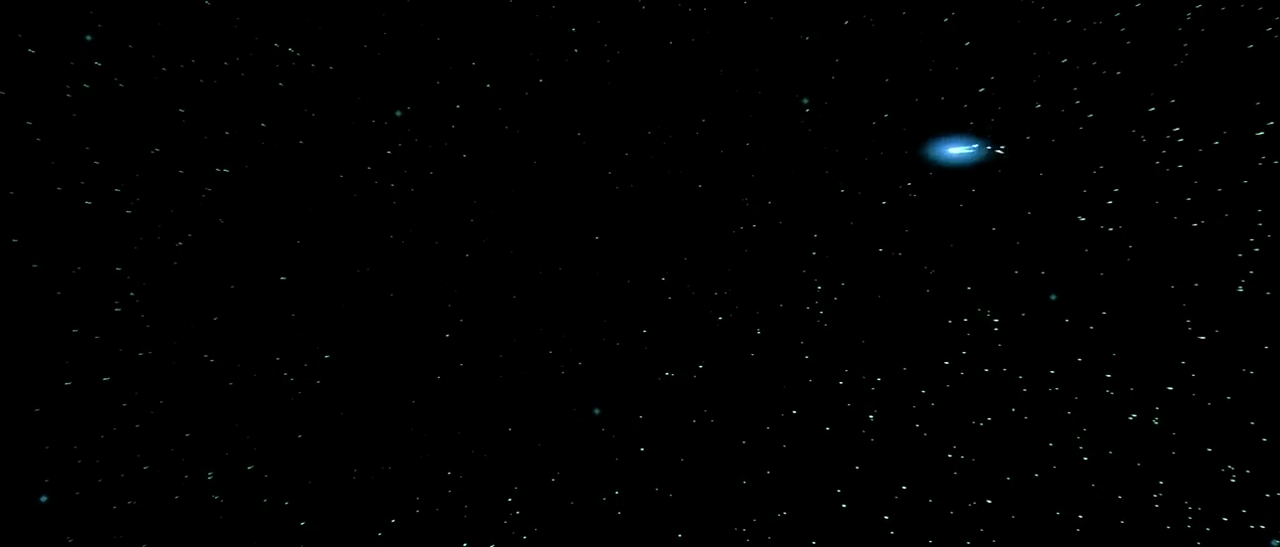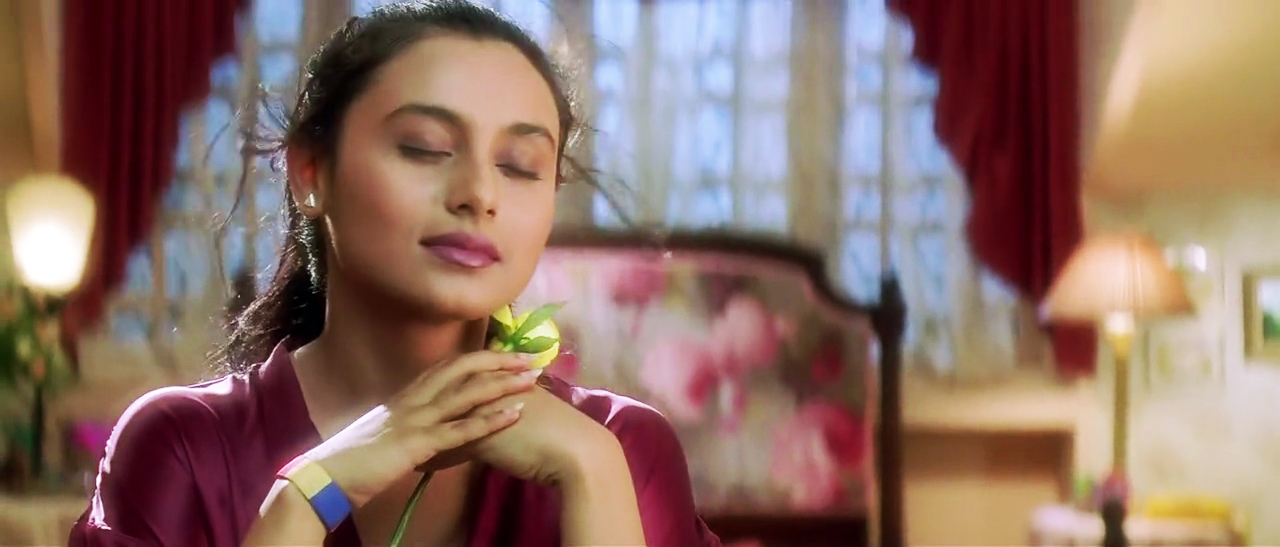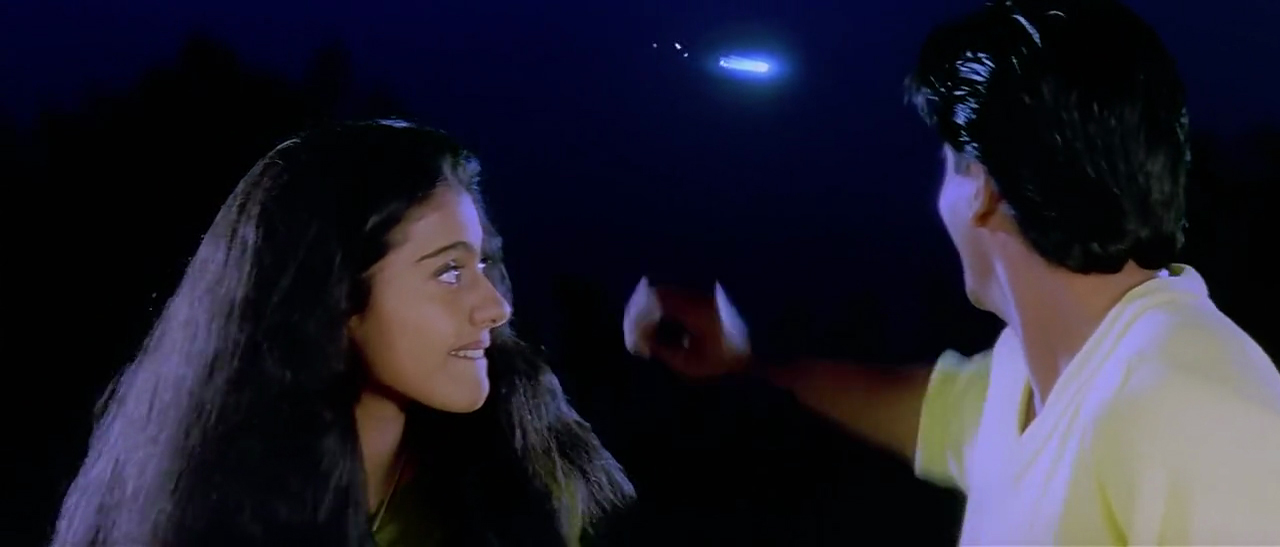 WELL… I'm not educated enough to comprehend the one below though.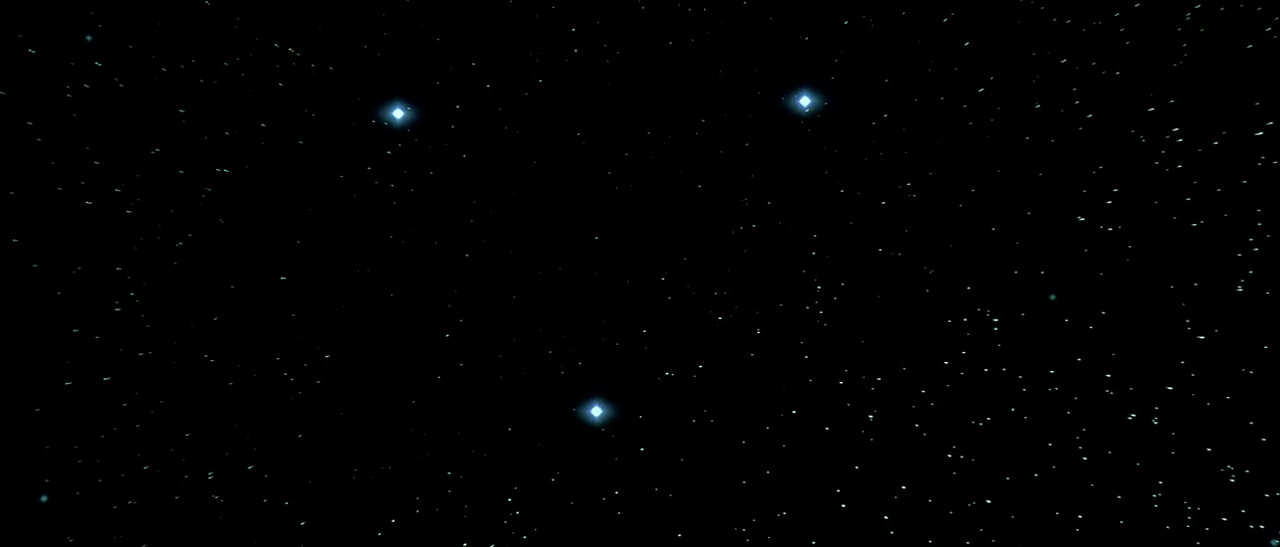 9. Aman and the little Anjali
I could never decipher if the little Anjali was selfless or selfish. Was she old enough to understand that her father's remarriage could result in divided attention? She was about to hit her teenage soon. Also, in her endeavour to make her mother's death wish come true, didn't she mete out a rather raw deal to a dream fiance that Aman was? We have no answers for this.
But, sure we loved the tender bond they develop.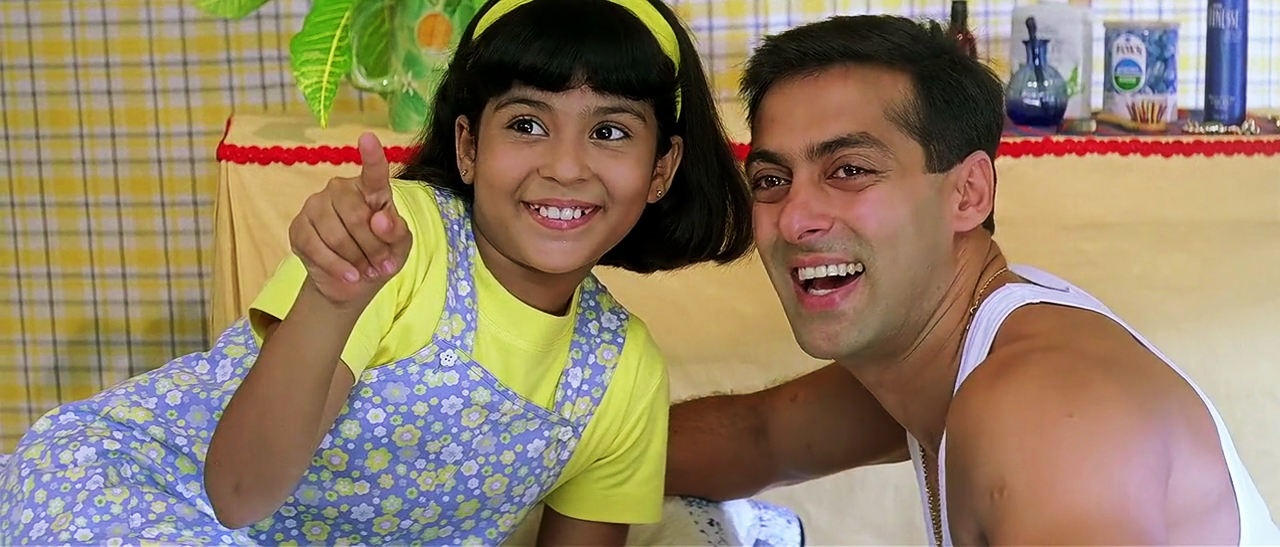 10. Stunning photography by Santosh Thundiyil
Santosh let his vivid colour palettes and frames do a lot of talking. This section is going to do JUST THAT!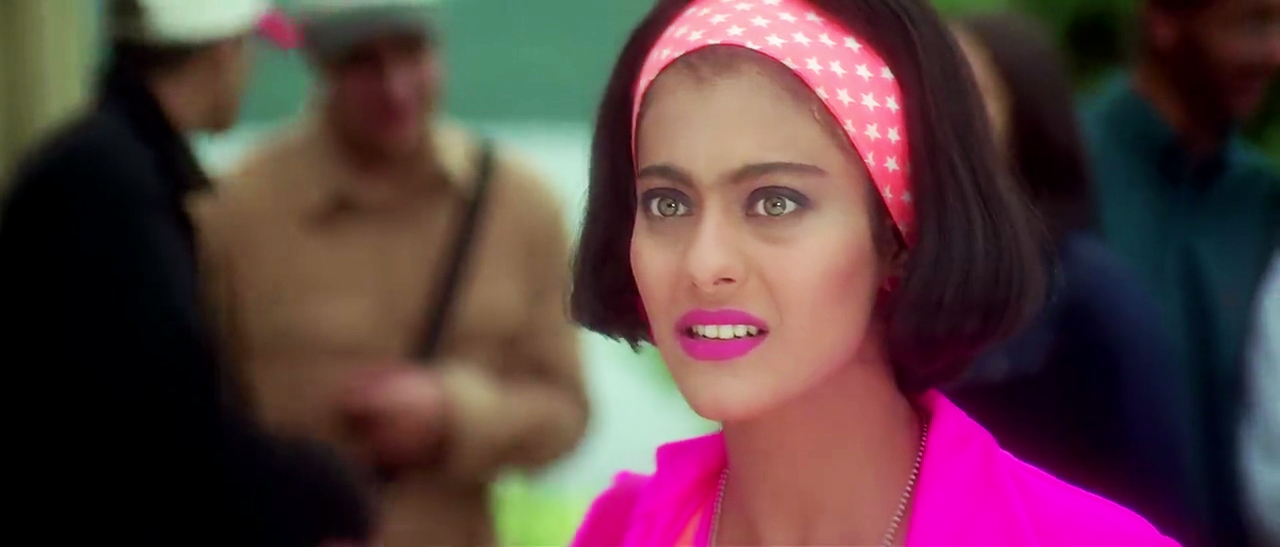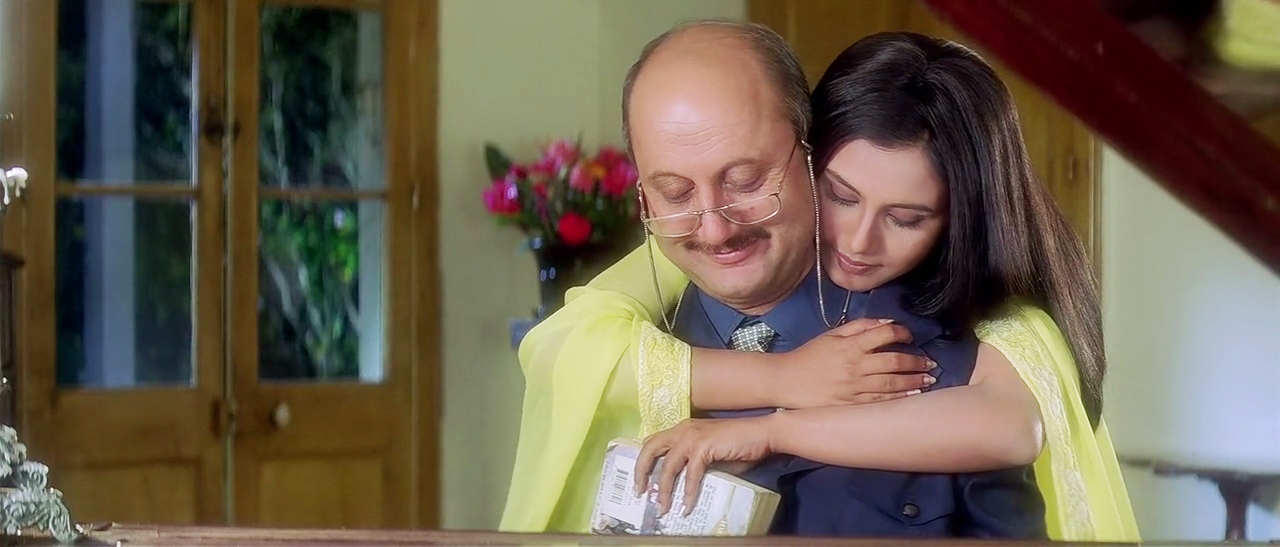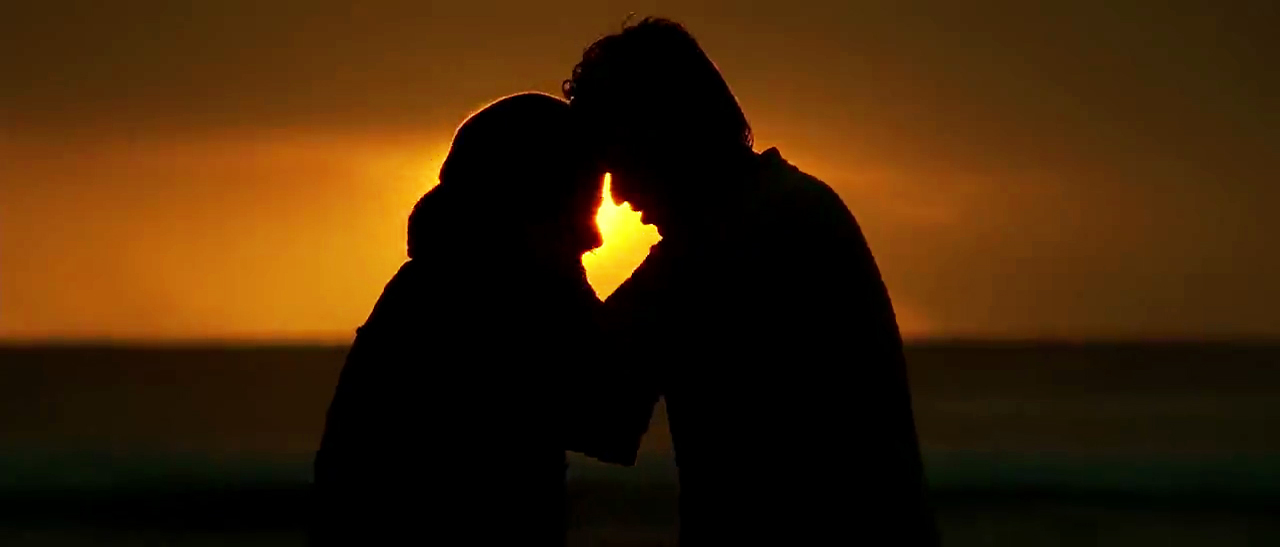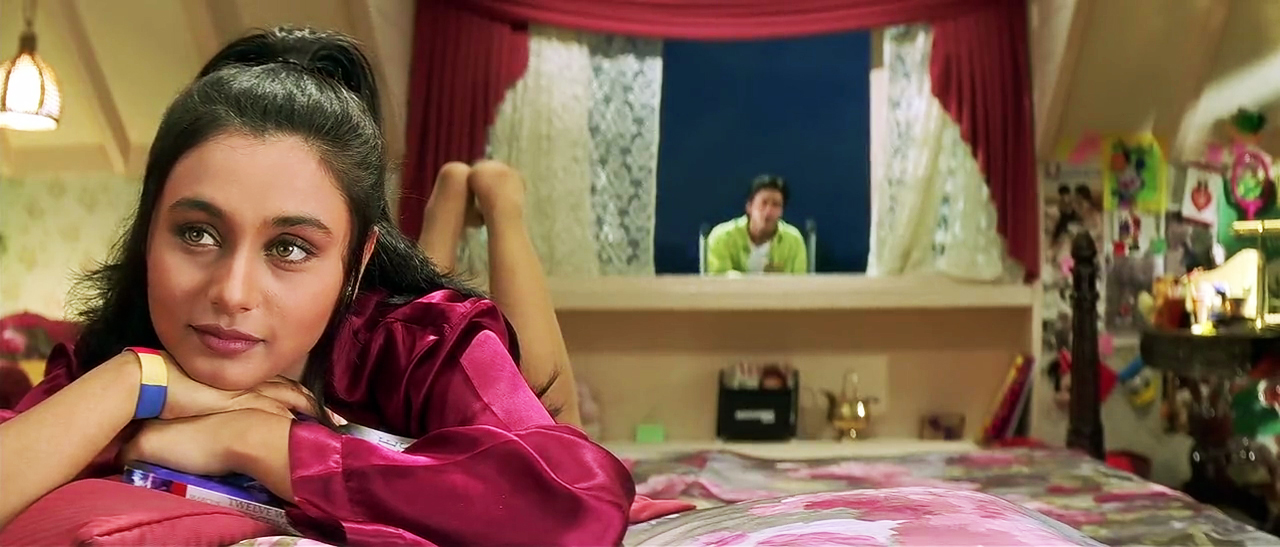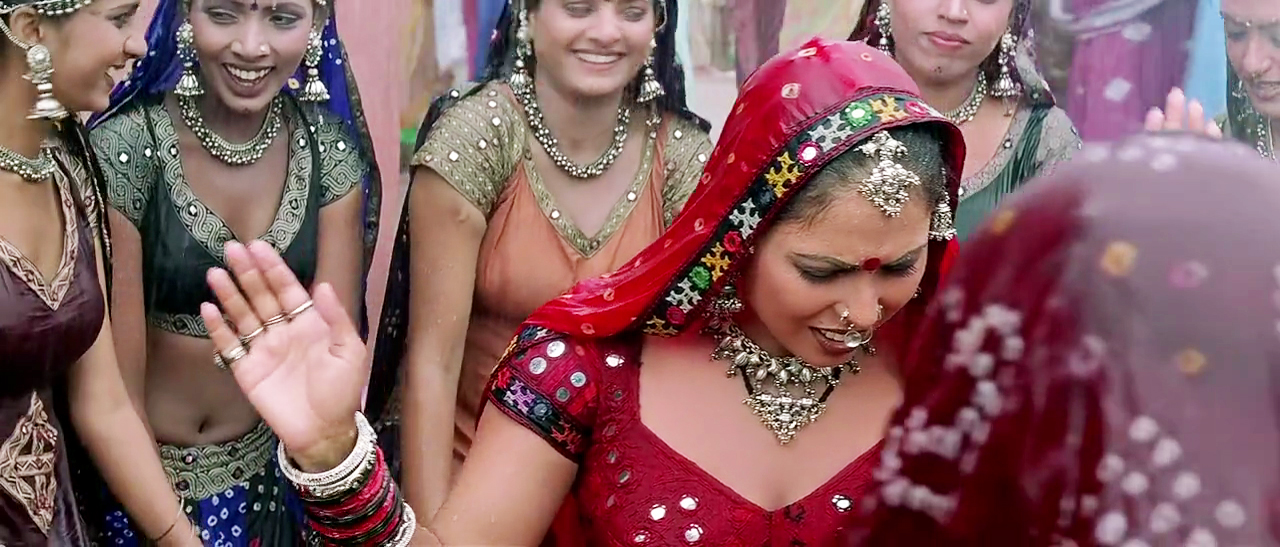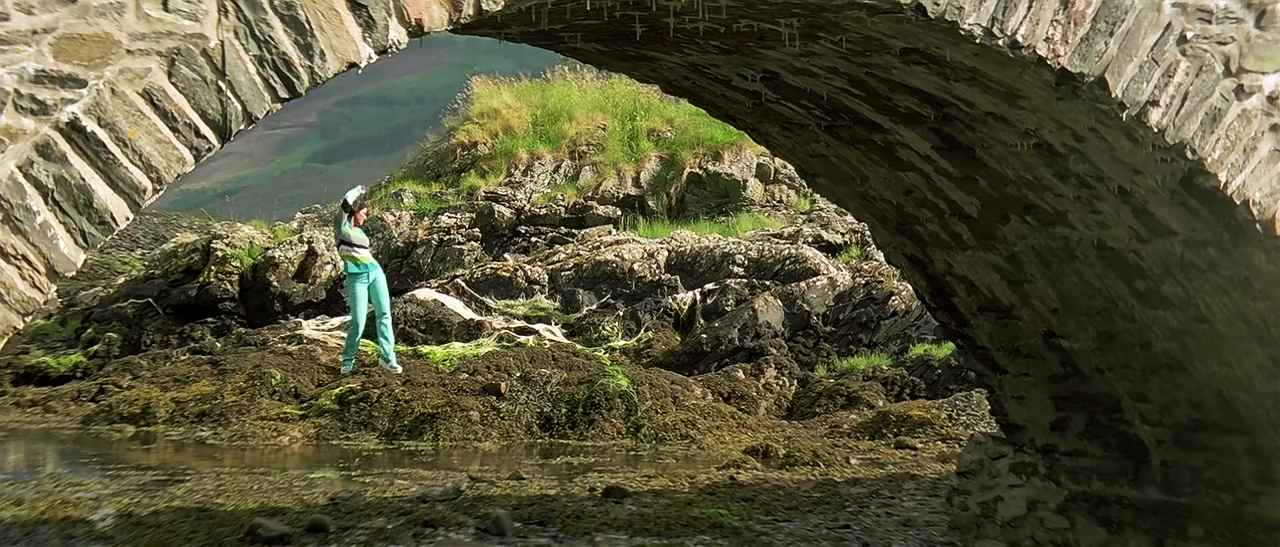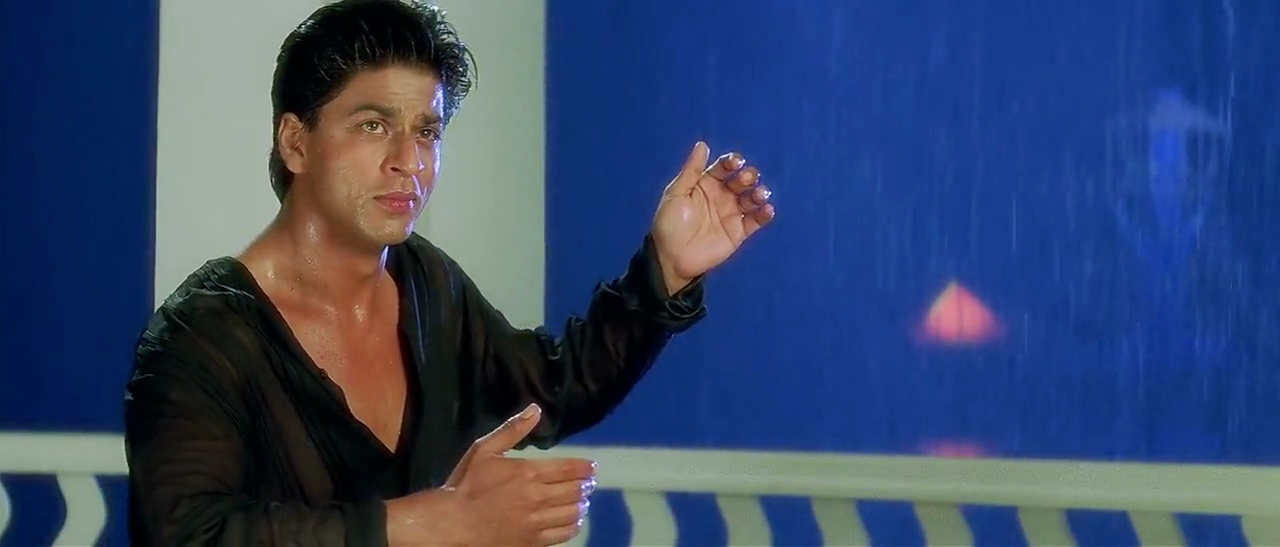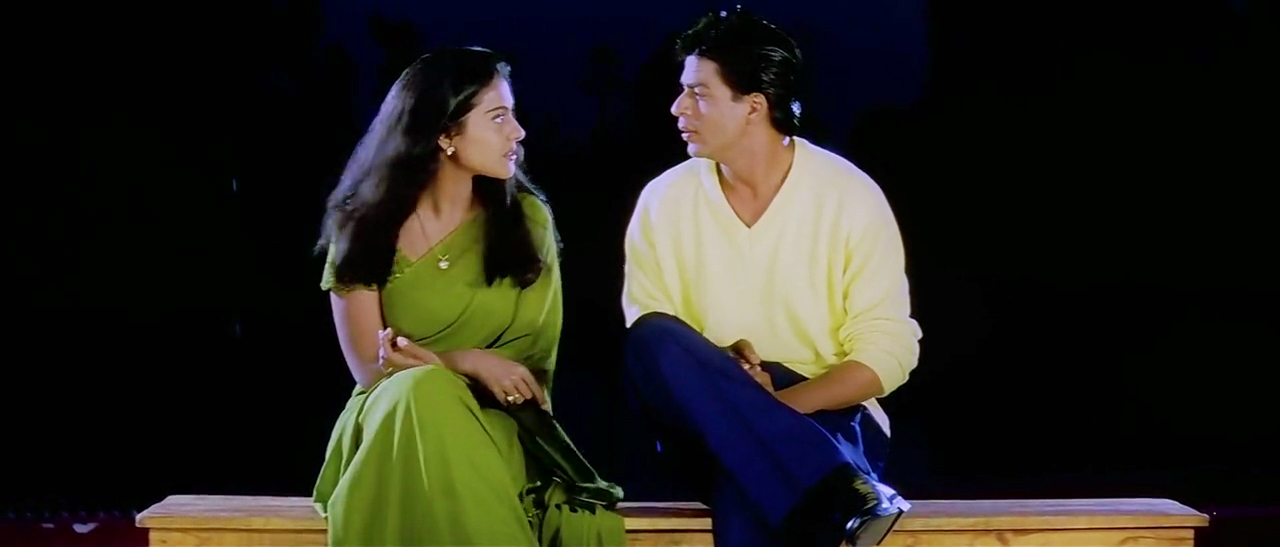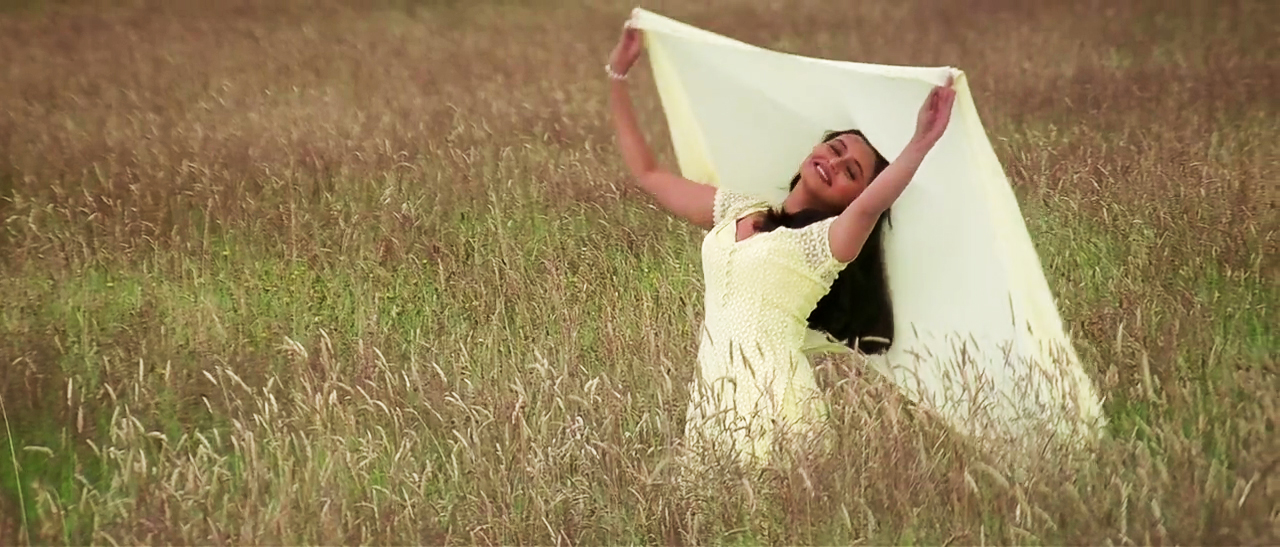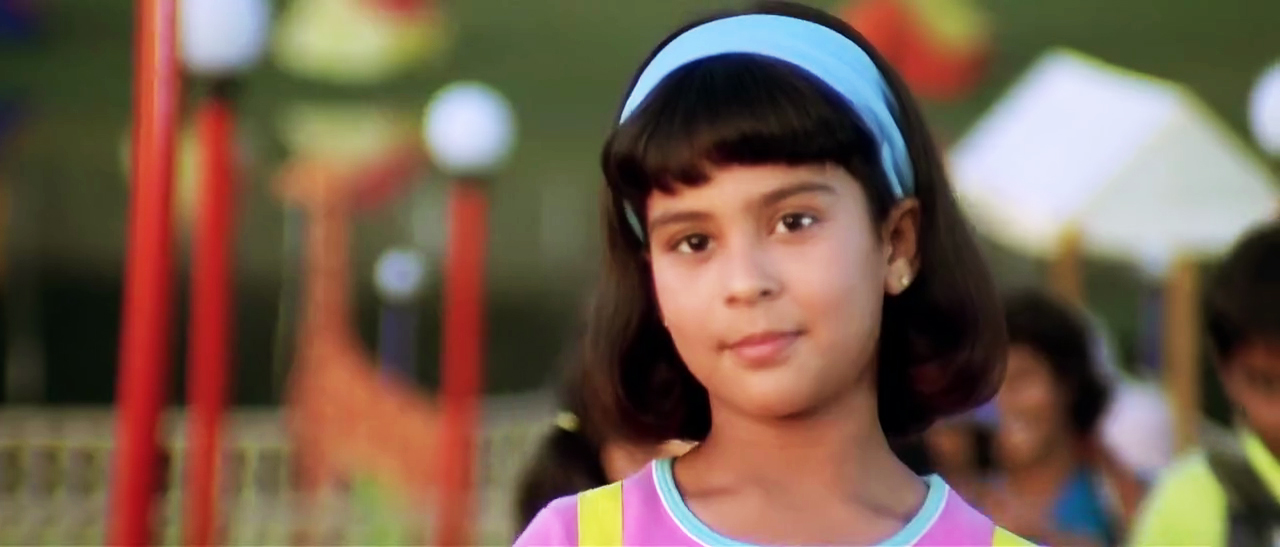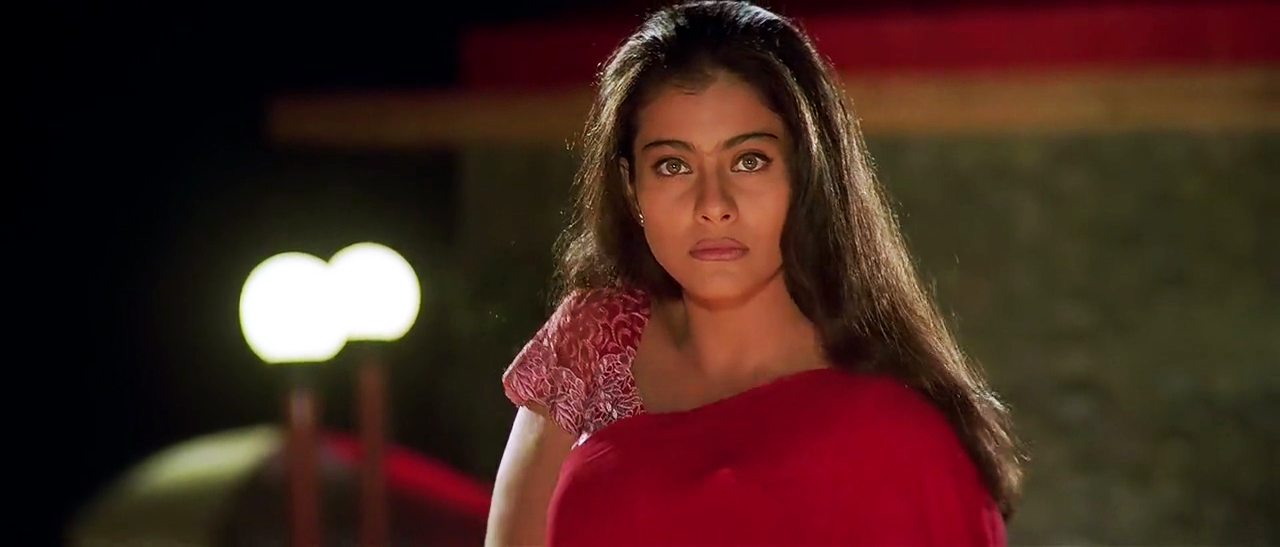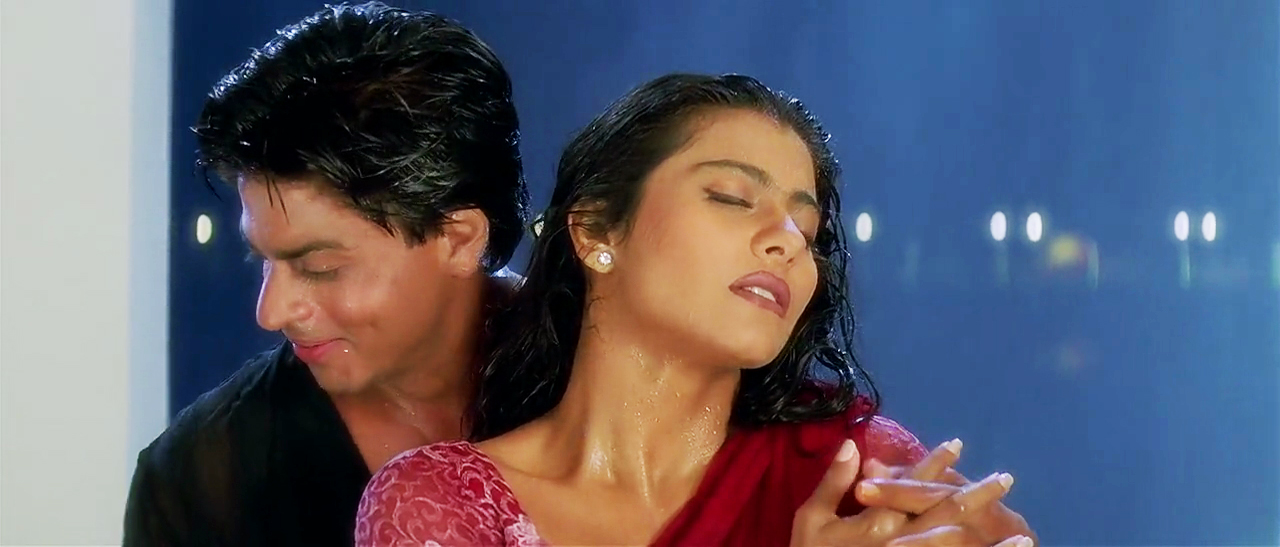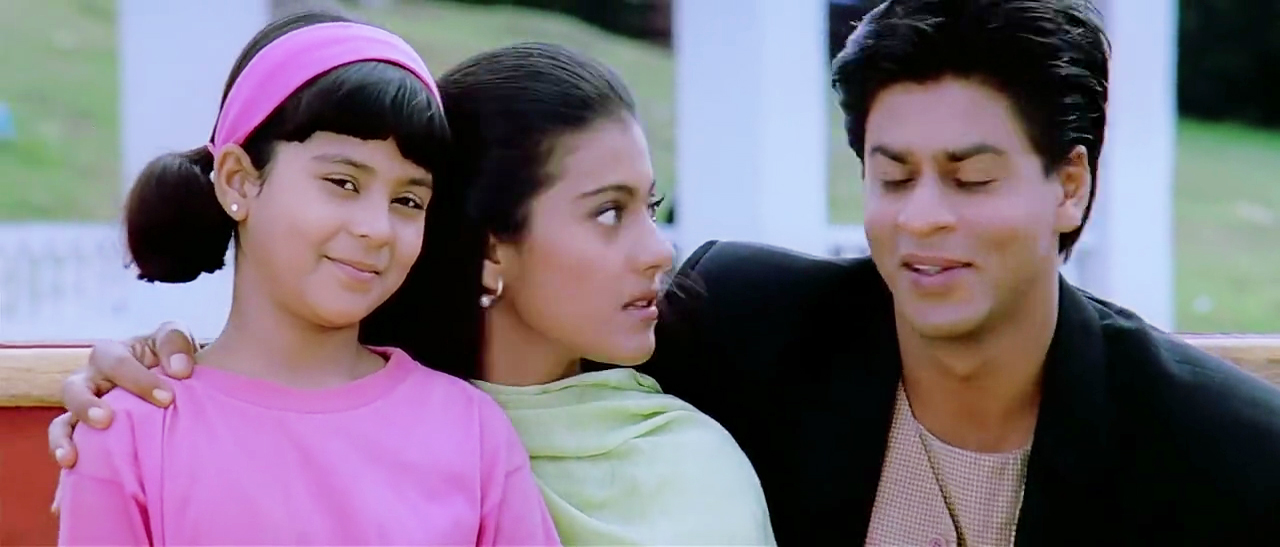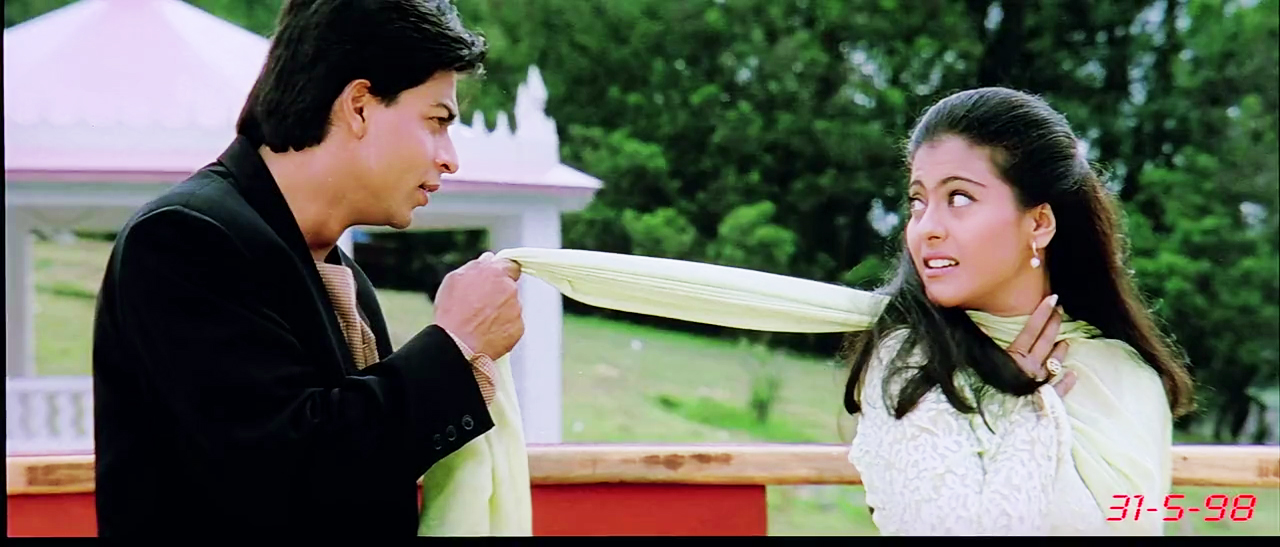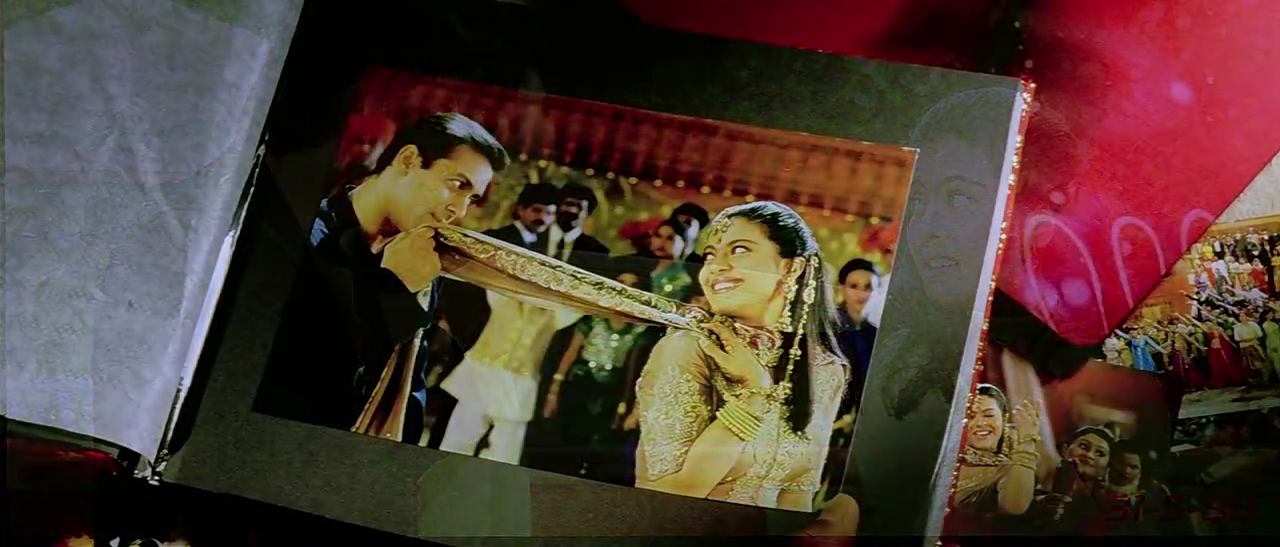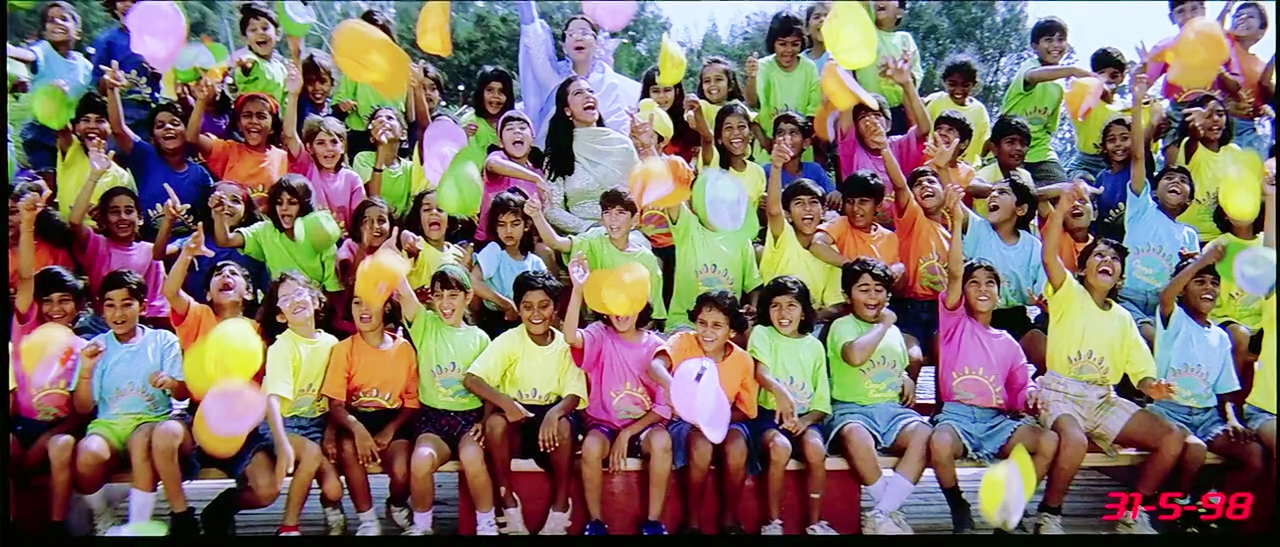 If you need any more reasons to love this charming film, lets just conclude…. Kuch kuch hota hai! Tum nahi samjhoge! 😉
Images Courtesy: Dharma Productions