'Mrs Chatterjee Vs Norway' review – Motherhood drama sees Rani Mukerji in tigress mode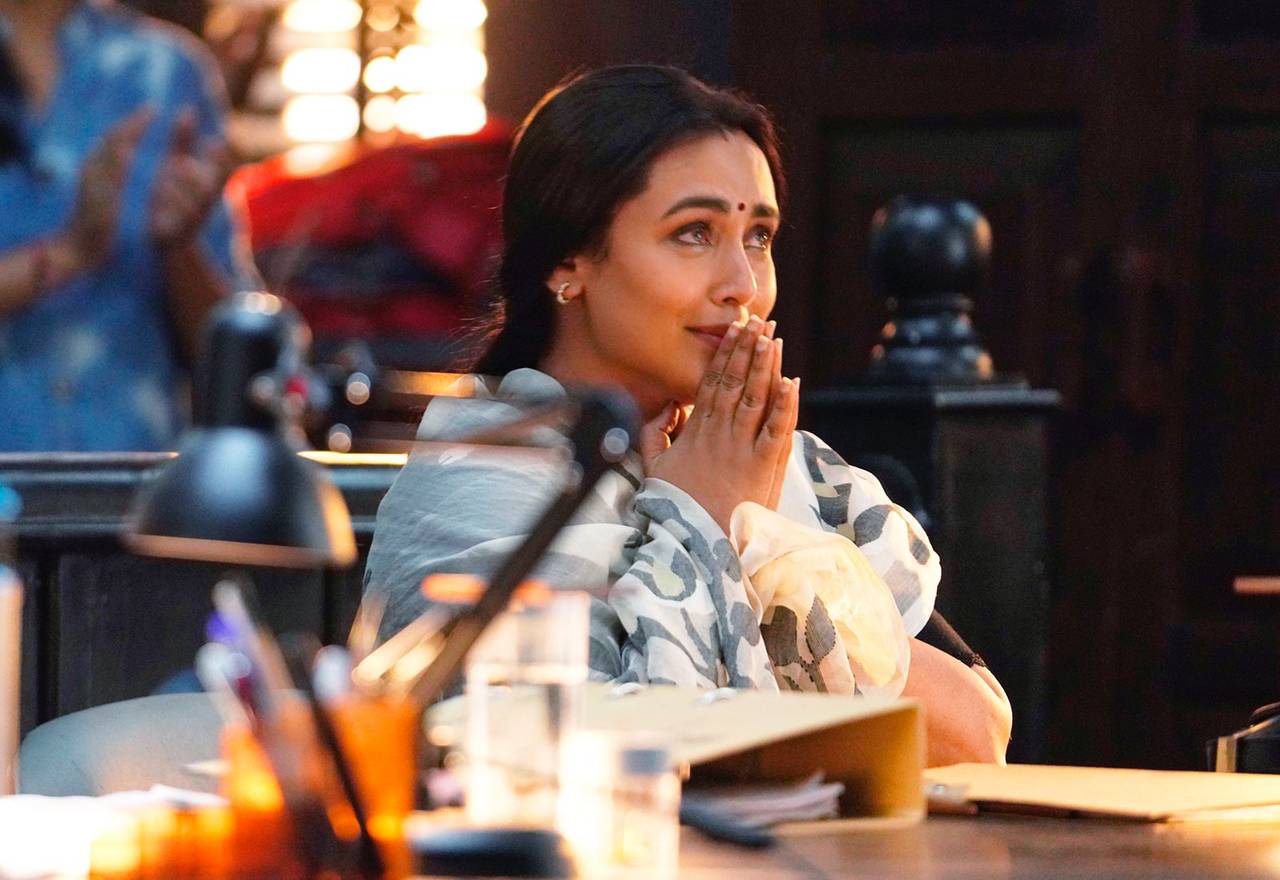 Read Time:
8 Minute, 5 Second
At the cost of sounding ignorant of other races, let me tell you that Indian mothers are one-of-a-kind. You cannot make sense of them, their reflexes, their volume levels, their logic, and their love. It does not matter where you place them – be it in the four walls of the family home, on a road bustling with traffic, or in an airplane to Antarctica. In Ashima Chibber's Mrs Chatterjee Vs Norway, one such Indian mother puts up a brave fight against the infamous Norwegian Child Welfare Services (Barnevernet gets renamed as Velfred).
An out-and-out Rani Mukerji show, Mrs Chatterjee Vs Norway opens with a gutting visual. It is a regular day in the sleepy Norwegian city of Stavanger for Anirrudh Chatterjee (Anirban Bhattacharya) and his wife Debika (Mukerji). Suddenly, three nattily dressed women enter their home, seize their toddlers and flee. A distraught Debika runs after their vehicle, yells, and trips. Within minutes, the stage is set for an unseen battle. As the trailer suggests, it is between the Chatterjees and the Government of Norway.
An engineer working for a Nordic energy company, Aniruddh is not the most sensitive of men. Affection does not come easily to him, whether it is for his dutiful wife or for their little children. He reiterates a gazillion times about his impending Norwegian citizenship. We understand the man's predicament once we come closer to his middle-class family (more to it later). Debika, however, does not seem to be much of a person apart from being a mother. It is fair considering how a good majority of Indian housewives live such lives – sans friendships, hobbies or escape routes. Therefore, it is an unexpected jolt to the woman when the children – her sole reason to thrive in an alien country with an abusive husband – are snatched away.
The villains, at this point, are beautifully done-up women with sharp features, silky hair, red lipstick, and exaggerated facial contortions. They form a variant of what we call cardboard villains although they never develop to become full-fledged devils. If not sitting in a court to give puzzling stares at Debika, they mostly appear in the background constantly refusing to return the children to their biological parents. The writers (Chibber, Sameer Satija, Rahul Handa) understand no greys here.
Mrs Chatterjee Vs Norway successfully establishes the accuser's perception that the accused (Debika) is mentally unstable. What the film does not analyze is a possible diagnosis of post-natal depression in the protagonist. Mrs Chatterjee is angry, and distraught and is not an easy woman to be with. For all the duties she took care of, Debika's husband at one point says, "None of this happened because of me. It's all your fault," Deprived of her children, she decides to do the unthinkable – something that might have emerged from her naive mindset – landing the film at its riveting interval point. If we look at it through a black-or-white lens, Debika's constant refusal to be a law-fearing resident of Norway is worrisome. Then again, she identifies herself solely as a mother. What else could she have done?
When Mrs Chatterjee Vs Norway kicks off, the protagonist is the Bengali-est of Bengalis. A BSc graduate, the woman's speech is in Hindi and Bengali with a smattering of English. Right from the beginning, communication is a problem for Debika even as she feeds the Velfred officials with tea and luchi in their slightly overdone home. On the languages front, I loved the graph the writers carve for Debika. Towards the finale, the hardened and emotionally exhausted woman has a finer grasp of Hindi. Ashima Chibber's film makes use of Bengali and English in generous proportions aside from occasional Norwegian. It is strange how, at no point, the makers identified the need for subtitles in a film that's custom-designed to trigger an emotional response in the more traditional viewers.
Among other things, there is an evident attempt to plaster Indian culture and traditions even when they aren't necessary. For instance, Debika is always dressed up in crisp cotton sarees and gold jewellery. Now, that isn't how a woman (that too a mother of two young kids) would move around in a Nordic nation where subzero temperatures aren't uncommon. Costumes and styling aside, it was appreciative of the film to not overly criticize the world's happiest nation. We are told how Norway believes in the welfare of the children and how much money would they shell out to ensure them a good life. The focus entirely is on the state-appointed organization (Velfred) and there are passing remarks on how they infamously 'kidnap' children from immigrant families and more so from refugees. While there is enough evidence against the actual agency on the internet, the film avoids taking a political stance. 
Mrs Chatterjee Vs Norway enters a zone of disbelief when the focus shifts to the more convenient antagonists – the Indian in-laws. While I empathize with Sagarika Chakraborty's (on whose story the film is based) ordeal, the family is so comically one-note that it's impossible to make sense of their ways. If Aniruddh's brother Anurag (a cigarette-smoking, irresponsible bachelor prototype) is out to make a quick buck, the mother-in-law is straight out of the Balaji Telefilms universe. Making it even worse is the poor acting (and worse styling) showcased by the three actors in question although I assume the ask on paper was to turn the chapter into 'Mrs Chatterjee vs Chatterjees'. A lot sober by now, Debika's resilience helps us tolerate the cantankerous trio until the film reaches its finest stretch – the last act.
In a moving courtroom debate where every important character lines up to own their moments, Chibber's film comes beautifully into its own. The biggest revelation here is concerning Daniel Ciupek (Jim Sarbh) who gets triggered over a simple question raised by Debika's counsel (Balaji Gauri). It's a fantastically staged, written and performed moment which not-so-quietly closes the case for Mrs Chatterjee Vs Norway. 
Chibber also scatters her narrative with a handful of tearjerking moments. While Debika's interactions with her toxic husband are wonderfully realized (complete with close-ups, steady-cam and circular shots), the brief sequence at the adopted parents' home is bound to make any sensitive person sob. There's even a performative moment (characteristic of Mukerji) where she mashes bananas with milk and eats away in angst. Was it performed to perfection? Yes. Was it necessary at all? Maybe not. That said, Debika's high-on-decibels breakdown at the children's foster home (masterfully filmed by Alvar Kõue) is so rhythmed that the agency's allegation against Mrs Chatterjee stands validated.
Acing the leading part to perfection, Rani Mukerji's towering presence is no less than that of a Bengal tigress. As an actor who always understood the assignment, she has an extraordinary understanding of the film's grammar. Come to think of it, Mukerji herself had essayed the part of an agitated mother in Talaash. The temperament she displayed in that film was in synergy with its mood. Ditto for the loud, confused, deranged-looking Indian mother trying out bizarre ways to reunite with her children in a faraway European country. Mukerji's motherly instincts blend naturally with her effortless body language in a highly physical performance. Among other things, Debika's mixed accent enhances the milieu and the character's inherent powerlessness. In a film that sees the actress in every frame from start to end, Mukerji's landmark performance is sure to be lapped by the masses thereby cementing her enviable sway on them which has lasted for over 26 years.
Characterization-wise, the leading men of Mrs Chatterjee Vs Norway are a lot more interesting people. If Debika is mostly projected as a clueless victim, the men exhibit black and grey shades. Anirban Bhattacharya is marvellous as Debika's unloving husband thanks to a screenplay that gives him enough meat to chew. Through him, the writers throw the spotlight on legions of Indian men who treat their wives as unpaid nurses-cum-maids and their children as mere symbols of legacy.  Jim Sarbh as the Norwegian attorney grabs an equally fleshy part. Soft-spoken yet a man of strong words, the ambiguity in Daniel is what makes him all the most fascinating. Without an iota of doubt, Sarbh's nuanced turn is going to be among the year's best. As Debika's counsel Sunaina, Balaji Gauri deciphers the theatricality of her part with remarkable dexterity. Veteran Barun Chandra as the High Court Judge puts in a memorable show whereas Neena Gupta, Bodhisattwa Majumder and Saswati Guhathakurta are noticeable in their cameos. The rest of the cast – including the scheming Norwegians and the in-laws – suffer due to their broad-stroked character designs.
For those who are interested, intricate details about the real case and numerous others rest on the internet. That way, Mrs Chatterjee Vs Norway becomes a necessary film that not only creates awareness but also sensitizes unassuming Indians to be mindful of a foreign country's rules before they emigrate for a better lifestyle. On a lighter note, I am curious to know if Mrs Sprightley from Kabhi Khushi Kabhie Gham would entrust Mrs Anjali Raichand (Kajol) to drop her kid off to school or simply report the Chandni Chowk-bred, hysteric, boisterous woman for being who she is. Now, that will make for a zanier spin-off than one around Poo's shenanigans, doesn't it?
Rating: ★★★