Tribeca Review: 'The Line' is a testosterone-smeared frat thriller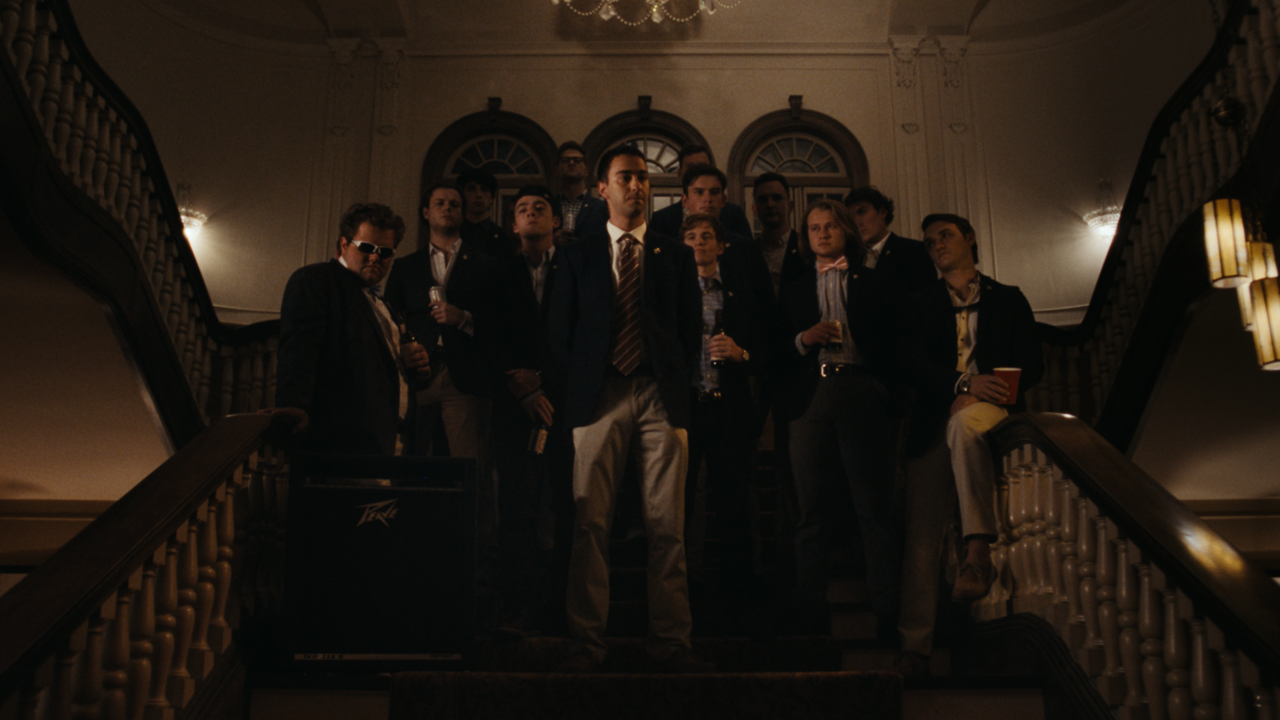 Read Time:
2 Minute, 50 Second
Ethan Berger's directorial debut The Line is set in the dark alleys of an American university. Tom (Alex Wolff), a young man from a badly off background finds himself in the traps of a millionaire best friend Mitch (Bo Mitchel) and the chaos surrounding the hazing culture in the university. As a sophomore who believes being in the fraternity (Kappa nu Alpha or KNA) would open more doors, Tom wouldn't know what lay ahead of him in this disturbing coming-of-age tale.
The Line may be disconcerting for more reasons than one. Placed in the center of a toxic frat community, the lingo we hear is not very soft to the ears. The young men are sexist, homophobic, and violent, and their interactions reek of privilege and arrogance. In the middle of the mess is Tom who is faithful to his rich best friend while also figuring out his ways to fit in the mayhem. On a pleasant side note, Tom forges a brief relationship with the beautiful Annabelle (Halle Bailey). However, things that are meant to go awry will eventually go. Following a hazing mishap with pledge Gettys O'Brien (Austin Abrams), the sophomores come under the lens of law.
An immensely watchable actor, Wolff demonstrates an uninhibited vigor as he navigates through the uncertainty of the situation. In what must be the film's most affecting scene, Wolff's Tom is seen seeking solace in Annabelle. "We just fucked twice," says she whilst Tom insists on sitting and speaking about what happened. Even as he walks out with the door slamming by itself, it is easy to buy the lad's remorsefulness. Tom's social status also comes a little in focus as he endures more insults to win the acceptance of his more privileged peers. That said, this is also an area where the film bleakly misses out. Not much is said about Tom's background or ambitions except a fleeting sequence with his mother. What made him gravitate to the fraternity? What complex thoughts ran through his mind? The Line does explore the tender side of the collegian during his interactions with Annabelle but that isn't enough.
Lewis Pullman as Todd pulls a breakthrough act, lending solid nuances to his part and the larger scheme of affairs. Bo Mitchell as the vile Mitch is equally competent, although aided heavily by straightforward characterization. Halle Bailey, who is a manic pixie dream girl prototype, should have gotten more flesh to chew in.
More than anything else, Ethan Berger's film gets its atmospherics right. Notably absent in gloss that is common in American campus fares, the film's plaintive setting is perfectly in sync with the tense, testosterone-smeared surroundings of the reckless campus. Its people, who emerge from different socio-economic backgrounds, play off each other's energies. The trash-talk feels real, and so do the characters' disparate behavioral traits (Tom's need to belong, Mitch's nonchalance, and so on).
The Line chooses to close in a predictable manner which, without doubt, is equally gutting. You see the sorrow and disdain in the protagonists' eyes. You see how the law is different for every social class. Ethan Berger's debut may not be something you haven't watched on screen before. Yet, the show put in by its dynamic team makes the film an engaging watch.
Rating: ★★★ 1/2