Read Time:
4 Minute, 53 Second
Has it occurred to you that you were watching a creature film, and it suddenly turned into a mythological epic? Probably not. The opposite happened to me as I watched the grand Indian magnum opus Adipurush – the live-action adaptation of Valmiki's 'Ramayana'. Under filmmaker Om Raut's supervision, the literary work of great value in Hindu mythology comes out crippled amid bizarre CGI, dialogues lifted from the 1980s potboilers, and strange creatures that emerged from other cinematic universes.
Adipurush unfolds as if Raut woke up one day and decided to cook up a world akin to Planet of The Apes and Star Wars – elements that do not naturally belong in an Indian setting. Enter the Ramayana with an assortment of vibrant characters and a plot with the potential to turn the thought into a magnificent fantasy. Valmiki's epic, which has had various iterations in the visual media, is too familiar a tale to design a hybrid of this nature. Om Raut struggled with the same trepidation in his feature debut Tanhaji. The Ajaj Devgn film did not know whether it wanted to be a historical fiction or a fantasy extravaganza. 
The central plot of Adipurush is faithful to the source material. Raghav (Prabhas) is a prince from Ayodhya who is on a 14-year exile in the jungles following the scheming tactics of his stepmother. Accompanying him are his wife Janki (Kriti Sanon) and younger brother Shesh (Sunny Singh). Fate takes a turn when Ram stumbles upon a thrice-as-vile version of Surpanakha (Tejaswini Pandit) who goes home with a cut nose and broken heart. As fate would have it, she instigates her evil brother Lankesh aka Raavan (Saif Ali Khan), the king of Lanka, to marry Janki – the most beautiful woman on earth. What follows is a video game-like narrative wherein Raghav executes a plan to defeat Lankesh and rescue Sita.
The film opens with a bizarre attack straight out of the Marvel Cinematic Universe. A flock of ugly-looking creatures – for no evident reason – attack the home where the trio resides. While Shesh protects the area with a shield borrowed from the Matrix Universe, Raghav is directly taking on the invaders. In an attack that serves the pointless purpose of showcasing Raghav's strength, Shesh's gatekeeping skills, and Janki's ability to be hapless, we get a taste of what lies ahead in the three-hour-long film.
That said, the most absorbing sequence in Om Raut's film is one where Lankesh captures Sita. The Lakshman Rekha gets replaced by a funky holographic film that we saw in the previous fight. Lankesh replaces the gorgeous Pushpaka Vimana with a giant dragon that seems to have escaped from the Avatar Universe after painting its body black. The animation is shoddy, without a doubt, but you do keep invested in the way Jatayu fights and dies like a hero. I didn't quite mind the way Khan and Sanon perform here either although it was hard to unsee the latter's odd makeup and styling.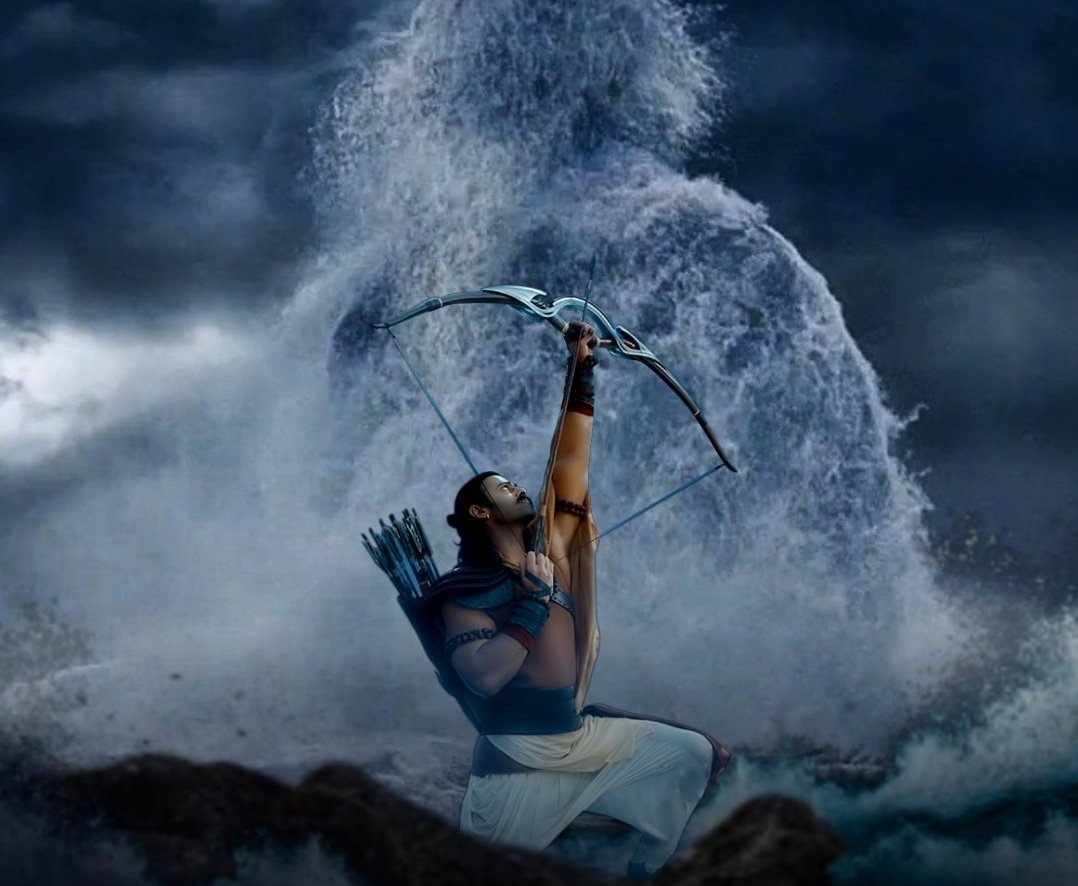 Speaking of the look of the characters, Adipurush makes every man look jacked except Prabhas's enviable 30-inch waist (the VFX team is on overdrive here). Raavan with extra-large biceps, spiked hair, a corset, turtlenecks, and tight grey tees does not play a Ravanahatha but strums a Sitar like an electric guitar. The women are unusually frail in appearance and powerless in characterization. We see none of Goddess Sita's strength and resilience in Janki as she is nothing more than a damsel in distress in Raut's film. Even the otherwise crucial encounter between her and Bajrang (Devdatta Nage plays Hanuman) lacks the much-needed emotional heft. 
Among Adipurush's biggest failures is its inability to turn Hanuman and the vanarasena into relatable entities. Devdatta Nage's portrayal of the monkey god is distant and unfeeling. The rest of the actors do not fare any better either. Prabhas, despite minimal dialogues in the first half, cannot do much to reflect the divinity and righteousness of Lord Ram. Sunny Singh carries one expression throughout and his speech is straight from the guy you overheard in the Delhi Metro. Kriti Sanon as Janki paints a picture of beauty in a modern Ashok Vatika with granite rocks and cherry blossoms. The supporting players, particularly those from Lanka, are plagued by poor visualization. Siddhant Karnick as Vibhishana, for instance, bore the potential to be nuanced but the film dubs as a routine entity.
One aspect of the film that may catch you unawares would be the choice of lingo. While we understand the endeavor to appeal to the lowest common denominator among the audiences, it is awful to imagine that the likes of Raavan, Hanuman, and Meghanada spoke like modern-day hooligans. Ajay-Atul's music tries to cut through the chaos and it does manage something with the Sonu Nigam-Shreya Ghoshal number. Yet, there's only so much they can do in a film filled with endless chants of 'Jai Shri Ram' whilst the visuals simply do not add up. The production design and cinematography do not make the journey any better. I would- someday want to discuss the creativity that went behind imagining Lanka as a mix of Wakanda, Mordor, and Kolar Gold Fields.
Om Raut's film which is unwatchable at all points becomes insufferable in the final act. The CGI animals stop amusing you and the character motivations begin to look shockingly dull. It takes additional skills to make the Ramayana look boring despite an assortment of fascinating characters and plot twists. Om Raut manages the unthinkable as Adipurush leaves no party happy – with the cringe language, shoddy filmmaking, and the unintentionally hilarious use of technology in a multi-million extravaganza that holds zero merits as a piece of art. 
Rating: ★