The Immortal Appeal of Swarnalatha's Golden Voice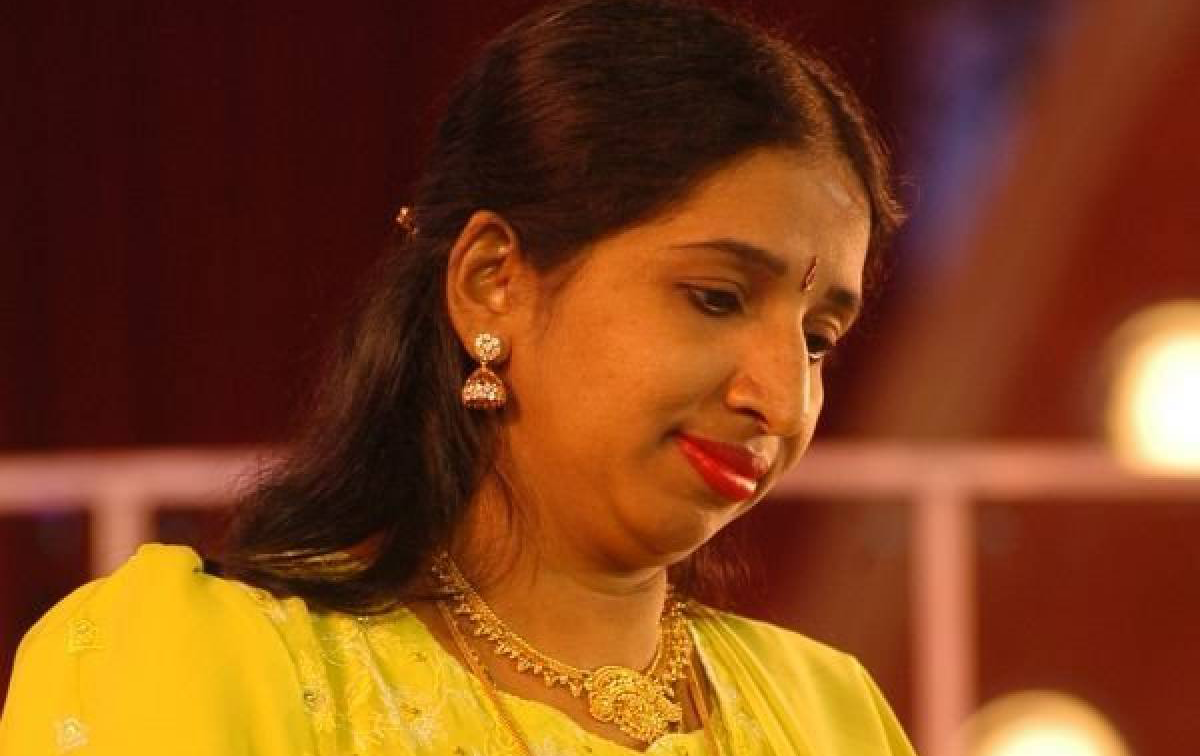 Read Time:
13 Minute, 8 Second
Back in the early '90s when I was slowly being enticed by the magic of film music, it was easy to observe K S Chithra's unparalleled reign across Tamil, Malayalam, Kannada and Telugu languages. Chithra was the heroine's voice and her name hogged the cassette inlay cards. For any other singer to challenge her status quo was an impossible task at that point in time. So, what will happen if one person becomes the voice of basically every woman who is performing any musical number in films? How is that going to work, especially, when the faces lip-syncing to these songs changed in quick succession? This is exactly the void that the late singer Swarnalatha slowly began to fill.
Velvety, sexy and honey-soaked, Swarnalatha's voice starkly differed from Chithra's utterly feminine, sharp and crystal-clear vocals. If Chithra would pronounce every letter with acute precision, Swarnalatha would swallow a syllable or two – making the sound of her songs distinct. Her singing style had a freewheeling flow – something that I would liken to the torrential movement of a river. Her sound was far from a celesta's tingle but was akin to a temple bell, which resounds in all directions – not piercingly clear but far-reaching and striking.
The talented singer was born in Kerala's Palakkad district. Her parents shifted base to Chennai (then Madras), Tamil Nadu soon after they identified Swarnalatha's golden voice. And there began her mystic tryst with film music.
Here I list a bunch of my favourite songs by the legendary singer who left for the heavenly abode, way early in life:
25. Nandalala (Independence)
Malayalam film Independence was one-of-a-kind for an era dominated by hyper-masculinity. In that period, filmmaker Vinayan brought to us an all-women fare where the actresses seemed to be having truckloads of fun. A dance number set in a street, Nandalala showcases Swarnalatha's hold over the masses to perfection.
24. Kannil Aadum Roja (Captain)
A love song with a tinge of eroticism, this song picturized on Ranjitha and Sarath Kumar finds Swarnalatha taking the lead over S P Balasubramanium. The vocal chemistry between the duo even eclipses what we see on the screen whereas Sirpy's dramatic composition and Vairamuthu's words sync perfectly with each other.
23. Andhiyile Vaanam (Chinnavar)
It was the 2019 film Super Deluxe that catapulted this early '90s gem to new-age fame. Picturized on Kasthuri and Prabhu in modest rural landscapes, this pleasant, foot-tapping song by Ilaiyaraaja contains the ability to perk up your mood at any given time.

22. Manimukile (Kuberan)
My earliest memory of Manimukile is the visual of Samyuktha Varma dancing around green meadows with her outfits changing every few seconds. I could also sense how the voice was not one among the usual ones (read Chithra or Sujatha). Swarnalatha, in her rare Malayalam outings, made sure to leave an essential stamp on each. This song composed by Mohan Sithara sees Swarnalatha scaling high notes with supreme flair. That aside, the running background piece, perhaps inspired by Michael Jackson's 'They Don't Care About Us,' is something that never appealed to me.
21. Saradaara Baa Balina Sindhoora (Parashuram)
In this duet with the Kannada superstar Rajkumar, Swarnalatha is given great liberty to explore the bounciness in her vocals by composer Hamsalekha. A playful love song, and the singers and their vocals manage an amiable chemistry. The appeal of the song is further amped up by the chatty lyrics and prominent flute strains. Shot in the middle of a jungle, this gorgeously picturized song is also quite a visual treat.
20. Mukkala Mukabala (Kaadhalan)
One of the greatest Tamil songs of all-time 'Mukkala Mukabala' is one of the many chartbusters that Swarnalatha lent her steamy voice to. Calling it iconic would be an understatement because Swarnalatha's spicy rendition contributes amply to making this song what it is – one for all ages.
19. Maya Machindra (Indian)
Director S. Shankar's Indian is still remembered for its king-size soundtrack composed by A R Rahman. In the visually overwhelming 'Maya Machindra' we hear Swarnalatha at her ravishing best working fabulous chemistry with her co-singer S P Balasubramaniam. With Kamal Haasan and Manisha Koirala blazing the screens with their eclectic presence, it is not surprising why this is one of Swarnalatha's most heard duets.
18. Rakkamma Kaiyya Thattu (Thalapathi)
Let's talk about Swarnalatha's first monumental hit 'Rakkamma Kaiyya Thattu' which saw no one but Rajinikanth shaking his legs to it. Seeped in Tamil folk flavours, the song must have been child's play for Ilaiyaraaja but, then again, there is a definite syntax for a chart-topper and the song truly has the DNA of one. Sung by Swarnalatha and S P Balasubrahmanyam, the rural-set dance track hasn't lost its sheen to date. The frisky beats and the lead pair's playful moves are cherished fondly by one and all.
17. Vaarthinkal Thellalle (Dreams)
Another Malayalam gem by Swarnalatha was an instant hit upon its release in 2000. Melody maker Vidyasagar makes great use of the singer's penchant for hummings and improvisations. It is a delight to observe how Swarnalatha closes each line in this song that's otherwise minimal in instrumentation.
16. Manikyakallal Menju Menanje (Varnapakittu)
Another glistening Vidyasagar melody, 'Manikyakallal' is one love song that instantly springs a smile on our faces. A song that calls for great coordination between the singers, Swarnalatha and MG Sreekumar bounce of each other's energies extremely well in this chartbuster from 1997. Possibly the after-effect of the song's swingy tempo, the actors Mohanlal and Divya Unni, too, perform it with great zeal.
15. Kadhalenum (Kadhalar Dhinam)
Another duet with S P Balasubramaniam, this deliciously dramatic love song has the A R Rahman fervour on full showcase. Swarnalatha's voice here is a fine blend of passion and mischief. What is most appealing in the composition is the percussion instrument that runs throughout, lending it an upbeat rhythm. The Hindi version of the song (from Dil Hi Dil Mein) titled 'Dola Dola' is equally mesmerizing.
14. Vedala Pulla (Periya Marudhu)
A rage upon release in the '90s, this Vijayakanth-Ranjitha love song opens with an operatic nadaswaram piece, taken over immediately by Swarnalatha's silken voice. A simple yet immensely melodious tune with a strong percussion base running all through, this Ilaiyaraaja composed number is catchy from the word go. It is one such song that will be on your lips after a couple of listens.
13. Ennai Thottu (Unna Nenachen Pattu Padichen)
There was this rare allure in actor Monisha's chaste beauty. A fine talent gone too soon, much like Swarnalatha, she shone like a sunflower in this glistening Ilaiyaraaja romantic song. With the focus placed primarily on Swarnalatha and S. P. Balasubramaniam's voices, the composer makes sure to pepper the interludes with some serene use of the flute. Swarnalatha's voice in particular sounds as pure as a flowing river, which adds dollops of perfection to Monisha's graceful presence.
12. Sollividu Velli Nilave (Amaidhi Padai)
One of Swarnalatha's most wonderfully aged songs, this Ilaiyaraaja-composed number sees Ranjitha (yet again) on screen. One without the traditional lip sync, the song's shy tenor and basic orchestration fascinate to date. For the most part of its duration, there is nothing but a simple beat accompanying the main vocals. Still, the song comes out as mesmeric and full marks to Swarnalatha and Mano for adding various hues of romance to the song's evocative words.
11. Povomma Oorgolam (Chinna Thambi) & Nee Engey En Anbe (Chinna Thambi)
One of the biggest hits of the '90s decade, the Prabhu-Kushboo film Chinna Thambi is known for Ilaiyaraaja's soundtrack. While each song was flavourful and in its own right, Swarnalatha and S. P. Balasubrahmanyam's 'Poovoma Oorgolam' is one that shines in great romantic glory. It is conventional in every way but the stretched notes and bona fide Ilaiyaraaja-ness in the composition make sure that it keeps you hooked throughout. Then there is veteran Vaali's mushy yet hummable lyrics which form the icing on the cake.
'Nee Engey En Anbe', on the other hand, is a classic Tamil film melancholy with the leading lady (Kushboo) crying her eyes out. While it might look out of place in comparison to the present-day use of music in cinema, the sad number is a precious remnant of the period that was. Swarnalatha sheds every iota of sauciness in her voice and makes this sorrowful ditty all her own.
10. Kuchi Kuchi Rakkamma (Bombay)
It happens quite often a song is dubbed into Hindi from its original South Indian language, the soul runs out of the composition if they happen to replace the lead singers. When A R Rahman opted for Kavita Krishnamurthy to do the iconic 'Uyire' (sung by Chithra) and the sprightly 'Kuchi Kuchi Rakkamma', the impact was massively underwhelming. In the case of the latter, it was as if the Hindi version utterly lacked the spice of the Tamil original, provided in oodles by Swarnalatha and Hariharan. While Rahman's marvellously orchestrated composition comprising of a pleasant medley of folk instruments has its own appeal, the voices (including that of GV Prakash and chorus) remain the mainstay in the song. What do I like the most? Well, Swarnalatha's astonishing giggle in the last line.
9. Evano Oruvan (Alaipayuthey)
This song from A R Rahman's chart-busting album was unique if compared to the rest of the album. The only sad song in the otherwise upbeat, trippy OST, 'Evano Oruvane' saw Swarnalatha in her absolute elements. I was curious to discover how it would translate on screen. Alas, I was in for a disappointment as Shalini's nonchalant, expressionless face could barely reflect half of the emotions the singer poured into Vairamuthu's aching lyrics.
8. Thuli Thuliyaai (Parvai Ondre Pothumene)
A drastic departure from Swarnalatha's highly accepted style of slightly sensual crooning, this duet with Hariharan is one of her most loved songs of all time. Composer Bharani's tune is everlasting and the arrangements with peppy beats and some beautiful flute pieces make the song even more flavourful. The unconventional chemistry between the singers – known for their erstwhile different styles – is the song's USP.
7. Malenaada Mele Mugila Male (Mallige Hoove)
Hamsalekha composes this dreamy Swarnalatha-Ramesh romantic number which comes with a refreshing tune and a series of 'sangathis' or 'harkats' by the singers. One of Swarnalatha's finest in the Kannada language, the only complaint I would cite is that the song is a little too short. Before I could entirely be mesmerized by the song's rustic mood, it comes to a rather sudden halt.
6. Kuyil Paattu (En Rasavin Manasile)
Yet another lilting Ilayaraaja melody, 'Kuyil Paattu' is one of Swarnalatha's early big solo hits. The film sees a teenaged Meena essaying the part of a mature woman and in the song, one observes how Swarnalatha's voice fits the actor's persona like a glove. One that talks about love and longing, the song ticks all signature Ilaiyaraaja checkboxes. Music aside, the film was deeply regressive even for the era that it came in.
5. Akadanu Naanga (Indian)
It's impossible how 'Akadanu Naanga' wouldn't have worked. There's Urmila Matondkar who looks like a zillion bucks. Then, there's A R Rahman's zingy tune to would make any foot tap. Vairamuthu's words talk about fashion with unabashedly narcissistic glee. That said, the song wouldn't have been anything if not for Swarnalatha's sultry rendition which surpasses each and every element mentioned before. Easily, this racy number from Indian is among her career-best.
Bollywood music lovers would remember its equally popular Hindi version, 'Latka Dikha Diya Humne'.
4. Ulunthu Vithaikayilae (Muthalvan)
A personal favourite, this shimmering melody from Muthalvan served a unique purpose. It had to sound (and look) so angelic that the leading man Pukazhenthi (Arjun), as well as the viewers, had to fall in love at first sight with Thenmozhi (Manisha Koirala). Composer AR Rahman certainly knew what he was doing when he opted for Swarnalatha's effervescent vocals to do the needful. She isn't the most crystal clear with her enunciations here since the song is supposed to have a lazy vibe. And for sure, Swarnalatha passes the test with flying colours.
3. Hai Rama (Rangeela) & Ennulle Ennulle (Valli)
One that kicks off with one of Swarnalatha's epic hummings, 'Hai Rama' has to be among the sexiest Indian film songs ever composed. A. R. Rahman, who was making his formal Bollywood debut, ensured that he made a killing with a variety of songs in the OST and it can be seen how 'Hai Rama' shines like a pole star with its mega steam quotient. Add to it the volatile chemistry shared by Jackie Shroff and Urmila Matondkar on screen, it wasn't a surprise when the song became a rage back in the day.
Sharing the third spot is Valli's equally sensuous 'Ennulle Ennulle' which, again, was wildly popular at the time of its release and remains so to date. A solo by Swaranalatha, Ilaiyaraaja's orchestration for the song is a tad modern with the chorus and humming portions emitting oodles of oomph to match the sex-laden visuals.
2. Maalaiyil Yaaro Manathodu Pesa (Chatriyan)
"Nenjamae… paattezhuthu…athil nayagan perezhuthu"
Sings Swarnalatha and we know why this Ilaiyaraaja-composed song is cherished dearly by those who grew up on South Indian film music. Picturized on Bhanupriya, the beauty of 'Maalayil Yaaro' is in its mellow pace and elaborate instrumentation (flute, synth, guitar, tabla, saxophone and more). However, none of it surpasses the celestial appeal of the high-pitched hook line. Quintessentially Swarnalatha, I say.
1. Porale Ponnuthayi (Karuthamma)
The song that fetched Swarnalatha a National Film Award, this melancholic ballad from Karuthamma could also arguably be her finest. While the instrumentation stays effortlessly in place, the focus here is entirely on Swarnalatha's pathos-laden voice and Vairamuthu's soul-stirring words. No vocalist from that era or the present-day playback singing scene could have brought out such precision and intensity to the song which essentially serves as the soul of the film. Further masterful is composer A RRahman's way of integrating Swarnalatha's humming pieces which either appear briefly and later run seamlessly in the background as the main vocals continue in full wattage.
Swarnalatha might have passed away at the early age of 37 but her discography which includes more than a thousand gems such as 'Porale Ponnuthayi' are treasured by millions of fans across the globe. An essential part of every music-loving South Indian born in the '80s and '90s, Swarnalatha's voice is also finding patronage among the Gen-Z if we look at the cover versions that are being churned out on YouTube, live events and reality shows. Truly, the epithet called the 'Humming Queen of India' didn't fall on her by accident. Remember the unmatchably erotic humming in Pukar's 'Sunta Hai Mera Khuda'? Well, as they say, the artist may die but the art lives forever and Swarnalatha is a golden proof of it.
Special mention: Tere Honthon Ki Hansi (Bichhoo), Raa Kozhi Rendum (Uzhavan), Awwa Awwa (Sathyam Sivam Sundaram)
ALSO READ: Shreya Ghoshal: Perhaps The Last Of Her Tribe