Read Time:
3 Minute, 27 Second
What differentiates an Akshay Kumar film from another one that was released barely a month ago? It's not the eardrum-bursting screams that attempt to prove a point in the climax. It's not about him romancing girls half his age. It's certainly not in their devious intentions to distort history in the most brazen way possible. To the actor's credit, this time, his Diwali bonanza Ram Setu is a mini trip to an aquatic café if we subtract the poor VFX and wily scheme to mix scientific inaccuracy and religion.
Directed by Abhishek Sharma, Ram Setu opens with an unnecessary trip to Afghanistan where top archaeologist Aryan Kulshrestha (Kumar) joins forces with a Pakistani counterpart to unearth a treasure and a giant Buddha statue. The duo flees the Tabilan gunfires with the efficacy of trained militants to land up in Islamabad where Aryan, an atheist, makes a sensible statement about how religion divides people of both countries.
Anyone above a moderate IQ range would know this foreshadowing is a ploy to propel Aryan on a journey to faith. Ram Setu does not waste time as everything happens within minutes – whether it's Aryan claiming that the Adam's Bridge is a natural formation, him getting suspended from his top job in Archeological Survey of India (ASI) to soon setting off on a trip to a floating lab off the coast of Rameswaram.  I must say that the first two acts of Ram Setu are entertaining to a fair extent. The family angle does not come with elaborate song-and-dance sequences and is, somewhat, tolerable.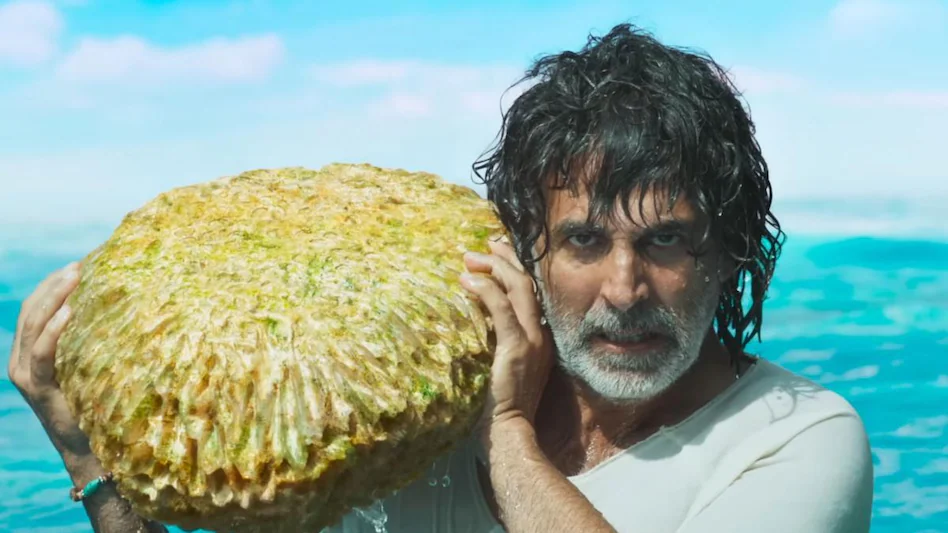 Awaiting Aryan in the laboratory is an unlikely team of experts. If Jacqueline Fernandez (Sandra, an environmentalist) and Jeniffer Piccinato (Dr. Gabrielle) seem to have emerged out of a modelling catalogue, the Project Manager Bali (Pravesh Rana) looks constantly pissed off. Aryan swims around the reefs, collects a floating rock and soon unearths deeper secrets. The seabed is a lot more than what his atheist logic could bear.
The prime flaw in Abhishek Sharma's film is in confused goals. It wants to appear all cerebral and scientific, but it also believes in omens and signs. It wishes to be India's answer to Indiana Jones wherein the characters are designed to resemble those in Valmiki's Ramayana but only sans Sita (Fernandez plays a female Laxman). The film's attribution to science is as simplistic as Akshay Kumar predicting the age of a rock by a mere look at it besides deciphering ancient palm manuscripts and wall scriptures in minutes. Every positive character exists or emerges out of thin air to help the man in his expedition whereas the antagonists get no nuance or quirks like Ramayana's Raavan.
ALSO READ: 'Raksha Bandhan' review – Akshay Kumar's film is shockingly offensive
Satyadev Kancharana is the film's sole endearing element even though the writing does nothing to aid the actor's infectious energy. Akshay Kumar looks tired throughout as he unconvincingly mouths a series of ridiculous lines. Fernandez gets to hold a torchlight and be the female arm candy in a film that barely needs her. Worse is Nusrratt Bharuccha whose only job is to look salon-ready in ironed hair and slinky outfits. The twist involving her towards the finale (followed by a helicopter brawl) is among the film's biggest misdoings. Nasser, an actor of calibre, and Pravesh Rana are wasted as cardboard villains who do not even get decent lines to utter.
Ram Setu is set in the pre-smartphone era. People use Blackberry and Nokia phones. The government is incompetent and pays no heed to religious values. It is itching to mint money by letting a private company take over the Adam's Bridge/Ram Setu, lying in the international waters, with the ease of Bunty and Babli selling off the Taj Mahal. The only thing I missed was a Sonia Gandhi equivalent approving the plan from behind. Abhishek Sharma's Ram Setu is a blatant yet unfortunately clueless political propaganda fare designed to spread superstitions and Whatsapp logic while manipulating gullible viewers and their right to faith.
Rating: ★