Read Time:
5 Minute, 4 Second
In the era of pan-India blockbusters, filmmaker Atlee designs a film that, at least as a recipe, is a fusion of faces and talent from many Indian states. At its epicenter, we see Bollywood's beloved superstar Shah Rukh Khan who seems to be enjoying every second of his time on the sets. Result? A decent actioner that might open a box of ideas to those who have been on a Bollywood-only diet. For the rest, Jawan is a mixture – sometimes engaging, sometimes exhausting – of countless Tamil film titles and a long list of international series from Money Heist to Orange is The New Black.
Jawan is anchored around a heist performed by a wounded hijacker (Khan, who calls himself Vikram Rathore) and a group of young girls. As commonly seen in mainstream Tamil film narratives, the loot is electronically distributed to the needy within minutes. A superstar from Tamil cinema, Nayanthara gets cast as a regular prototype in her home industry – a top cop named Narmada (Nayanthara) who investigates the mishaps and has a link with the hijacker so she can sing songs in snazzy outfits the moment she gets some time off her tough job. The closest Bollywood equivalent would be a scenario where Dhoom's Inspector Jai Dixit were to romance the thieves he chased. Never mind.
Enter Kali (Vijay Sethupathi), a scheming businessman who once manufactured faulty weapons and, now, has thousands of crores to spare. A template antagonist with an immaculate sense of style, the man would go to any extent to uproot forces that might interrupt his growth. Unlike many iconic Bollywood villains, Kali is not omnipresent in the narrative to instantly strike back at his opponents. The man appears only in brief intervals, including flashbacks, to give us a slice of his menace. This treatment, interestingly, is also one of the film's strengths and weaknesses. It is a strength because we get to see more of Khan, who is present in every running minute of the film and is in hair-raising form. It is a weakness because, in Bollywood's masala, we are used to a villain's physical presence. It is a lot more appealing if he or she often appears – if not with a punchline such as 'Mogambo khush hua' – while he keeps track of our leading man (or woman's moves).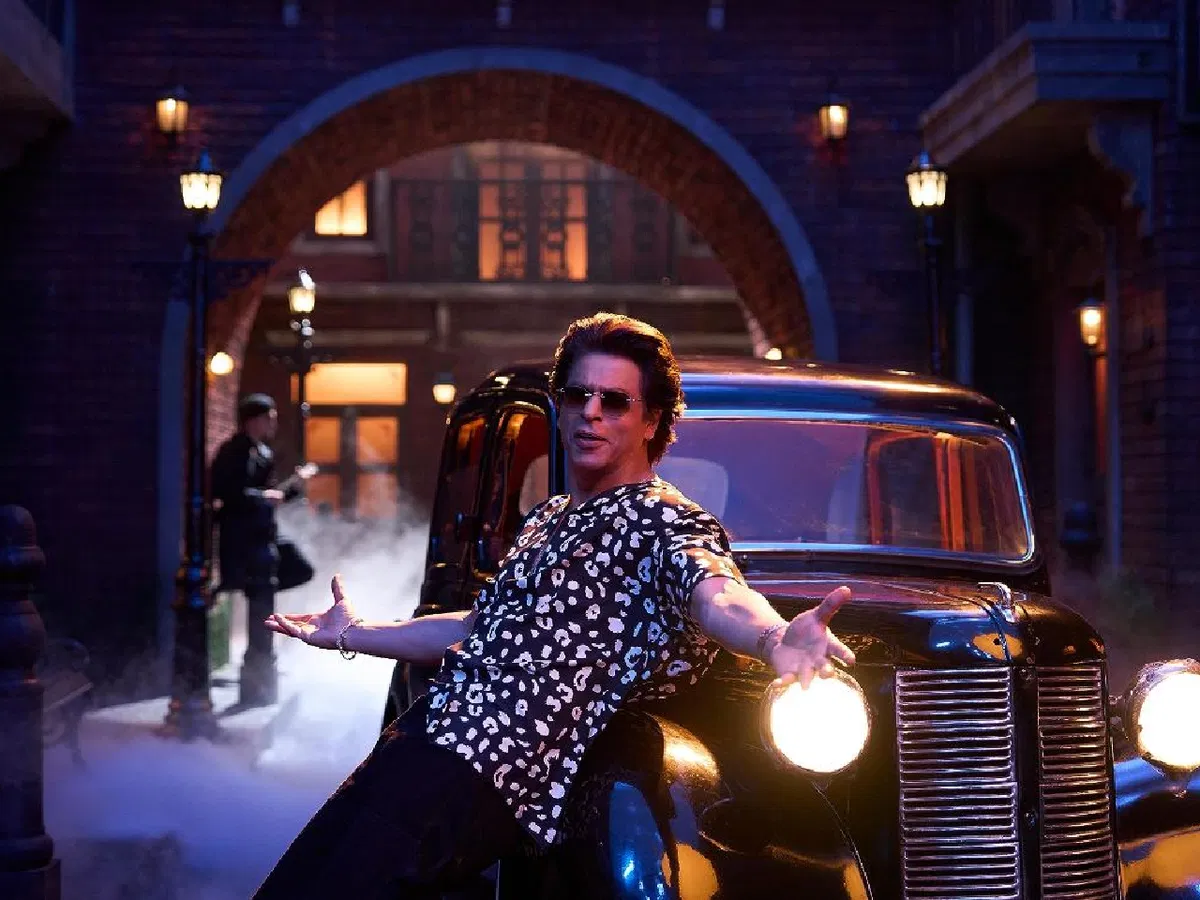 Atlee's film has a solid storyline, even though unoriginal. It might even strike you as a pre-election PSA but Khan and his gang of girls execute it with flourish. The flashback sequences, designed with 80s-styled melodrama, reeks of familiarity but they successfully establish the film's temperament. The chapter involving Dr. Eeram (Sanya Malhotra), in particular, is moving. The same cannot be said about Vikram Rathore's past (set in 1986) where a luminous Deepika Padukone drowns in an ocean of clichés and two unmemorable songs. The segment not only dips the pace that the first two acts had already set up but is also technically subpar to remain invested.
After an excellent first half and a crackling interval point, Jawan struggles to seek relevance in its lack of creativity even though Khan tries his best to spice it up with his trademark charisma. It is Sanjay Dutt (in a fleeting cameo) who re-energizes the premise and sets the base for a euphoric climactic chase where the twin leads and the ladies fight the villains with vengeance.
In a screenplay (Atlee and S. Ramanagirivasan) centered on corrupt officials and uneven distribution of wealth among classes, Jawan makes you wonder if it is a dubbed Tamil film with a leading man from Bollywood. Moreover, it does not want to be a straightforward cat-and-mouse fare which is Bollywood's standard way of treating the genre. Therefore, Atlee's film comes with an array of supporting players and the backdrop of a women's prison. Barring Malhotra, the women – including the romantic leads (Nayanthara, Padukone) – do not get much support from the material on paper. Khan gets a solid back story and given the superstar's magnetism; we are in for a mammoth experience here. The twin characters give him a lot more scope to perform (in comparison to Pathaan) but Jawan in its entirety isn't as engaging or, let's just say, fun as Siddharth Anand's blockbuster. Additionally, there are unnecessary meta moments thrown to tick you off. For example, Ridhi Dogra is the protagonist's foster mother and her name is Kaveriamma. Can you believe that? 
ALSO READ: 'Pathaan' review – Shah Rukh Khan's film is a seven-course meal for a famished Bollywood
Anirudh's lustreless music is the main deterrent in subtracting a good amount of entertainment from the thrilling enterprise that Jawan is. The romantic number 'Chaleya' could have easily been erased for its awkward placement and the lack of chemistry between Khan and Nayanthara. The original score and a fabulous sound design are a lot better as they help in elevating many dramatic scenes. DOP G. K. Vishnu's frames reflect the DNA of a certified masala fare whereas Ruben's editing is one of the film's biggest plusses, especially in the first hour. I particularly enjoyed the use of slow motion during Nayanthara's appearances. However, the filming of the dance sequences leaves a lot to be desired.
The core of Jawan dwells on simplistic nation-building ideas that are easy to sell. The difference is when we link it to Khan's off-screen persona. Even when he echoes things as generic as 'cast your votes wisely' and 'challenge your administrators', it gets instantly interesting as the paying public knows how he was dragged into a political-criminal nexus in recent years. As a result, much like its leading men's fight, the film's box office victory feels pulsating and personal. The tweets and messages read along the lines of, "I am so happy for Shah Rukh Khan," It simply consolidates the actor's life mantra that success never evades good people. Amen to that.
Rating: ★★★ 1/2