'Jaane Jaan' review – Kareena Kapoor Khan is first-rate in her streaming debut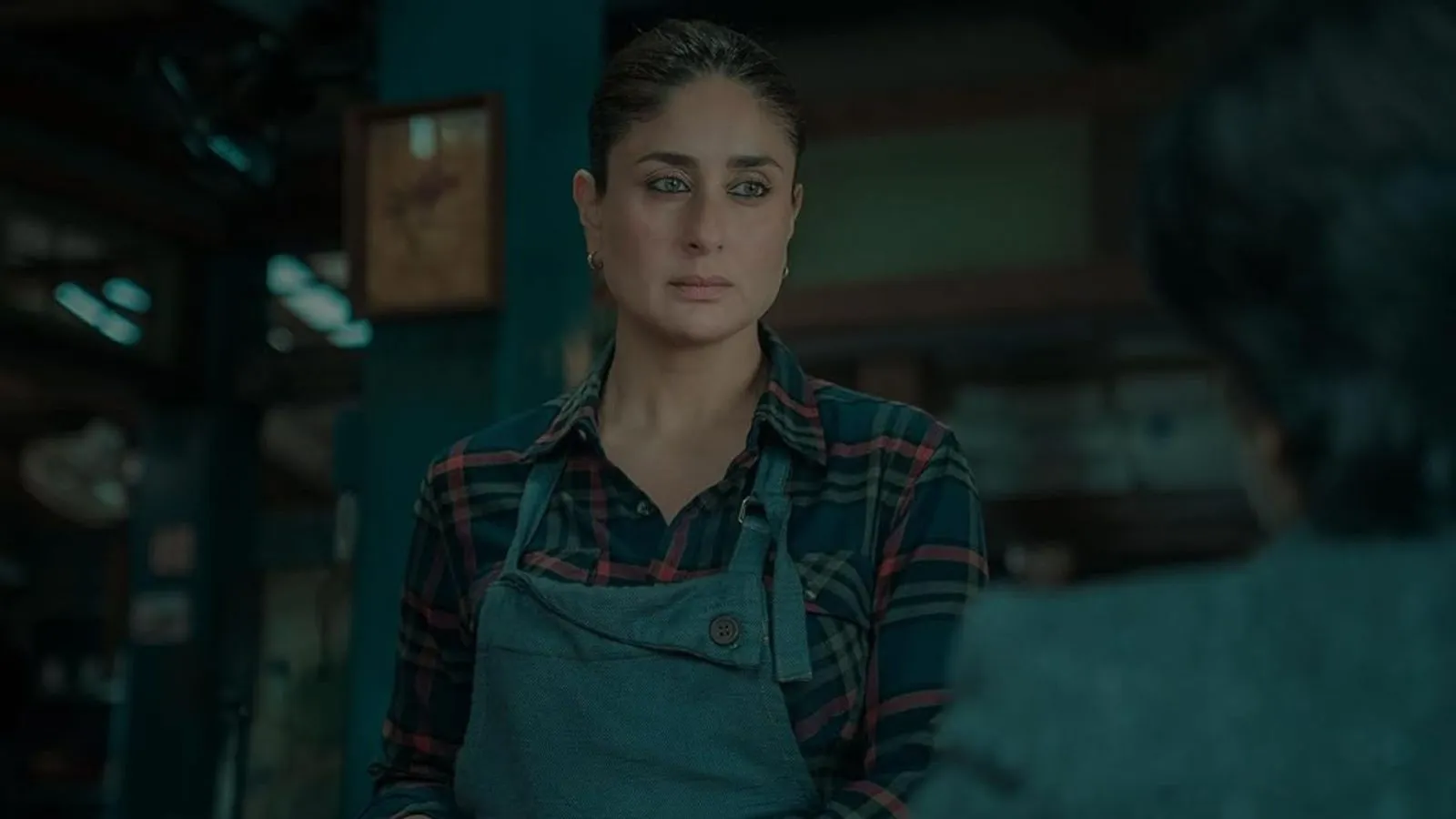 Read Time:
5 Minute, 10 Second
It is not often that you come across an Indian film that engulfs you with an atmosphere that becomes a character in itself. In Sujoy Ghosh's adaptation of The Devotion of The Suspect X, the town of Kalimpong lends a tense and dark backdrop. High on grey hues, it is this dull template that intrigues you the most in Jaane Jaan.
In this brooding setup lives a single mother named Maya D'Souza (Kareena Kapoor Khan). She runs a sleepy café, adjacent to a school, which claims to sell the town's best dumplings. Maya is the object of desire to her neighbor Naren (Jaideep Ahlawat), an oddball teacher who also happens to be a Math genius. Jaane Jaan wastes no time and it introduces two men – Ajit (Saurabh Sachdeva) and Karan (Vijay Varma) – who walk into her life threatening her uneventful existence. Until Naren steps in to simplify the woman's woes through a series of events interlinked with a matrix of clever calculations.
The characters that Ghosh designs in Jaane Jaan are disparate in their respective temperaments. If Maya, a former dancer in Mumbai, lives a life of solace in Kalimpong, peace evades her. Somewhere in the back of her mind, Maya breeds the fear of being chased by her perpetrator husband, Ajit. A loner like Maya, Naren enjoys the company of equations and unsolved math problems. Fondly referred to as 'teacher', the man is constantly reprimanded by his school superiors to set less complex test papers. The third leg in the story is the agile and astute cop, Karan. Investigating the case of Ajit's disappearance, Karan is amused by Maya's ways and his lusty gaze seldom seems to get over her mystique. In a rather unconvincing add-on to the mayhem, Karan also happens to be a former batchmate of Naren.
Ghosh peppers his screenplay with ultra-spicy Dragon Momos, Jiu Jitsu, vintage Bollywood songs, a coiled water heater, wooden houses, a Bruce Lee poster, and lots of mathematics. In a rather disconnected chapter (which is also quite sensuous), Karan takes Maya out to the karaoke bar in town where she grooves to Lata Mangeshkar's classic bar number 'Jaane Jaan'. The duo shares a moment, only to be spied upon by Naren. The sexual tension is palpable and so is the tension that brews in Naren's mind. "You are the same age as me, but you look half my age," his early remark for Karan takes a different meaning when the dashing officer briefly romances Maya.
On paper, Ghosh crafts Maya and Naren with care whilst Karan remains somewhere on the fringes. However, the screenplay fails to give a believable edge to Naren as the story concludes. The finale is of fast-food variety in a story that simmered slowly like hot soup until then. Yet the actors, especially Ahlawat, raise their energies to convince us of the hurried narrative. Maya's daughter Tara was another character who deserved more dimensions and screen space. For a teenager, the girl was unusually callous and a little bit of delving into her mindscape would have rendered Jaane Jaan a far more riveting fare. 
On the technical front, Avik Mukhopadhyay's lenses and Urvashi Saxena's editing traverse the intimate and dense nature of the story with dexterity (barring the final 15 minutes). The music, especially Shor Police's original score interspersed with Bollywood classics, is interesting as it delightfully contradicts the film's anxious energy. The production design and costume departments do an able job of lending a definitive personality to the locales and their people.
Headlined by Kareena Kapoor Khan, the best moments in Jaane Jaan are when her superstar persona blasts through some of its smaller moments. For a fact, Ghosh's film demands a layer of her larger-than-life image. The film feels like a soul sequel to Laal Singh Chaddha wherein Rupa D'Souza escapes Mumbai to start a quaint life in Kalimpong. To her credit, the actor is a delight as Maya, making us wish she does many more author-backed parts as opposed to playing insignificant parts in hero-centric blockbusters. Grabbing what must be the tougher part to enact, Jaideep Ahlawat is thorough with the material at hand. Naren, with all his behavioral quirks, rests on a tightrope where a viewer isn't sure whether he should be liked, despised, or feared. The actor's meticulous approach combined with his studied diction keeps us wondering about his whereabouts even when he is not in the frame. Lastly, the unexpected scream he delivers in the finale ran a chill down my spine. Vijay Varma gets a raw deal in comparison to the other two principal players but the actor holds himself well all through. Albeit unnecessary, Karan's opening sequence contains the potential to catapult him to the top league. Varma's unusual chemistry with Kapoor Khan is among the film's unexpected plusses. Saurabh Sachdeva is fiery as a corrupt cop and a cruel husband to Maya. Naisha Khanna, who previously played the young Rani Mukerji in Hichki, makes her presence felt. Among the smaller players, Lin Laishram and Karma Takapa shine in their respective parts.
After delivering a string of disappointments for about a decade, Sujoy Ghosh displays flashes of his Kahaani brilliance in Jaane Jaan. In an era where Indian cine-goers have watched a minimum of three versions of Drishyam, the story of his latest film does not contain any shock value. Jaane Jaan, unlike Jeethu Joseph's film, does not have peak points either. The act of crime, for example, is written and staged in a manner that you instantly forget the agitation and the flow of events that led to it. To add to the woes, Ghosh appears to be in a hurry to wrap things up, thereby creating a lot of chaos and confusion in the penultimate sequence. Having said that, Ghosh does a neat job of adapting the story to an Indian setting without losing the flavor of the fascinating original. Needless to add, Jaane Jaan officially marks the beginning of the Kareena Kapoor Khan 2.0 era. Bring it on, I say.
Rating: ★★★