'Red, White & Royal Blue' review – A gay fairytale smeared with cake, chemistry and oodles of love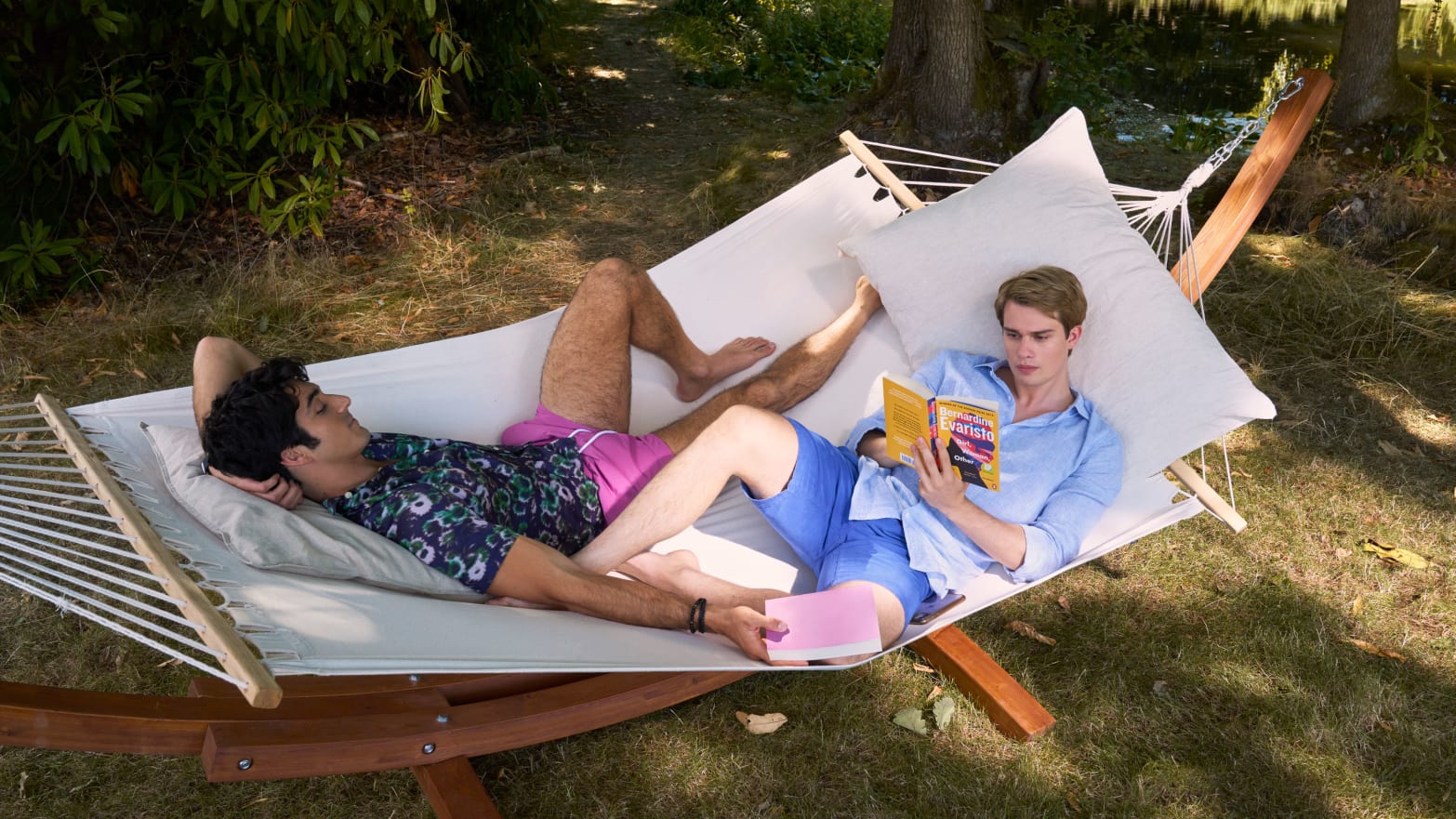 Read Time:
3 Minute, 54 Second
It's the New Year's Eve. The countdown goes off. Alex plants a kiss on a woman's lips as Prince Henry looks at him, with his lips still and eyes filled with hurt, to storm off the room. Alex wouldn't know what just happened. Within minutes, underneath a tree amid heavy snowfall, Henry kisses him. Alex, again, would know what just happened. It is only incidental that the two lads in Matthew Lopez's Red, White & Royal Blue happen to be royalty. If Alex is the American President's son, Henry is "His Royal Highness Prince Henry" from the royal family of Great Britain.
Adapted from Casey McQuiston's book by the same name, Red, White & Royal Blue opens with a king-sized fiasco. In a scene staged more shaking than the giant, wedding cake in the picture, the two youngsters are tangled in an instant thread of hate. What's a rom-com that doesn't begin with a clash? The film gets better as the two begin to communicate via text messages. The sexual tension is conspicuous. The chemistry is palpable. We await the prince and the budding politico to steam up the scenery and, boy, they do.
Given the fact that Lopez's film is based on a literary work, there is a story that becomes its firmest pillar. The principal players – with distinctively designed quirks, ambitions, and issues – form a fire-and-ice equation. The most pleasant aspect of the screenplay (Matthew Lopez, Ted Malawer) – unlike a good chunk of queer cinema and series – is that it does not emerge from a cishet perspective. The emotions and tribulations that we see in Red, White & Royal Blue cannot be extrapolated to become a straight love story. The specificity of Henry and Alex's issues concerning their sexualities and political backgrounds render the film suspenseful as it also keeps the love story passionate and tantalizing at all points. The narrative is spilled with many genuinely romantic (and evocative) moments and lines that are hilariously day-to-day. When Alex describes Henry as ' the first 50 rows at a Lady Gaga concert kind of gay', it is hard to not laugh out loud. In its non-hilarious moments, non-swoony minutes, we relish the comforting side of the relationship. The lovers stand by each other through their lows and highs, propelling each others' ambitions as their love and trust soar with each passing day.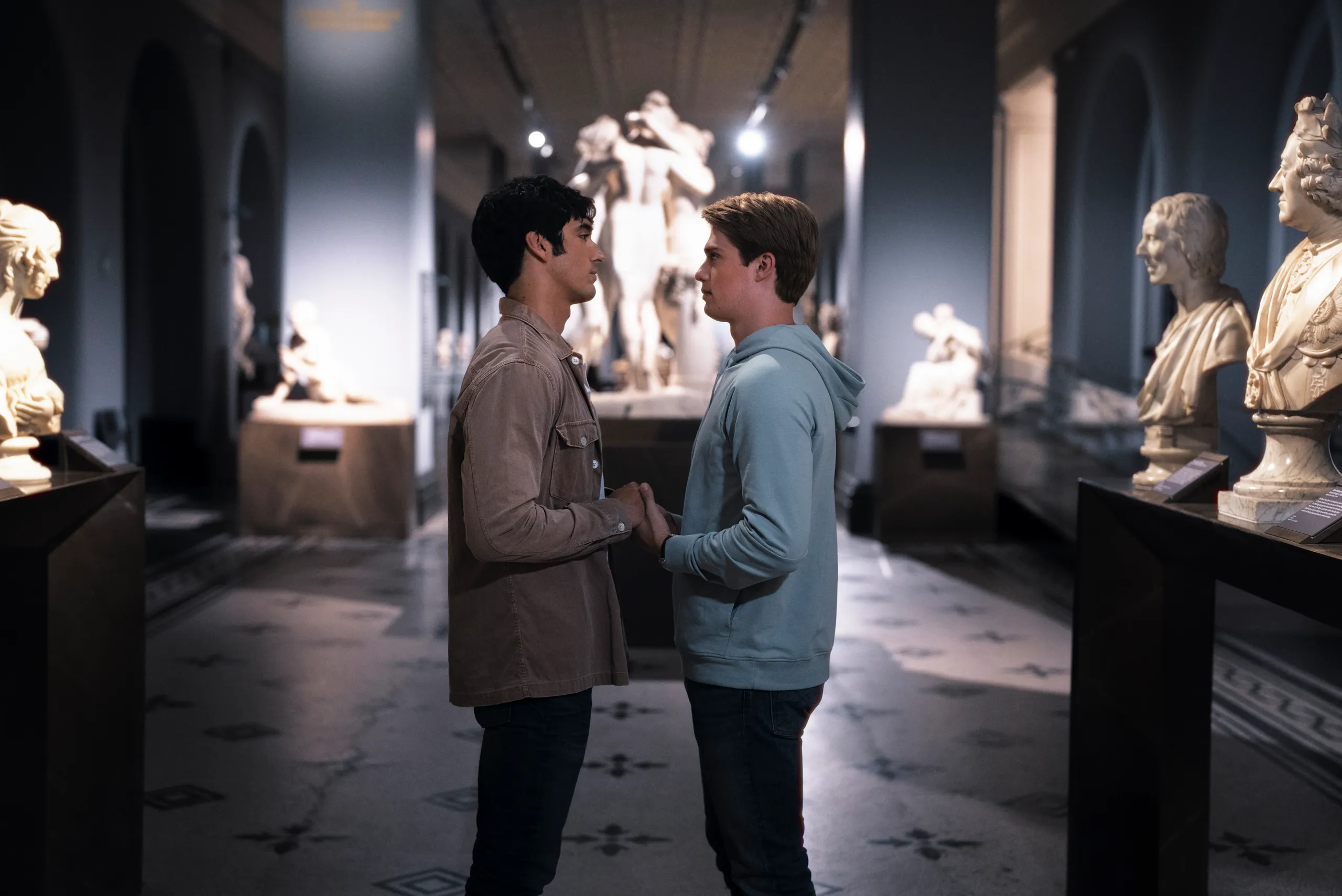 The final act of Red, White & Royal Blue might seem stitched out of the standard rom-com fabric yet it is also aspirational in a very unrelenting manner. It is not the most realistic of all culminations considering the political consequences of a high-profile gay relationship such as Henry and Alex's. Then again, it is a discourse that is necessary on today's date. Needless to add, the explosive, not-always-syrupy camaraderie instantly sexes up the proceedings besides easily convincing us of the many 'whys' and 'hows' in the narrative.
Shot gorgeously by Stephen Goldblatt, the film is laced with a banger of a soundtrack (Drum & Lace). The numbers with some shimmering words stand out for their sheer romance quotient. The museum dance sequence had my heart ache for the right reasons. Equally noteworthy are the studied production design and the costumes that set apart British elegance from the American oomph.
ALSO READ: 'Bros' review – Nicholas Stoller's gay rom-com is witty and charming
Leading men Taylor Zakhar Perez and Nicholas Galitzine, who play Alex and Henry respectively, deliver deeply vulnerable performances. Perez reflects Alex's innate confidence in all realms of life with a reassuring temperament. Galitzine, who gets the play the more defenseless of the two, is a stunning actor. It is a pleasure to see him navigate through Prince Henry's unexplored desires and emotions. Uma Thurman as the Texas-bred POTUS (the first woman in USA's history) is a pleasure as always whereas the supporting cast consisting of Sarah Shahi, Akshay Khanna, and Rachel Hilson add further spice to the plot.
Matthew Lopez's film is not only a proponent of hope for the LGBTQIA+ community but is also a welcome effort in portraying a gay love story through an empathetic, human lens. Red, White & Royal Blue may grab initial eyeballs for its amusing political setting, but as any love story ought to be, it has its heart in the right place. The tenderly designed moments, the glowing chemistry, and the soundtrack become the tempting, multi-layered cake that its beautiful core material already is.
Rating: ★★★★
Red, White & Royal Blue is streaming on Amazon Prime Video.