Read Time:
4 Minute, 11 Second
The idea of a genuine queer rom-com is oddly titillating (no pun intended). Because as a film lover, I am done with the straight gaze that lazily substitutes a straight couple with a same-sex one to demonstrate what is an outsider's vision of the construct. Nicholas Stoller's Bros attempts to dismantle a famously advertised phrase – Love is 'not love' all the time in queer relationships. No, a fleeting kiss at a party wouldn't mean a thing to them. A dropped towel wouldn't burn their insides with shame. The dynamics are different in homosexual relationships, and so are the expectations and vulnerabilities. In the charming film starring Billy Eichner and Luke Macfarlane, Stoller paints a realistic picture that chronicles struggles and ironies that cloud queer lives.
Bobby Lieber (Eichner) is a popular podcast host living in New York. Now in his early 40s, he has never been in a real relationship owing to the non-committal ways of the LGBTQIA+ community around him. Flamboyant, successful and a man of many words, Bobby is also working hard to put together the National LGBTQ+ History Museum in Manhattan. One night at the launch party of a gay app, he stumbles upon Aaron Shepherd (Macfarlane). Brawny, muscular and a feast to the eyes, he is everything that Bobby would practically consider a mismatch for himself. Add Aaron's penchant for periodically disappearing into nowhere, you get a duo that's truly not made for each other. Well, on paper, that is.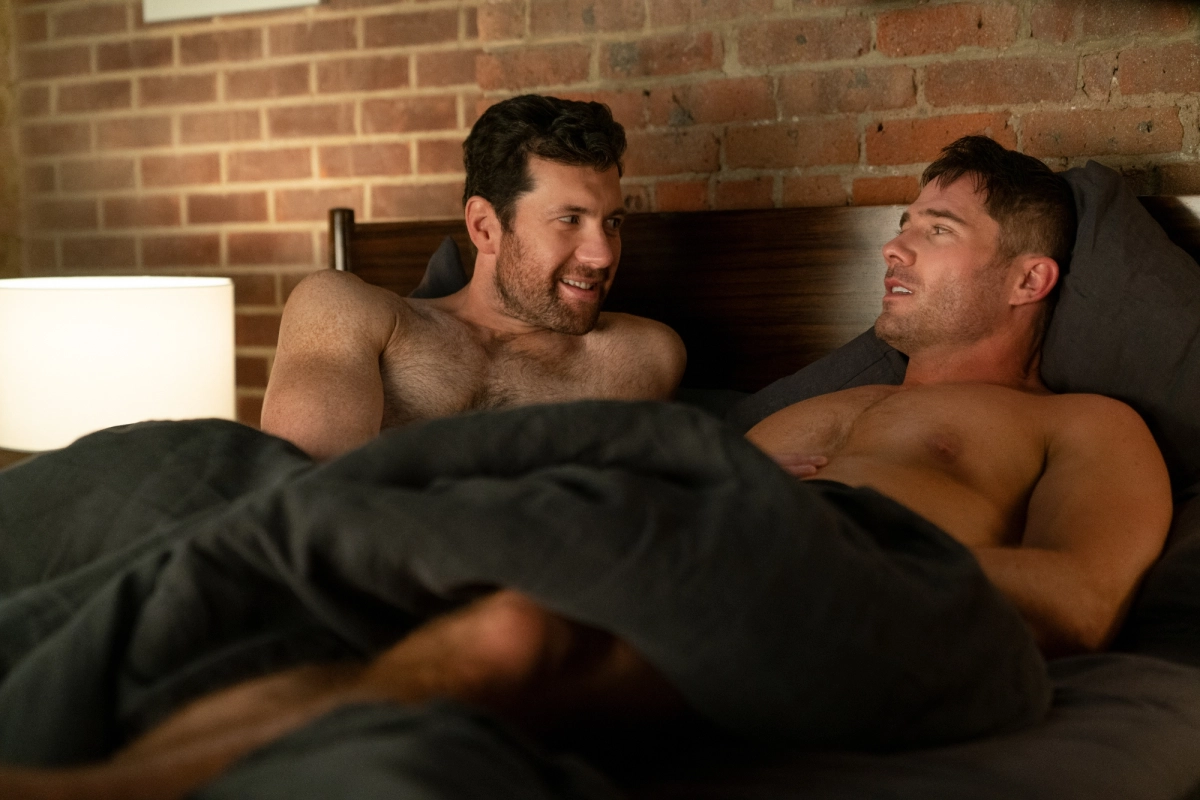 What's a rom-com that doesn't allow opposites to attract? Bobby's awkward, self-doubting yet confident persona clashes in every possible way with Aaron's suppressed vanity. As is the syntax of love stories (or romantic love in real, for that matter), there is no concrete answer to what drives Aaron to Bobby. If it's a feeling of deficiency and a spate of rejections that prevent Bobby from owning up to his feelings, Aaron sees himself parked in an all-new terrain. It is one where he can be himself. It is one where he wouldn't need testosterone shots. It is one where he gathers the courage to ditch his well-paying finance job to become a chocolatier, a childhood dream.
Bros analyses a mature, adult gay relationship in which the individuals come with their own unique idiosyncrasies and reservations while the magnetism in their connection remains unchanged right from the day they locked eyes for the first time in a loud, dim-lit bar. The absence of a straight lens is significantly notable as Stoller drives us through the pangs of Grindr culture in the gay community. Bros, although not very deeply, delves into the concept of monogamy (or the lack of it) in the queer community. It also mocks the perceived need for men (whether gay or straight) to acquire standard male characteristics. There's also a delectable angle where Aaron's family where the film, yet again, addresses less-discussed yet important ideas such as LGBTQIA+ literacy.
Although not an artistic marvel, Stoller's film has been filmed beautifully for rom-com standards. The soft frames even get better with Daniel Gabbe's masterful editing which, apart from a series of gorgeous montages, gives enough breathing space to two heart-breaking and wonderfully paced monologues from Bobby. The climactic song (Marc Shaiman) is heartfelt and the original score is even better. The writing (Eichner, Stoller) which remains frothy throughout does not deeply examine queer existence. For instance, I would have enjoyed knowing a little more about Bobby's previous relationships (although he claims to have had none). It's a little unnerving to understand his psyche which is more attuned to the idea of finding that one permanent partner. While Bros gives us a good look at Bobby's familial and professional struggles being a queer person, his love life – or the lack of it – remains a mystery. Aaron, on the other hand, does not generate as much interest as a person, probably owing to the somewhat stereotypical characterization.
ALSO READ: 'Breaking Fast' review – a refreshing cross-cultural gay romance
Both Eichner and Macfarlane pitch in entertaining performances. They are actors who know when to be subtle and when to play to the gallery. Eichner, around whom the story revolves, makes full use of his innate charm to bring life Bobby to life. Macfarlane, in a semi Manic Pixie Dream Boy mode, is wonderful, especially in the quieter moments. In a film filled with star cameos, Will & Grace's Debra Messing who appears as herself steals the limelight.
Nicholas Stoller's Bros is as American as a Hollywood queer romance would ever get. Filled with quirky references to the sexualities of celebrated personalities, the film takes the comedy bit in its genre quite seriously. Visually striking and powered by delightful lead acts, the queer drama backed by Universal Pictures is a welcome add-on to cinema that's proudly tiptoeing into pages of queer history.
Rating: ★★★ 1/2