Read Time:
5 Minute, 9 Second
I have always been curious to know what goes inside Sooraj Barjatya's mind. It was fascinating to observe how he sold arranged marriages in Vivah as a pious, divine practice. He minted millions with Hum Aapke Hain Koun which, at best, is an extended marriage video with impeccably dressed people and good music. With Hum Saath-Saath Hain, he unknowingly opened a Pandora's box to be picked up later by the likes of Ekta Kapoor to destroy the quality of Hindi television forever. Perhaps Barjatya overdosed himself on his own sanskari steroids that his well-meaning Main Prem Ki Diwani Hoon fell flat despite a funky soundtrack. The less said the better about Prem Ratan Dhan Payo that I will remember for designer farmer's markets and a godawful game of football where lehenga-clad women made astutely choreographed passes. In his latest, Barjatya takes off on an excruciating expedition to the Everest Base Camp with four senior citizens, an annoyed team leader, and a bunch of amused youngsters. The film is called Uunchai (which translates to 'altitude' in Hindi).
Uunchai's leading man is Amit Shrivastava (Amitabh Bachchan), an author famous for his pretentious self-help books (one of them is titled 'Breathe Breathe'). Amit's happening life circles around his four friends. One of them is Anupam Kher's Om Sharma, a middle-class bookshop owner who is forever pissed for some reason. Bringing an element of communal harmony into the setup is Boman Irani's Javed Siddiqui who is least bothered that he is in the group (or in the film). The happiest of the lot is Danny Denzongpa's Bhupen who charmingly ticks the diversity check box.
So, what do these geriatric bros (no offence) do other than dance to a peppy Amit Trivedi number (thankfully not in a disco)? We do not know their backgrounds as there are zero flashbacks or anecdotes. It only gets worse when the most pleasant of the dudes die. No, Bhupen's death did not leave a lump in my throat. For a fact, nobody knows how special he was to the group or how they sustained a productive friendship for over five decades. The man dies with a strange, unfulfilled wish to take his visibly unfit buddies on a trek to the mountains. Some companionship, I say.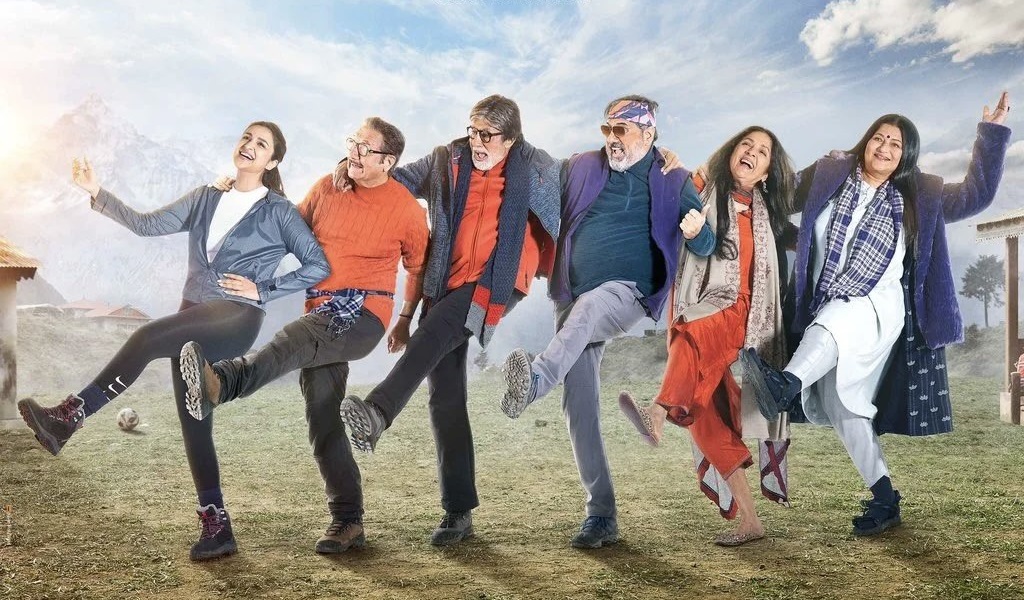 Soon, the three friends along with Javed's wife Shabina (Neena Gupta) take off on a road trip. Barjatya throws in jaded Baghban logic in the Kanpur chapter and later tries to undo the damage by letting the snake suck off its venom. In a stopover at Gorakhpur, Barjatya time travels to the '80s allowing Kher and his on-screen family to ham away as if it's a Jeetendra-T. Rama Rao caper. En route, the trio is joined by Mala Trivedi (Sarika), Bhupen's ex-flame who, for the oddest of reasons, is a threat to Shabina's five-decades-old matrimony.
After wasting a good chunk of screen time on yawn-inducing sermons on life, Barjatya tries to spice up things by lending some individuality to his leading man (Bachchan). Alas. it's too late. Halfway through Uunchai, everyone comfortably forgets Bhupen. The man surfaces once when Mala makes her entry, later when Shabina throws a fit and, finally, when the film closes for good. Mind you, the run-time is just a few minutes short of three hours. I kept asking myself, "Why are these men up to what they are?" 
On the blessings front, it felt good to see Barjatya hire a new-age DOP (Manoj Kumar Khatoi) who, at least in the trek portions, allows the drama to unfold by framing the locales beautifully from all possible angles. Shweta Venkat Mathew's editing skills can't salvage an indulgent screenplay (Abhishek Dixit) filled with redundant lines and forgettable songs. George Joseph's original score (along with the sound department) fares a lot better in capturing the tension surrounding the trek chapter. For everyone else, Uunchai appears to be a paid and pampered holiday.
ALSO READ: '102 Not Out' review – Daddy is always right
Uunchai is a road film where a Rajshri Productions' favourite Alok Nath misses a seat (owing to the 'Me Too' allegations, perhaps) only to be replaced by men who do not understand their universe. Barjatya's leads seldom try to make sense of the hackneyed plot. Amitabh Bachchan looks mighty exhausted – perhaps having done more work this year than all members of his family put together. Anupam Kher is annoying to the hilt while trying to overcompensate for being on posters of an A-list, non-propaganda film after ages. Much like Sonam Kapoor in Prem Ratan Dhan Paayo, Boman Irani seems to have no clue why he is hired here. He barely gets a memorable line to utter and his climactic outburst feels unnecessary. The women, in comparison, are a lot better. Neena Gupta, who plays a loving housewife, is having the time of her life as she makes kheer out of a film that offers her nothing but stale ingredients. Sarika is decent in a part that didn't really need her National Award-winning histrionics. Lastly, I wouldn't be age-shaming the protagonists when I say Parineeti Chopra's Shraddha is the film's most sensible and practical person. Although covered in layers of makeup during an arduous trek, Chopra's facial expressions matched mine as we flinched and narked in unison whenever the men spoke or did something outrageous. The writer throws in a bizarre family conflict that never really lands despite Chopra making all the correct faces.
In short, Uunchai is a film that you would regret not sneaking in a hip flask to the cinema (unless you actually did). If you were to play a drinking game around Barjatya's shamefully ridiculous dialogues and plot twists, this three-hour-long ride would trigger the hangover of a lifetime. The only element that prevented me from dozing off or walking out is the actors' wardrobe – which, I am sure, would help me in my upcoming trip to the Himalayas. New ways to make a poor film paisa vasool? You bet.
Rating: ★★