'Veeram' review – Drowns in its own breathtaking beauty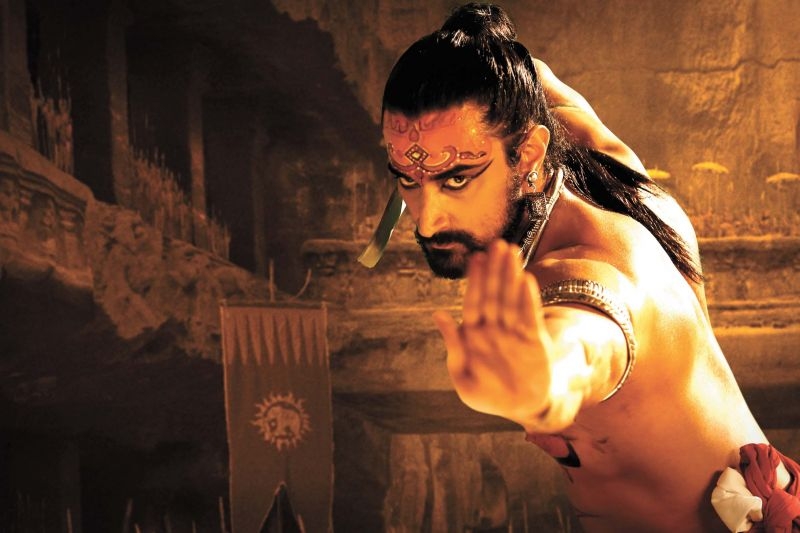 Read Time:
2 Minute, 56 Second
It is often that a film is so ornate that it drowns in its own breathtaking beauty. Celebrated Malayalam filmmaker Jayaraj's latest offering Veeram Macbeth falls victim of the same catastrophe. While the visuals do not hurt much, the lack of sync between the beautiful people and screen and writing on papers calls for an immediate bad taste. The film and its characters seem to have stemmed out of Raja Ravi Varma's canvas – all picturesque and, I dare say, glam. Perhaps being the warrior folk tale it is, they ought to have served us Basquiat-esque edginess rather.
Giving due credit to Jayaraj, Veeram Macbeth's screenplay is thorough and immaculate. Drawing parallels between Northern Kerala's 'Vadakkan Pattu' ballads and William Shakespeare's 'Macbeth' is no easy task. Though not one of those obvious comparisons, the writer-director weaves similarities with marked confidence. He recreates the era with magnificent detailing and finite understanding of characters and their cultural roots. The killjoy, as mentioned earlier, is the array of characters and their clear lack of sync with surroundings.
Well, Jayaraj is not one filmmaker who is known for spot-on casting. From his finest Karunam to utterly forgettable Camel Safari, we always doubted this very ability in him. In Veeram Macbeth, we have men with chiseled torsos struggling to understand the narrative's complex nuances and also fails badly in lending authenticity to the local dialect. It isn't merely about incorrect lip sync (which is starkly noticeable) but equally about inappropriate voice casting. This lack of chemistry between the lead actor's (Kunal Kapoor) physicality and vocals is the primary disconnect in Veeram Macbeth. Female protagonists aggravate the impact further. For Malayalis, Unniyarcha is a fierce female form – one who would knock male audacity off with a single sword move. Well-performed fights notwithstanding, Jayaraj's Unniyarcha (Himarsha Venkatsamy) ends up a plastic doll with clearly generic body language and unbelievably clueless facial expressions. His Kuttimani (Divina Thakur) is no different. Hence, one character after other disappoints the director and his terrific insight on equating two celebrated stories from two dissimilar corners of the world.
ALSO READ: 'Bhayanakam' review – an anti-war masterpiece high on implied violence
As much as we would appreciate Kunal Kapoor transforming himself into Chandu Chekavar, his default lack of aptitude on the state, its language and vivid literature, folklore and art forms plays a cruel spoilsport. One question that remains to be asked is, "Why not a native Malayalam actor?" The supporting cast is given ample scope to shine and the actor playing Kapoor's aide lends remarkable support with a balanced performance.
Production design is opulent within seams and the research is quite evident. S. Kumar's cinematography, yet again, is top-notch and fits the fill perfectly with the folklore-period action drama backdrop. A severe yellow tint in certain frames, however, could have been done without. Bijibal's soundtrack is atmospheric with the right set of instruments chosen to suitably 'accessorize' the proceedings. Dialogues (Dr. Gokulnath Ammanathil) form the best part of the enterprise. Striking and crafted to perfection, we feel bad for non-native audience who will have to make do with underwhelming subtitles or translations.
All said and done, Jayaraj's Veeram Macbeth – backed with a clever screenplay – is consistently engaging. With better casting decisions, the film could have made way to Malayalam cinema's greatest. Such discontent when opportunities go royally wasted.

Rating: ★★ 1/2
Catch the trailer of
Veeram: Macbeth
HERE
!