Tschick (Goodbye Berlin) – Fatih Akin's ode to adolescence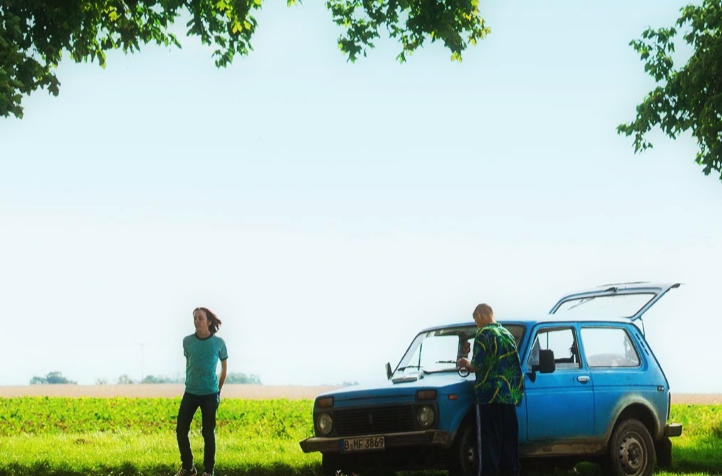 Read Time:
2 Minute, 56 Second
Two teenagers. A stolen lada. No agenda. One helluva road trip with a Richard Clayderman cassette tape springing a bright surprise. Fatih Akin's Tschick has all trappings of a riotous commercial bromance – just that the protagonists are in their adolescence.
Screened at 18th MAMI Mumbai Film Festival with Star, Tschick interestingly is less about the titular character as it mostly traverses the life of an average teenager Maik. One with whom we all would relate to, Maik has familial influences constructing his psyche. In one of the early light scenes, Maik is shown to shoot down his father and his girlfriend. Though fond of his mother, he gets less support from his alcoholic mother, for whom a trip to the rehab isn't uncommon. Amidst this chaos, joins his class a wayward Russian lad Tschick who could intimidate the biggest of bullies within seconds. As destiny would have it, Maik and Tschick hit it off in no time and later set out of a road trip that changes Maik's life forever.
Tschick is one film that shows bromance, the way it should be – minus severe judgments. No needless questions asked, the film comfortably breaks norms of sexuality and how machismo has got to do nothing with it. As Maik comes of age, the audience too comes to terms with how friendships should bloom. Though not exactly a case of fool proof writing, Maik and Tschick's reckless road trip is filled with winning moments. The one off scene were the duo stumble upon a loving mother and her edgy way of feeding her kids being one. We get to smile upon Richard Clayderman's mushy notes while the lada breezes past stunning locales (captured through gorgeous panoramic shots). Though one wonders if the third lead Isa's characterization was of any consequence, her final few moments manage to make the cut.
Shy, timid and boring (in his own words) – The writers lend justice to Maik. His growing fondness for Tschick is pictured seamlessly. At a later stage when Tschick reveals his sexual identity, one wonders if he ever were attracted to Maik. Mockingly though, the former questions Maik a couple of times if he is fond of guys rather. However, what impresses is the contrast in their depiction than to what the world perceives of a homosexual person. A brash, violent, adventurous Tschick who certainly has no hots for Clayderman's music is not what he 'ought to be'. Also smile-worthy is their naivety on the right age to be deemed accountable for criminal behaviour.
Performances are neat all through. Tristan Göbel pitches in an affecting act. For a part that could have easily gone overboard, Maik is safe in Göbel's hands. Anand Batbileg makes a confident debut. Unlike Maik, it is Batbileg physicality that contributes even in the smallest of instances. Note the scene at a Maik's crush's party where Batbileg walks in, greets her with adult-like nonchalance and walks away with a devil may care air. Bro-hood goals, anyone? Rest of the actors support well with Mercedes Müller deserving a special mention. In a film that is very well coloured, Rainer Klaus Mann's luscious cinematography is a treat.
Fatih Akin's film breaks no new grounds. Yet holds a firm place amongst well-crafted adolescent drama films. The vivid situations make us wonder if it is a patch of Wolfgang Herrndorf's eponymous novel. Nevertheless, not many would deny a trip to boondocks along Wallachia.