'Kinara' Is Akin to Reading a Mellow, Atmospheric Novel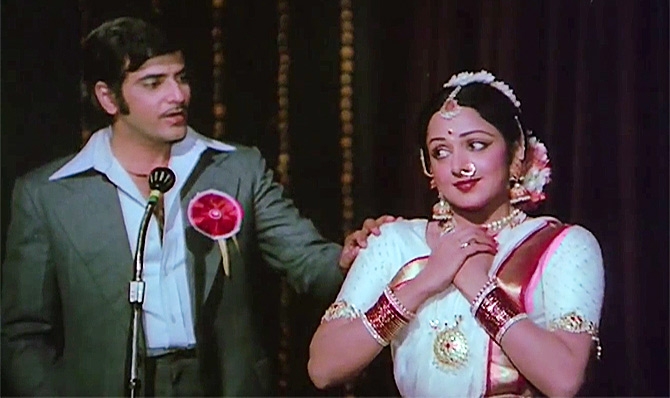 Read Time:
3 Minute, 17 Second
Gulzar's Kinara is special. One of the reasons being Hema Malini who is in her elements here. Not without that quintessential south Indian fragrance she brings in, Kinara is comfort zone for her. There is dance, emotions that fluctuate from mild to heavy-duty. There's also some great music and an easy-breezy way of storytelling.
They say, Hema Malini is one in a million. The lady's film career, if keenly observed, is an interesting departure from her conservative off-screen image. She has been a leading lady who stood firm on her feet. Even in the silliest of films, Hema Malini commanded utmost respect. She had grace and tonnes of it. She could pull off the weirdest of shenanigans on screen with no single person judging her intents. Kinara, gladly, has none of it. She moves like a swan and emotes like she was born to be the lithe Aarti. Her sparkling eyes and enchanting smile add gravitas to Aarti's not-so-simple texture. Having said that, it is easy to conclude Hema Malini is the soul of this fastidious 1977 drama written and directed by Gulzar!
The movie presents the usually "jumping jack" Jeetendra as the mature but naïve Inder who evolves into a dutiful gentleman brooding under the guilt of an accident. Not to forget, Kinara is a slow feature film amidst all this. Since when did we expect a pacy narrative from Gulzar anyway? Characters in Kinara are mere objects in the cruel hands of destiny. The song sequence involving Aarti (Hema Malini) and her deceased love Chandan (Dharmendra) pretty much sums up the flow of the film; slow to the limit of testing your patience. The movie has the lead actress playing a classical dancer and hence it offers a delightful showcase of Hema Malini's prowess in Bharatnatyam. Again, it can be enjoyed only by the connoisseurs of Indian dance forms or at least ones who don't squirm in their seats while this majestic form of dance is being performed. The character motivations are not too overtly pronounced and not everyone in today's times will relate to the unadulterated passion our protagonists have for someone else's dreams.
 True to the writer he is, Gulzar makes sure that viewing this film is akin to reading a book. It traverses through fine detailing about the surroundings. It doesn't have a mind-numbing background score or weird camera angles.
Music by R D Burman is lends character and soul to the content on the paper. No wonder, 'Meri Awaaz Hi Pehchaan Hai' remains one of the finest Hindi film songs ever made.
Gulzar's dialogues are poignant and thoughtful. The movie although very well shot, offers the camera department less scope. Choreography is impeccable and makes us miss the era all the more.
I would call Gulzar's direction fulfilling. Only he could done such justice to this story that is otherwise plaintive on papers. His characters are delicate, transparent with zero pretensions and indigestible frills. Certainly not ones in a million.
However, as pointed out earlier Hema Malini is indeed one of a kind. She's everything that Aarti is meant to be. One of the most perfectly sketched roles in her career and she performs with great finesse. Jeetendra is restrained and delivers a relatable performance. His comfortable chemistry with Hema Malini is the icing on this cake. Dina Pathak is convincing as always. Dharmendra is his charming self in his brief cameo. Om Shivpuri is noticeable. Shreeram Lagoo is superb.
On the whole, Kinara is bound to be tagged 'boring' by the present generation. It will, nevertheless, be an enjoyable ride if you are ready seep into some poignant emotions. Slow, soft, and soulful, Kinara is a must watch for lovers of sentimental cinema with a relevant social message.