Read Time:
6 Minute, 57 Second
In what must be the most romantic scene in Sameer Vidwans' Satyaprem Ki Katha, spouses Sattu (Kartik Aaryan) and Katha (Kiara Advani) are in a lakeside eatery. Having escaped an uncomfortable situation at a party, the couple finds comfort in food and familiarity. Soon, a tear rolls down Sattu's cheeks. We know how he once dreamt about taking Katha on a date at the same place, followed by a boat ride in the adjoining lake. The quiet bonding moment is a source of release for Katha. To Sattu, it gives a feeling of ecstasy, having been in love with the woman right from the first glance. This brief sequence reminded me of Dum Laga Ke Haisha's Prem and Sandhya who were seen at a similar diner. Prem grabs a plate of kachori as his wife looks on with the bridal glow intact. Sandhya and Sattu are hopelessly in love, and their partners are yet to reciprocate with the same intensity.
Named to remind us of a cheesy wedding hashtag, Satyaprem Ki Katha kicks off like every Kartik Aaryan film ever. The unemployed, dominated small-town lad is fast asleep, and dreams about women lining up to marry him. Interestingly, the film has a lot of sleeping business to do in the later reels.
Sameer Vidwans plants his story in a rather intimate setup. Sattu hails from a middle-class household run by women – Supriya Pathak Kapur plays Diwali and Shikha Talsania is Sejal. Aimless and somewhat bitter, he does daily chores with his father Narayan (Gajraj Rao, excellent), with whom he shares an easy bro-like camaraderie. Katha's family is aristocratic, and her father runs a large snack business which abbreviates to HFDC. One thing leads to another, Sattu gets access to Katha and the latter's family would want them married. Before we see his fairy tale romance take off – the interval point shuts us up with a shocking revelation.
Whether Satyaprem Ki Katha would go the Shubh Mangal Saavdhan way or in the direction of Chandigarh Kare Aashiqui, we wouldn't know. As we clench our fists in suspense, Sameer Vidwans plants another major turn in the plot – Katha has a background of trauma. From this point, Satyaprem Ki Katha turns into Sattu's quest to seek normalcy and eventually justice for Katha. Staying true to the leading actor's campaigner personality on-screen, the film lets him take charge. Sattu persistently (and respectfully, if I may add) eggs Katha to take a step ahead while promising to stand by her side as the supporting character. From the surface, it may appear as if he is being extra-instructive to the woman who is already going through a lot, the non-metro setting and the peripheral female players add delicate shades of empathy to the proceedings. In a society that still shies away from filing an FIR for certain crimes in fear of slander, it is easier to have the message spoonfed through a man (that too, a husband). "No matter what the outcome is, I stand with you," many Indian women would have wanted to hear this from their spouses – irrespective of the context.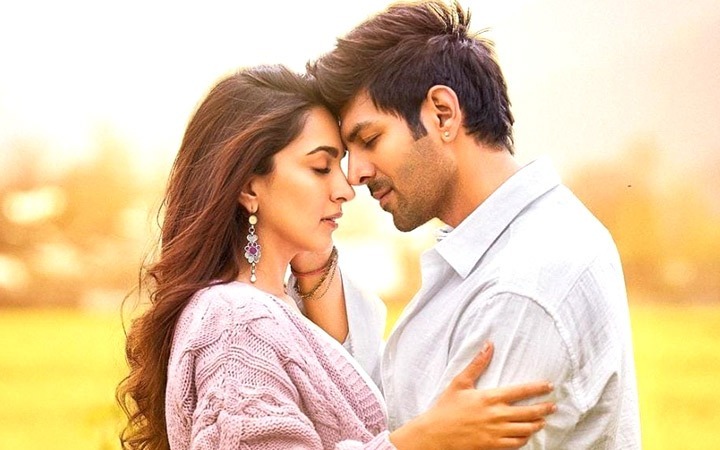 With the concept of allyship being largely alien to the Indian community, the victims of many crimes and members of several minorities (Dalits, LGBTQIA+, et al) often find themselves stranded on lonely shores. Therefore, it's comforting to see a group of people smiling supportively as Katha garners the courage to take a big step. It is also empowering when the mother (Pathak Kapur) emphatically states, "It's okay if you are unable to relate to somebody else's trauma. Please do not aggravate it," In a later scene, she prevents her deluded husband from confronting their son's in-laws. The woman knows what it takes to be one. Also, Supriya Pathak Kapur's time-tested brilliance deserves a round of applause. 
On the flip side, Sameer Vidwans' film in its initial acts comes off as a generic one-sided romance with the regular small-town tropes intact (including a wasted Rajpal Yadav). The writer Karan Shrikant Sharma does not lend nuances to Katha, making it hard for the actor (Advani) to convince us of her agony. It's as if she always existed in a silo. I would have liked to know more about her passions and her fair share of experiences. Who were her friends? Why did she always look out of sync with the rest of her family? Why didn't Katha feel the need to talk to Sattu before they tied the knot?
Satyaprem Ki Katha also struggles significantly in the final act which is when it begins to hear out and help its female protagonist. In the process, the screenplay bakes itself way too much and ends up meandering. For a fact, we see from a distance where it's headed but Vidwans enters a complex maze to reach there. The tone in the pre-climax should have been a lot softer and the man taking over the agency of a survivor feels odd although the intentions are noble. There's also a mandatory action scene thrown in for no reason. It doesn't work as the antagonist is a non-entity with a sum total of zero dialogues to mouth.
Back to where the film scores, Satyaprem Ki Katha has a solid storyline with a definitive trajectory. It discusses unconventional relationships, the unique needs of individuals, and how the efforts of one partner would help the other rise. The understated moments are beautiful, without a doubt. We see Katha filling up the final year exam forms for Sattu and he retorts, "Your handwriting is so good that I do not feel like submitting it," The rising closeness between the two is handled with care and even better is Katha's confession to her in-laws. It's a vulnerable moment that Advani executes very well, duly aided by seasoned co-actors. The actor looks the part, and she goes the extra mile to make us feel Katha's ache. Kartik Aaryan gets a finely fleshed part of which he takes full advantage, delivering his career-best act. Sattu has a heart of gold, and the screenplay does not over-sell it to us. Instead, it puts the actor's inherent awkwardness to remarkable use.
ALSO READ: 'Anandi Gopal' review – A dignified portrait of an unusual family in the 1800s
Sameer Vidwans' film, despite its serious central message, is packaged as a bona fide family entertainer. The soundtrack barring 'Naseeb Se' is barely functional and is the film's biggest shortcoming. The remixed version of 'Pasoori' is an unnecessary abomination (Tulsi Kumar, please retire) that strips off the emotional quotient during a crucial stretch. Ayananka Bose's frames lend Satyaprem Ki Katha a lived-in texture and most of the actors do not look overly made-up unless necessary. Charu Shree Roy's choice of frames, too, helps us in sinking easily into the film's intimate and somewhat bold subject. There is an attempt to integrate tidbits of Gujarati into the conversations, which lends character to the setting. The absence of loud, oddball humour (which is a trend in similar films) is another welcome surprise.
Satyaprem Ki Katha is a commercial film with a vision. In an industry (and a nation) that celebrates victim-shaming and refuses to swallow the pill of logic in matters concerning a woman's modesty, it also becomes necessary cinema. 23 years ago, we had Hamaraa Dil Aap Ke Paas Hai – a similar film that injected a layer of shame into an otherwise well-meaning subject. Plus, its leading man was projected as the sole saviour and a life-giver – neither of which is in the case of Vidwans' film. The screenplay puts the spotlight on a gruesome reality and tries to school its viewers, albeit simplistically at times, on concepts such as consent, trauma, intimacy, communication, courage, and more. It gets jarringly wordy in parts – everything is spoken out loud. How beautiful it would have been if it were to have a soul-stirring melody with expressions such as, "Tu hoga zara paagal, tune mujhko hai chuna," It would have freed the writer of some burden and given the viewers the priceless feel of a legitimate Bollywood romance with music, emotions and the works.
Rating: ★★★ 1/2