Read Time:
5 Minute, 37 Second
Think about a scenario where you are conned by a film's title or the tone of its promotional material. Sometimes filmmakers blatantly resort to a certain visual language to drive more people into the cinemas. Ace filmmaker Dibakar Banerjee's Sandeep Aur Pinky Faraar which is incidentally backed by Bollywood's massiest movie house Yash Raj Films is a bizarre victim which, I would say, is a blessing in disguise.
I clearly remember the picture that announced the film where Sandeep (Parineeti Chopra) was planting a peck on Pinky's (Arjun Kapoor) cheek.  It screamed of Bunty Aur Babli feels but Sandeep Aur Pinky Faraar is anything but that. In March 2020, Banerjee's film teased us with a snazzily-cut trailer which beamed with oodles of attitude and elements of what seemed like a slightly more in-your-face black comedy. Then came the thumping Anu Malik song 'Faraar' (which is wonderfully used in the film). As a viewer, the least I expected out of Sandeep Aur Pinky Faraar was speed – something that we tend to associate with the activity that 'faraar' (translates to elope) is. Sandeep (Parineeti Chopra) and Pinky (Arjun Kapoor), for sure, are on the run but the run in question is seldom a physical activity. In fact, I don't remember an actual scene where the duo is running or are in a hurry. Banerjee's film is intelligent and calculated in its attempt to keep the audience's mind clocks running.
For starters, Sandeep Aur Pinky Faraar is not a black comedy that would demand you to lock your brains at home. Sandeep, the young honcho of Parivartan Bank, is being chased by her boss via a killer cop Tyagi (Jaideep Ahlawat). Pinky, as a suspended cop, accidentally saves her and himself from being knocked off in the middle of the highway somewhere in Gurgaon outskirts. Out of no choice, the duo runs away from Gurgaon towards Nepal. A quick stopover is a fleeting town called Pithoragarh in the Uttarakhand-Nepal border which is where a good chunk of the story takes place.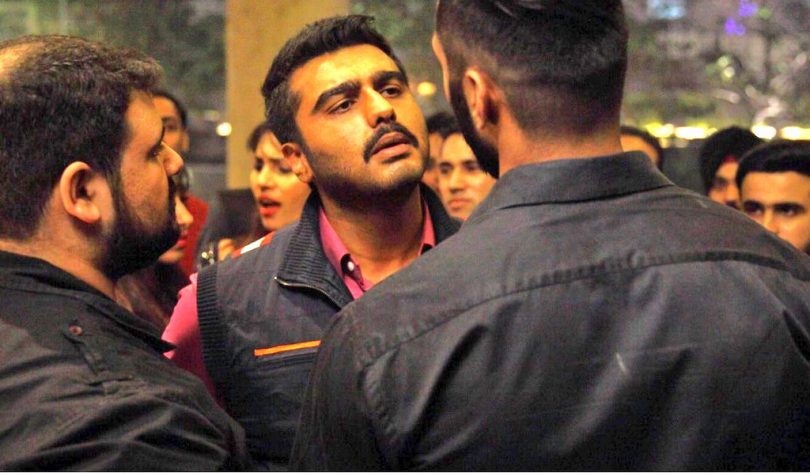 If you were amused by the gender-bender in the character names, I must tell you isn't done so without a thought. Sandeep is a pregnant single woman who isn't particularly apologetic about the absence of a mangal sutra on her neck. Instead, she is a powerful person who is partly bitten by her own conscience. Sandeep is a brave, headstrong, and fiercely independent woman. She seems to have never made a roti in her life – much like Bollywood's male leads who consider the kitchen to be a woman's territory. That said, she isn't quintessentially a manly woman. Her crisp black and white suit complements her bright red lipstick as she confronts her boss over a financial fraud they masterminded together.
On the contrary, Pinky has his roti game on point. Someone who is taught to follow orders does exactly the same when Sandeep aligns her strategy to nail the man who wronged her. Pinky loves to dance and he even gets what must be an 'item number' in a film that throws ample light on patriarchy.  He is a man of few words and wants Sandeep to not go overboard with her calculated risks. However, the gender quirk is not solely what makes Sandeep Aur Pinky Faraar a raring cinema affair.
ALSO READ: 'Meri Pyaari Bindu' review – a beautiful romance that truly gets the pulse of a generation
Dibakar Banerjee's screenplay is one with profound characterizations. Even in the absence of a family network surrounding the leads, we get an inkling of their apparent value systems, especially Sandeep's. Although loggerheads with her folks, she genuinely wants to help a warm elderly couple (Raghubir Yadav and Neena Gupta) to strive peacefully in the sunset of their lives. Kapoor's blow hot blow cold attitude also adds immense amounts of intrigue to what he must want from life. For a minute or two, I assumed how he might have been brought up – which is a triumph for Banerjee as a writer.
As a filmmaker, Banerjee slices right through the regular YRF mystery template (read showy) to become a tastefully composed dark comedy. One might feel how the pacing is a little off but this is exactly the languid, lazy speed Banerjee wanted in the sombre runaway drama that Sandeep Aur Pinky Faraar is. That said, there are certain elements in the screenplay that do not exactly fly the way Banerjee's cinematic moments usually do. A case in point is the rather awkward face-off between Sandeep and the bank manager in Pithoragarh. The latter's character seems oddly designed only so as to land a major twist. Even the final adventure (where Kapoor does the unthinkable) is less convincing on papers but it is Banerjee's mastery as a director that pulls it off. The filmmaker also composes the film's delicate original score which is a welcome refresher from present-day Hindi films where the cacophony of sounds often makes it impossible to hear the lines.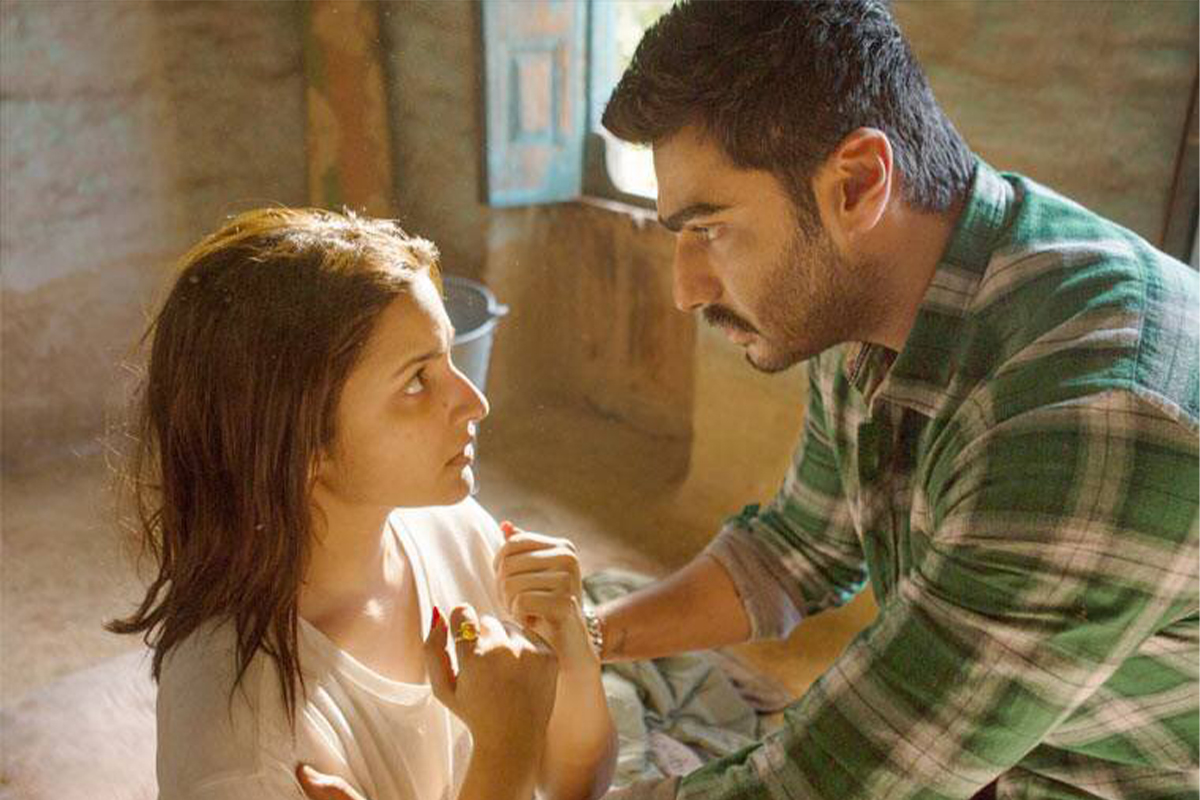 Sandeep Aur Pinky Faraar also cleverly uses its actors to their strengths. If Arjun Kapoor's buff physicality stands wonderfully explored as he aces his part as a bitter Haryanvi cop, Banerjee leaves space for fewer close-ups of the actor. The more expressive Parineeti Chopra, known for her penchant to perform through her eyes, gets more close-ups and still frames. The actor is unbelievably good in a scene that follows an incident of sexual abuse. Together, Kapoor and Chopra forge strong chemistry thereby making it impossible for us to imagine a better Pinky and Sandeep. The supporting cast is equally proficient and Banerjee knows that with actors like Raghubir Yadav, Neena Gupta and Jaideep Ahlawat leading the pack, one needn't worry about their impact irrespective of the screen space they get.
In what must be a major oxymoron, Sandeep Aur Pinky Faraar is a quiet chase film. It throws a plethora of issues for us to ponder over – right from politics, gender dynamics, patriarchy, corruption, sexual violence, and class differences – and we would relate to each of them to a very great extent. Despite a bunch of unconvincing stretches in the screenplay, one can easily assimilate Banerjee's belief in the story he wants to narrate. In the process, he extracts what must be the finest performances of his lead actors in their careers while also giving us a dark comedy with layers galore. Lastly, there's no scene from the recent past that could make me chuckle as organically as the final moment of Sandeep Aur Pinky Faraar did. Trust me, it's worth the wait.
Rating: ★★★★